This DIY chalkboard clock tutorial will show you how to make this awesome guest book alternative that doubles as rustic woodland nursery decor. This DIY is a great idea for just about any shower because who wouldn't want this rustic clock with chalkboard hanging in their house after the shower is done!
Last week I shared this fun baby shower name tag I made for my sister's baby shower. [UPDATE: We had a blast at the rustic woodland baby shower, you can read all about it here!]
I attended an adorable baby shower a few weeks ago for a friend with a "'Hello World" theme. One thing that I just loved was that we all signed a little chalkboard globe with messages for the baby. I thought it was such a good idea for a guest book at the baby shower that could be reused as baby nursery decor. That's where the inspiration behind this project came from.
The theme of my sister's baby shower was rustic forest, so we were incorporating a bunch of wood rounds into our decor, along with moss, pine cones and acorns everywhere. I've been itching to create a clock with a wood round ever since I saw the clock kits they sell at the craft stores and thought this would be a perfect little project for the baby shower!
UPDATE: There's a video to go along with this chalkboard clock tutorial at the bottom of this post! 
This post contains affiliate links, but nothing that I wouldn't wholeheartedly recommend anyway! Read my entire disclosure here.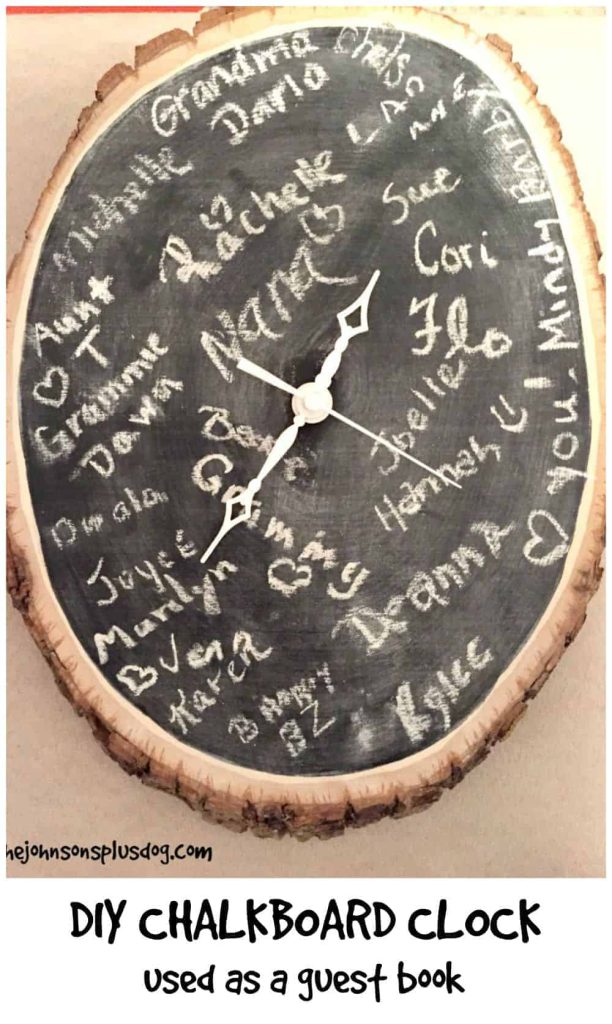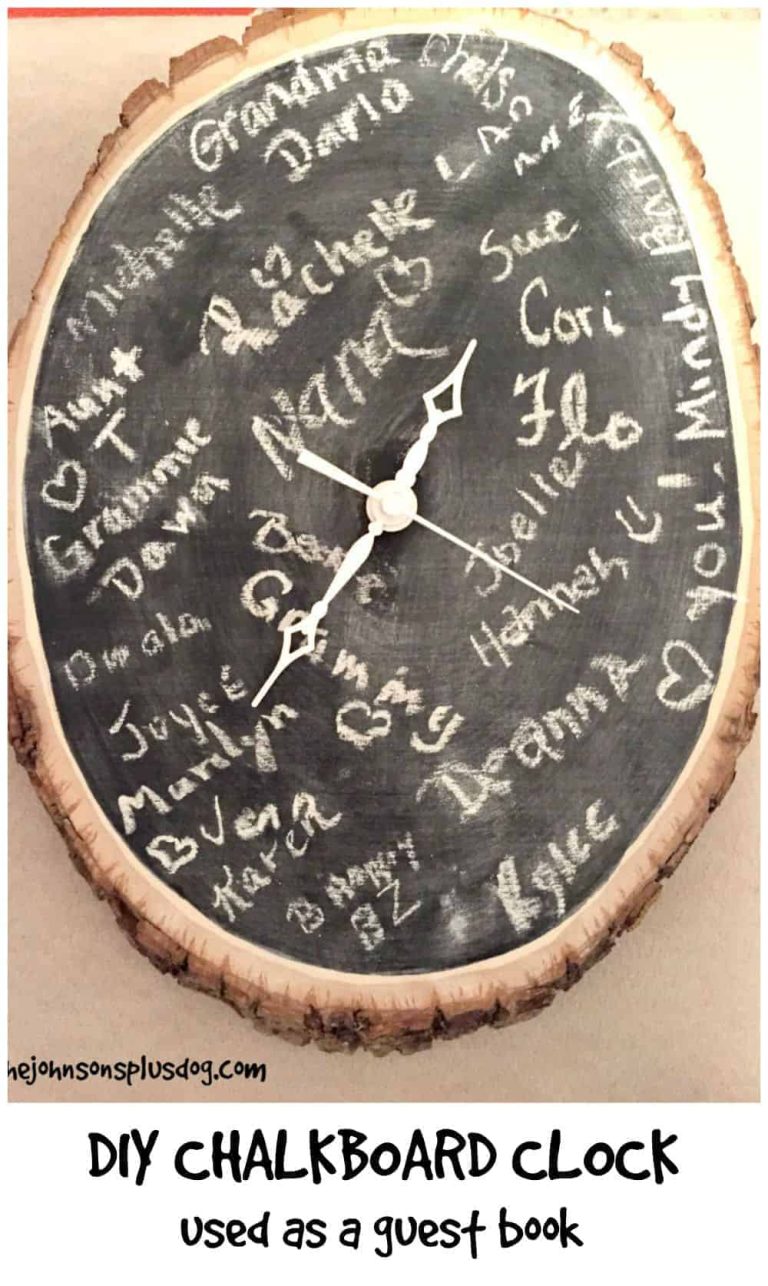 Chalkboard Clock Tutorial

Supplies for Chalkboard Clock Tutorial:
Clock Set (pay close attention to the depth of the clock set you're buying to make sure it matches the depth of your wood)
Paint brush (I'd recommend a foam brush)
Drill (you may need to drill a hole for the clock arms, some wood rounds may have pre-drilled holes)
Optional – white acrylic paint (I used this to paint the clock arms from gold to white)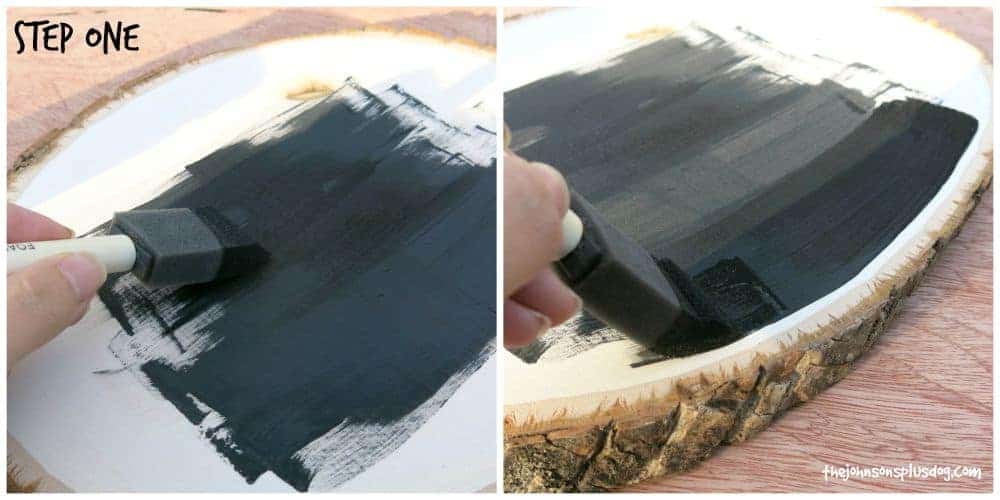 Step One: Paint your wood round.
Be sure the paint goes in both directions. I slowly painted the border on the edge leaving a little gap of wood. You could paint all the way to the edge if you prefer. I did about six coats of chalkboard paint on the wood round to get a good base.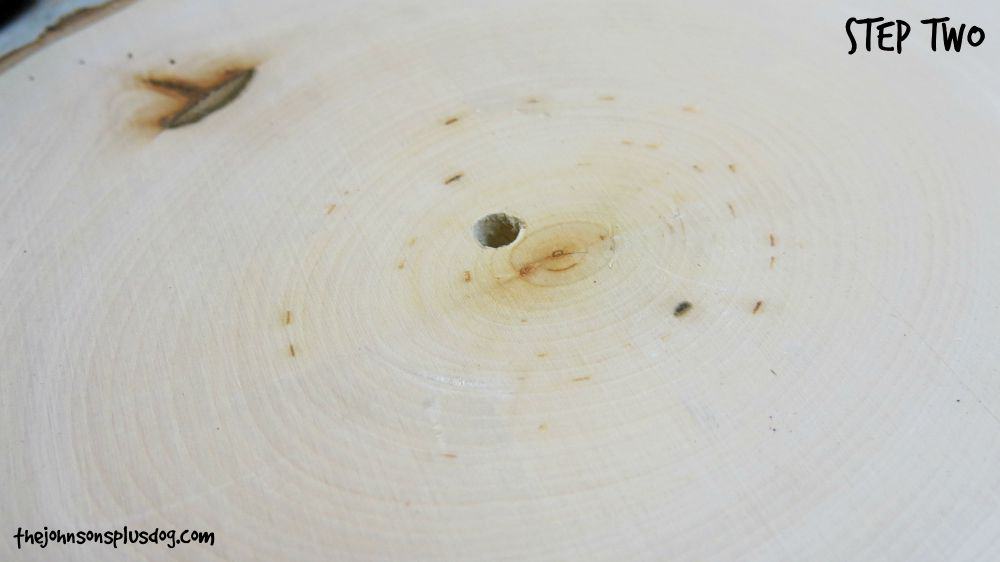 Step Two: Drill hole in the middle of the wood round.
Be sure to pick your drill bit based on how big your clock set is. The photo above is of the backside of the wood, which is why it isn't covered in chalkboard paint.
Some wood rounds may already have holes predrilled, so this step would not be necessary. If you are buying a round that has a predrilled hole, be sure it matches the size of the clock set.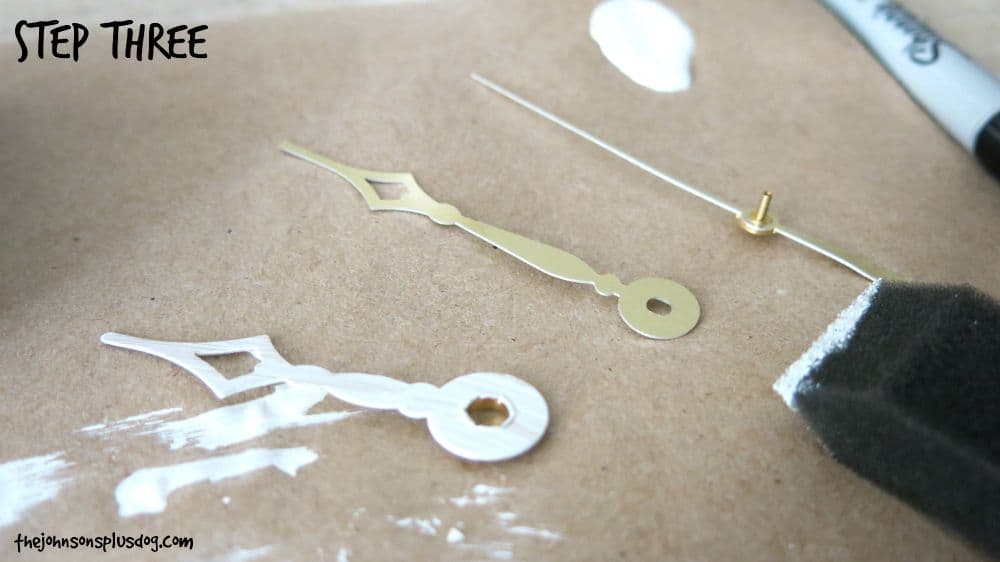 Step Three: Paint clock hands. 
This step is totally optional. But I thought with the chalkboard background on the clock, the white handles would stick out more. I used white acrylic paint and a foam brush for this. It took about three coats to cover completely.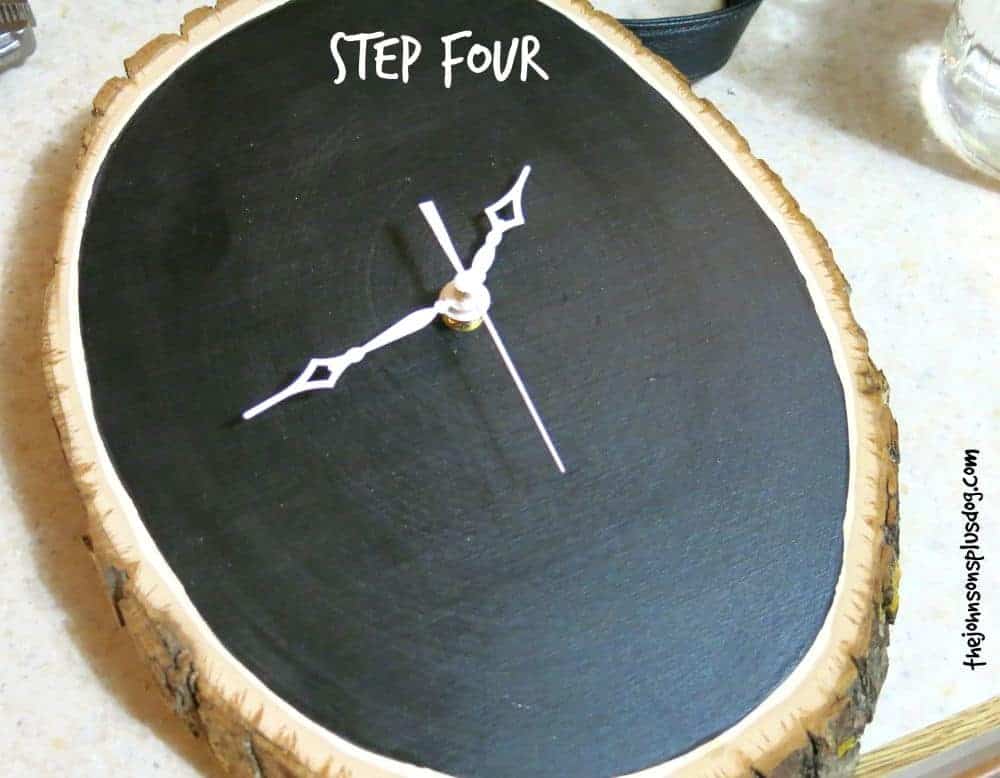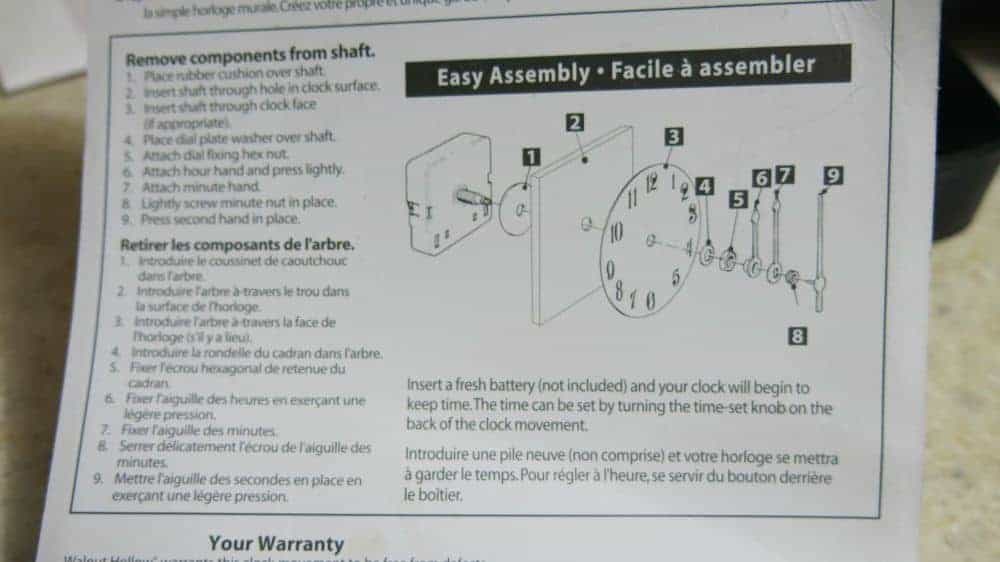 Step Four: Install your clock set.
Follow the directions on the box of your clock set. This step seems easy enough, right? Well, remember Step Two – drill your hole. I had Logan drill this while I was painting the clock hands. Logan is a typical guy that never reads directions unless I'm working on a project with him and read every step aloud. Once he drilled the hole, he took the clock set straight out of the box. He then put it all in the drilled hole WITHOUT reading the instructions in the picture above…. to make a long story short, the clock set got stuck and we had to break it to remove.
Back to the store a few minutes before they closed, I quickly grabbed another clock set. Once we got home I realized that the clock set was completely the wrong size. So that is why I mention earlier to pay close attention when buying your clock set so that it is the right depth for your wood round. It was the night before the shower (I had to leave at 7am this next morning) and all of the stores were closed.
My amazing husband miraculously solved my dilemma! He slowly took the clock set apart and using the machine from the new clock set, he addd the longer pin from the broken set. I don't know how he did it, but he did. However, save yourself the trouble and just pay attention when you're shopping! Also read the directions when installing your clock set.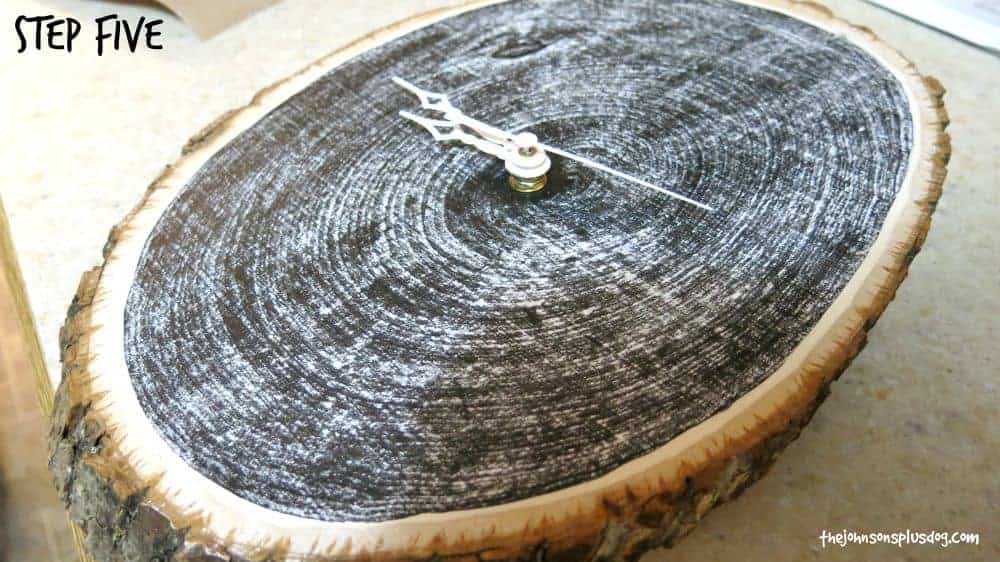 Step Five: Season chalk paint.
Always condition (or season) the chalk board paint before using. To do this, you just rub the edge of a chalk piece on it's side in every direction. Then, wipe with a clean cloth followed by a slightly damp rag to clean.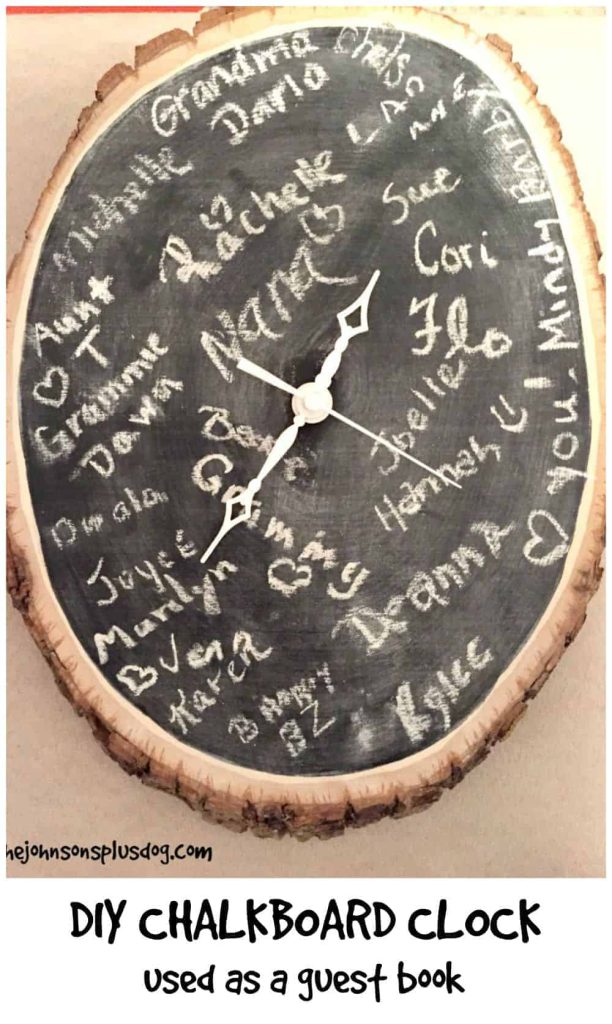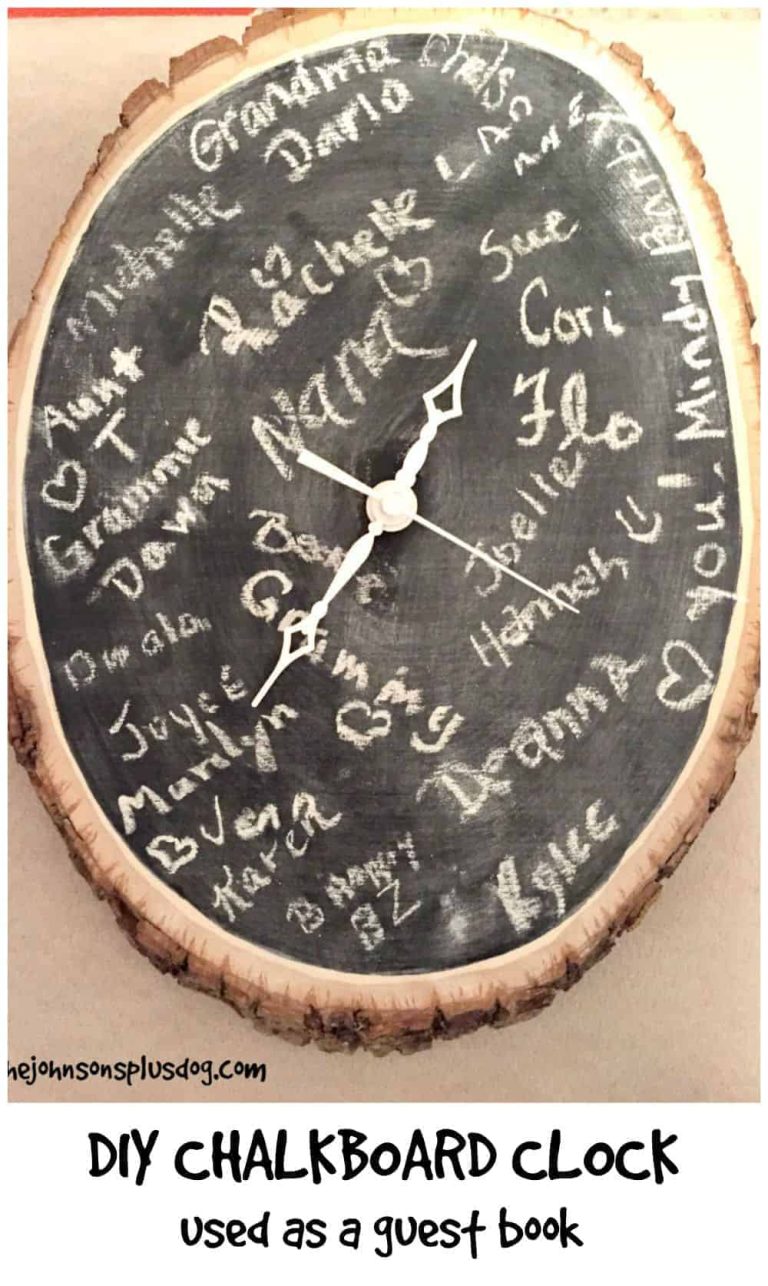 All done! This DIY Chalkboard clock tutorial showed you how to make this awesome guest book alternative. I'm sure the mama-to-be will love this DIY chalkboard clock that she can use as decor in her baby nursery. Now if you're just make this clock for yourself, you can of course draw in numbers or other designs. How fun would this be to change out for the seasons?!
---
Here's a replay of my live video tutorial for this project! Don't forget to check out my video page for more video tutorials!
---