There's something undeniably classic about a gorgeous white kitchen with exquisite gold hardware. These two elements come together to create a timeless and elegant aesthetic that can transform any kitchen into a true masterpiece.
As we all know, the kitchen is the hub of the home! It's key for the kitchen to be beautiful yet functional, and sometimes that can be a real challenge.
I have always loved white kitchen cabinets. They look so beautiful with those crisp and clean lines. If you're a mom, you might be questioning my sanity when I suggest white kitchen cabinets but hear me out! White kitchen cabinets get so squeaky clean with a few swipes. Plus, if you can see the grime, chances are that you will get to it a lot faster!
For the most part, white kitchens have been a popular choice in the home decor arena for several years now. Some may say they are outdated, but I love the blank slate that white cabinetry offers.
You can literally transform from one decor style to another with a few quick updates, like swapping out your kitchen hardware, which can be done in less than an hour. Plus, white kitchen cabinets go with black hardware, gold hardware…literally any color!
Why White Kitchens with Gold Hardware
When it comes to white kitchens, I absolutely love how gold hardware complements it. Whether you opt for shiny brass, brushed gold, or satin-finished options, the gold-ish style instantly elevates the overall aesthetic of your kitchen and instantly makes it feel more fancy.
From drawer pulls to cabinet knobs, kitchen sink faucets to light fixtures, incorporating gold accents throughout your kitchen creates a luxurious feel that enhances the beauty of your white cabinetry.
Let's dive into some of the most beautiful and functional ways you can incorporate white cabinets with gold hardware into your kitchen. (Plus, examples of real homes are below!)
Thi white kitchens with gold hardware article contains affiliate links, but nothing that I wouldn't recommend wholeheartedly. Read my full disclosure here.
Design Styles that Use White Kitchen Cabinets
White kitchen cabinets are the perfect canvas for various design styles, providing a timeless and clean aesthetic. If you are worried about how white cabinets and gold hardware will work with your home's style, here are some examples of how they can look with different interior design styles:
Classic and Traditional
Raised-panel cabinet doors will usually nod toward the traditional style while the white will add an element of minimalism to your kitchen.
Instead of yellow-gold cabinet pulls, choose a more traditional look like brass or antique brass hardware. Consider opting for knobs instead of handles or pulls for a clean look.
To complete the look, add warmth with wooden flooring and other wood accents and wood tones, like exposed beams. These elements look great in kitchens with white walls and white cabinets to add some other dimensions.
Farmhouse Charm
Farmhouse is one of those classic, trendy styles. But it's evolved A LOT since it appeared on the scene. I still love the cozy, homey feel this style gives and the white cabinets definitely work well!
To create a more modern farmhouse vibe, combine white lower cabinets with open shelving for a rustic feel. Ditching the upper cabinets for open shelves is usually the first thing people do when they want to give their kitchen more farmhouse style.
Shiplap across the walls (or ceiling) or along the kitchen island would also be a great option and another perfect example of the farmhouse style.
A white subway tile backsplash is another great example of pure farmhouse vibes in a kitchen.
May farmhouse kitchens use black pulls or even silver hardware but switching it out for gold cabinet hardware is a good way to elevate the look of your kitchen in a big way. Opt for copper or antique gold instead of yellow gold for the hardware. Copper and antique gold have a rustic and aged vibe that plays into the farmhouse style.
Coastal or Beachy Vibes
White is the quintessential coastal color. It's light, and fresh and works with a lot of other great decor items.
To incorporate white kitchen cabinets and gold hardware into your coastal space, try pairing the cabinets with sea greens, light blues, and neutrals.
Use glass-front cabinets on the upper or lower cabinets to showcase your favorite cooking pieces. Other suggestions include using rattan, driftwood, or other natural elements in your decor.
Boho
If you've been around here long, you know my style is boho through and through! You could easily incorporate white cabinets into a funky and eclectic style if that's more your speed.
I love mixing different colors and textures into rugs and decor pieces. A bold backsplash, statement lighting, and funky bar stools would look great in a bright white space. You could even do a two-toned look with darker cabinets on the bottom, like green cabinets.
Remember, the key is to personalize the design to your preferences and create a space that reflects your style, not just follow the hottest trend!
Types of Gold Hardware for Kitchen Cabinets
Much like any shade of paint, there are countless types of gold. If you are looking for something a little different than the traditional gold hardware, here are some options to consider for your new hardware:
Polished Brass: Classic and timeless, polished brass adds warmth and elegance to white cabinets. It can range from a bright, shiny gold to a softer, brushed finish.
Antique Brass: Antique brass is a great choice for a more vintage or rustic vibe. It has a weathered and aged appearance, adding character to the kitchen.
Unlacquered Brass: This type of brass hardware will age naturally and patina over time, which will add so much character and charm to your kitchen!
Brushed Gold: Brushed gold has a matte finish with a subtle texture, making it a more modern and understated option. It works well in contemporary and transitional kitchen designs.
Champagne Gold: This is a softer, muted gold that often has a slightly rose or pink undertone. It's a great choice for those who want a touch of warmth without the boldness of traditional gold.
Rose Gold: If you're looking for a trendy and modern option, rose gold hardware can add a touch of sophistication and uniqueness to your white cabinets.
Matte Gold: Similar to brushed gold, matte gold has a flat, non-reflective finish. It gives a contemporary and sleek look, perfect for minimalist or modern kitchen designs.
Best White Paint for Kitchen Cabinets
When it comes to white paint for your kitchen cabinets, there are so many different options! We've incorporated a few of these into our whole house color scheme, but you can't go wrong with these shades of white!
Behr Snowy Pine: The perfect shade of white. Not too harsh, just clean, soft vibes! This is what is used on all of the trim, baseboards, and doors in our home.
Behr Falling Snow: A cool, clean shade of white that's ideal for brightening up a kitchen, especially those without a lot of natural light. This is what is used on the white walls in our bedroom, bathroom, and our son's room.
White Dove by Benjamin Moore: A versatile and warm white, White Dove is a popular choice for kitchen cabinets. It has a slight gray undertone, which helps prevent it from feeling too stark.
Simply White by Benjamin Moore: This is a crisp and clean white with a slightly warm undertone. Simply White works well in both traditional and modern kitchens.
Chantilly Lace by Benjamin Moore: If you're looking for a pure and bright white, Chantilly Lace is a great option. It's a clean white without strong undertones.
Alabaster by Sherwin-Williams: A warm and creamy white, Alabaster has gained popularity for its versatility. It works well with various color palettes and design styles.
Decorator's White by Benjamin Moore: This is a classic, true white that works well in modern and traditional kitchens alike. It's a bright and clean option.
Swiss Coffee by Benjamin Moore: A warm and inviting white, Swiss Coffee has a slight creaminess to it. It's a popular choice for those who want a softer, more traditional look.
Super White by Benjamin Moore: For a pure and cool white, Super White is a great option. It provides a clean and contemporary look.
Extra White by Sherwin-Williams: As the name suggests, Extra White is a bright and crisp white. It works well in modern kitchens and spaces with ample natural light.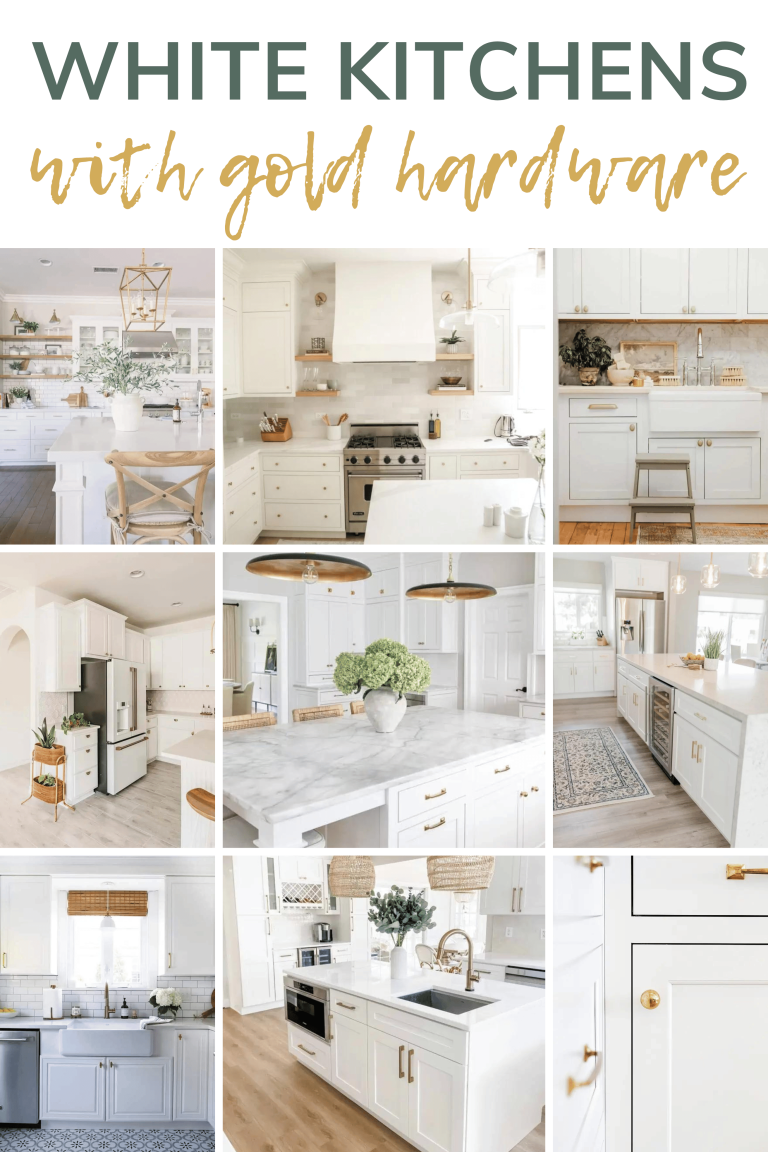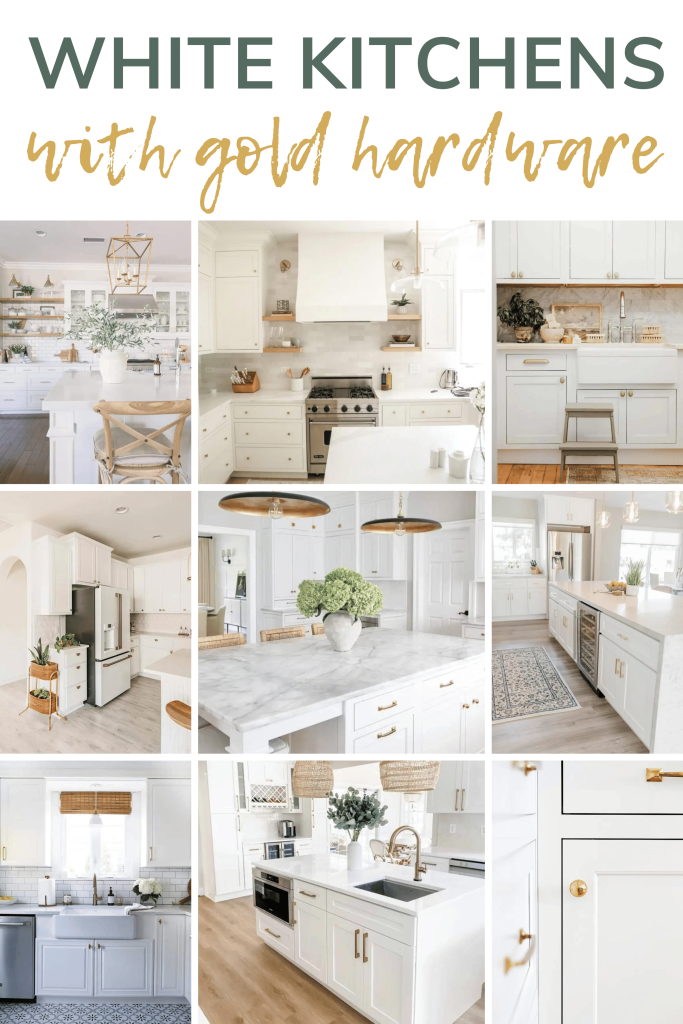 White Kitchens with Gold Hardware
One of the greatest advantages of pairing white kitchens with gold hardware is the timelessness of this combination. Unlike trendy colors or finishes that may go out of style quickly, the classic white and gold duo remains eternally chic.