If you are looking for a cheap way to add an accent wall with farmhouse style to your home, you'll love this DIY brick wall! Follow along on this step by step tutorial to see how to create a faux brick wall and give it a german schmear finish.
If you love DIY videos, be sure to subscribe to my YouTube channel.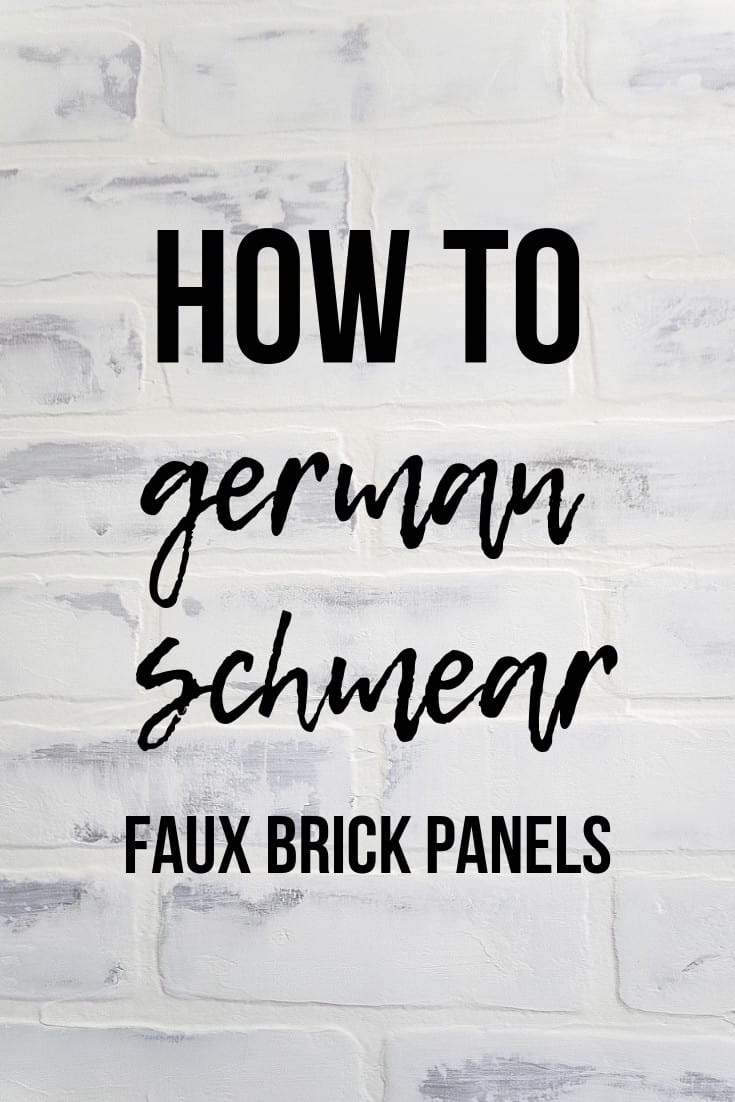 When we were planning our modern laundry room design, I had my heart set on a fun accent wall to put behind the washer and dryer. I considered wallpaper and Logan is still not on that train yet, so he vetoed that idea….(maybe someday I can talk him into wallpaper somewhere!).
After looking at tons of different ideas, we decided on a budget friendly DIY brick wall. And in pure farmhouse style fashion, I insisted on a german schmear (also sometimes called german smear) finish. It is basically just a whitewashed brick look that is meant to look aged and rustic.
Here's what we were starting with…..what a cluttered, ugly mess…right?! I'm so embarrassed.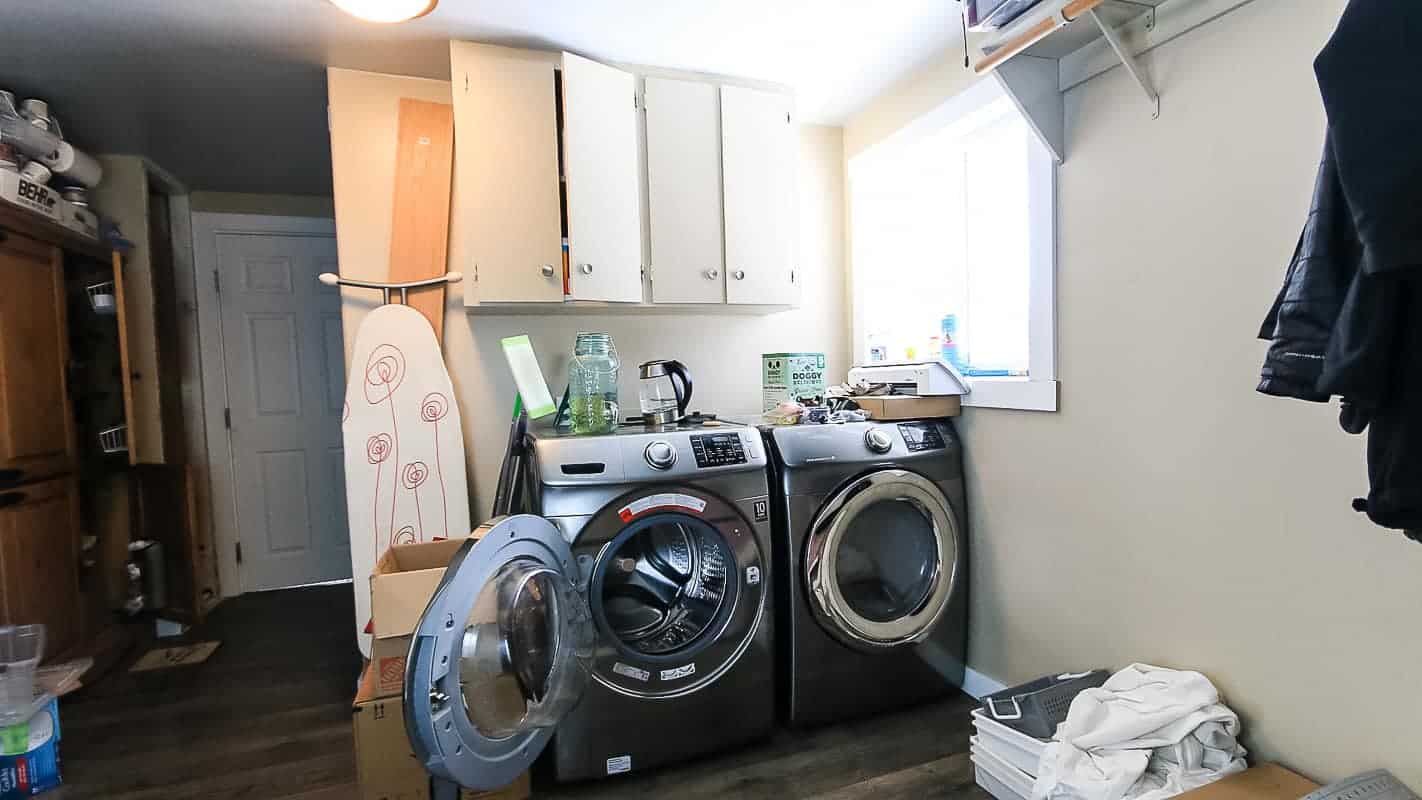 I turned to Pinterest for inspiration and started reading up on lots of different faux brick wall tutorials and ways to create that german schmear look. The Restoring House provided some great inspiration for us with the idea of how to handle the seams on the faux brick wall. Definitely go check out her tutorial and brick wall too!
I definitely love how cheap this DIY brick wall was! It was less than $100 for us because we had quite a bit of supplies on hand already. For full details on the prices, scroll down for the price list.
---
Are you ready to see how to create a faux brick wall with german schmear finish?
Supplies for german schmear on faux brick wall:
Hawk & trowel
Paint brush
I've summed everything up for you in a video tutorial and also detailed out the step by step tutorial in the below text. If you love videos, be sure to subscribe to my YouTube channel so you don't miss one!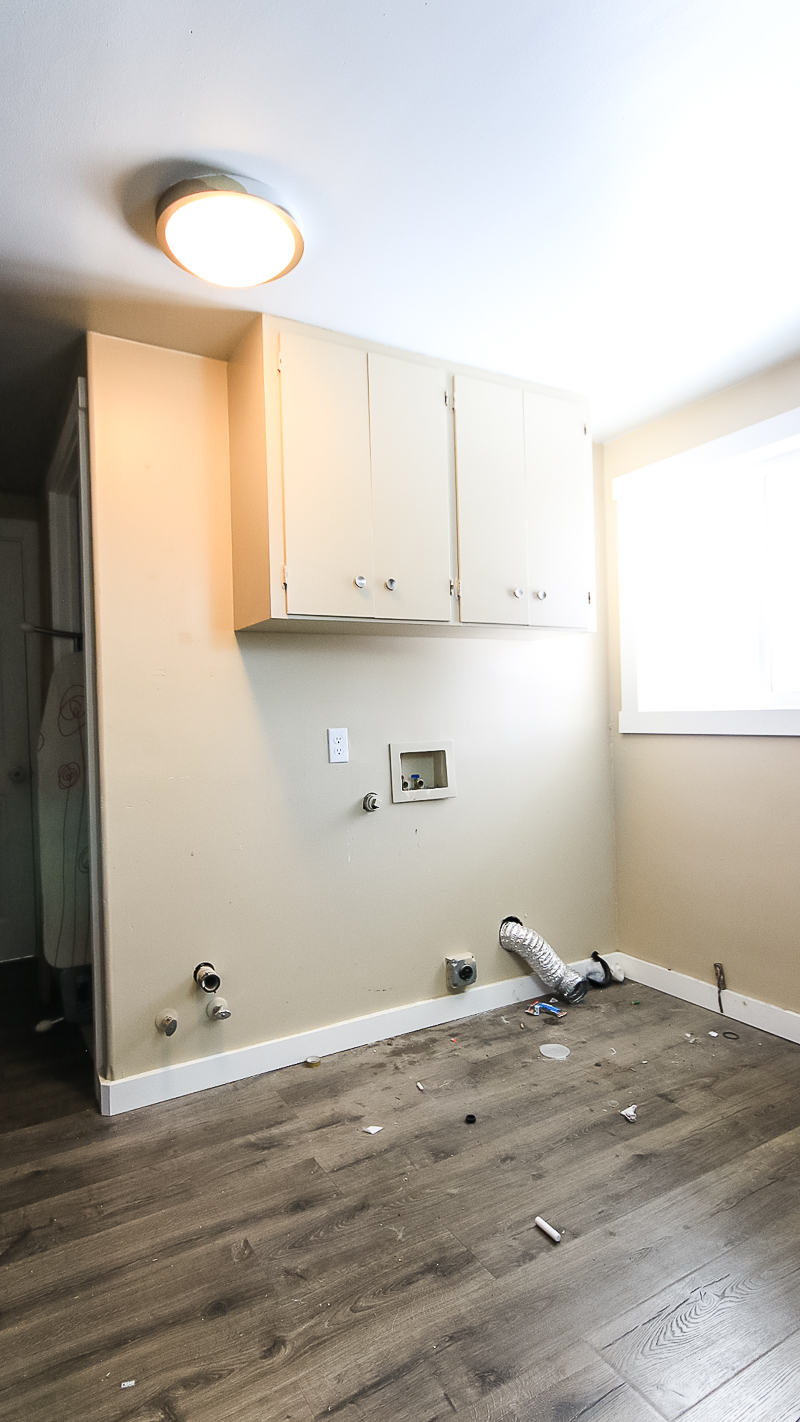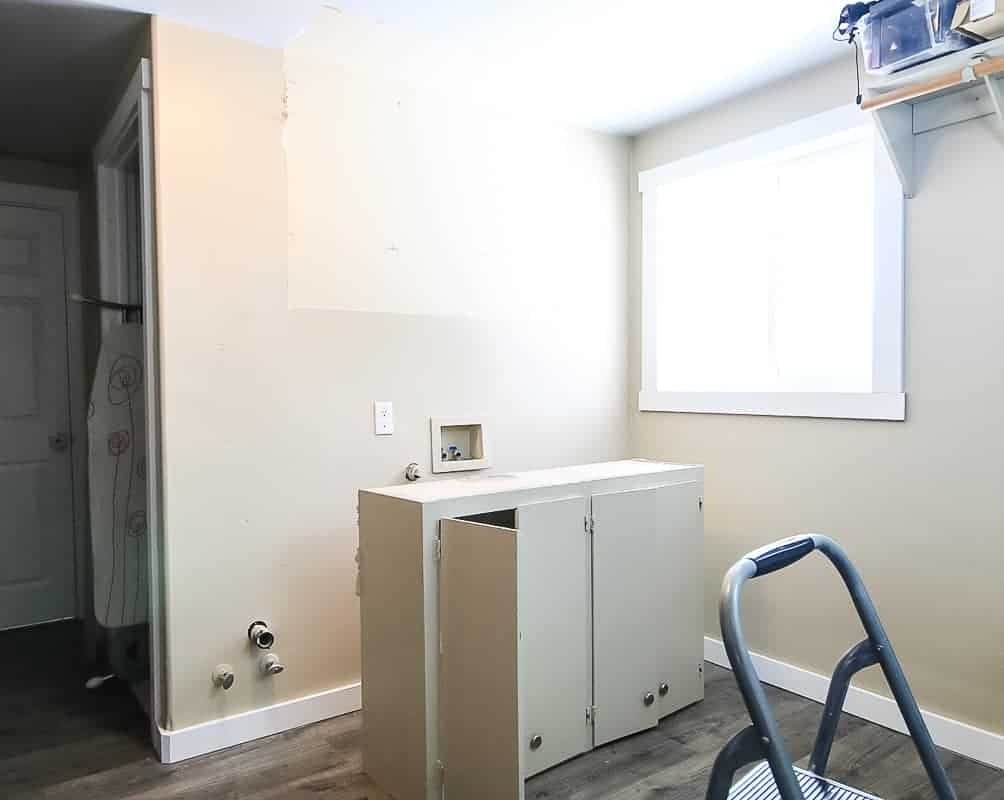 Remove anything from walls and area in front of wall.
In our case – the faux brick wall we were installing was in our laundry room, so we needed to move our washer & dryer and remove a wall cabinet that was hanging on the wall.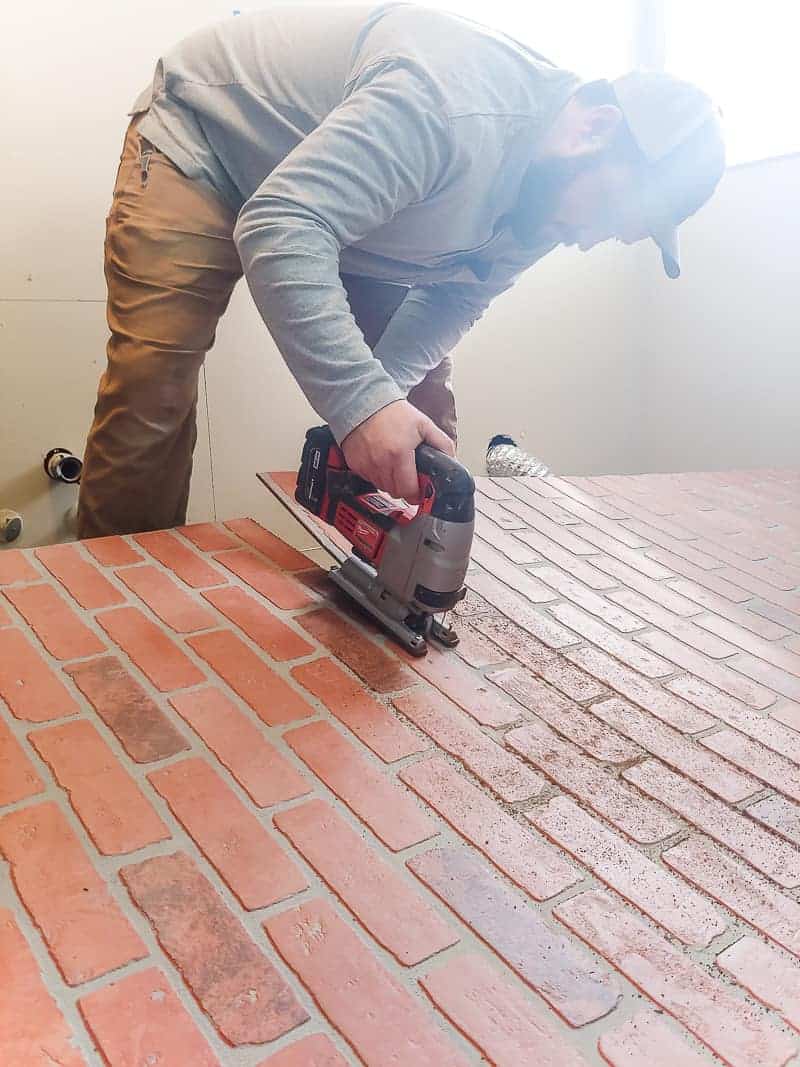 Cut brick wall panels.
Plan out the brick wall panels and cut them down to size if necessary.
You're probably wondering…..why in the heck didn't they finish the wall or make the panels go to the floor? The reasons our panels don't go all the way to the floor here is because we're adding a folding counter over the washer & dryer and a cabinet with a sink on the left (read more about our modern farmhouse laundry room plans here). This is just "Phase 1" of our laundry room renovation. There was no need for the faux brick wall panels to go to the floor behind those things, so we cut them down to size using a jig saw.
You may also need to cut around any outlets on the wall too. For this we marked it on the wall panel with a Sharpie, then used a keyhole saw to make a small hole in one of the corners and then used the jig saw to cut it out.
Cut brick wall panel seams to fit together.
If you are doing a DIY brick wall with similar faux brick wall panels and finishing with a german schmear finish, my number one piece of advice for you is to cut the brick wall panel seams to fit together like a puzzle with a jig saw. Otherwise the seams are pretty noticeable! There would be tons of bricks that would look like they were cut right down the middle….no bueno. By cutting the seams like a puzzle and then finishing off the wall with german schmear, the seam between the two panels disappears!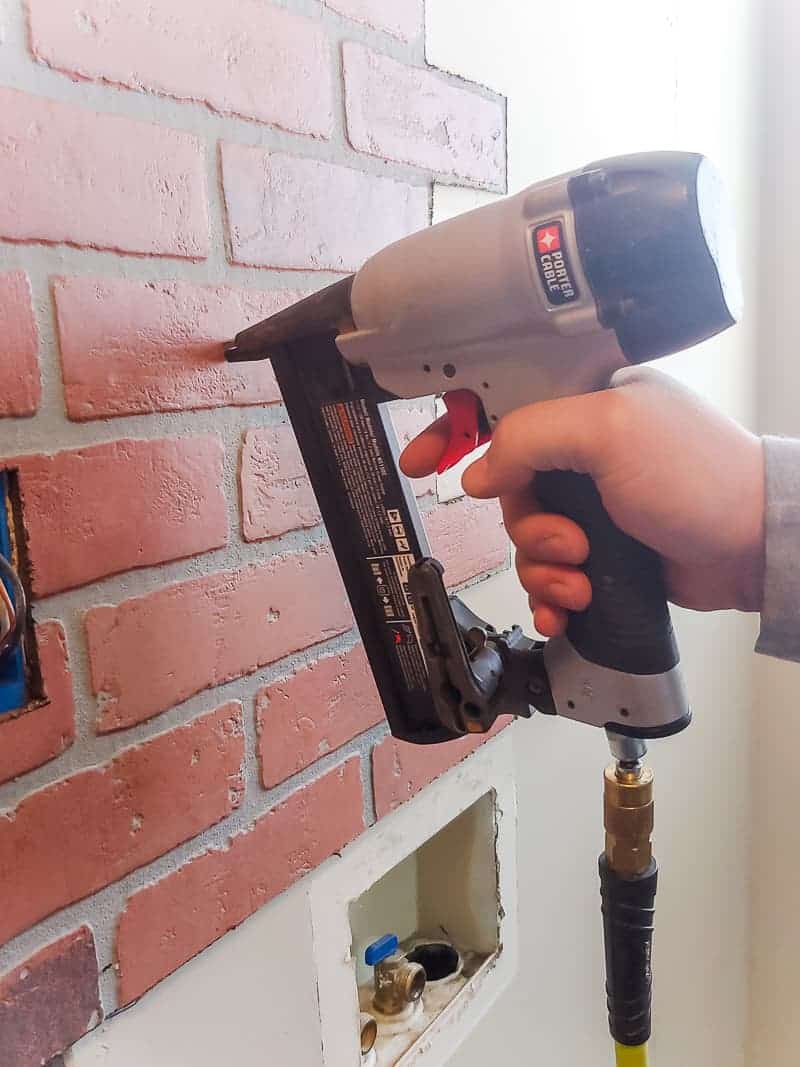 Hang brick wall panels.
We found where the studs were and stapled the brick wall panels into the studs throughout the wall. It really helps to have two people for this part. One to hold the panel in place and the other to check if everything is level and staple to the wall.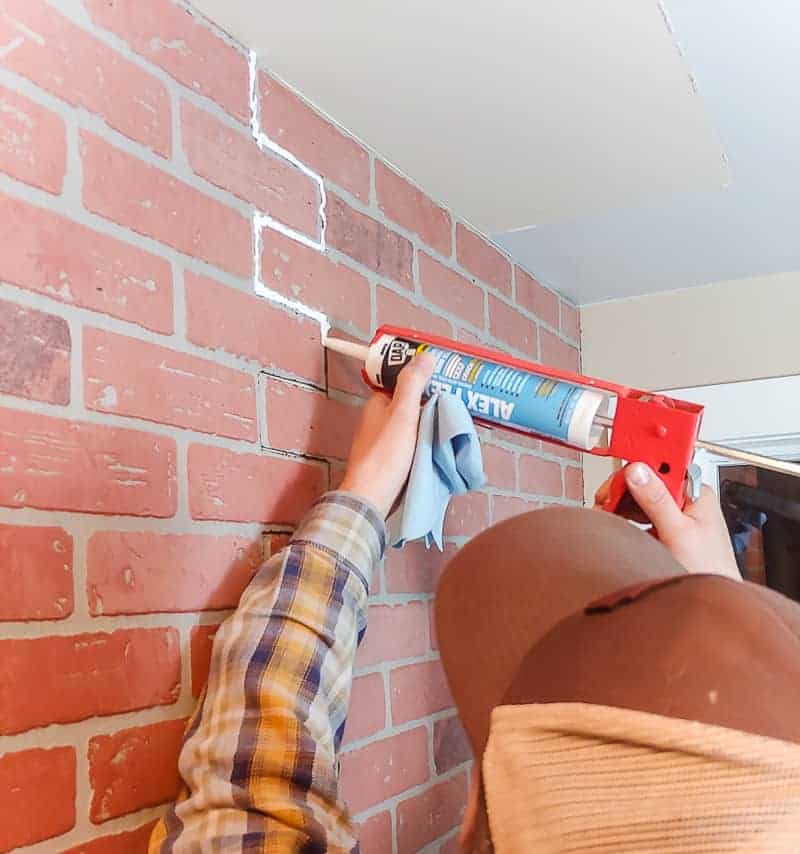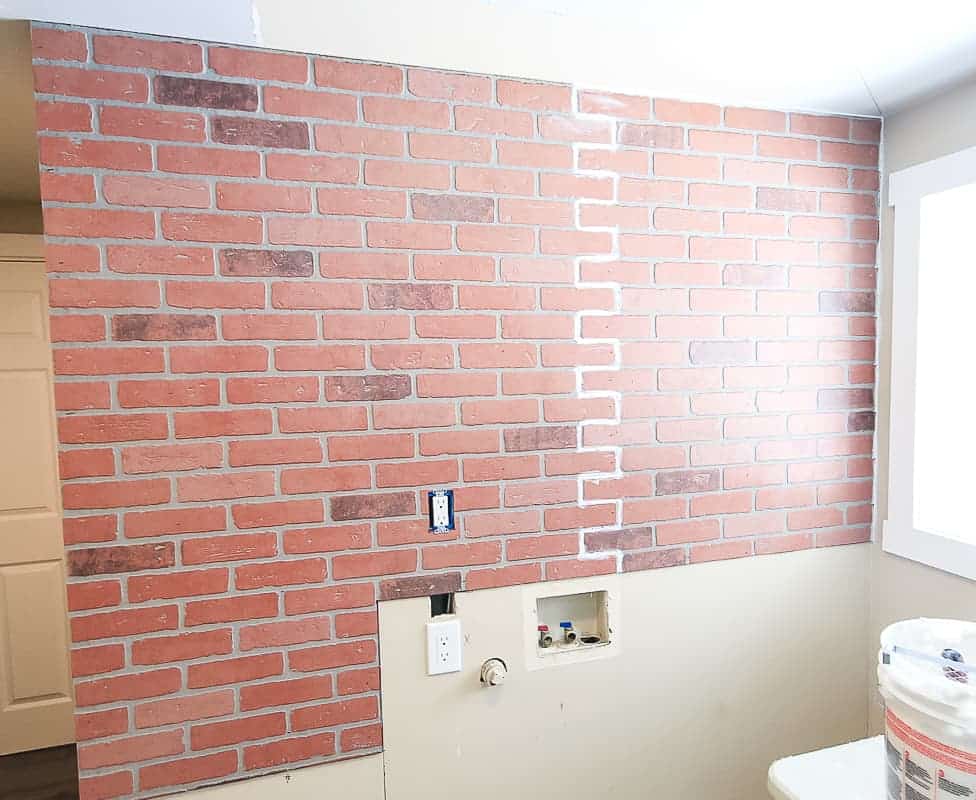 Caulk joint between brick wall panels.
This isn't absolutely necessary – you could probably just fill the gap between the brick wall panels with joint compound, but caulk is a better solution because it is more flexible. Since it is in the laundry room and near a window, it stands a better chance of not cracking with temperature changes. If the gap was filled with joint compound, you run the risk of it cracking overtime.
We also caulked the edge of the brick wall where it met with the corner by the window.
If you're confused about what type of caulk to use and how to apply it – check out our full article of caulking tips and tricks!
Apply joint compound to create german schmear finish.
The joint compound is really what makes the german schmear finish. Grab a putty knife….or better yet a hawk and trowel if you want to work quickly. You'll see in the video that when we were trying things I started by applying the joint compound with the small putty knife….and it worked fine, it really did. But it was going to take forever. So Logan went out a grabbed the hawk and trowel and I think it only took him about 10 or 15 minutes to german schmear the entire wall.
Applying the german schmear is really pretty easy. You just plop the joint compound on to the wall and then scrape it off.
Then let it dry for several hours before moving on.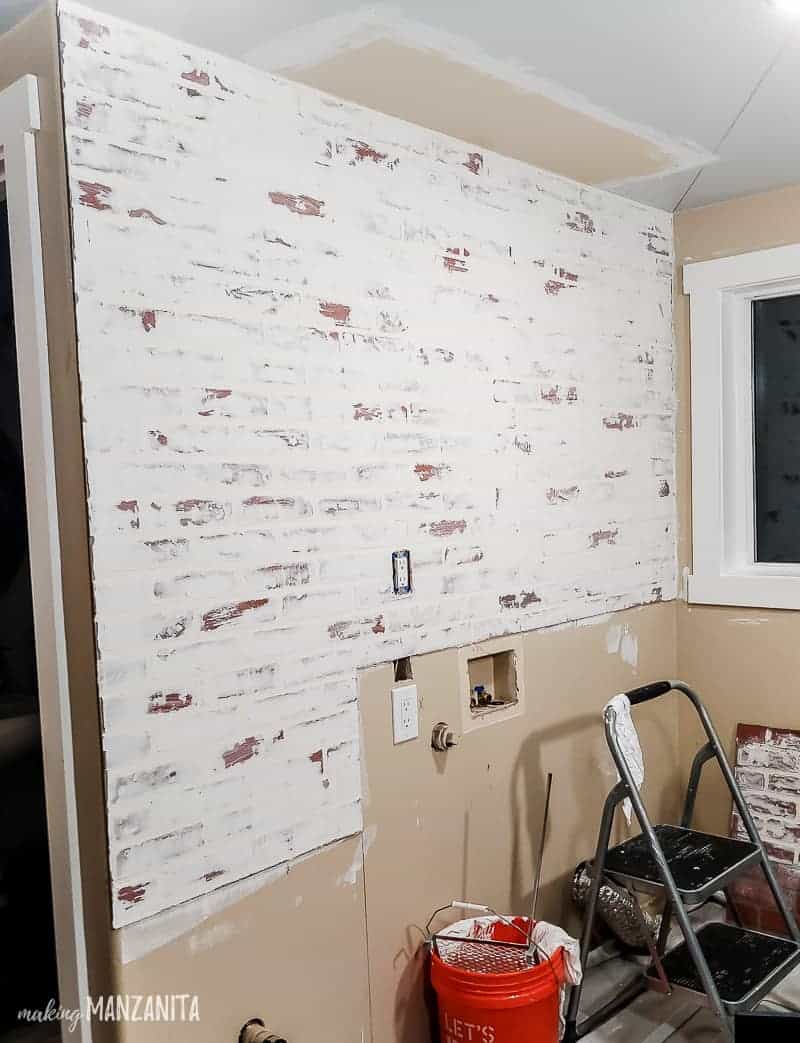 Wipe off some joint compound with wet rag.
Joint compound wipes off with just simple water, so you can just get a rag damp and wipe off the joint compound to get the desired look that you want for your german schmear finish.
One thing that I did notice because we were using the faux brick panels was that the more you scrape and wipe off the joint compound, the more colored the joint compound becomes. You'll notice that it has a slight orange tint when we were done and before we sealed with the white paint. This is the coloring coming off of the brick wall panels. That's the downside to using the faux brick. But for me, it wasn't the big of a deal because I wanted to lighten everything up at the end anyway so my watered down white paint did that just fine.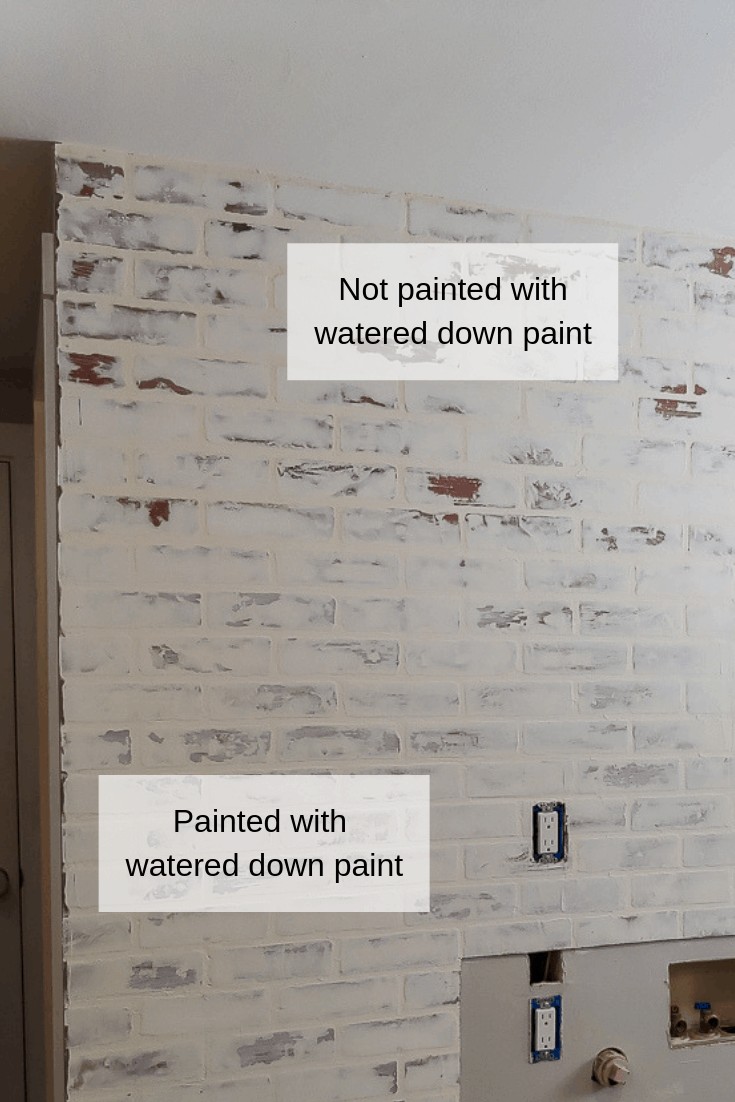 Seal with watered down white paint.
Because joint compound wipes off with water, you definitely need to seal your whitewashed brick wall. I used watered down white paint to do this. I mixed about 50% paint and 50% water and brushed it on. I focused mostly on the spaces between the bricks to lighten up the orange tone and then lightly brushed the watered down paint over the bricks to seal.
If you didn't want to lighten your faux brick wall, you could apply something like water-based Polycrylic which would seal it, but not discolor it. Now I haven't tried this personally and can't vouch for it (although my Pinterest inspiration, The Restoring House, used this method and it looks great on theirs). I would definitely try it out on a small piece of scrap first to make sure you get the look you're going for!
Trim out edges of faux brick wall.
Last step to get a real finished off look to the faux brick wall is to trim out the edges and any corners with painted wood trim. For our corner, it was rounded (aka bullnose) corner on the wall, so we opted for this square corner trim to cover that up. For the other corner near the window, we used this trim. We painted the trim before installing with white paint and attached with brad nail gun.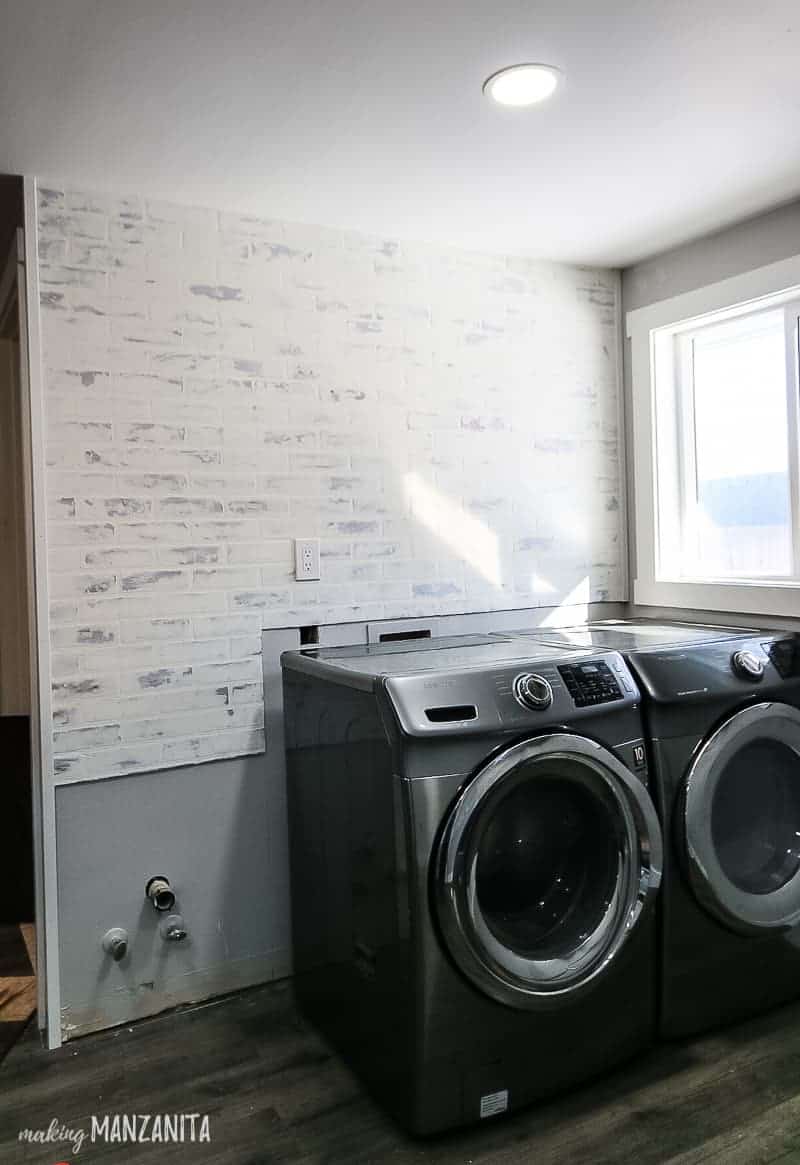 I'm shocked at just how easy and cheap it was to create this faux brick wall with whitewashed bricks in our laundry room! I know you're probably wondering what I mean when I say "cheap", so I decided to give you a full price list so you have all the details! Keep in mind that prices may vary in your neck of the woods. We also had a lot of supplies on hand, so I noted those too.
Price list for faux brick wall with german schmear finish:
Brick Panels (2) – $57.94
5 Gallon Bucket – $3.67
Moulding/Trim – $22.37
Joint Compound – $13.27
Materials & tools we already had

Paint, tray & paint brush
Nails & staples
Nail gun
Staple gun
Jig saw
Caulk
Hawk & trowel

Total cost for our faux brick wall = $97.25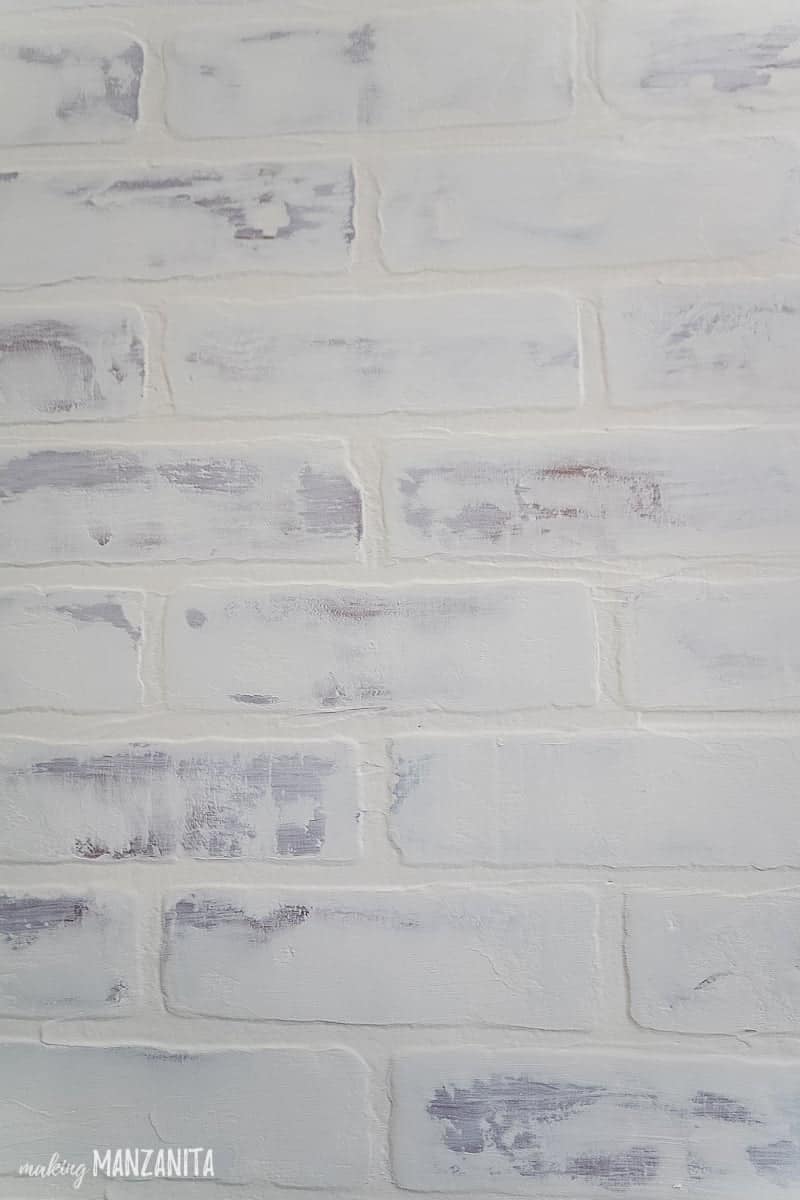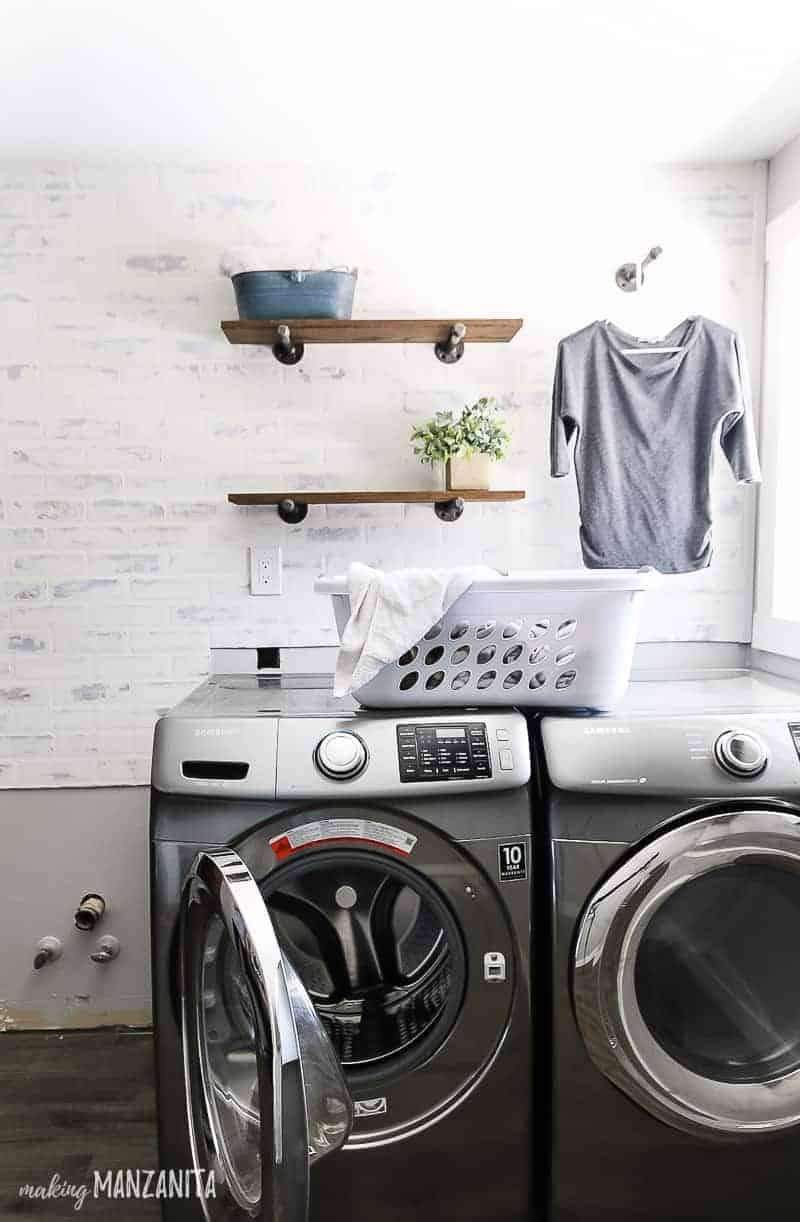 Looking for more ways to add character to a wall in your house??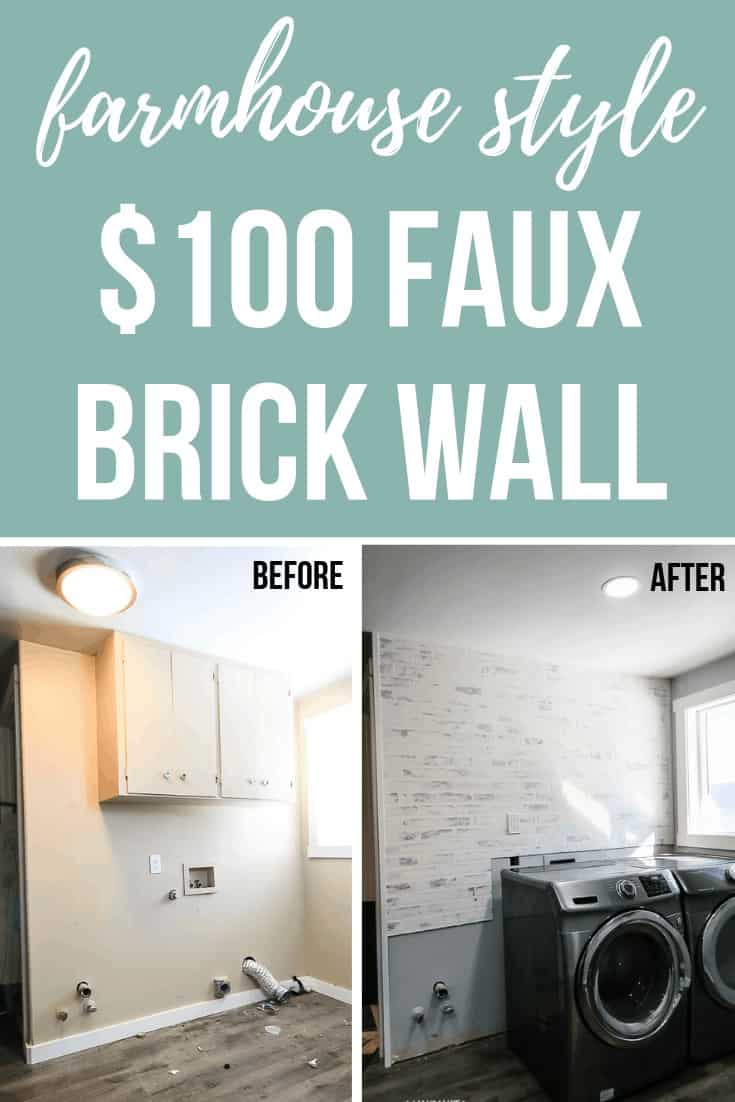 Where are you going to install a faux brick wall with german schmear in your house??
Let us know in the comments below!