Today is the big day! We're finally sharing our modern bathroom reveal that we completed in just 6 weeks for the Jeffrey Court Renovation Challenge! You're not going to believe these before and afters.
If you're hopping over here from the Jeffrey Court website (or if you're new here) – welcome! Making Manzanita is all about making your house a home you love. My hubby and I (with our two small kiddos in tow) are renovating our 2nd fixer upper. We love teaching our readers everything we learn along the way. Our style is modern farmhouse with some major boho vibes, which you'll see reflected in this bathroom renovation. Enjoy!
This post and the Renovation Challenge is sponsored by Jeffrey Court. All opinions are entirely my own and do not reflect that of Jeffrey Court. This post also contains affiliate links, but nothing that I wouldn't recommend wholeheartedly. Read my full disclosure here.
If you love DIY videos, be sure to subscribe to our YouTube channel.
ALL ROOM SOURCES ARE LINKED AT THE BOTTOM OF THE POST FOR YOUR CONVENIENCE
Well guys….we did it. We freakin' did it.
Don't lie…. I KNOW you had some serious doubts if you saw our Week 5 post last week and realized we had barely started tiling!
Well, it's been a LONG week jam packed with the never-ending to do list we had for the last week.
Here's some photos of what we were up to in the crazy last week…
Want to see our other renovation projects? Check out our full home tour here!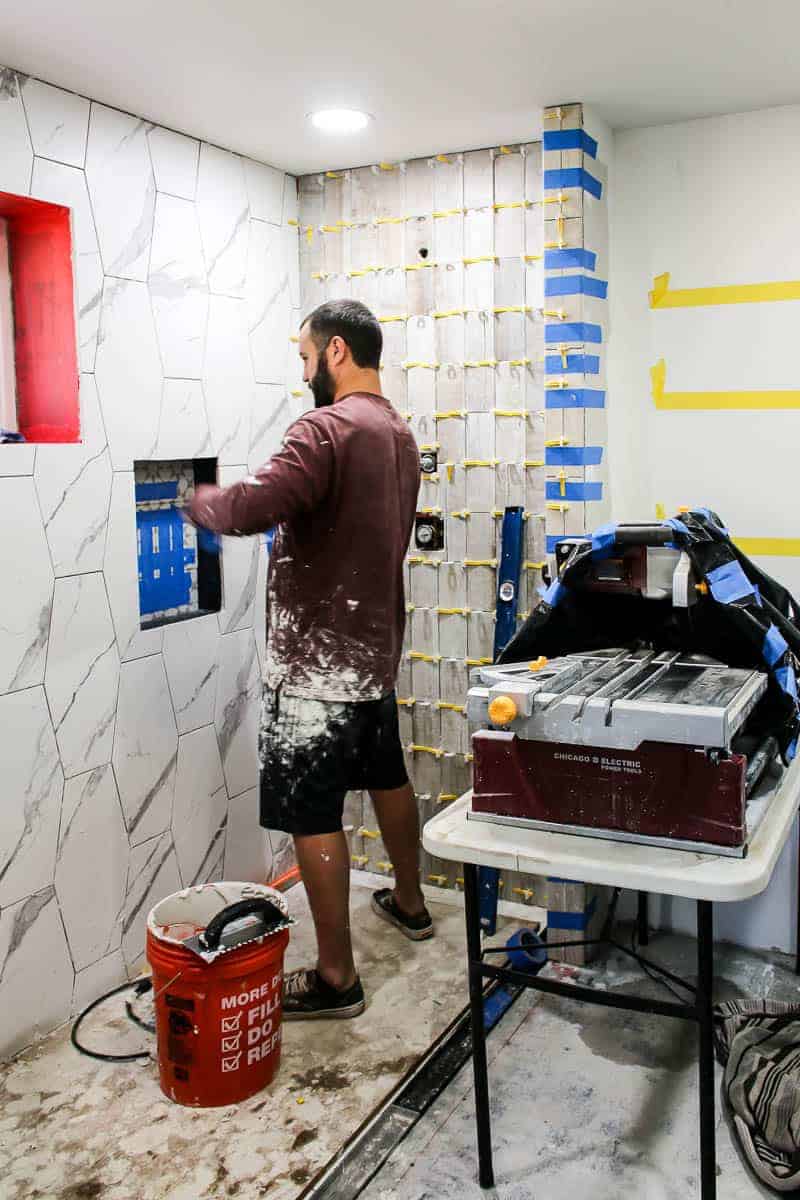 This is pretty much what the entire week looked like. SO MUCH TILE!!!!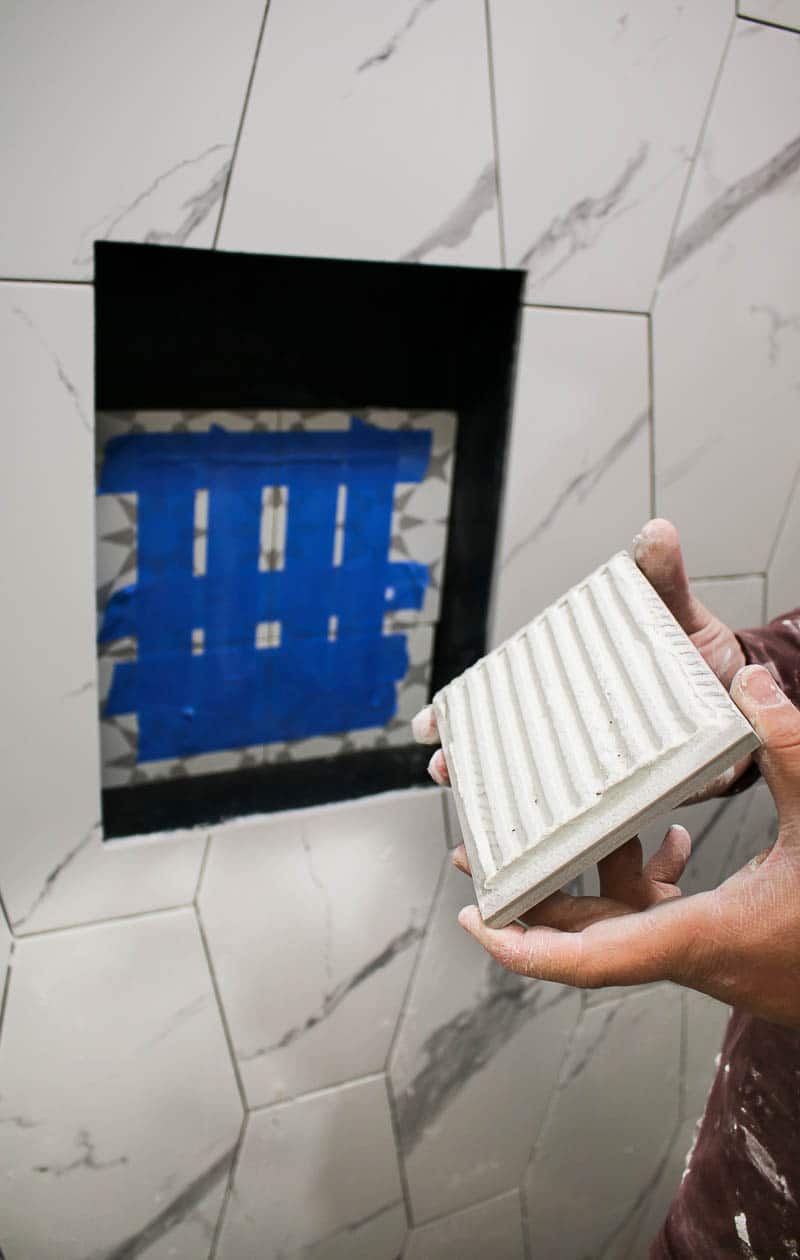 But we pulled it off…somehow.
And boy oh boy…it looks AMAZING!!!!!!!
Before we jump into ALL the pretty pictures and don't worry there are tons of pictures – let's take a walk down memory lane and remember what we started with just 6 short weeks ago.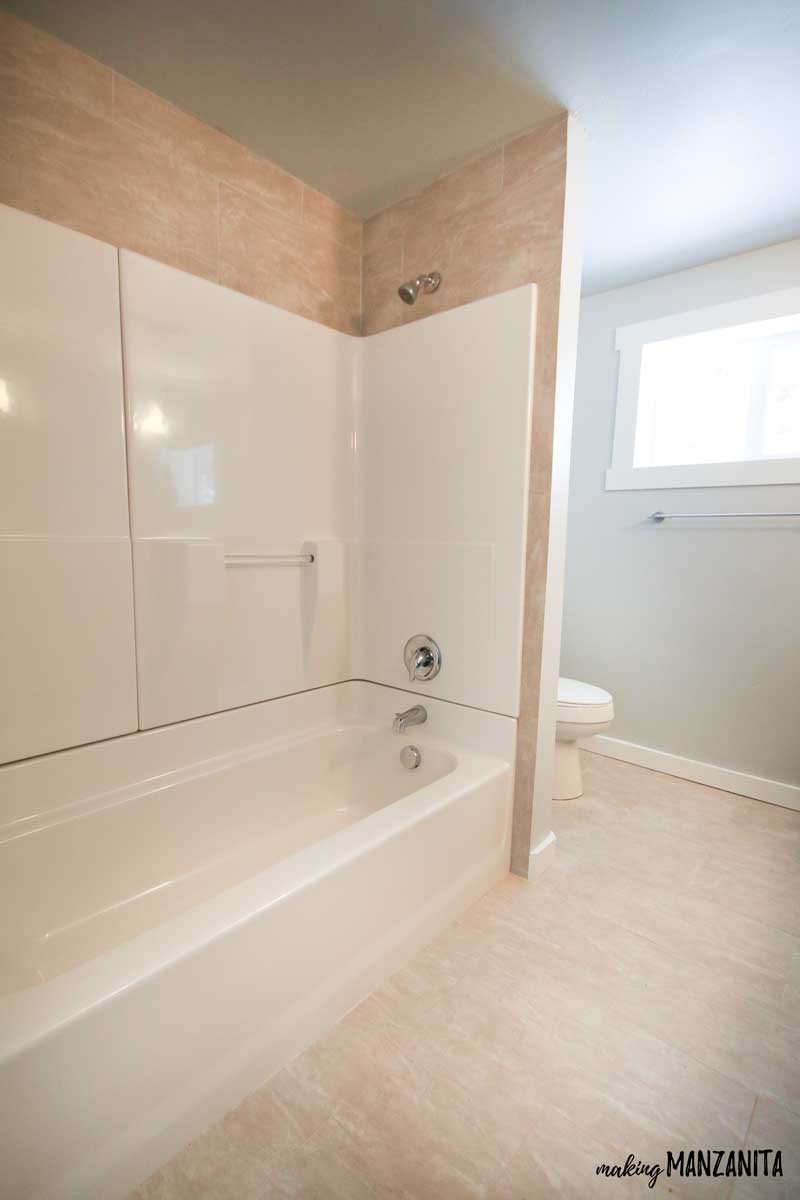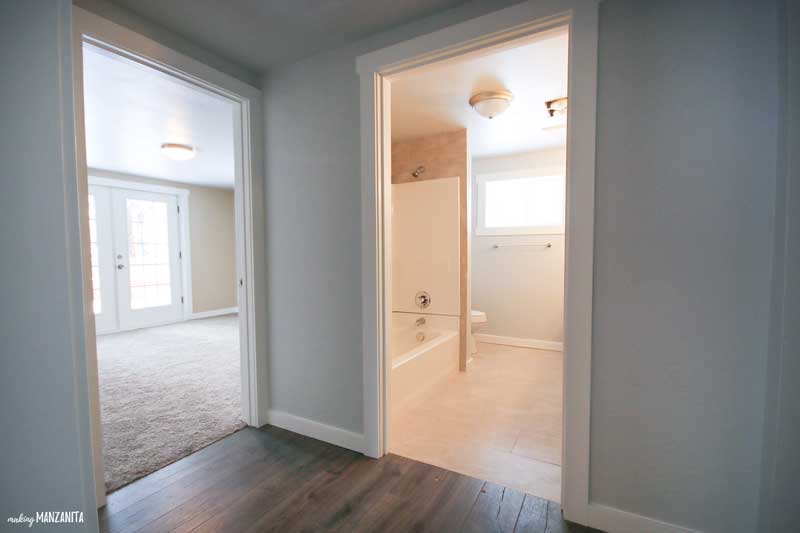 Bathroom used to open to the hallway…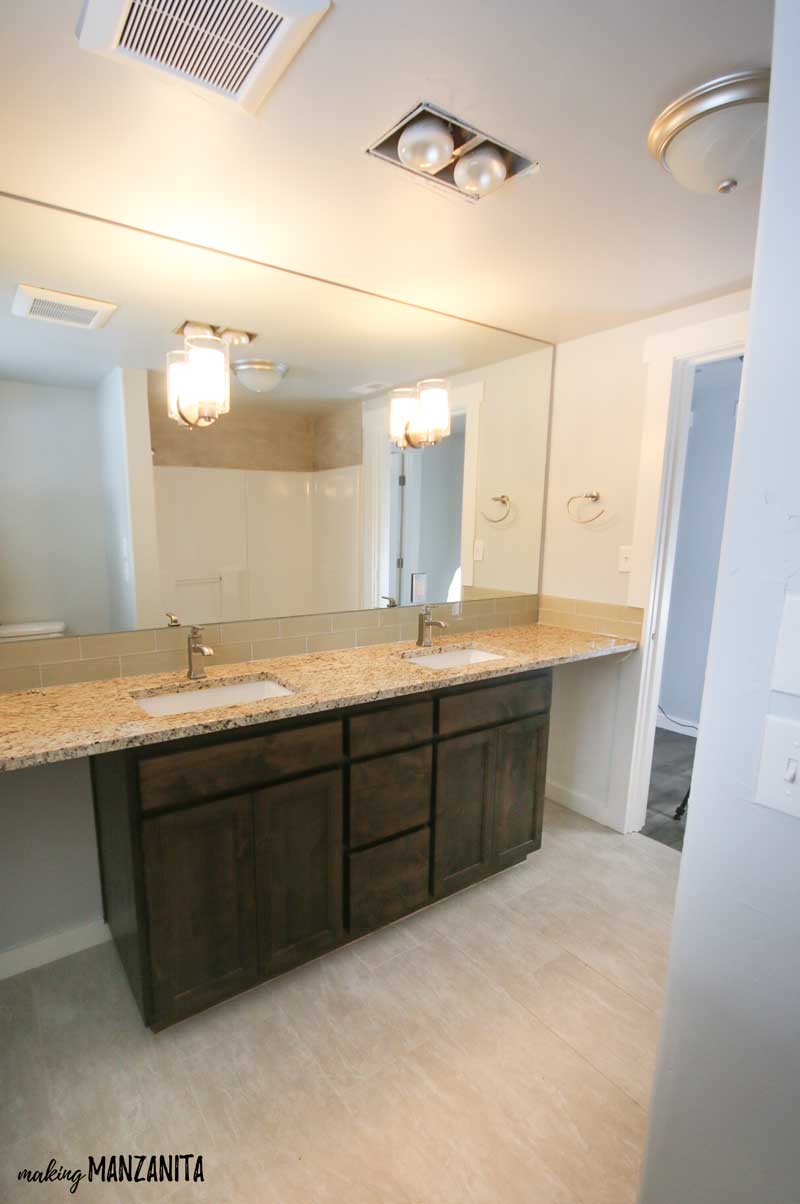 Can you believe we actually reused this vanity? It was the ONLY thing we ended up keeping in the bathroom.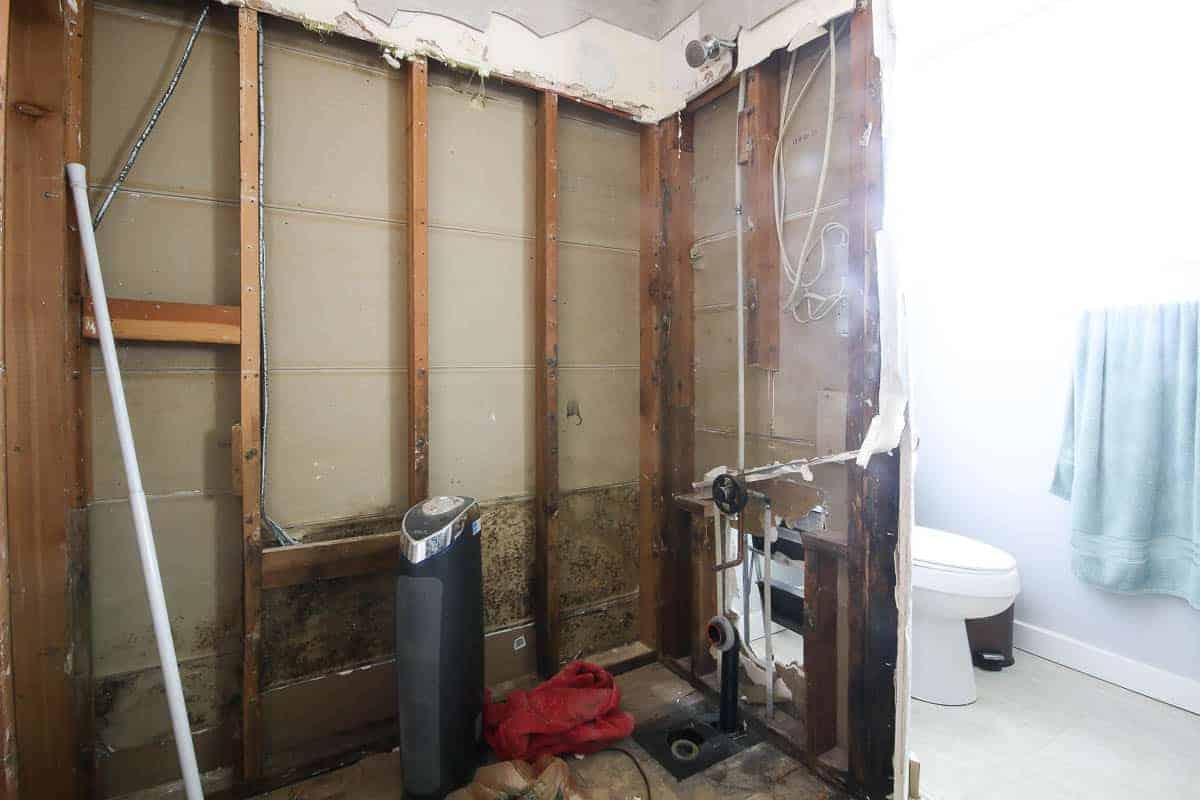 A month or so before we started the Renovation Challenge we found a leak behind the tub, which lead to this MESS! So this is really how things started 6 weeks ago… We had a lot of work ahead of us.
Want to catch up and see more about our master bathroom renovation?
Ready to see what the modern bathroom looks like now?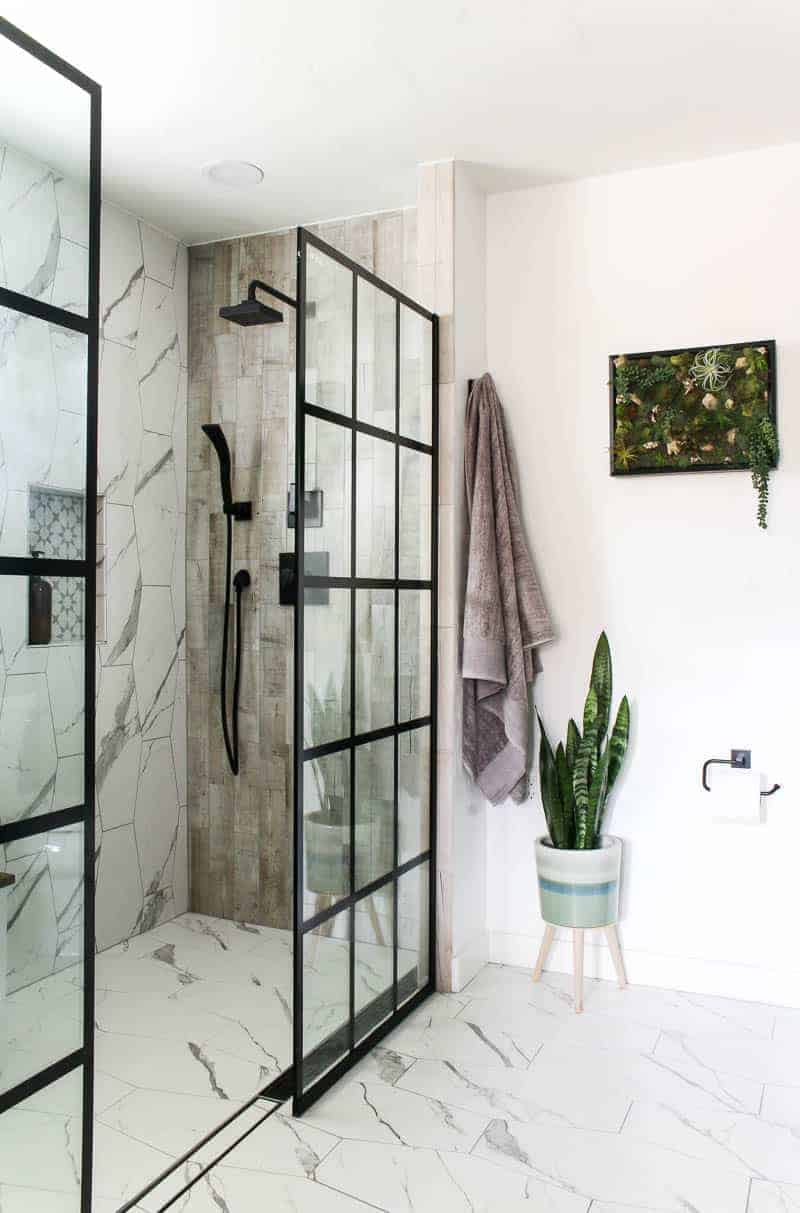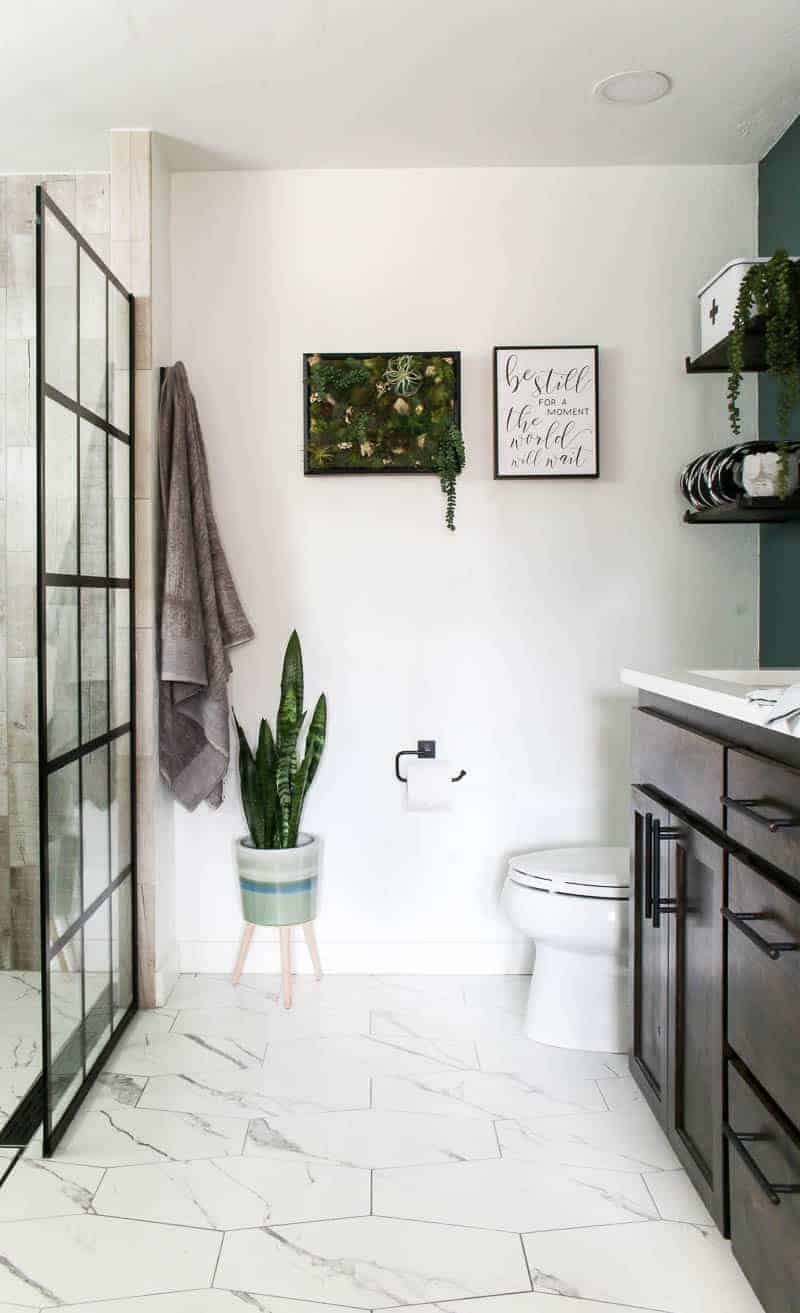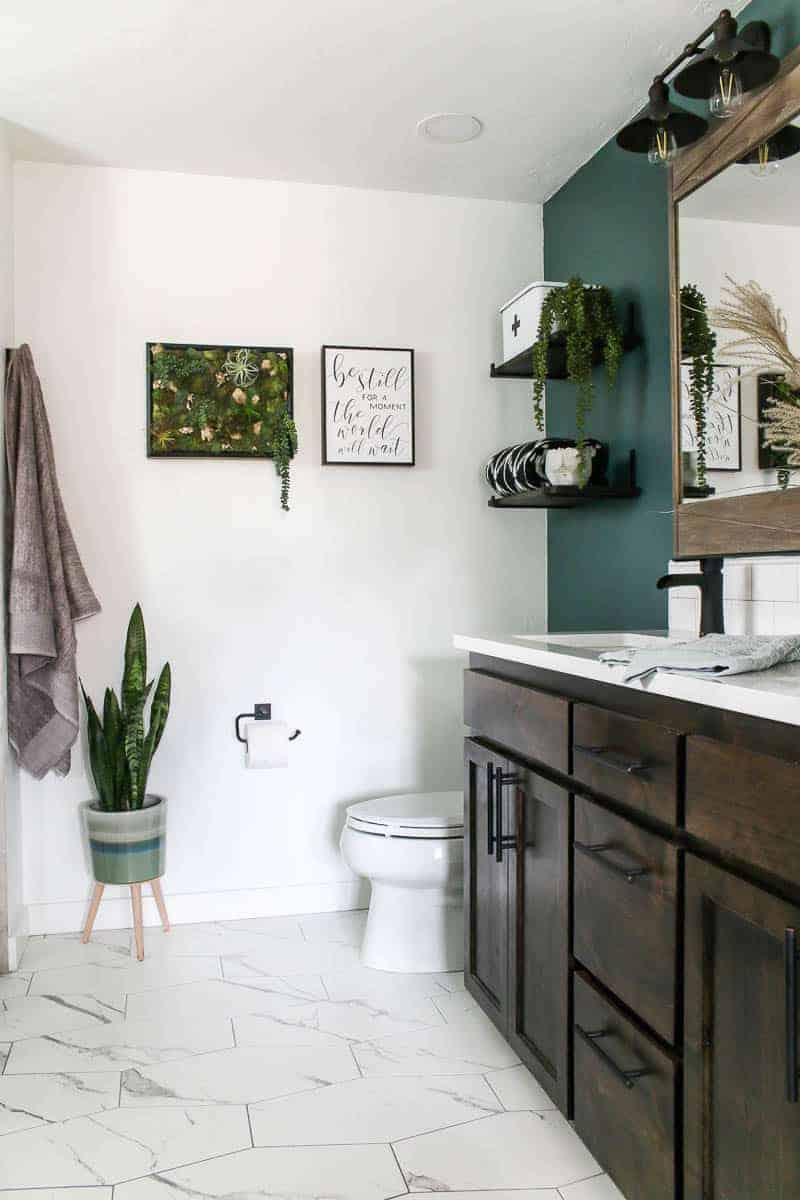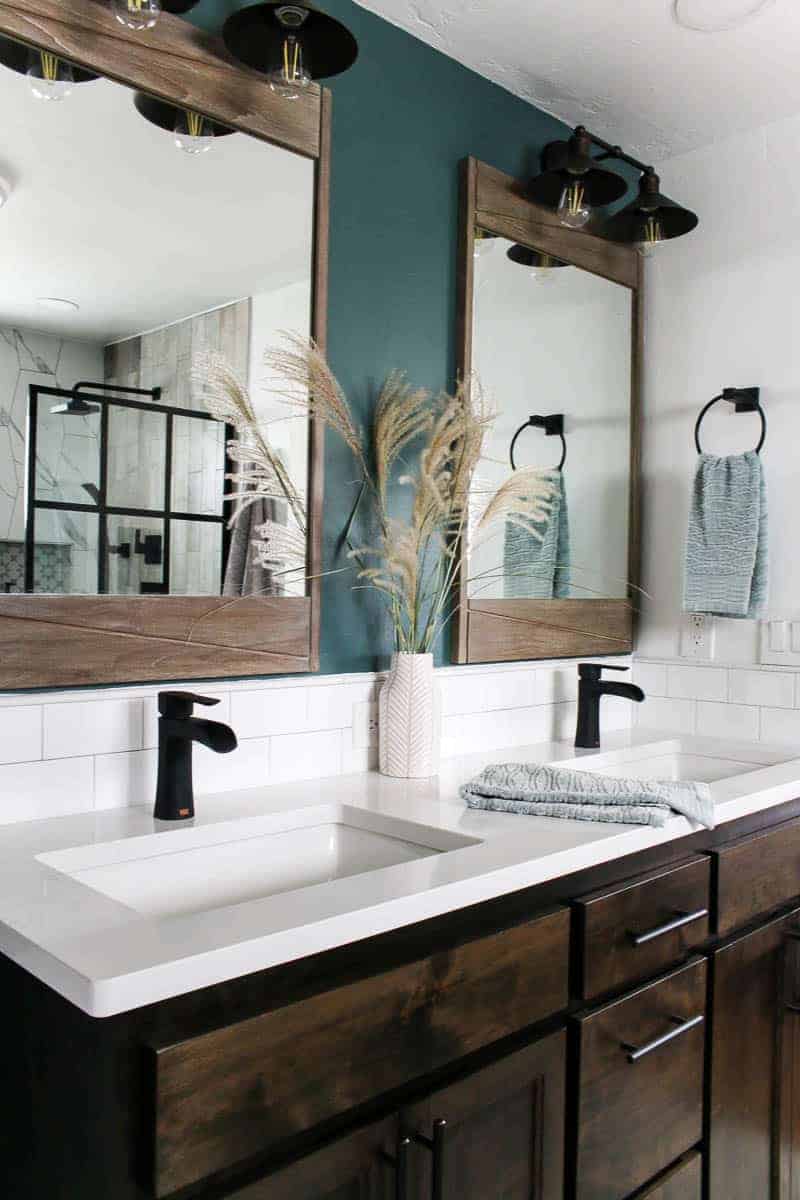 Ok…. while you pick your jaw up off the ground…Here's some of my favorite details in our bathroom….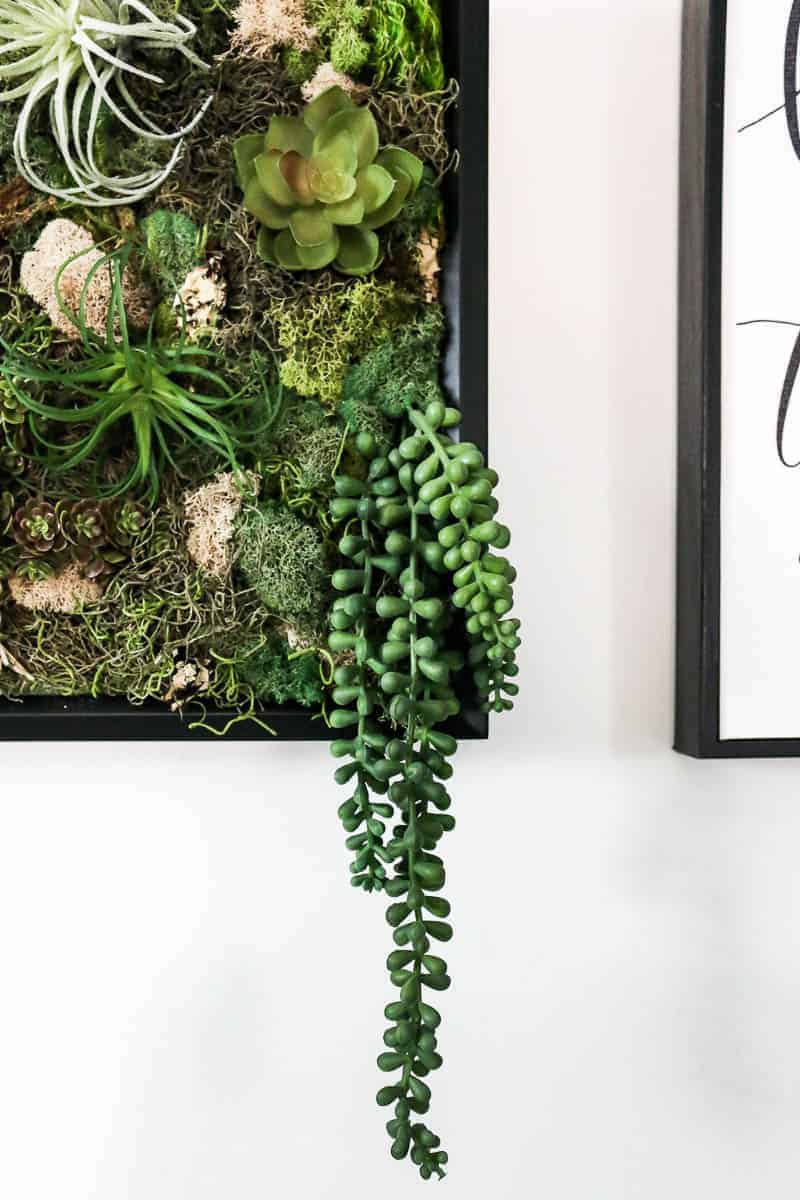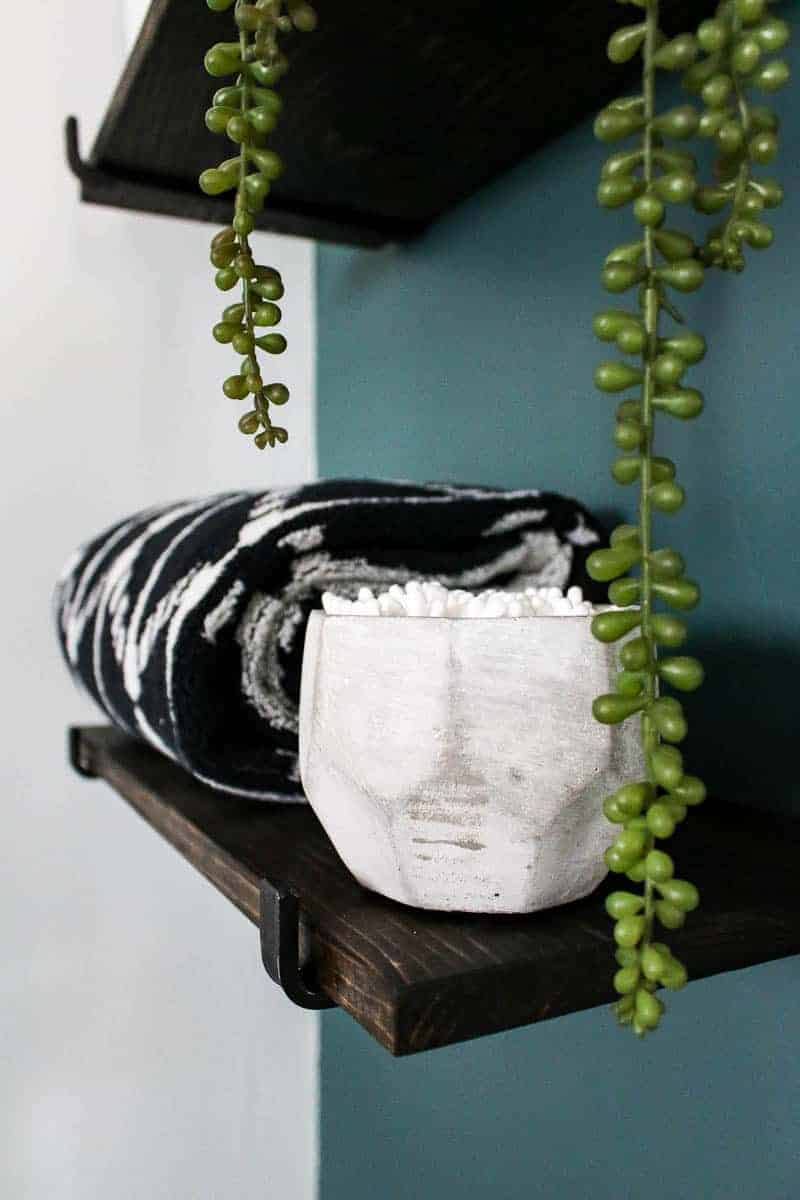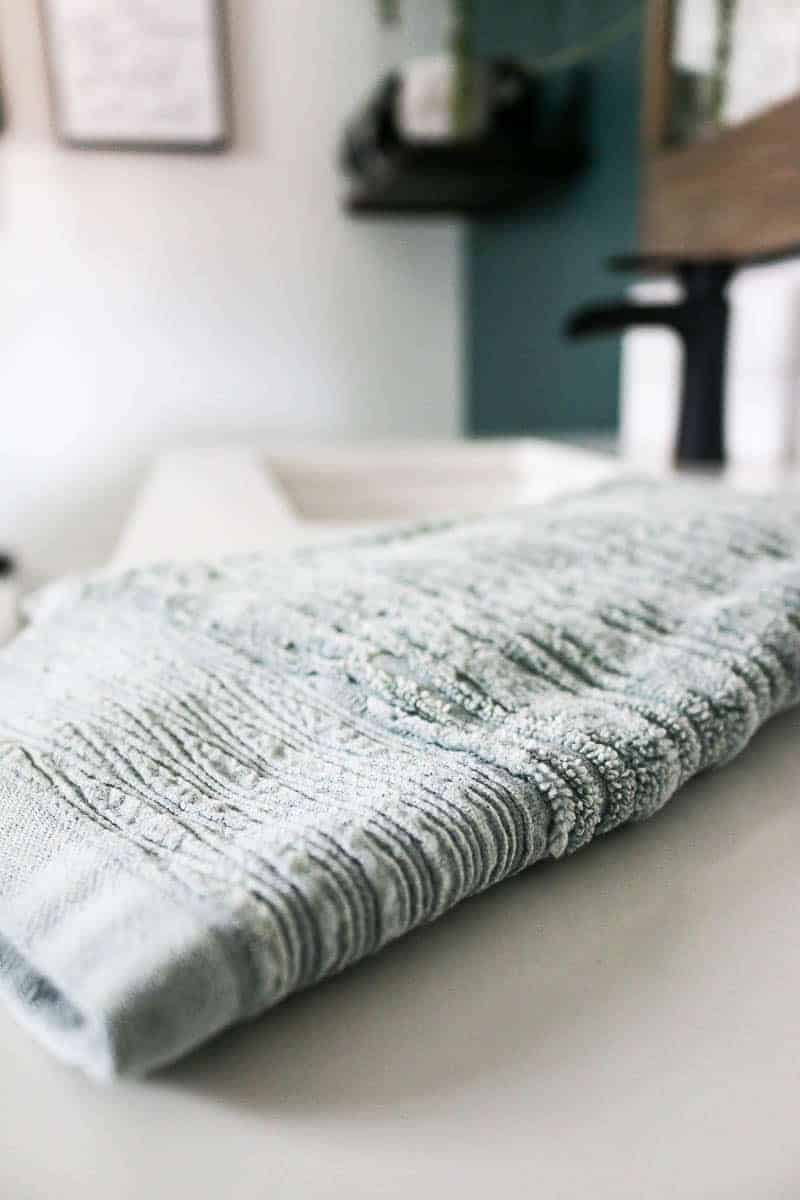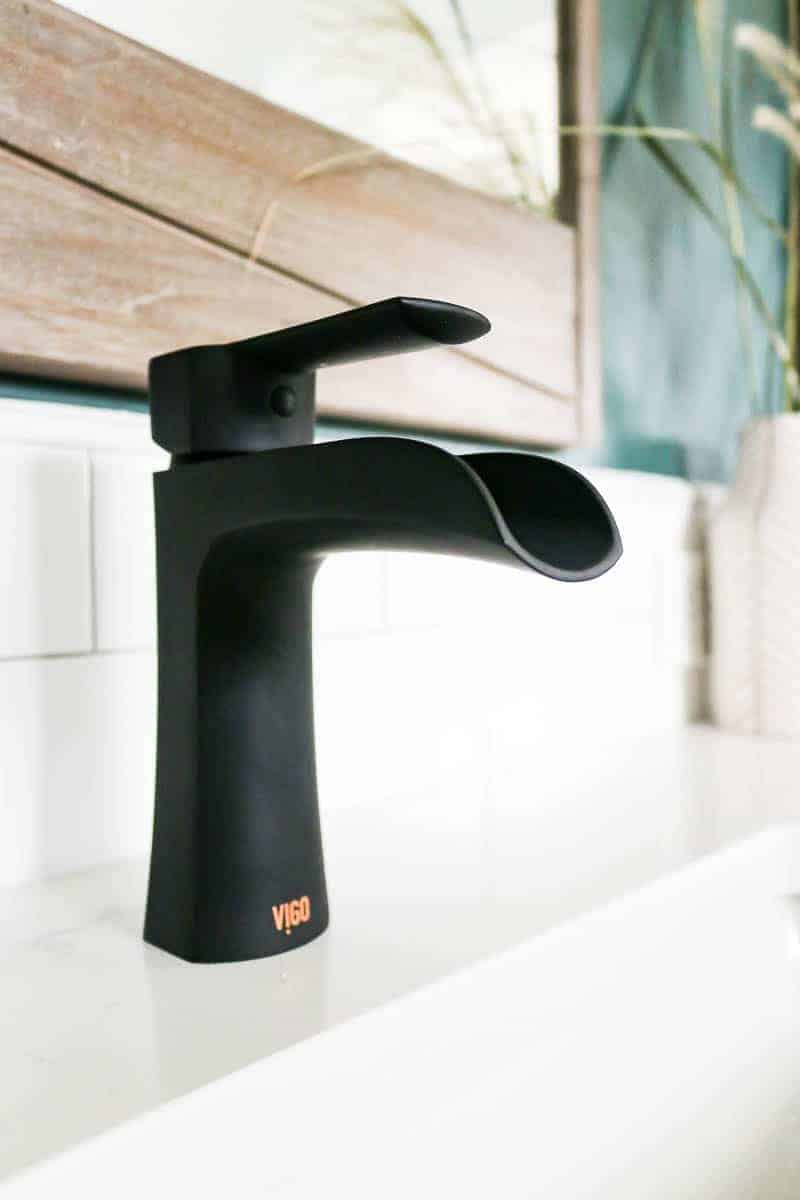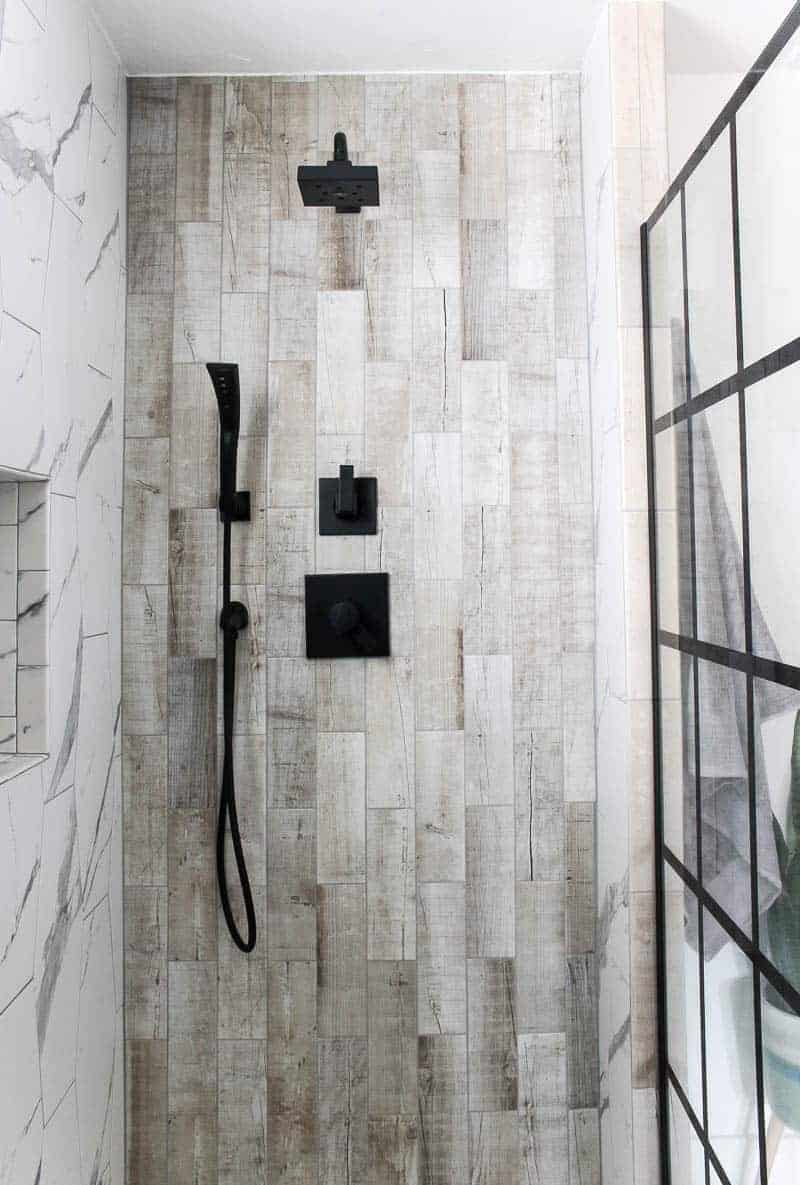 The shower is what I would call a "statement shower"… haha. I am so glad that we went with our gut on a few of the shower features like…his and her shower heads, curbless design with euro-style linear drains, seamless tile design that wraps up the back wall, matte black faucets and our "splurge item" the fixed shower door panels that I have literally been in love with and eyeing for years….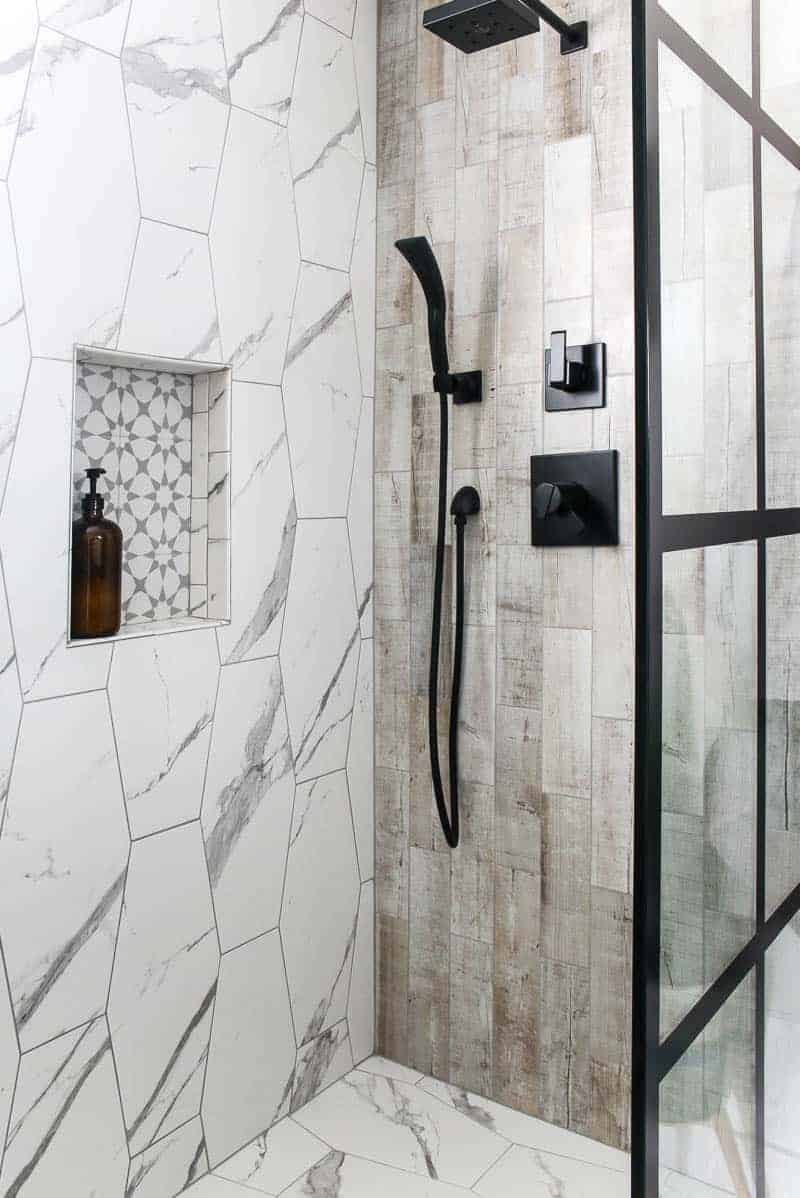 This shower design makes the bathroom feel so luxurious and like the relaxing oasis that we are aiming to create.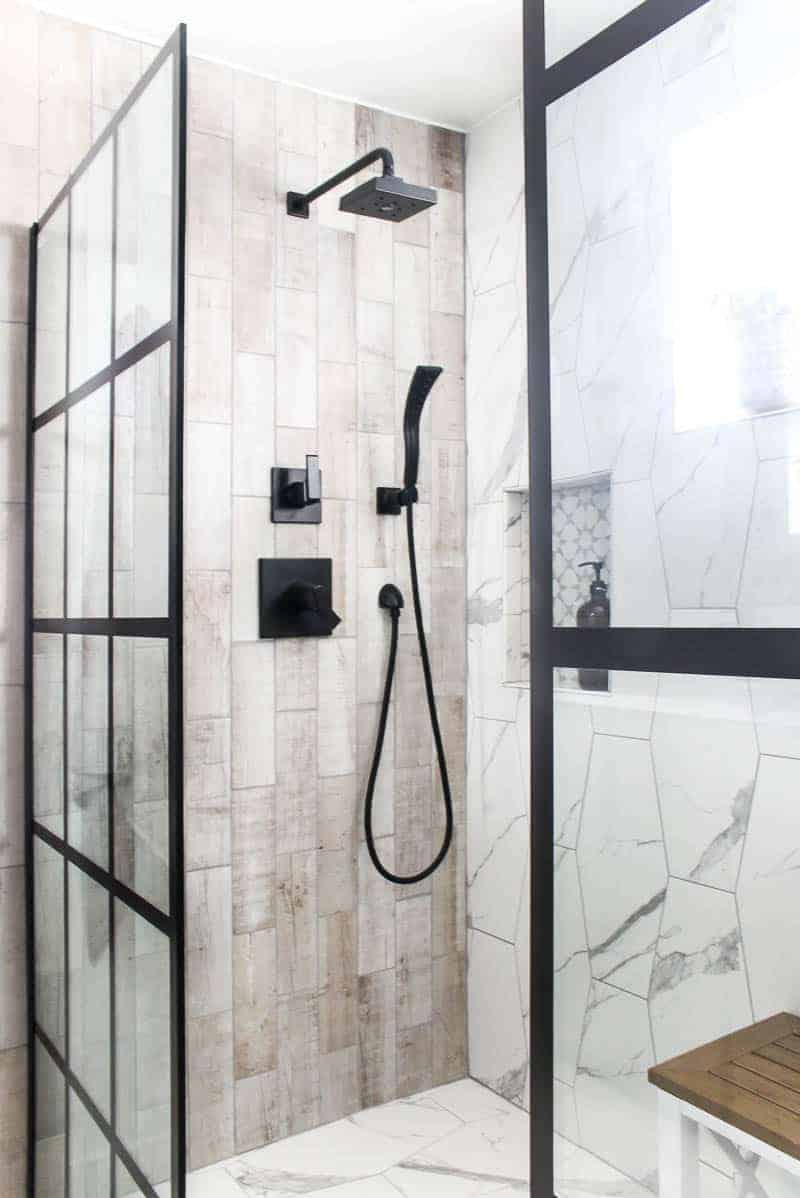 And that cute little stool there in the middle under the window? It's 100% waterproof and is going to make the whole saving legs situation realllllllll easy! Ladies, you know what I'm talking 'bout.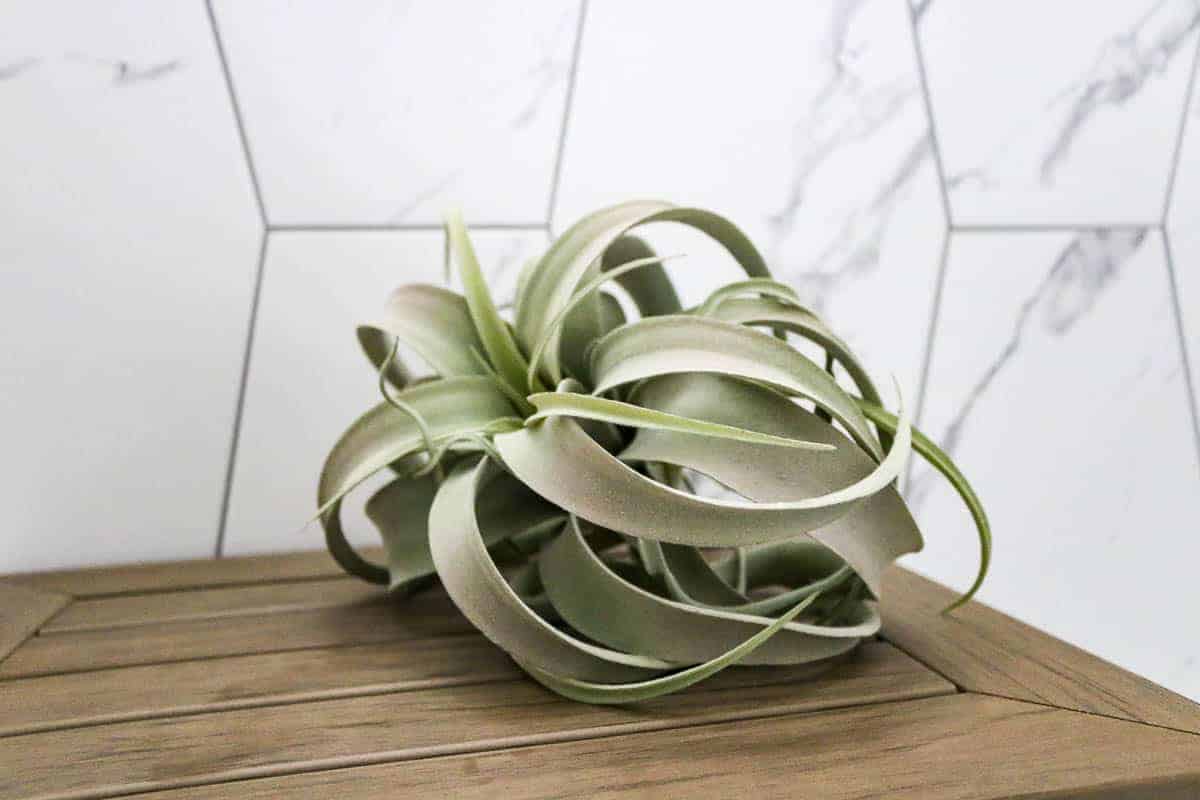 And I'm trying something new in here – REAL plants (mixed in with some faux)! Usually I'm all about faux because I've killed my fair share of plants. But with the light from the window and the humidity from the shower, the sweet ladies at our local nursery gave me hope. I incorporated a prayer plant up in the windowsill and a snake plant in the corner of the room. Wish me luck and cross your fingers that I can keep these little babies alive!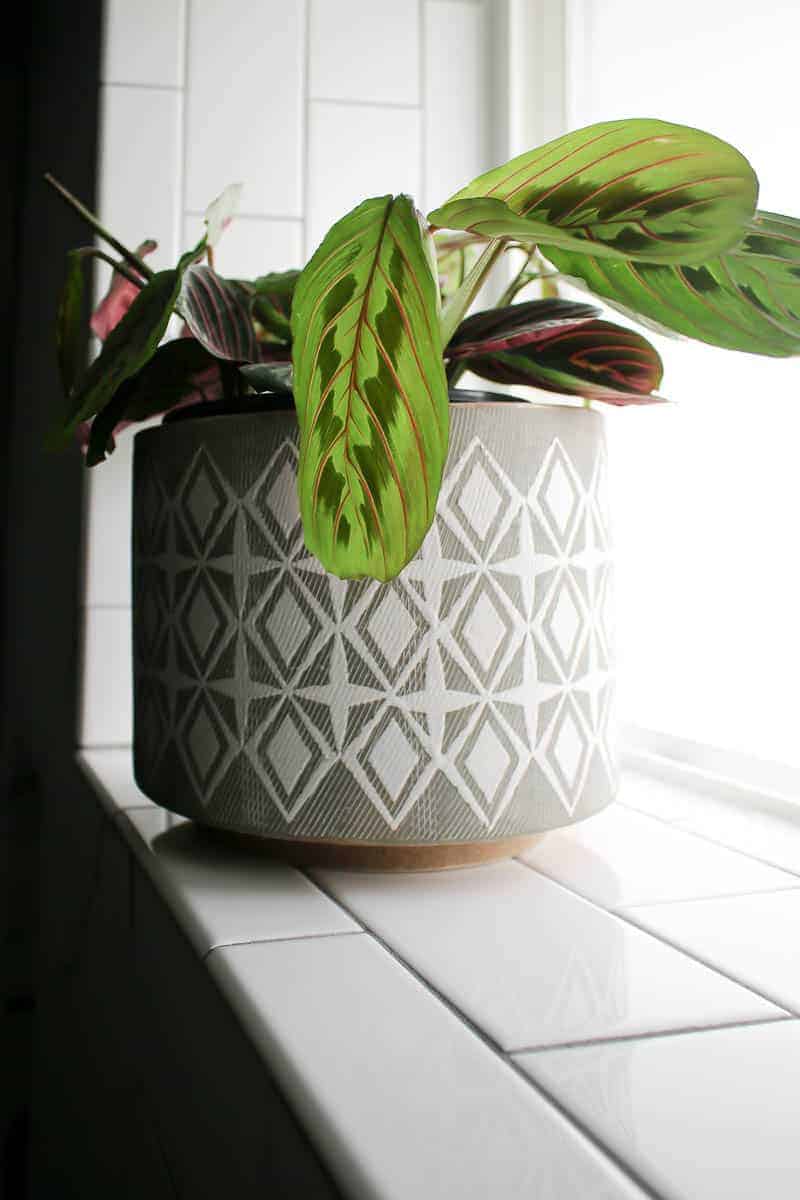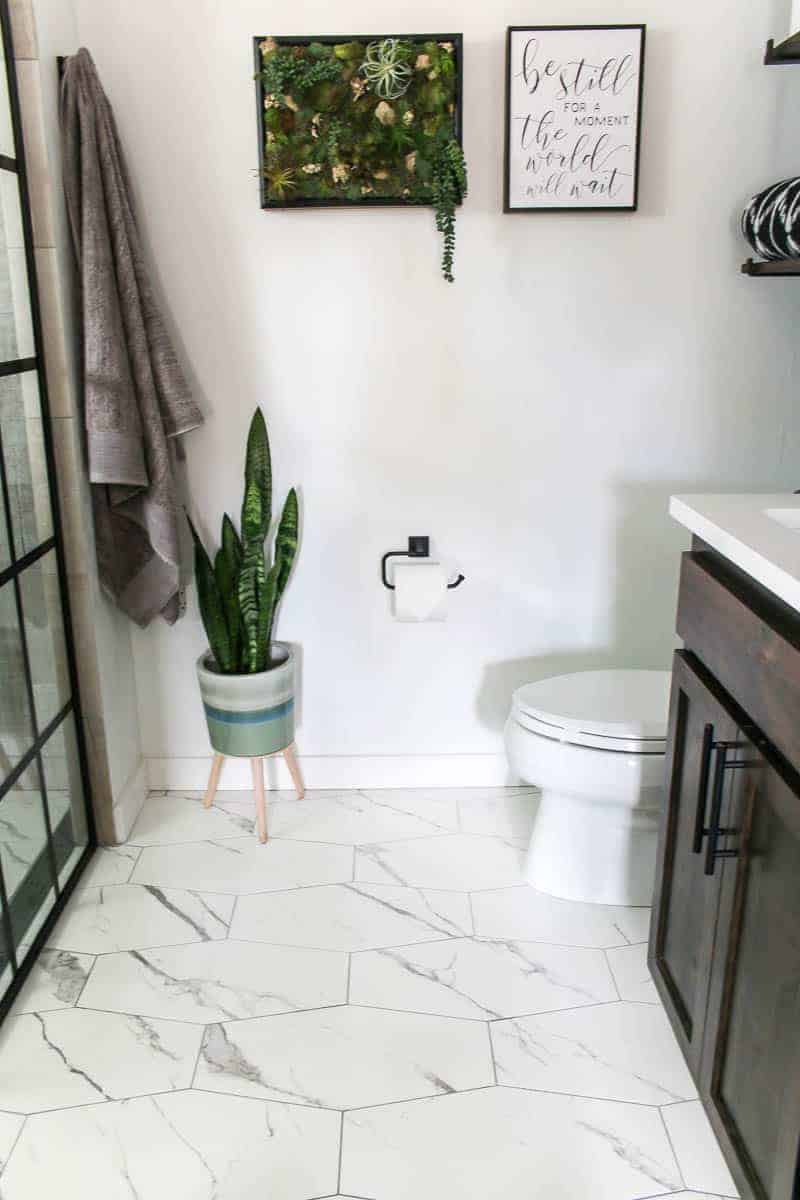 And don't forget about the entrance to the bathroom – our new AMAZING barn door that we built last week.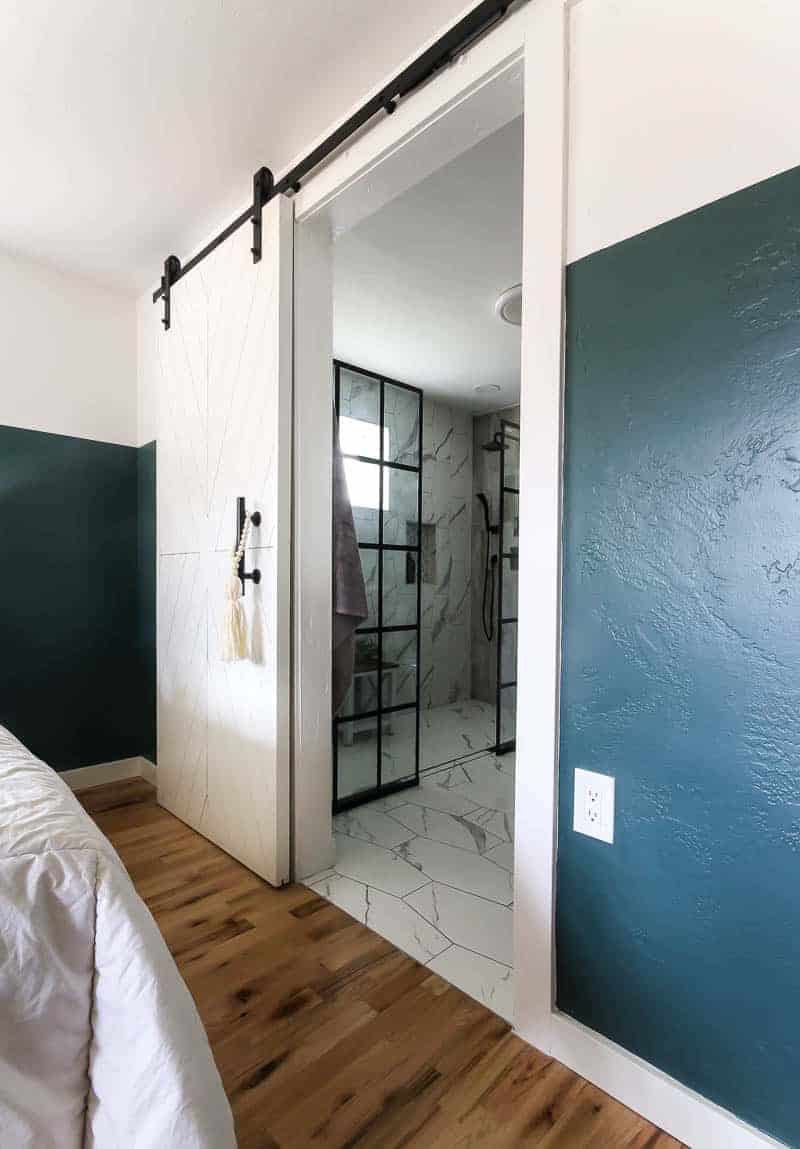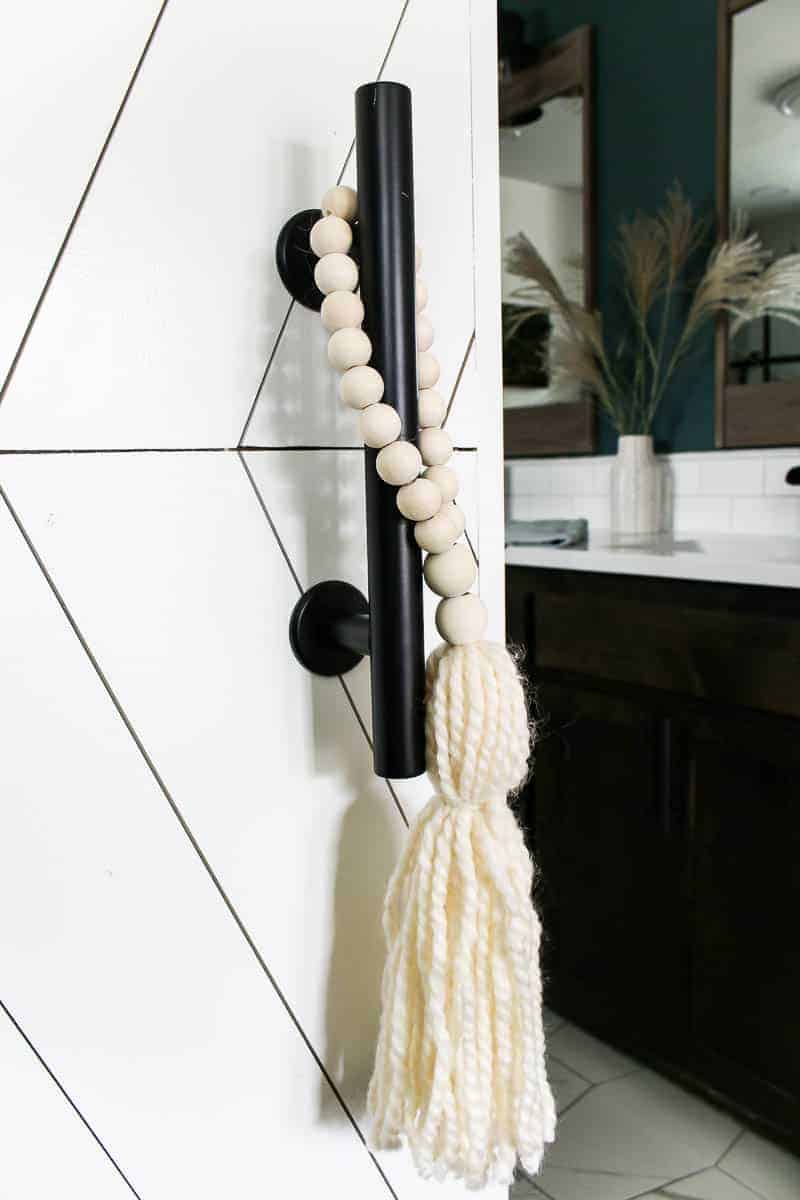 Remember, there didn't even used to be a door here! We reconfigured the ENTIRE bathroom to make it work for an ensuite bathroom – rather than a hallway bathroom (and in the process of converting it to a ensuite, we've added TONS to our home value – read more about just how much value we've added to our house here).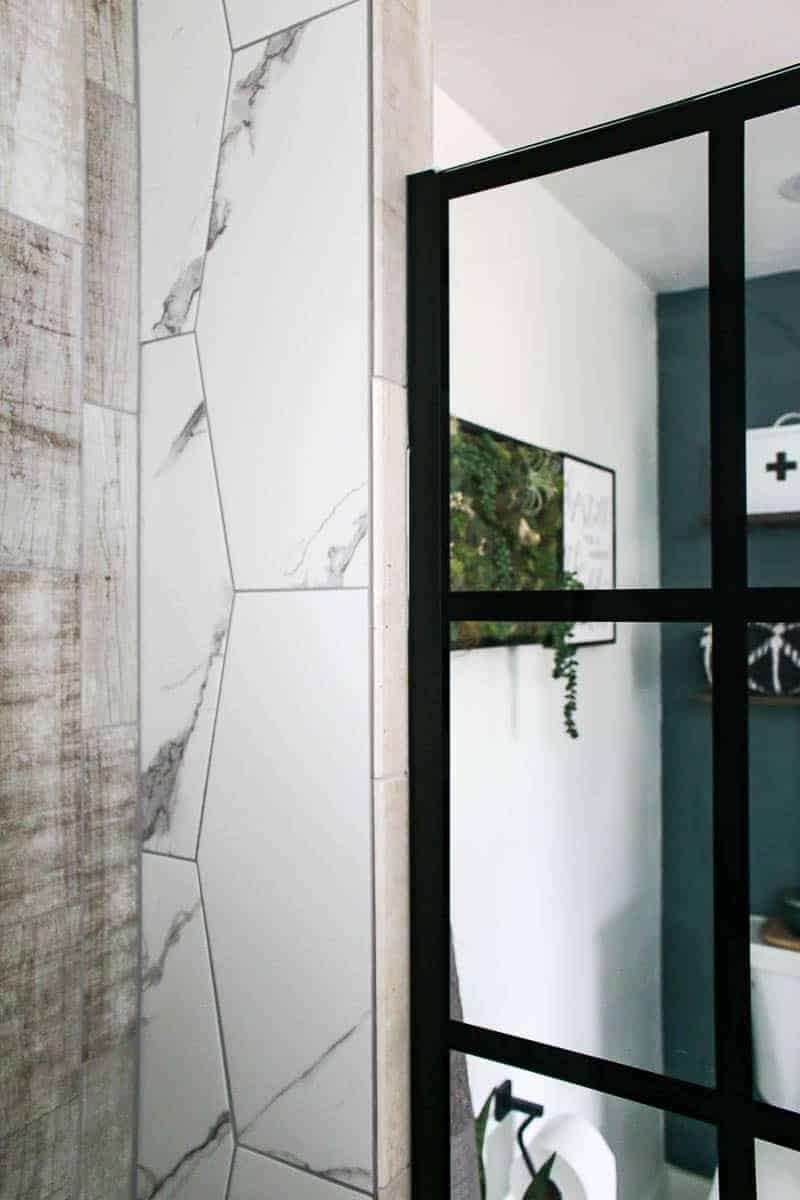 This little 9 inch pony wall may not look like it is doing much…. but it's all about SYMMETRY guys. Possibly the most important thing when it comes to design.
You see, the window is not centered on this wall (and the Lord only knows why they built it like that)… Overlooking things like a window that's not centered on the wall makes a world of difference when it comes down to the finished product.
We added this pony wall so that the doorway of the shower entrance would be exactly centered on the window, which gives you the illusion that the window is centered.
It's about the little things guys…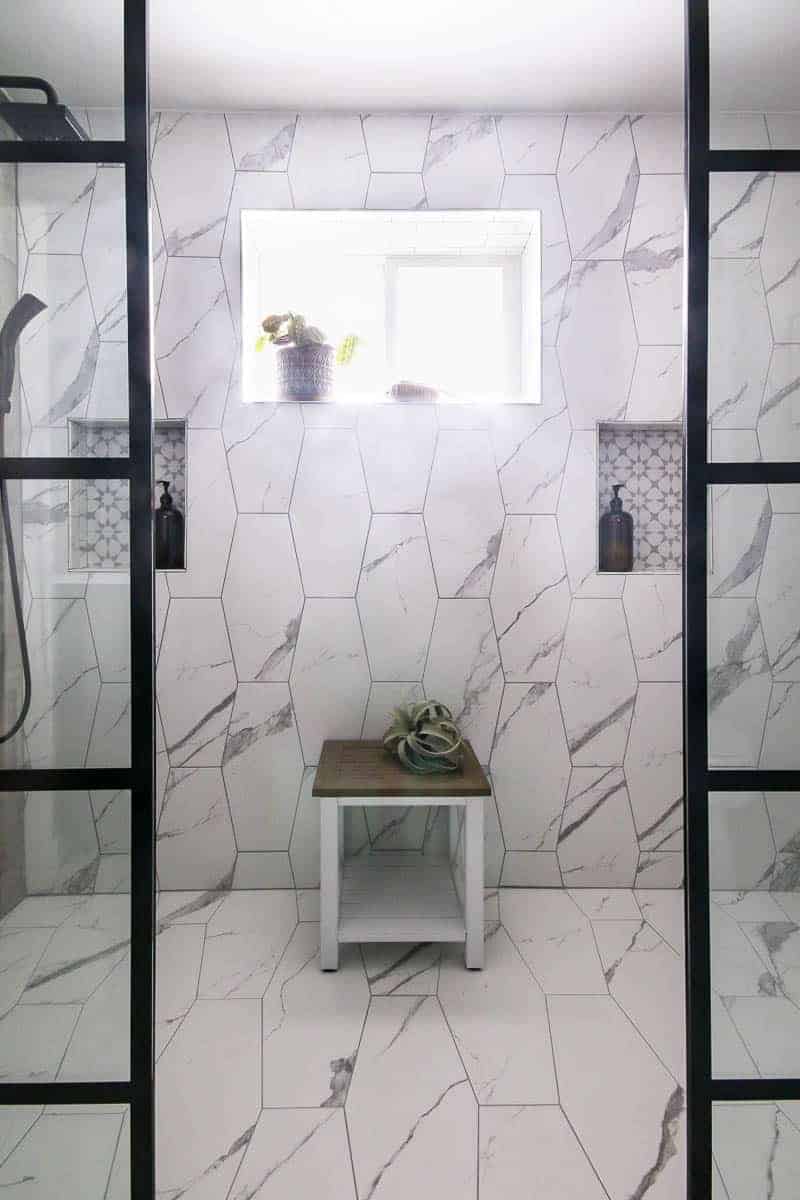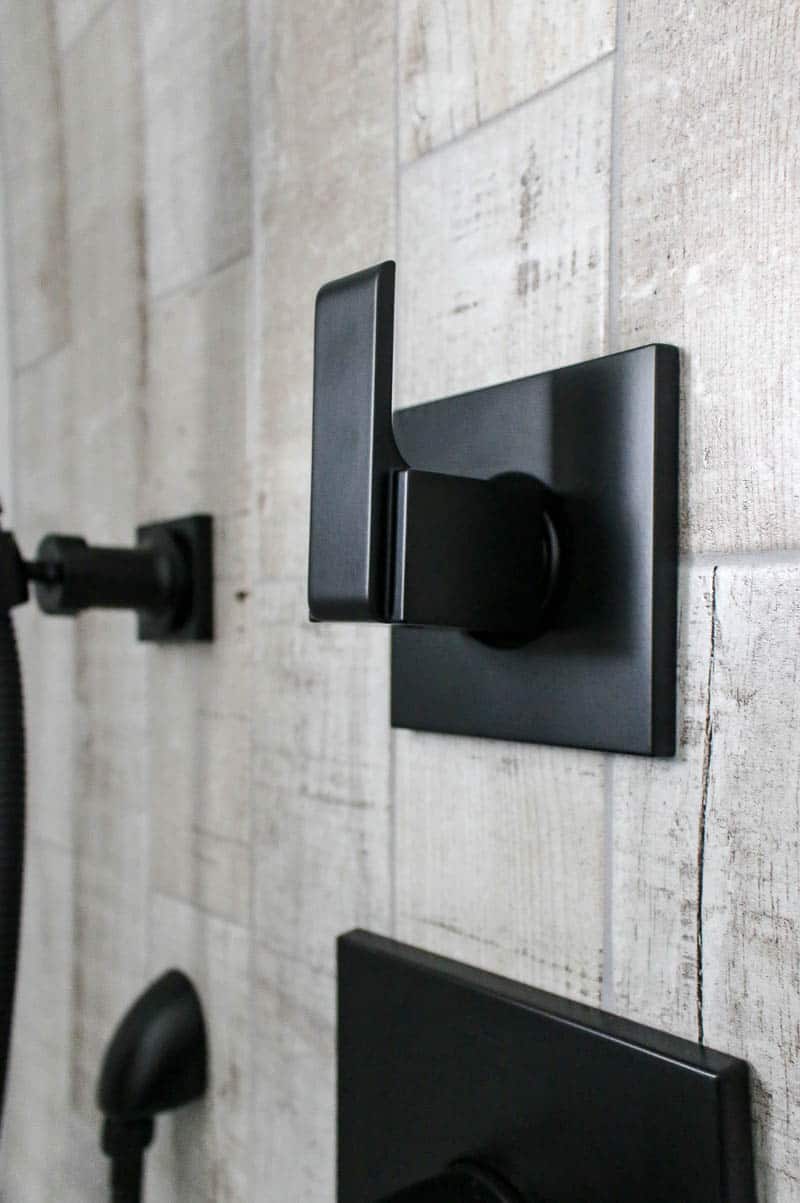 I love the way the black faucets look on this gorgeous wood look tile.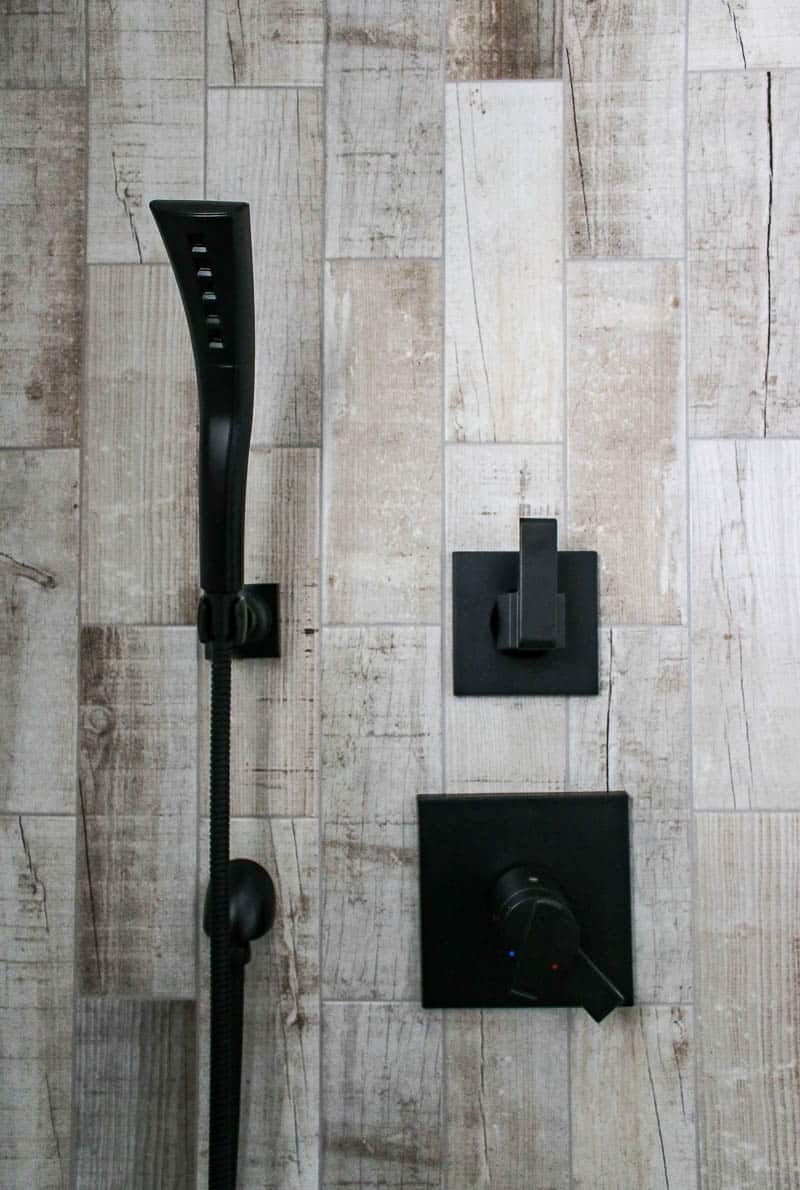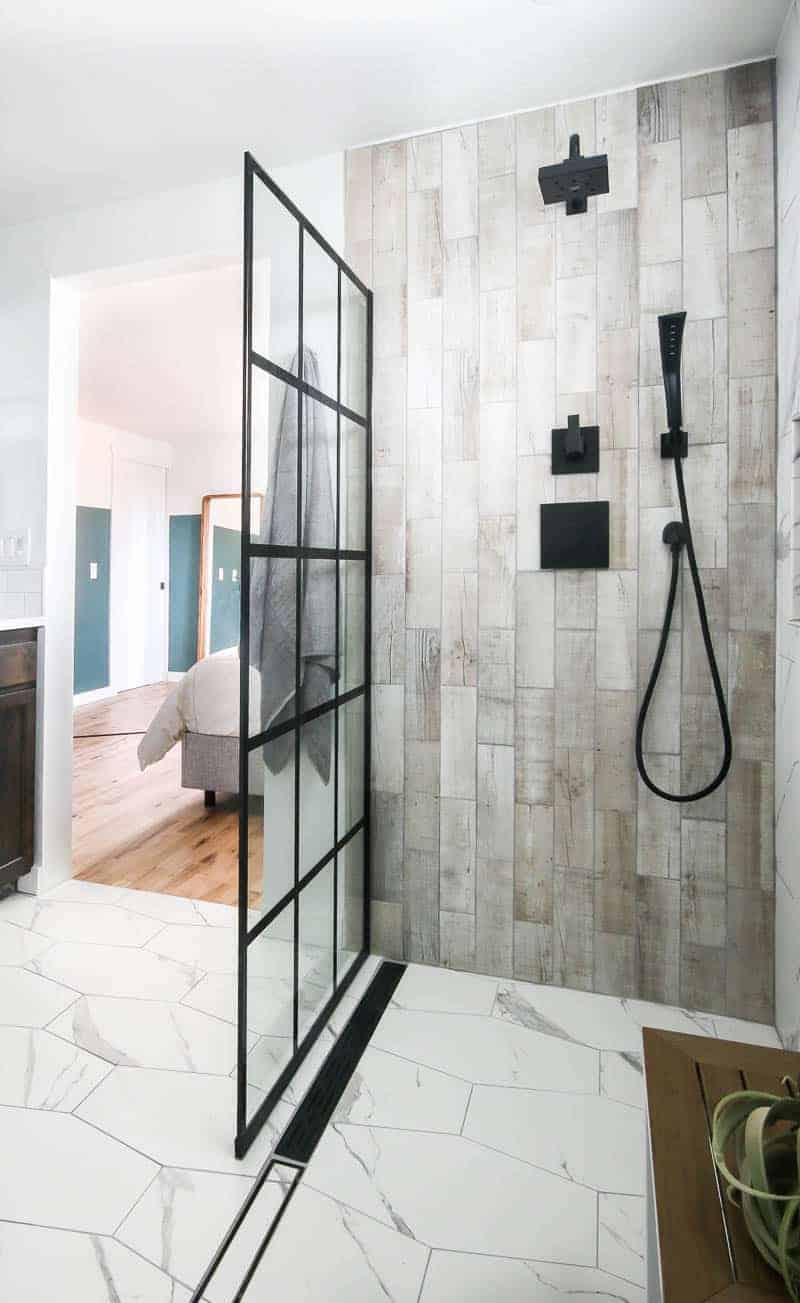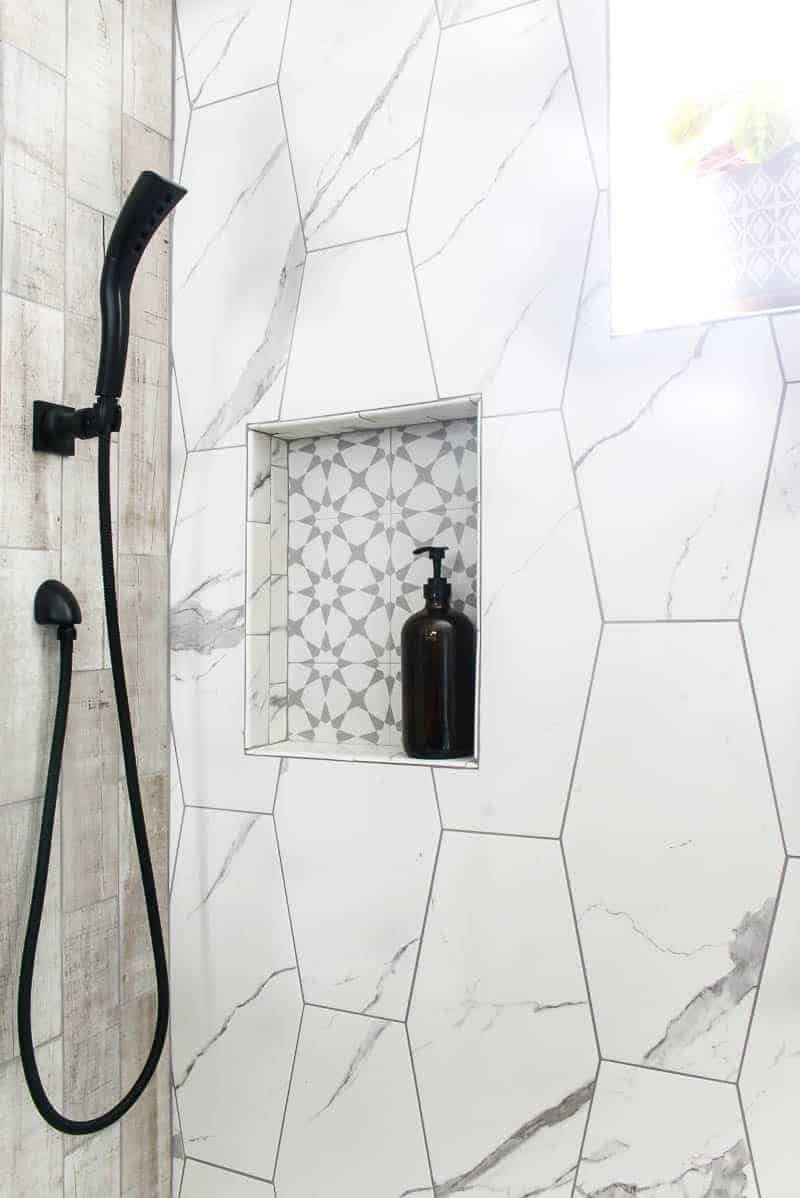 I seriously can't believe this is MY HOUSE….MY BATHROOM….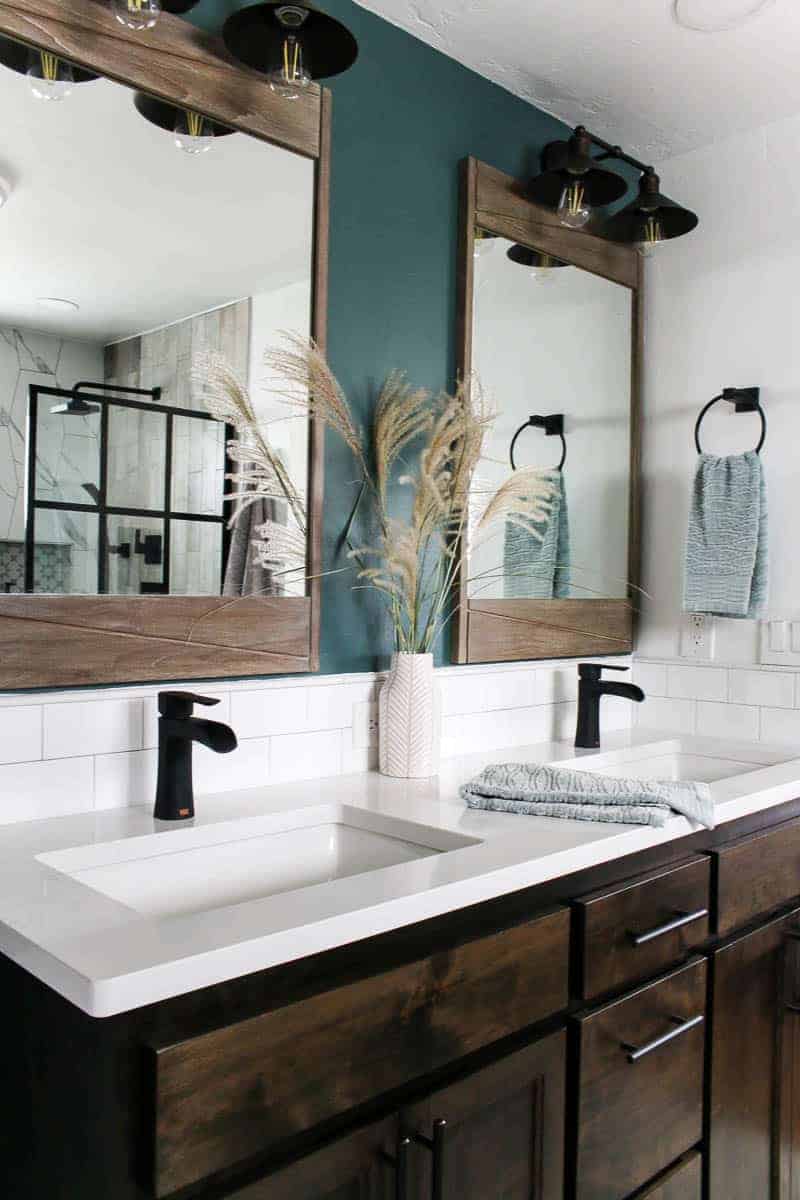 Now let's take a look at the vanity wall. Can you believe this is the SAME vanity that was in the bathroom already?! It looks so different in its new digs with that pretty white quartz counter top, pretty black faucets and hardware.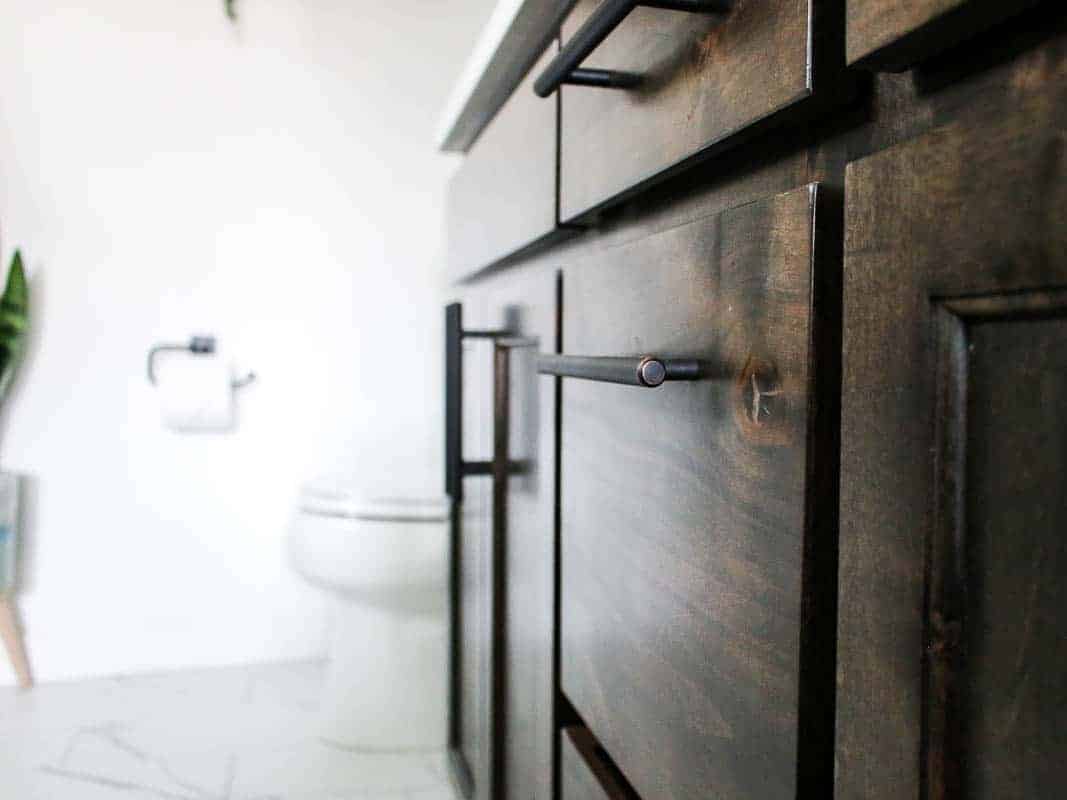 Yep, that's right!! Hardware. One of the best ways to add a little class to your existing vanity is the simply add hardware. It's not a huge investment for either time or money and it makes a WORLD of difference.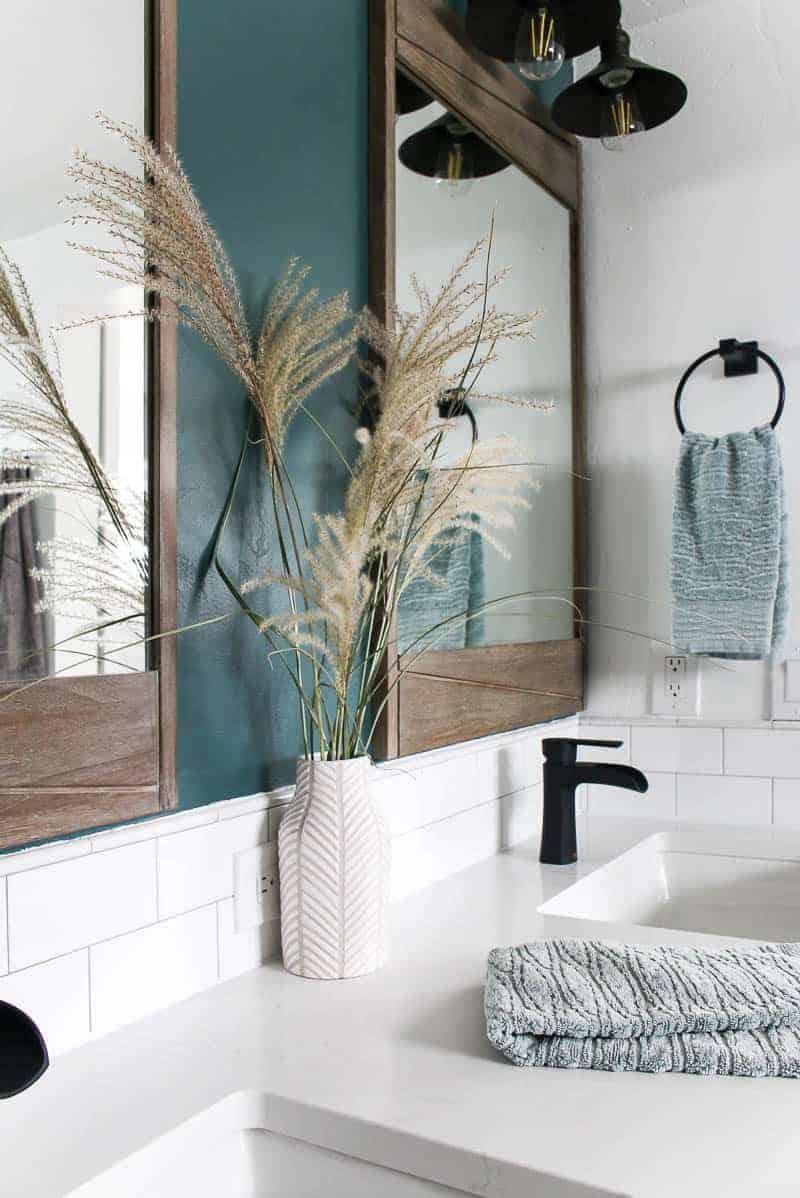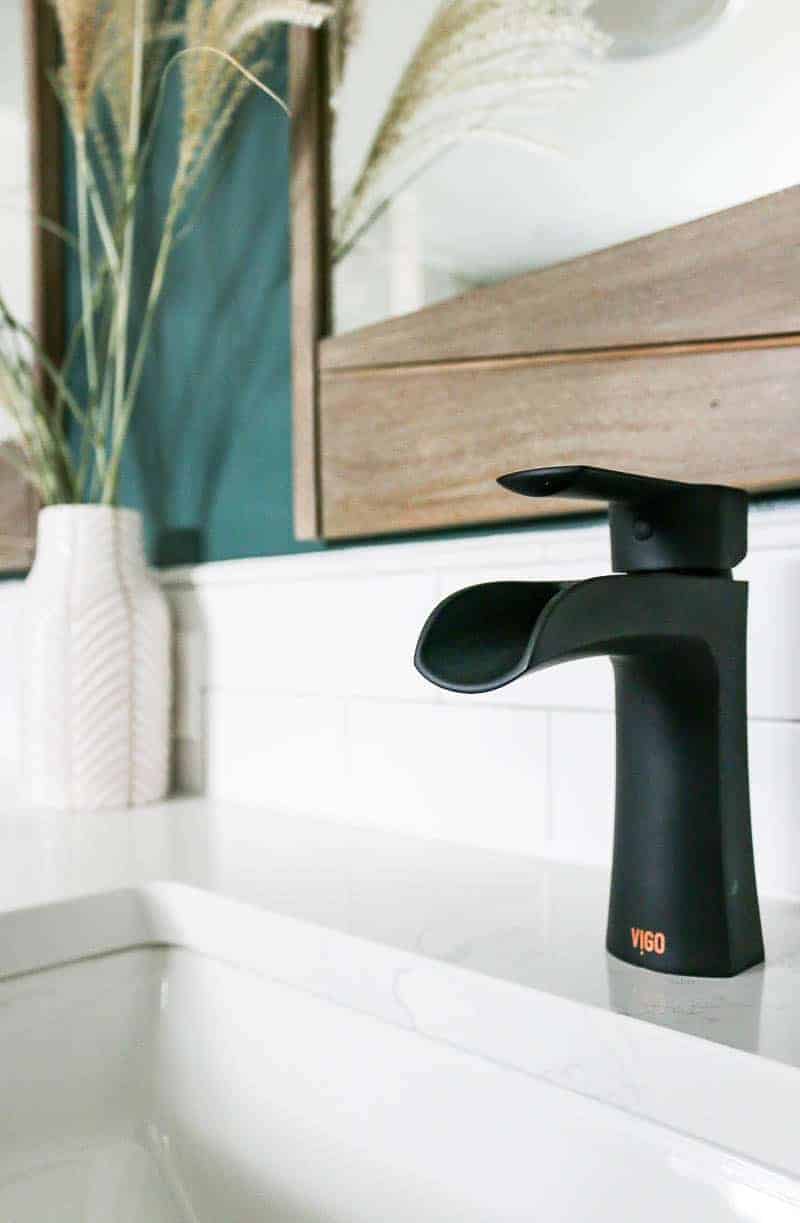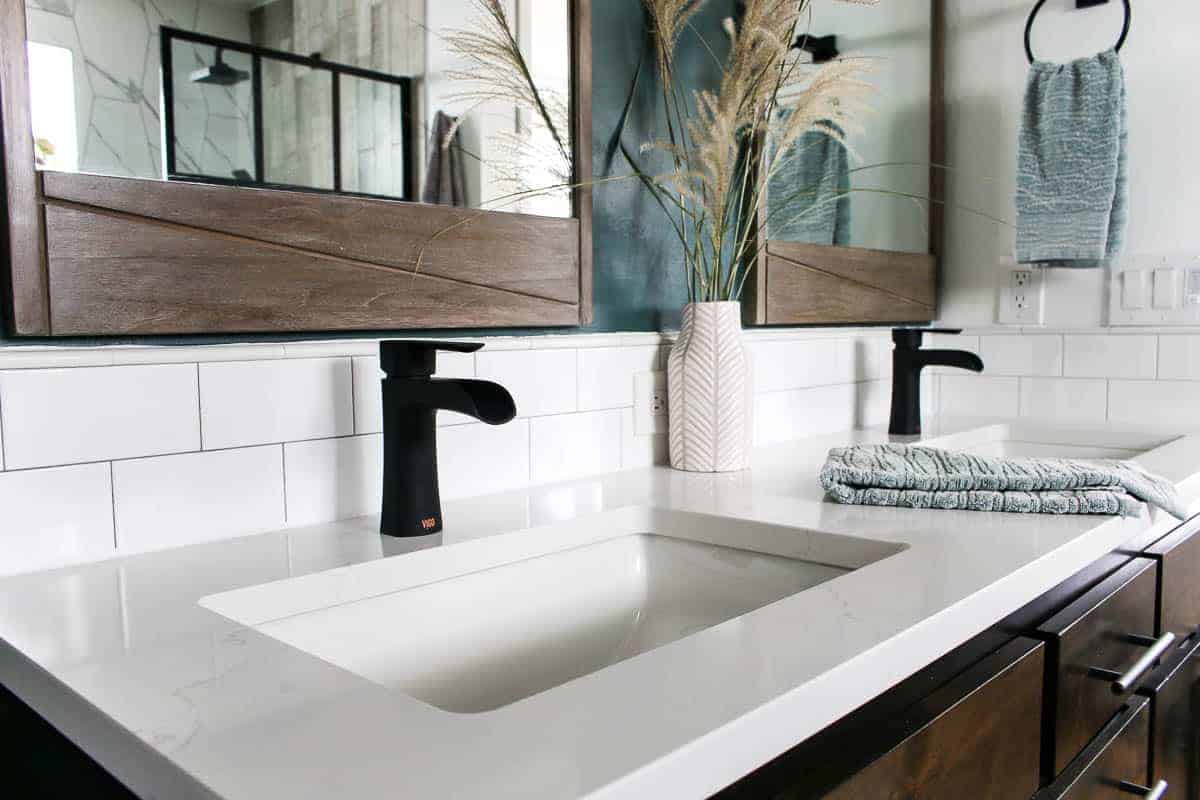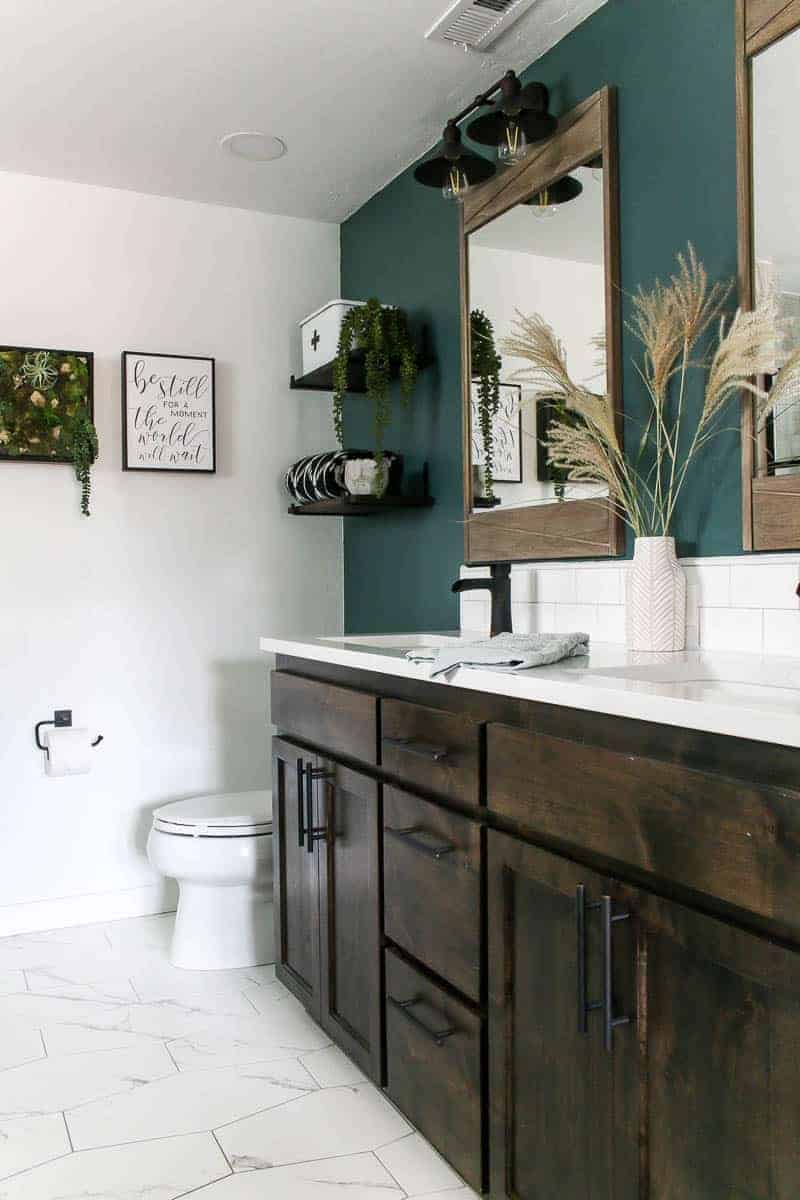 And can we just TALK about this wall decor?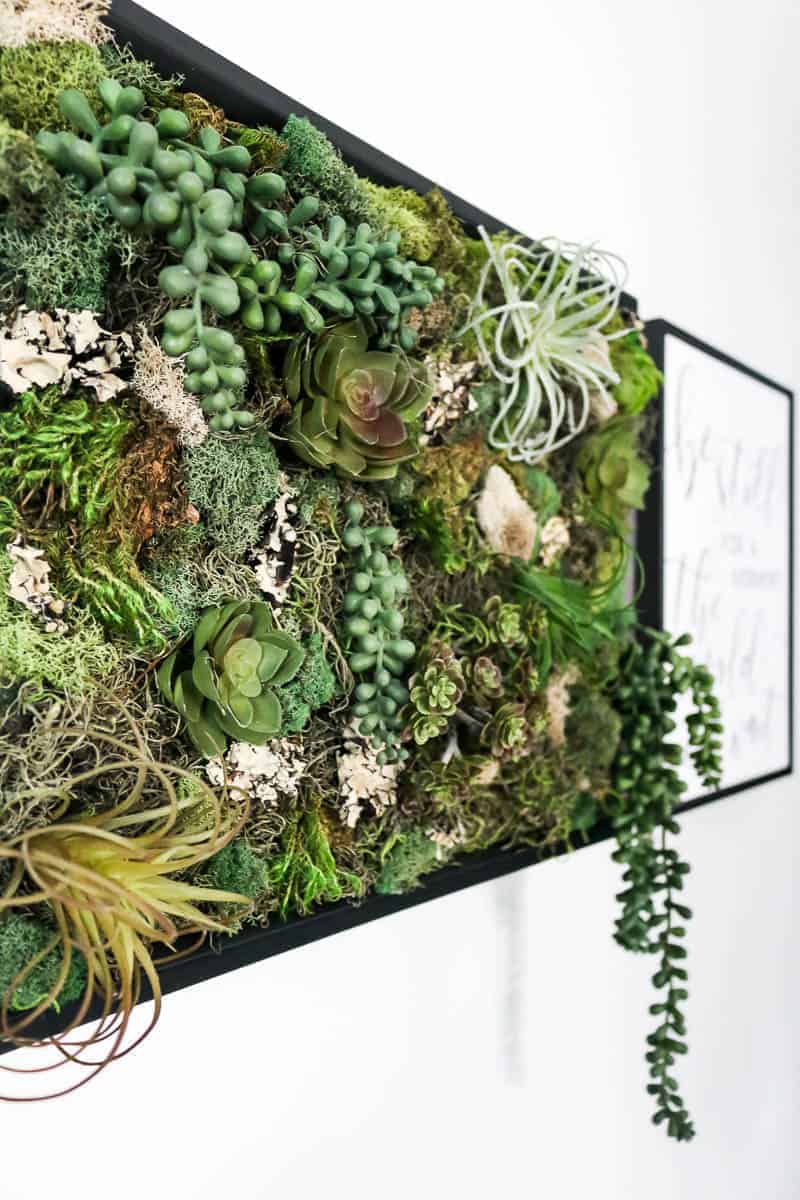 GUYS! I made that. Seriously this is the coolest thing I've made in a LONG time. You can read the full tutorial here. But I'm seriously so obsessed with it.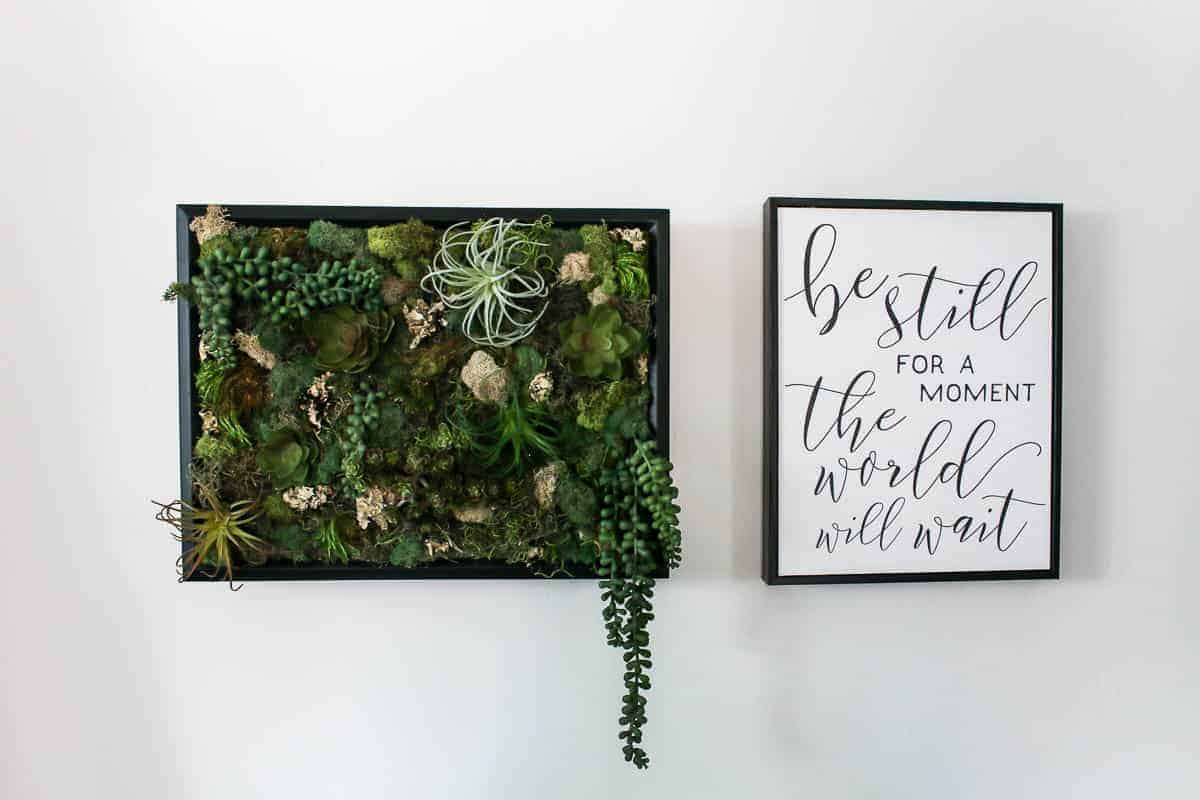 I was really struggling with what to put on this wall because I knew it would be a focal point and it was big and white. I love the contrast the faux succulent vertical garden makes on the wall – it really pulls the green accent wall color in, right?
And this "Be still for a moment, the world will wait" sign is one of the first things I purchased for the bathroom. I love the simple reminder that it provides for us to just relax when we are in here.
That's why we created this bathroom after all.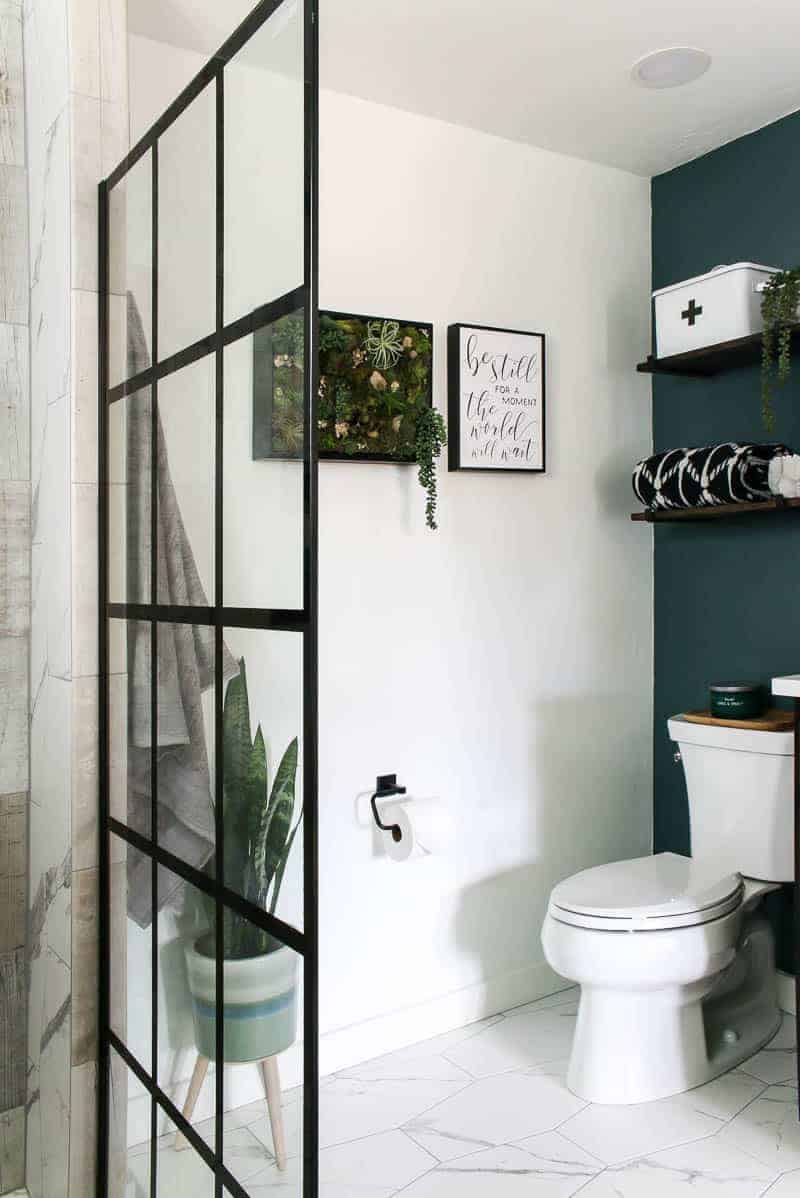 As you can imagine… as parents of 2 toddlers that are renovating a fixer upper and running multiple businesses (blog, Etsy shop and real estate business…oh and I'm working full-time too), we don't get a whole lot of relaxing time.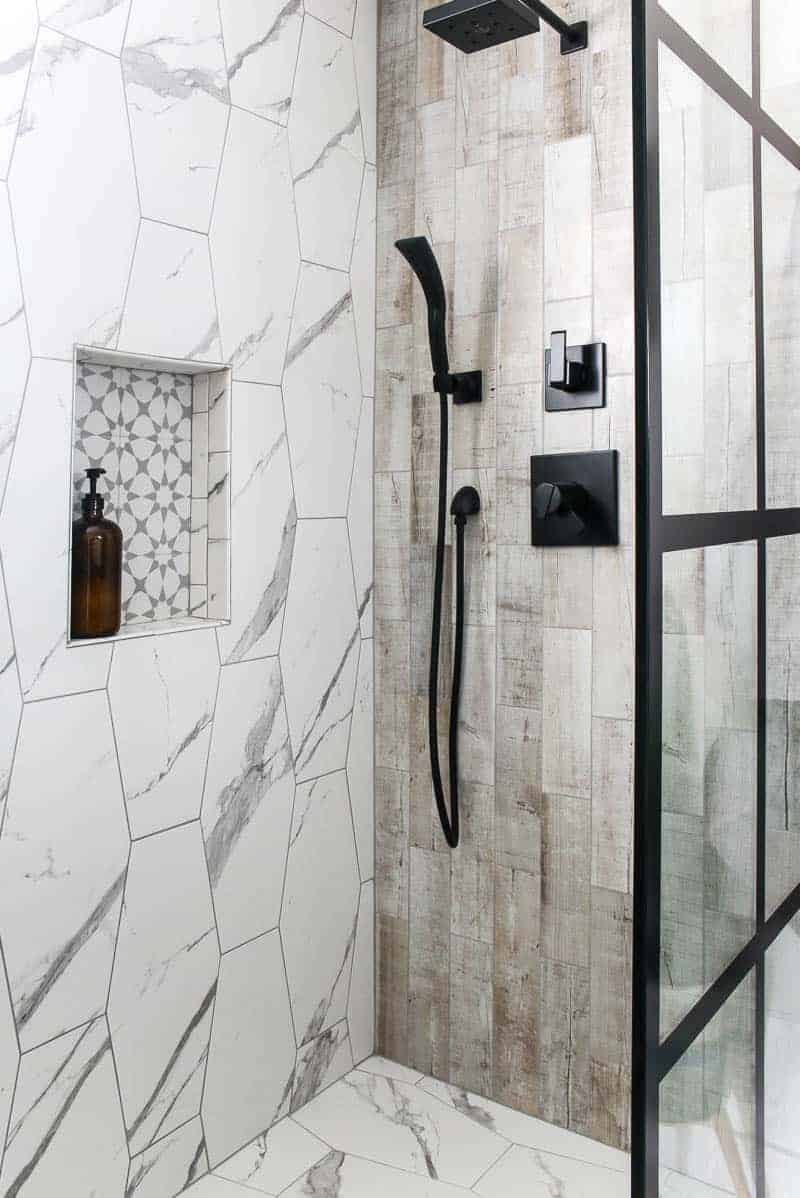 This season of life is full of a lot of juggling… a lot of sacrificing… and a lot of wondering if we are doing this whole parenting thing right. There's not a lot of relaxing. And to be honest… there's not a lot of self care.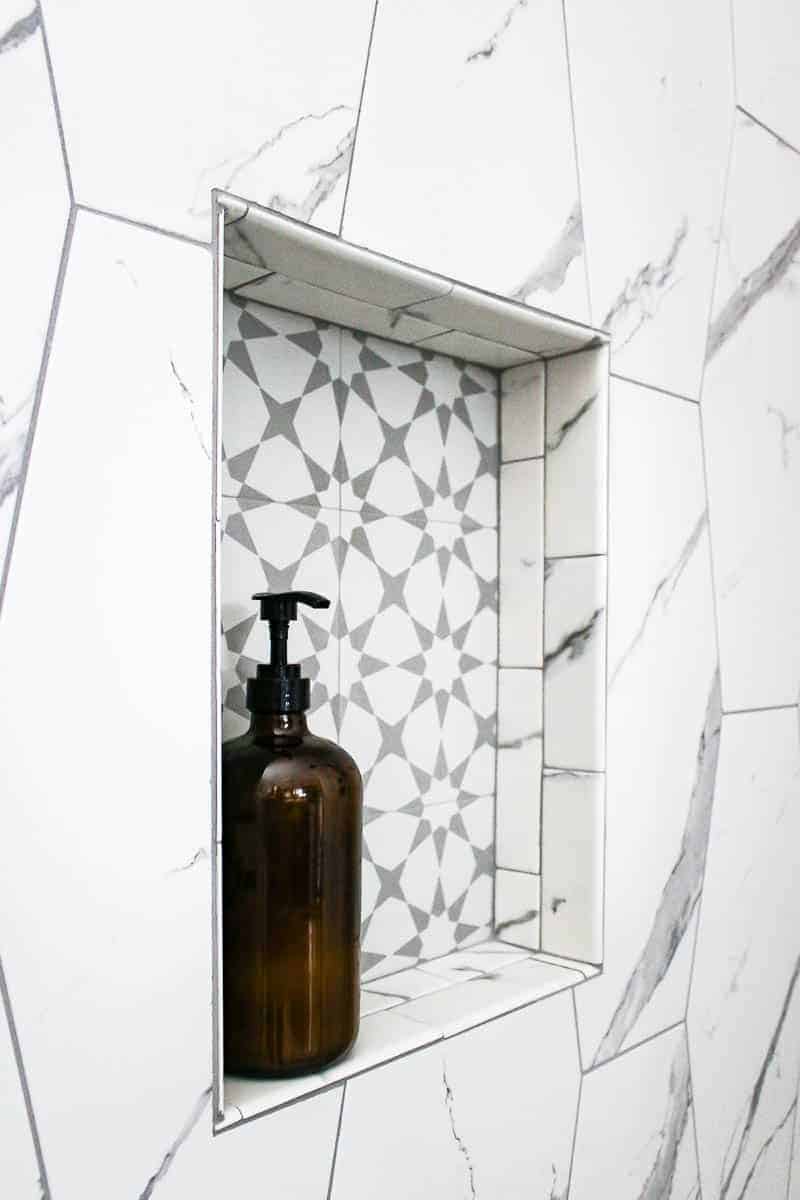 All that to say… One perk that we hope to get out of creating this modern bathroom is a little relaxation (and boy do we need it after the last 6 weeks). Even if it's just a 5 minute shower in a luxurious shower that feels little more like a day spa than it does our house.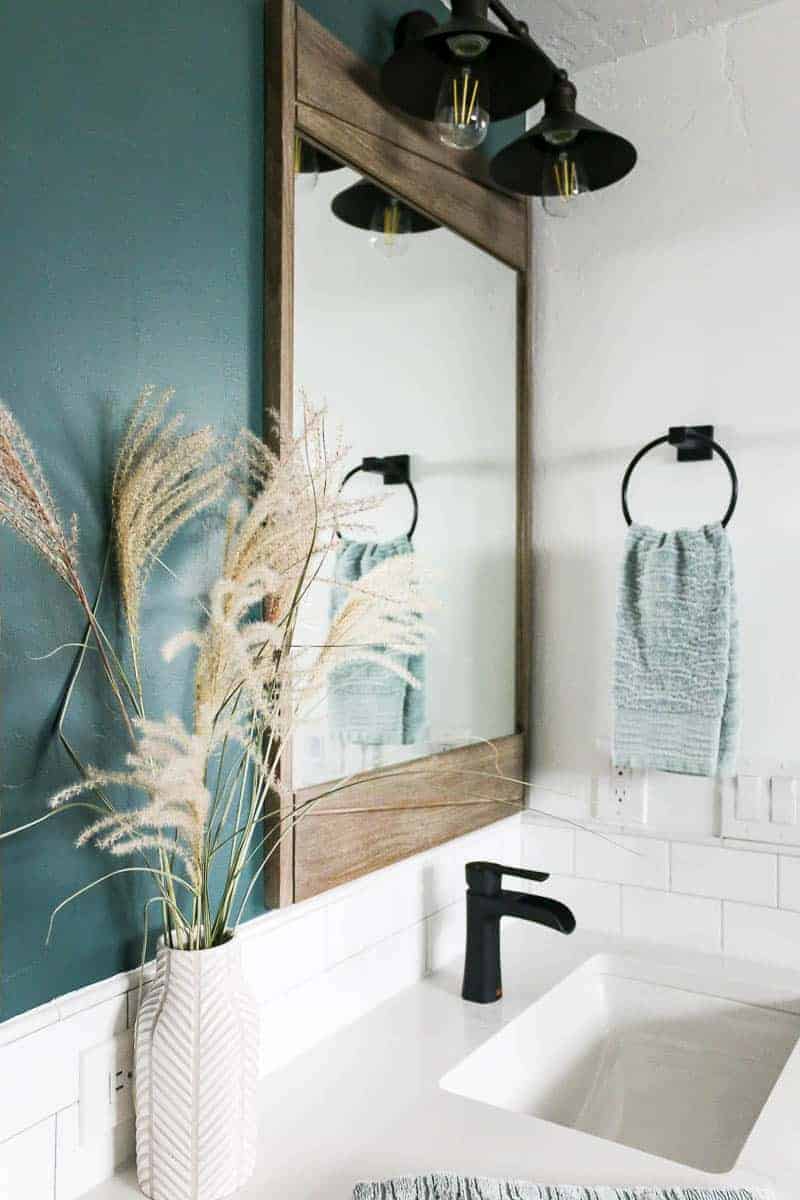 Definitely not saying that you need to go completely renovate a bathroom in your house just to relax and do a little self care, but you get my drift – right? 😉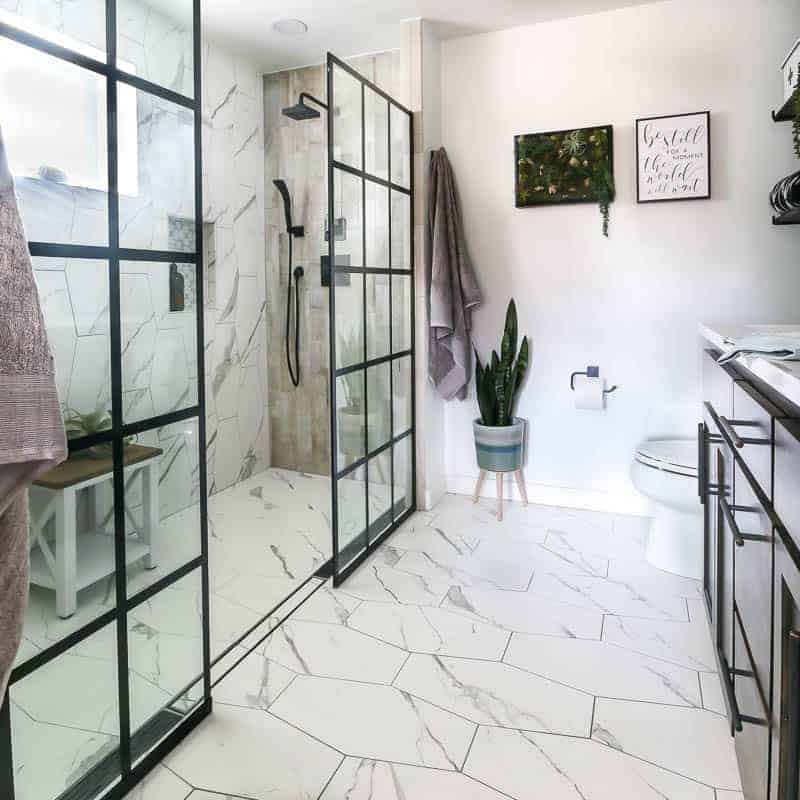 The relaxing that is going to come alongside this bathroom is just an added perk.
Speaking of added perks… some of you that have been following along may be wondering where that DIY hamper is that we've been saying we were going to build!
Well, here she is!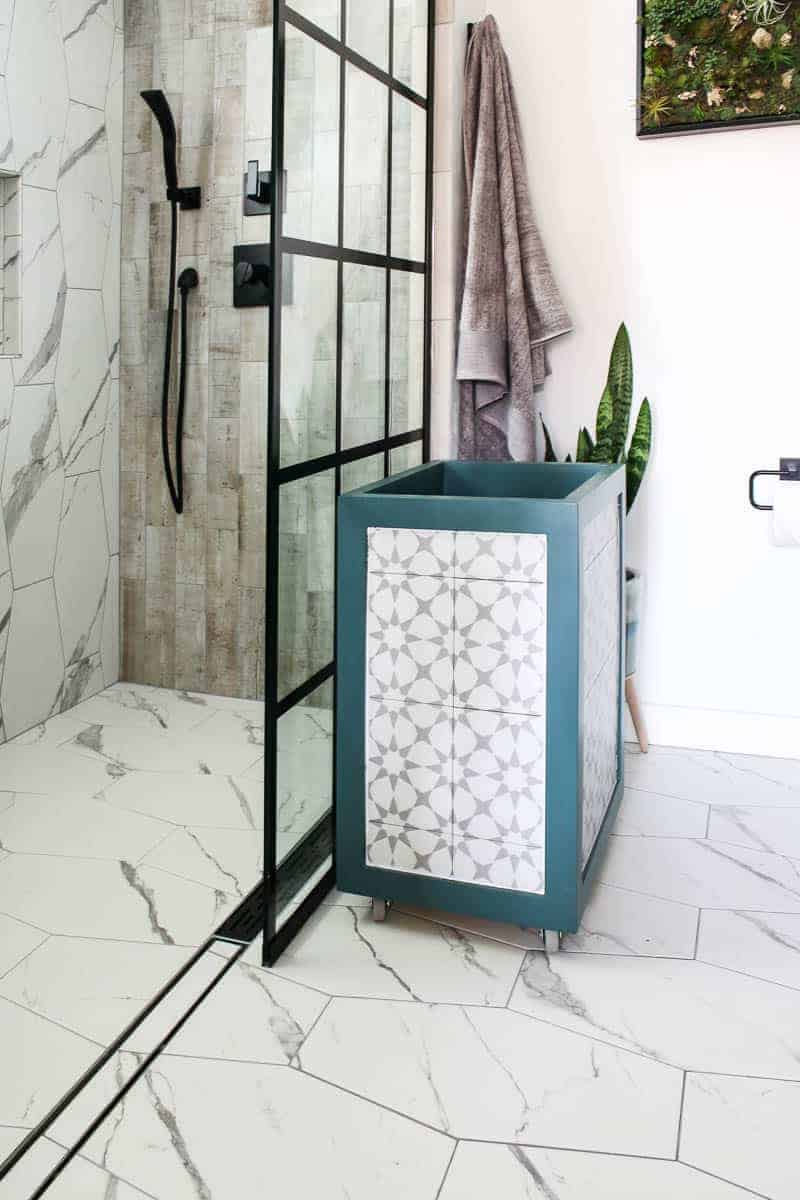 Gorgeous, right? We're not 100% positive if we're going to keep it in the bathroom or in our closet (which is due for a fun makeover next year), but either way it makes that Jeffrey Court tile look so good, right?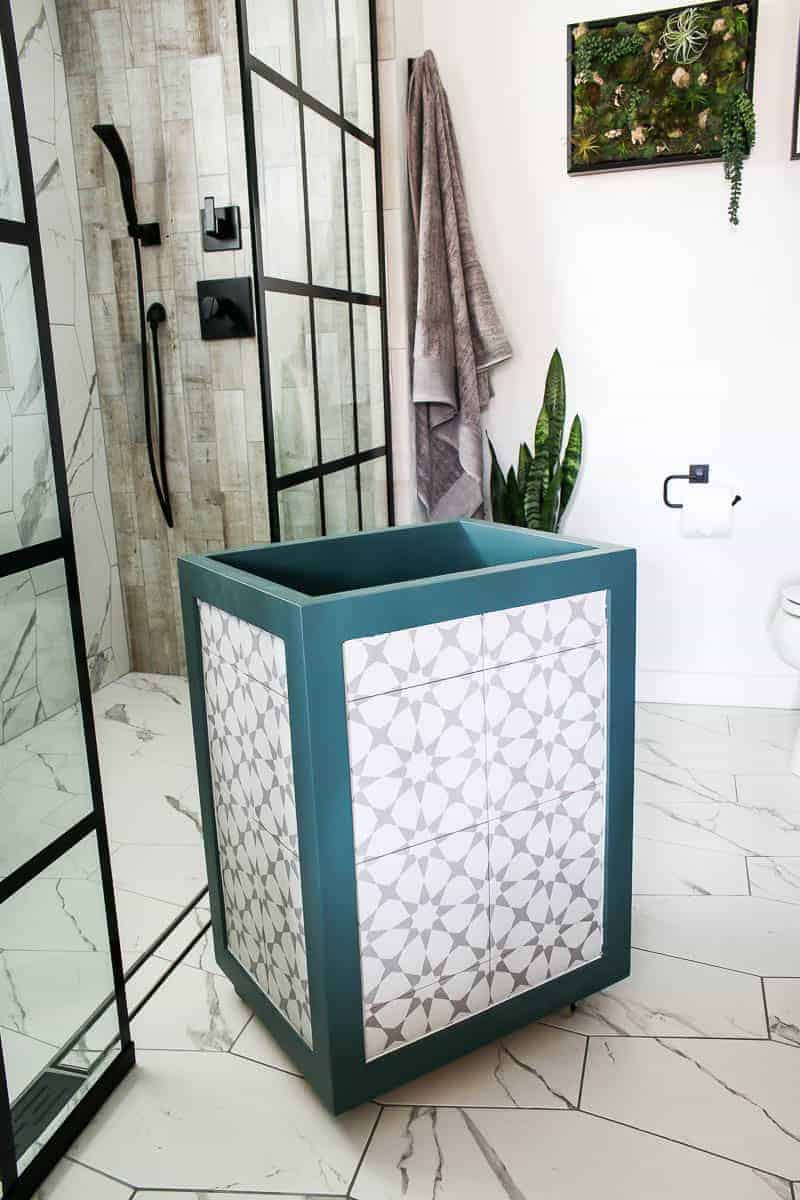 It was so fun using tile in an unconventional way – like in a woodworking project! And don't you worry… we have the full tutorial on this out pretty soon so you can learn how to make it too!
Now….I saved the best for last. Let's get some detail shots of the AMAZING tile that we used from Jeffrey Court.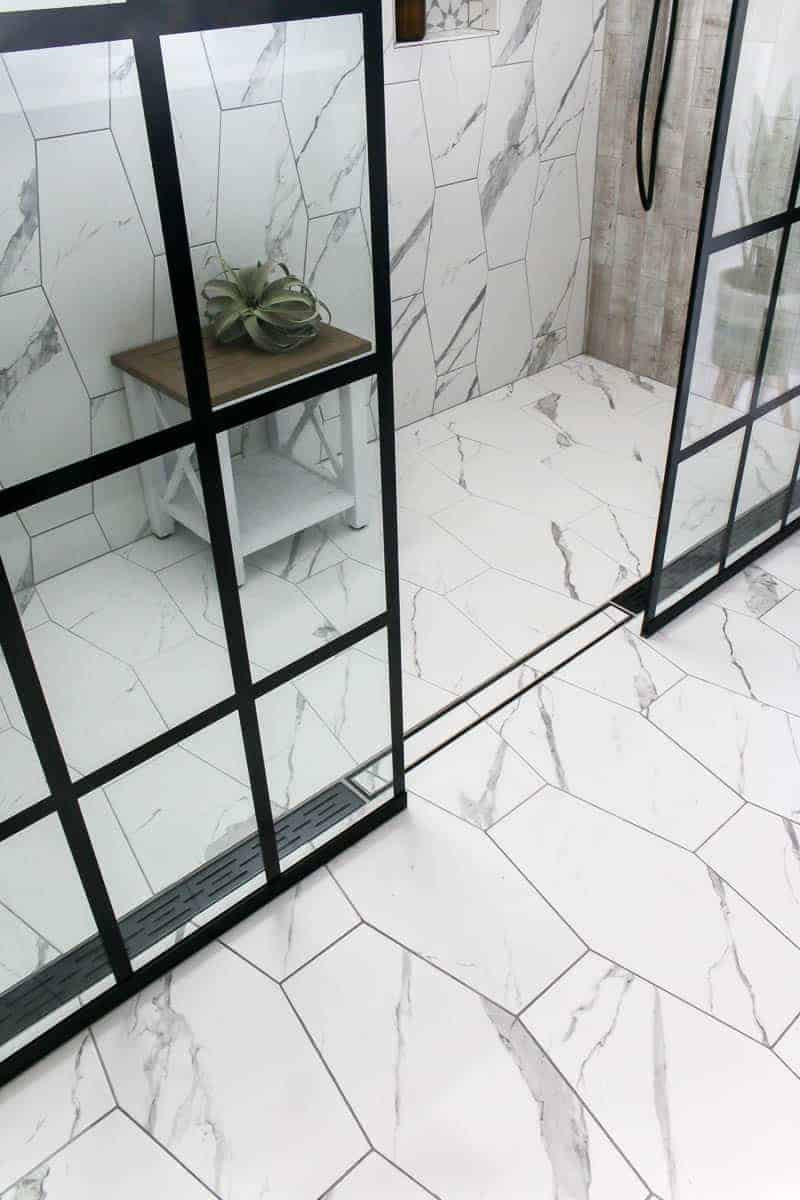 This wasn't our first tile project, but it was our first time working with large format tile (which is a whole new ballgame). I wrote all about it in week 3 in my post called Everything You Need To Know About Large Format Tile.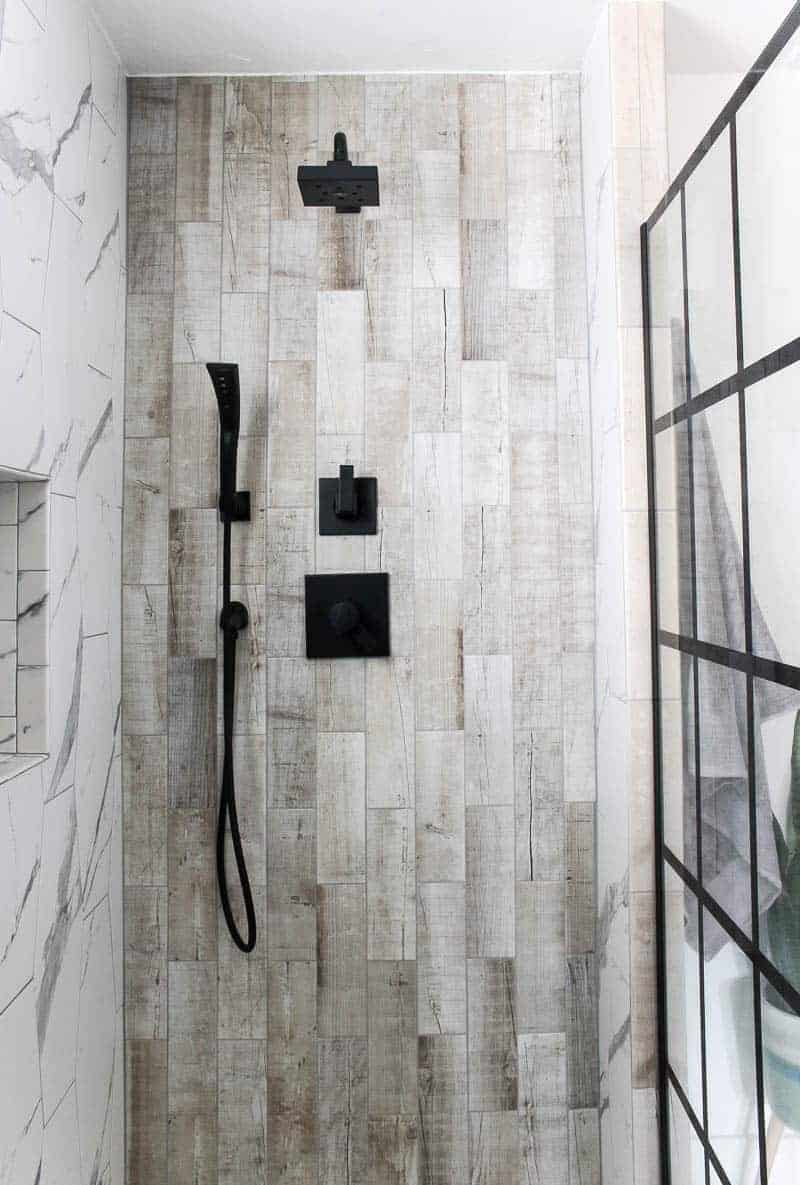 Ok…now before we go (and take a nice long nap)….ONE last look at the before and afters.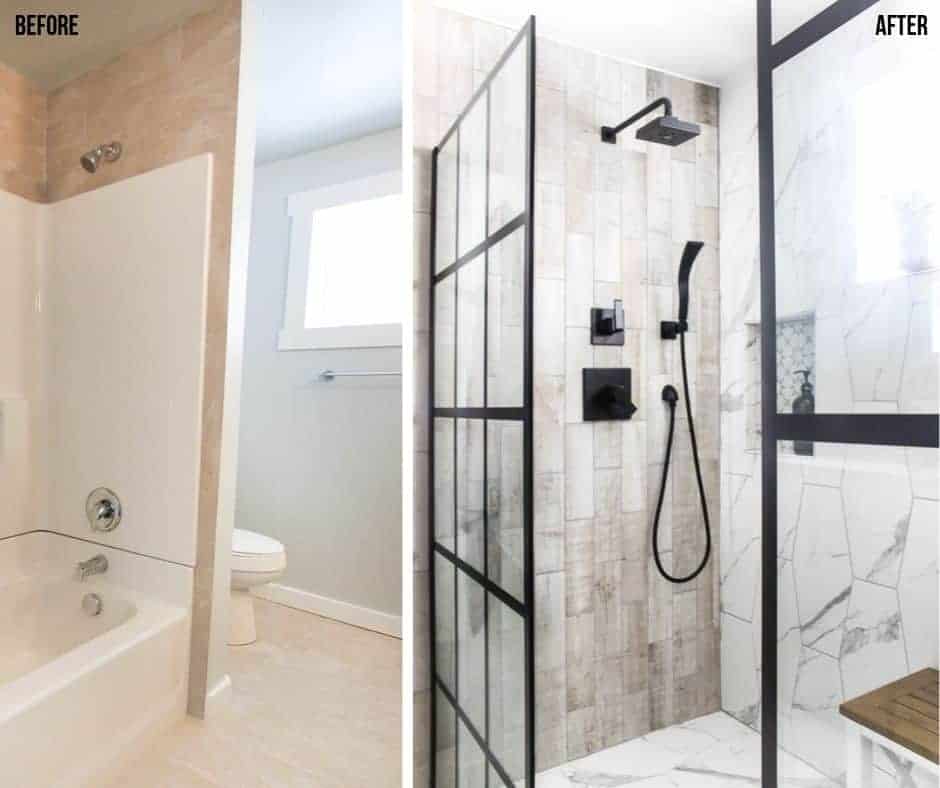 I know, I know…it's hard to see how these are actually before and afters because EVERYTHING in the bathroom was reconfigured, but use the window as your point of reference. I swear these views are the same space. It's hard to believe, huh?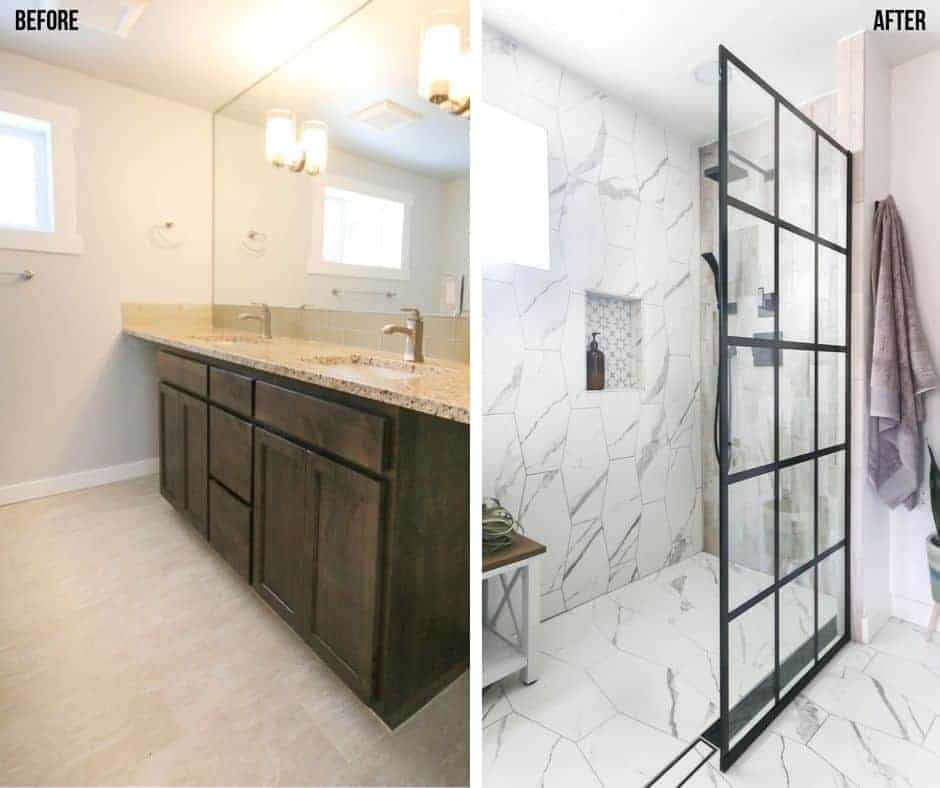 A big thank you to Jeffrey Court for inviting us to participate in the Renovation Challenge this season! Also thank you to Homes.com for your partnership and our other room sponsor, High & Mighty!
Project list for our bathroom renovation:
Demo entire bathroom – done
Cover up doorway to hallway – done
Open new doorway to master bedroom – done
Rough in new plumbing (toilet, showers, sinks) – done
Add new subflooring – done
Create shower pan – done
Add recessed lighting – done
Add new vanity light electrical – done
Add bathroom exhaust fan – done
Install shower niche liners – done
Install insulation – done
Add sheetrock – done
Tape and texture drywall – done
Paint walls – done
Tile shower walls – done

Install shower niches with accent tiles – done
Tile around window and in windowsill – done

Tile floor – done
Install new toilet – done
Relocate vanity – done
Install new countertop – done
Tile backsplash on vanity – done
Install fixed shower door panels – done
Install shower heads – done
Build DIY laundry hamper – done
Install floating shelves – done
Build DIY barn door – done
Install vanity lights – done
Install trim and baseboards – done
Install bathroom accessories – done
Hang mirrors – done
Decorate! – done
---
Source list for modern bathroom reveal: