Not sure what type of light fixture to install in your room? From sleek recessed lights to impressive chandeliers, we explore the different types of ceiling lights to choose from in our comprehensive guide.
Lighting is something that can really make or break a room's design. The worst thing you can do is spend tons of time, energy, and money giving your room a makeover and completely forget or disregard the old, tired, and outdated ceiling light in the space. It will stick out like a sore thumb and bring down the style of the entire room. With how inexpensive new light fixtures are, there's really no excuse, guys.
Whatever you do with the rest of your room's makeover, don't overlook the choice of lighting on your ceiling! It can be tempting to buy pretty throw pillow covers or look at new furniture and paint colors, but good lighting makes a huge difference.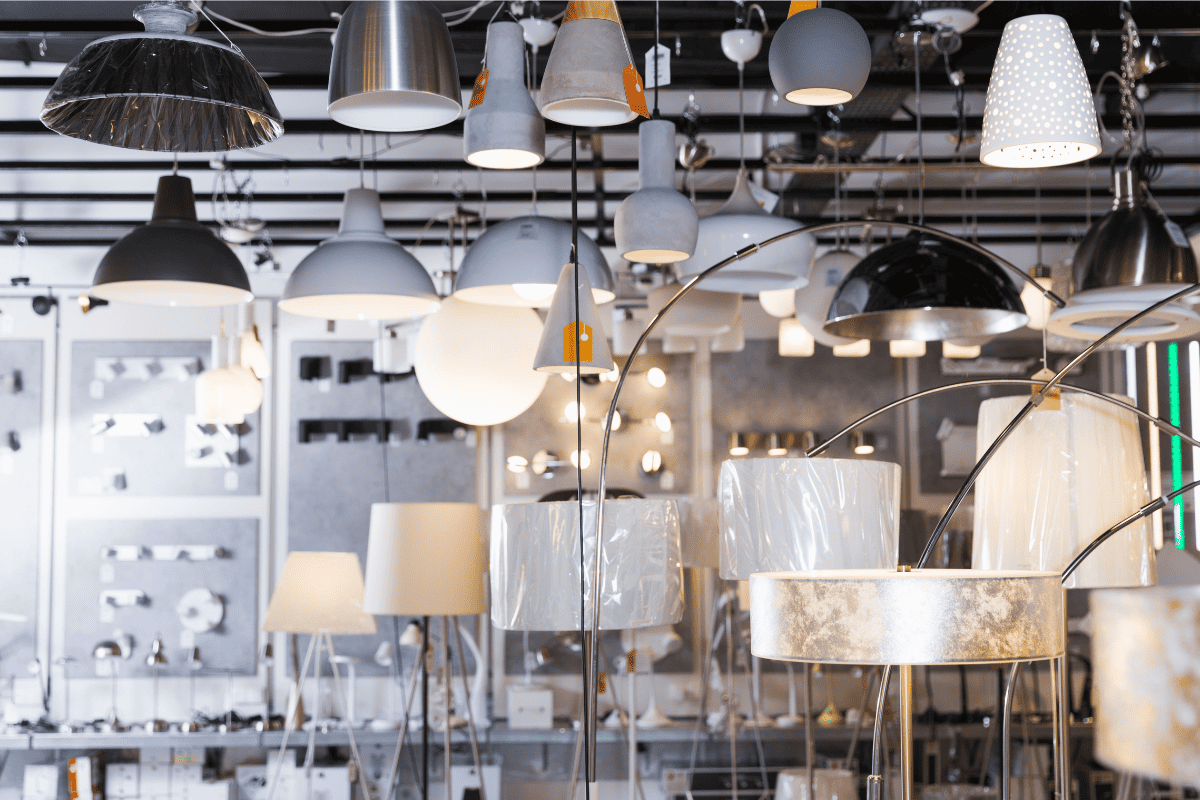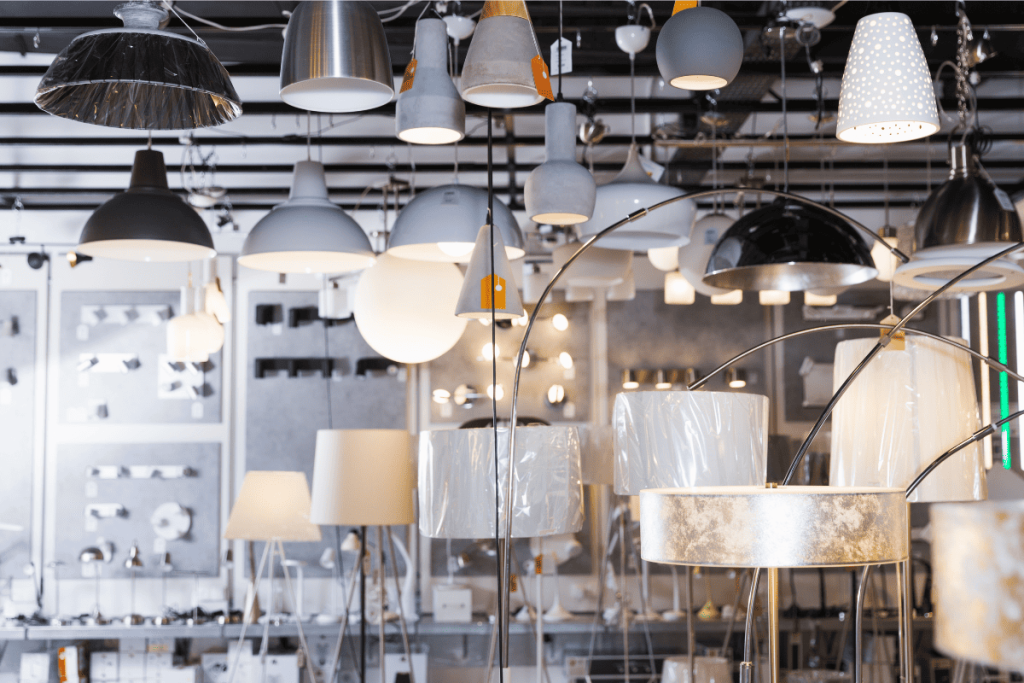 But it isn't as easy as simply thinking about a new light fixture. Eventually, you'll have to make a decision and buy a new light, so let's go through all of the different options you have. And there certainly are a lot of options!
In today's article, I'm going to walk you through several different types of light fixtures, starting first with 7 different types of ceiling lights. At the end of the article, I'll also describe other types of light fixtures that aren't ceiling lights and we'll cover some things that you need to consider before deciding what type of light is the best choice for your space.
I'm a believer that every room needs some sort of ceiling light. Really I'm a believer that every room needs a mixture of both overhead ceiling lights, and ambient lights with lamps, and some rooms also call for task lighting. You may find that a lot of rental homes or new-builds have certain rooms without a ceiling light – which is usually just to save a few bucks, what a shame.
This roundup of types of ceiling lights contains affiliate links, but nothing that I wouldn't wholeheartedly recommend anyway! Read my full disclosure here.
7 Types of Ceiling Lights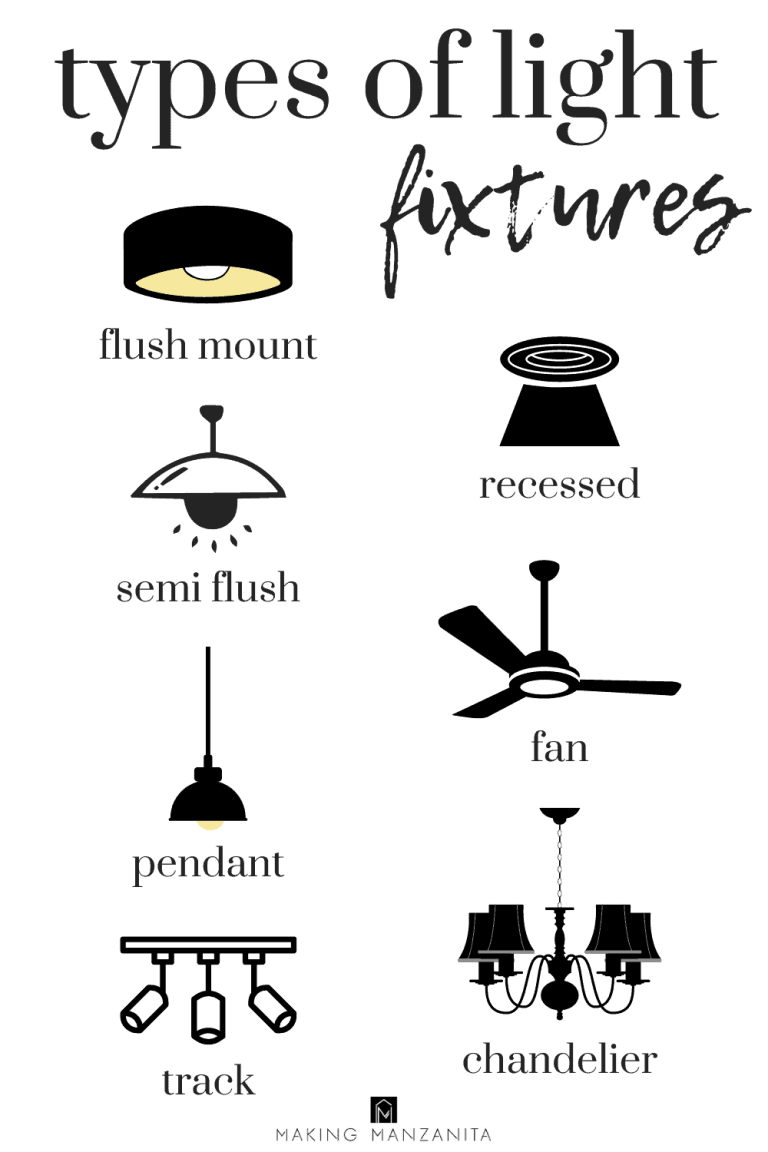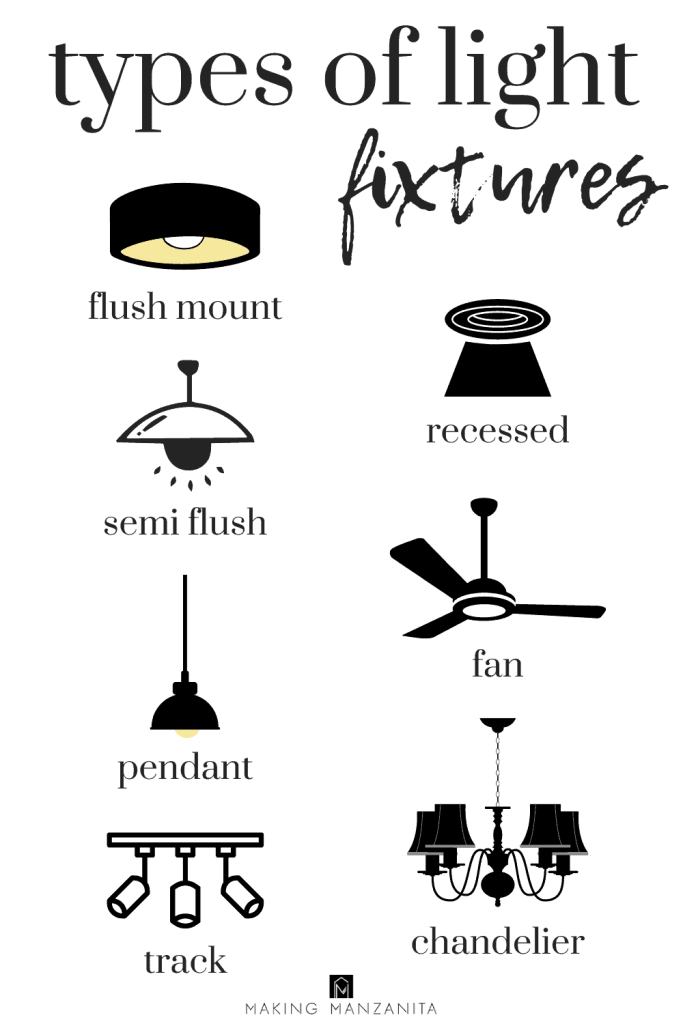 If you're looking to install a new ceiling light fixture in your home, here are the different types of ceiling lights to choose from:
Flush Mount Light Fixture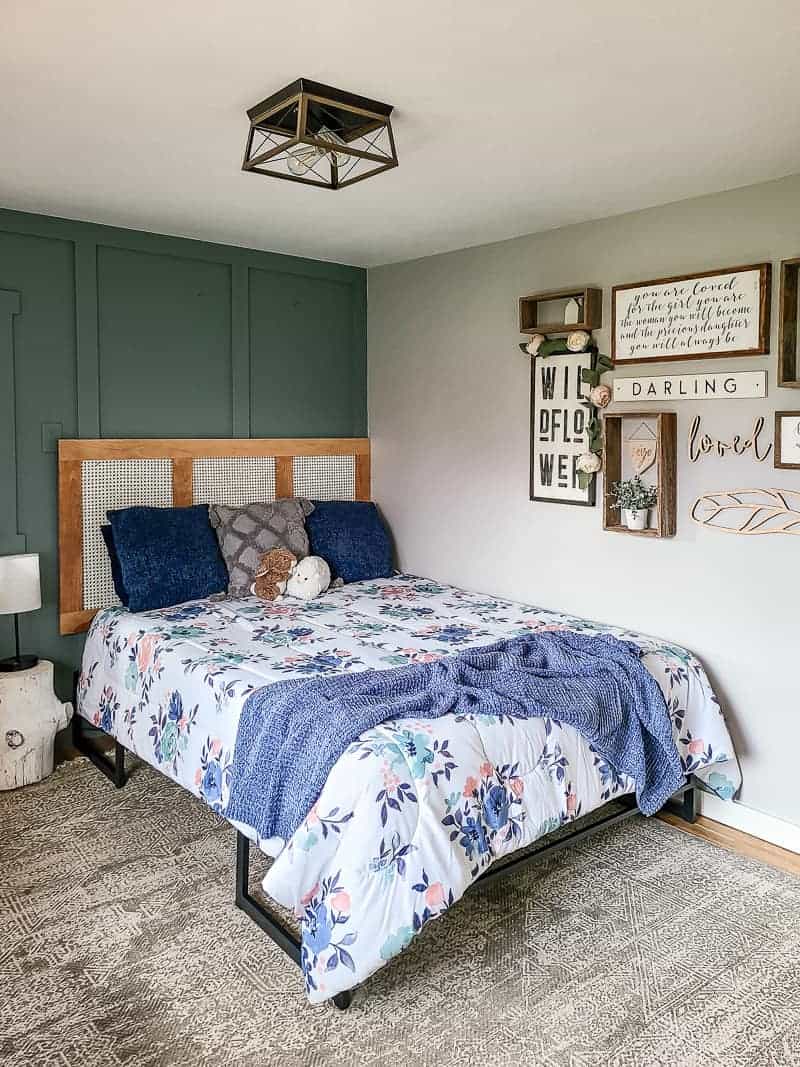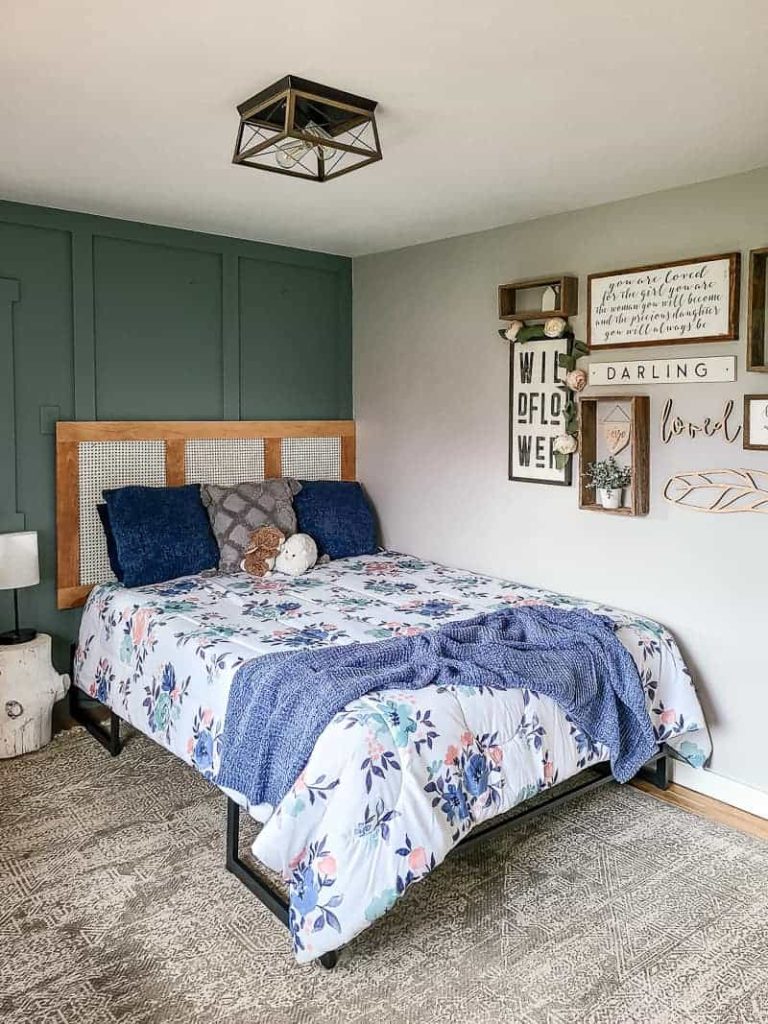 Flush lights sit flush against the ceiling, meaning there is no gap between the ceiling and the light fixture.
There are several different types of flush mount fixtures in a wide range of styles, including drum flush-mount lights with a cylinder drum shade attached or even rustic flush-mounts with elements like reclaimed wood or distressed finishes.
A very common type of flush mount light that you'll see in many rental properties or new-build homes is a boob light.
What is a boob light?
A boob light is a flush-mount dome light fixture with a decorative finial in the middle. They look, well, like…ya know, an actual boob when you stare straight up at them from the ceiling. And that's how they got their popular gag name or nickname…boob lights.
But there are tons of other types of flush-mount light fixtures to choose from, so you don't have to choose something that looks like a boob! Check out these stylish boob light replacements for some ideas!
Why choose a flush mount?
Flush mount ceiling lights have a lower profile, which makes them a popular choice for a small room with low ceilings.
If you have low ceilings and can't afford the light fixture to come down into your headspace, flush mount lights are the best option. Even just 2-3 inches makes a big difference if your ceilings are lower in your own home, like 7 or 8 feet.
Even if there is no gap between the ceiling and the light, the flush mount ceiling light still may be bigger, so check the dimensions of the product before you purchase.
Shop for flush-mount light fixtures
Semi-Flush-Mount Fixture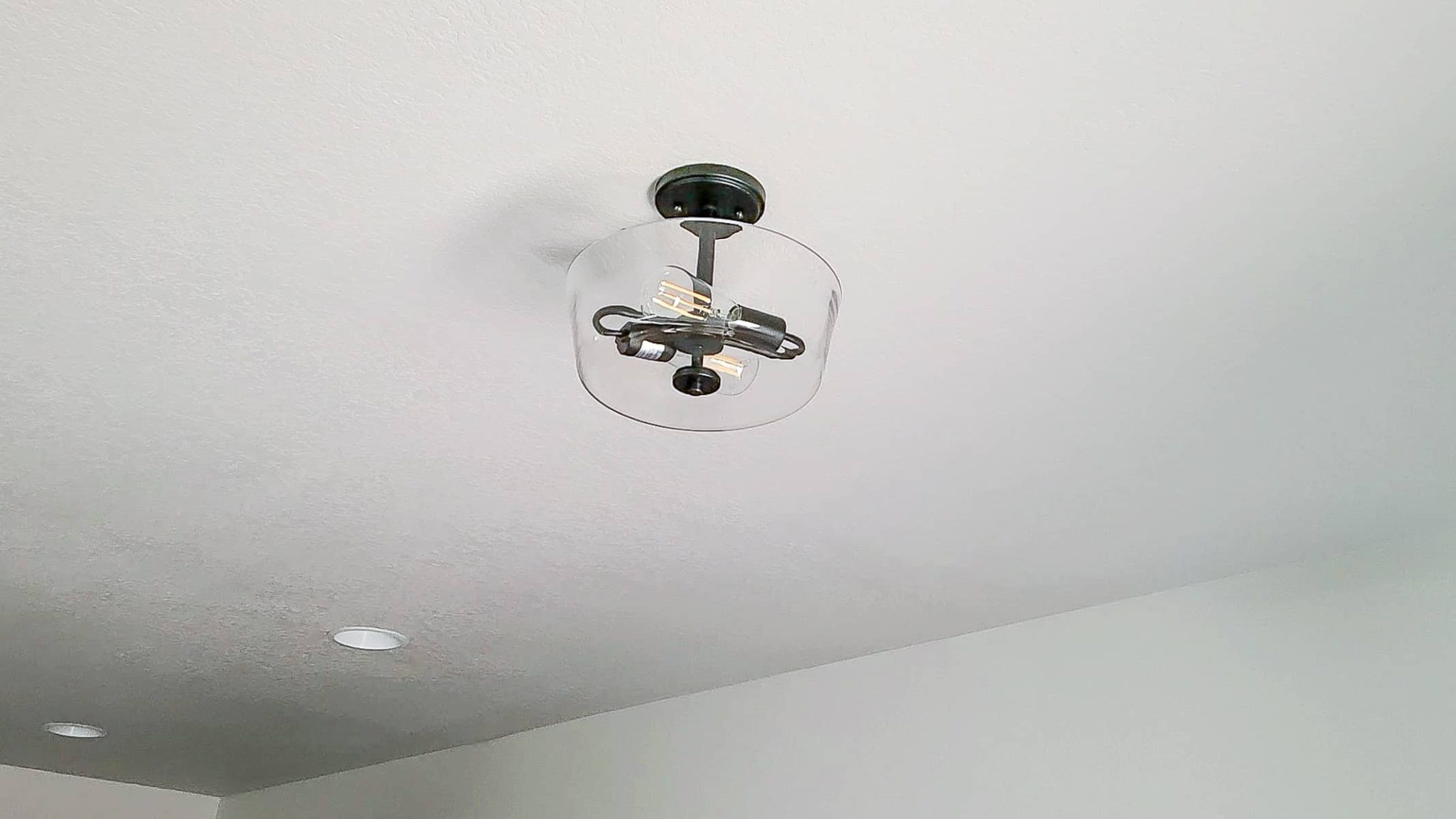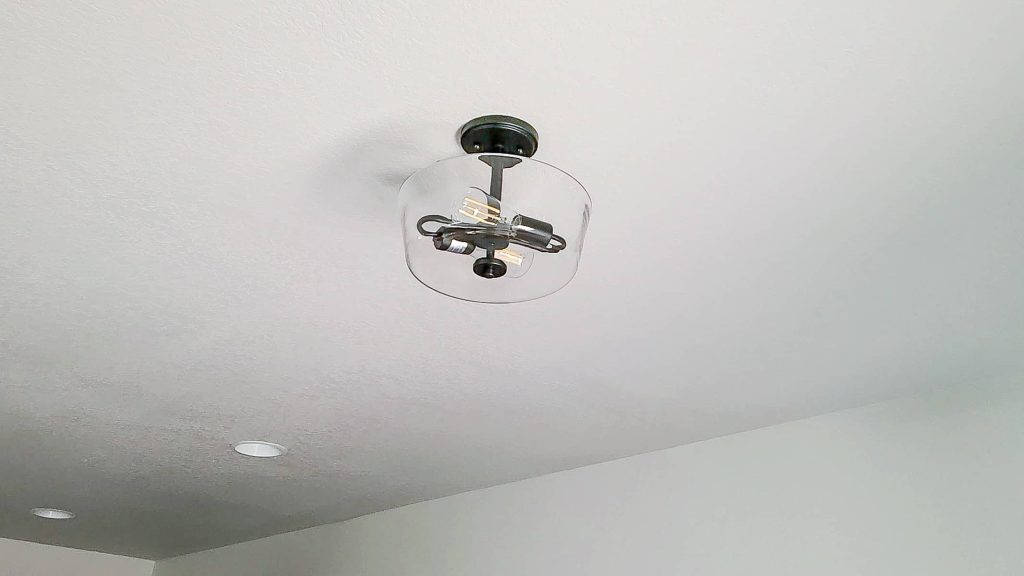 A semi-flush mount light comes down slightly into the room and has a gap between the light fixture and the ceiling. The gap is usually small, roughly 4 to 8 inches (any more than that and it would be considered pendant lighting…more on that type of ceiling light next).
Why choose a semi-flush-mount light?
The little separation between the semi-flush lights and the ceiling means that the is more noticeable and becomes more of a focal point. This is a great way to add a little more style to your room. However, you need to have an adequate ceiling height for a semi-flush mount light.
Shop for semi-flush-mount light fixtures
Pendant Lights
Pendant lights have a much larger gap between the light and the ceiling – 8″ up to 24″ or more. Pendants are usually connected with a cord, metal rod, or chain.
Why choose a pendant light?
If you have high ceilings, pendant lighting can make a big impact adding more visual appeal to your room. They are certainly focal points in your room.
The one time that you could consider installing pendant lights, even if you have lower ceilings, is an area that you will never walk (like above your kitchen sink or over your kitchen island or dining table). In fact, above the kitchen island is one of my favorite places to use pendant lights!
Shop for pendant lighting
Track Lighting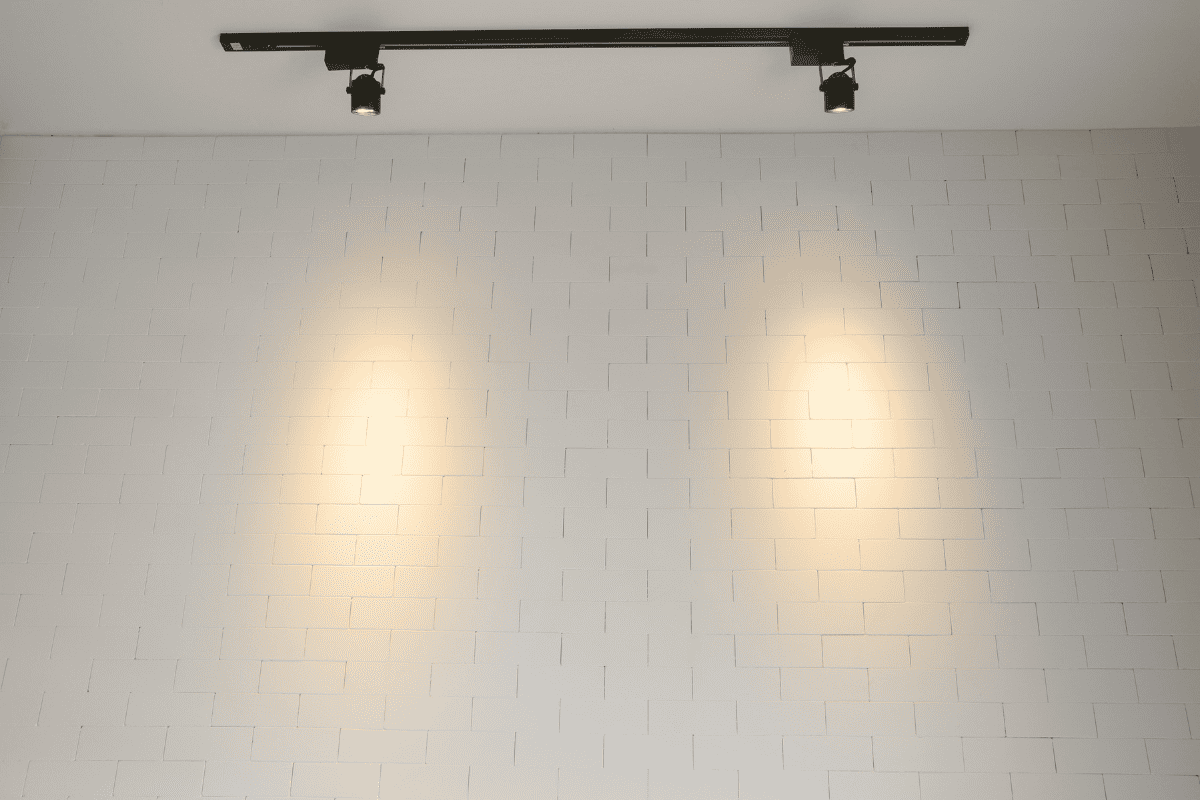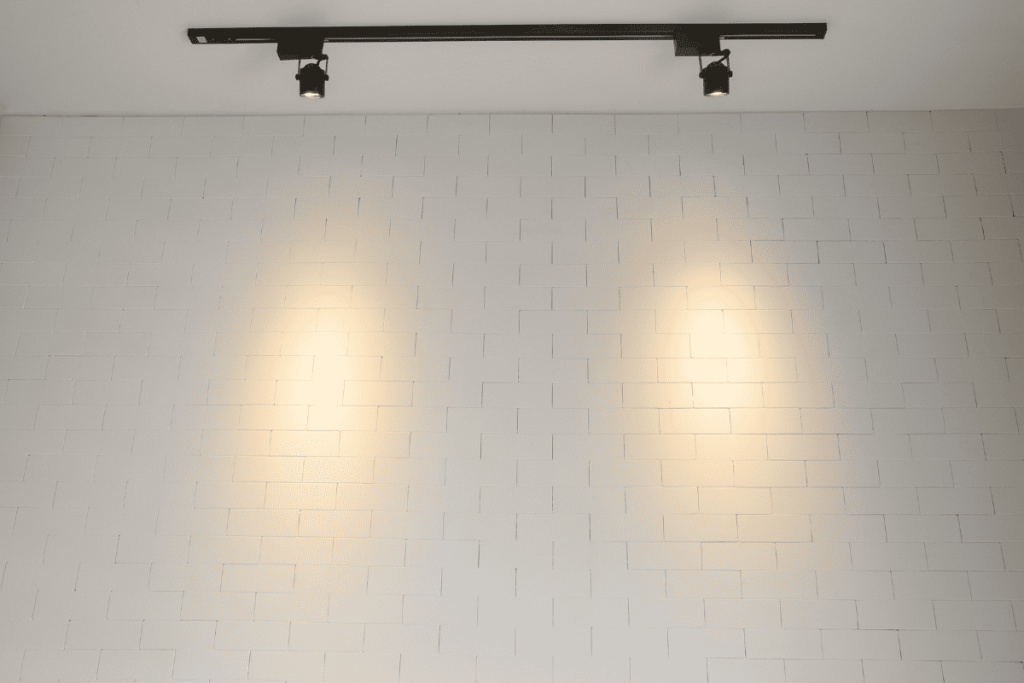 Track lights consist of a series of adjustable fixtures mounted on a track system. This allows for flexibility in directing the light to a specific area or highlighting objects or artwork. I, for one, feel that track lighting looks a bit dated in most instances so I tend to shy away from it or replace it when for our remodels.
Why choose track lighting?
Although I'm not a fan of track lighting, I see its appeal. With track lighting, you can easily adjust and direct the lights along the track to exactly where you want them. It also can look modern and sleek, adding a contemporary touch to your space.
Shop for track lighting
Recessed Lighting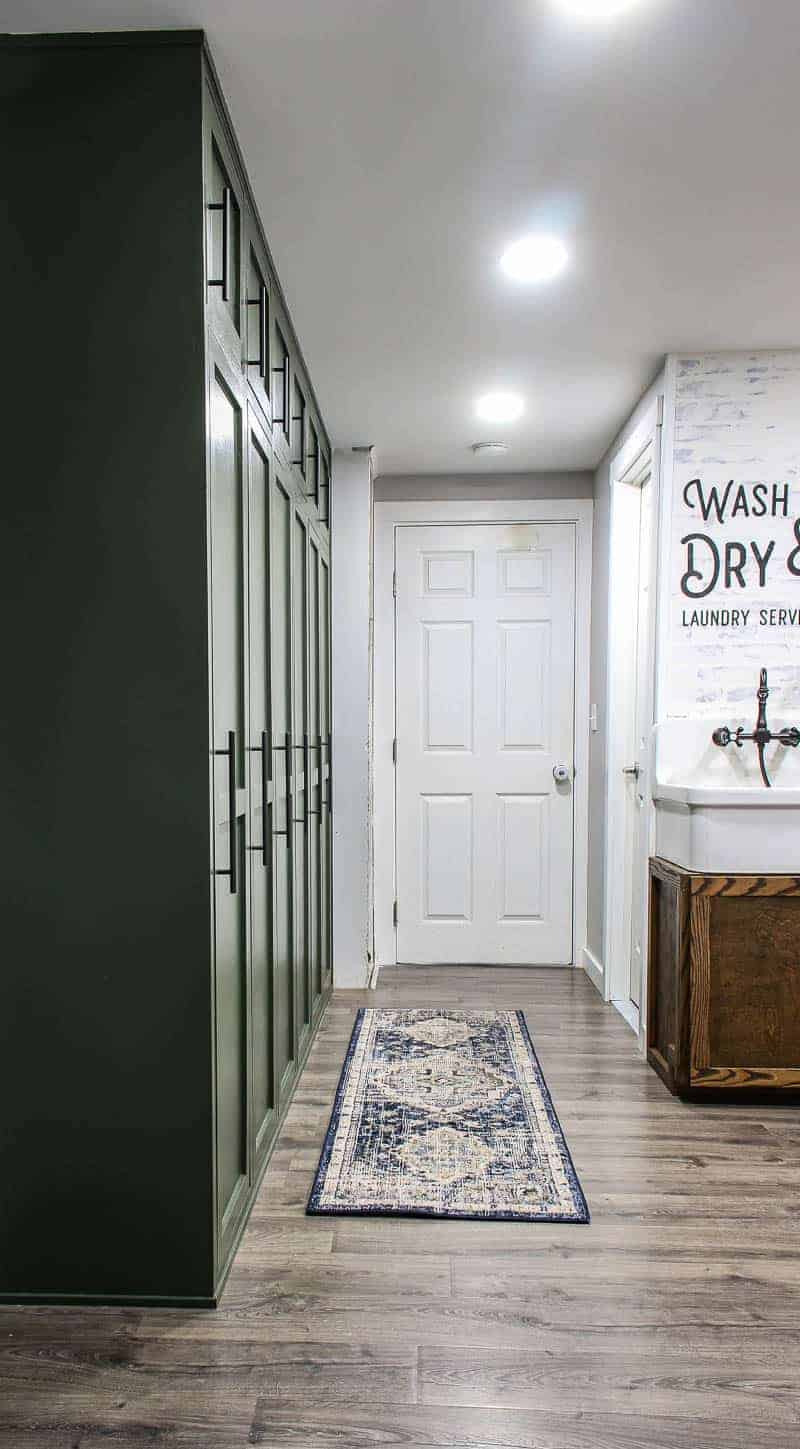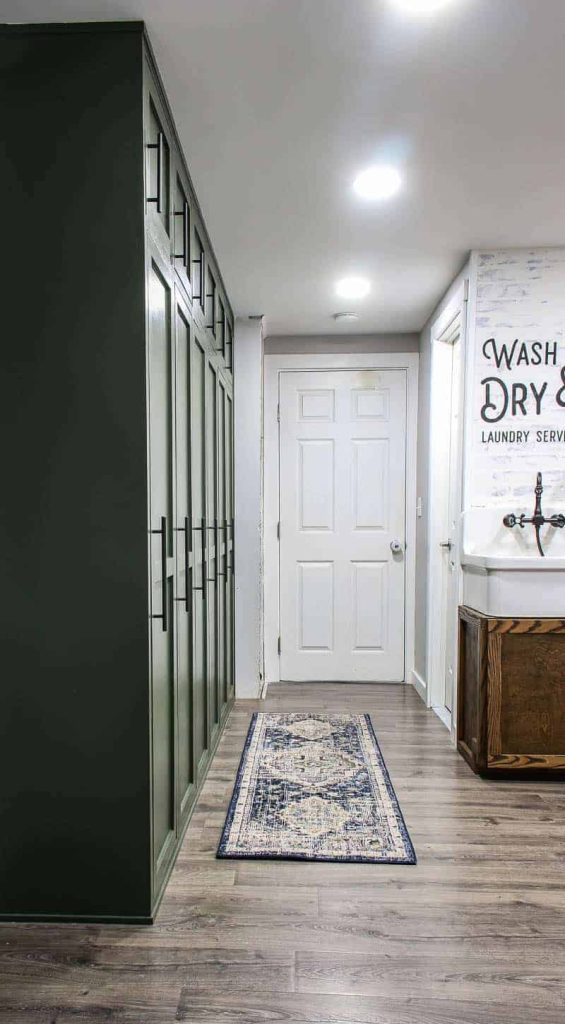 Recessed lights, also known as can lights or pot lights, are light fixtures that are installed into the ceiling or are designed to appear seamlessly integrated into it. They do not protrude downward into the room at all.
Recessed lighting is commonly utilized in clusters, with several recessed light fixtures distributed across the ceiling of a given space. These lights are cost-effective and particularly suitable for rooms with lower ceiling heights, but can also be a great option for a large room with very tall ceilings – like a living room – as a secondary light source in addition to ceiling fans.
Why choose recessed lights?
Recessed lights are a popular choice for several reasons. They provide a clean and streamlined look as they are installed flush with the ceiling, without protruding or hanging down. This makes them a great option for maintaining a minimalist or uncluttered look.
They can be used in groups or spread out across the ceiling to provide even and ambient lighting, especially when installed with a dimmer switch. They are also budget-friendly and suitable for rooms with lower ceilings where headspace may be a constraint.
Shop for recessed lights
Ceiling Fan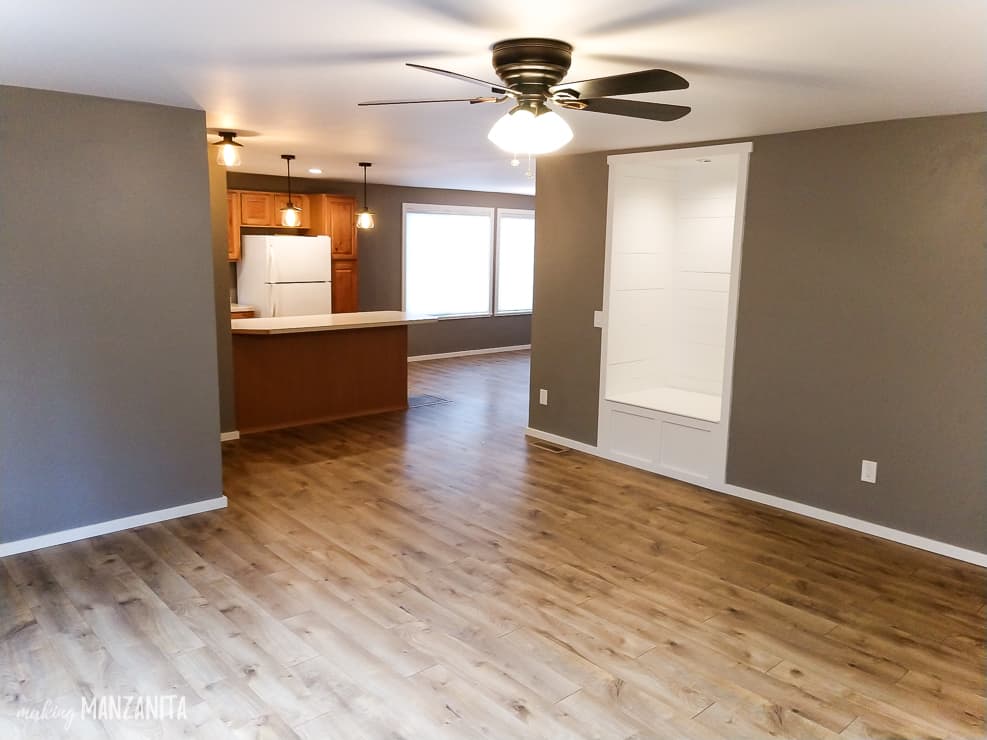 Another option for lighting and air circulation in a room is to use a ceiling fan with a built-in light. This combines the functionality of both lighting and air movement.
Ceiling fans typically extend further down into the room compared to flush-mount or semi-flush light fixtures. However, there are also flush-mount ceiling fans, known as "hugger" fans, that sit flush with the ceiling.
It's important to note that if you're replacing a different type of ceiling light with a ceiling fan, the existing junction box may not be designed to support the weight and movement of a fan. In such cases, installing a new junction box becomes necessary, which adds complexity to the installation process.
Why install a ceiling fan with a light?
Not only do they bring a cool breeze to the room, but ceiling fans also add another layer of functionality with built-in lighting. Although fans do not actually lower the temperature of the room, they create a wind chill effect that can make you feel more comfortable.
By circulating the air, ceiling fans help evaporate moisture from your skin, which can make you feel cooler. Putting a ceiling fan in a bedroom that gets warm at night is a good option!
Shop for ceiling fans with a light
Chandeliers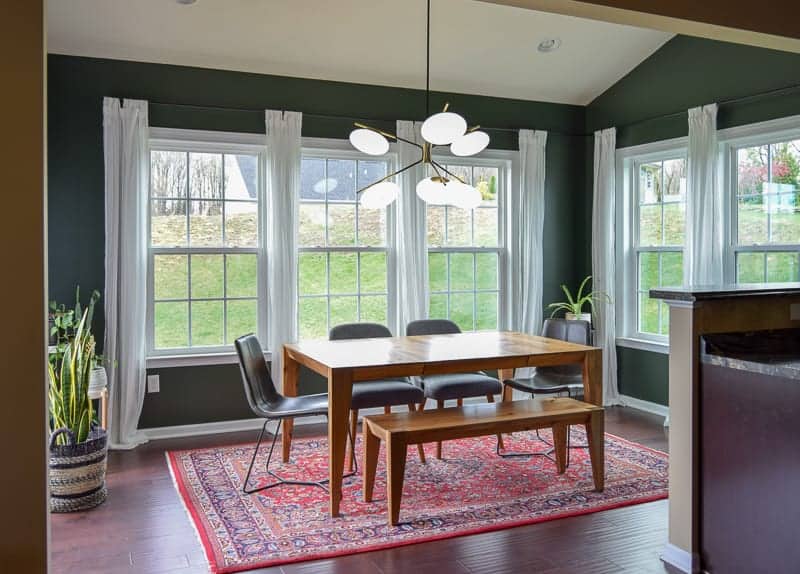 Chandeliers are elaborate, often ornate light fixtures that hang from the ceiling using multiple arms or tiers. They are typically used as focal points in larger rooms or formal settings, like a formal dining room table.
When you hear chandelier you may think of your Grandma's crystal chandelier with glass droplets creating that sparkling effect, but there are so many different types of chandeliers out there nowadays!
You can definitely find something that matches your personal style. You can opt for something traditional with candle-like lights, modern with sleek lines, or mid-century sputnik chandeliers with a starburst design. There are also more rustic chandeliers that fit in well with a farmhouse-style look or drum-type chandeliers.
Why install a chandelier?
Plain and simple, installing a chandelier will give you an impressive focal point for your room! They are great for large rooms with higher ceilings that need a little something extra.
Shop for chandeliers
Other Types of Light Fixtures (not ceiling lights)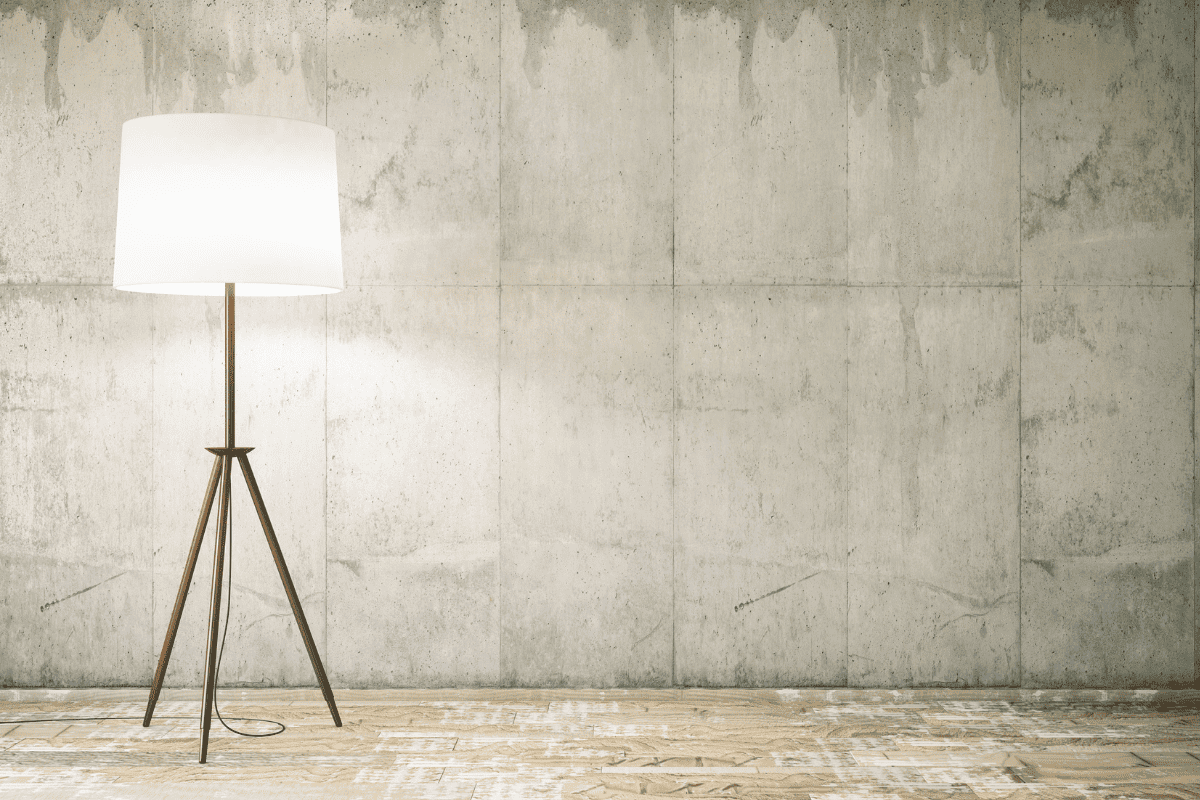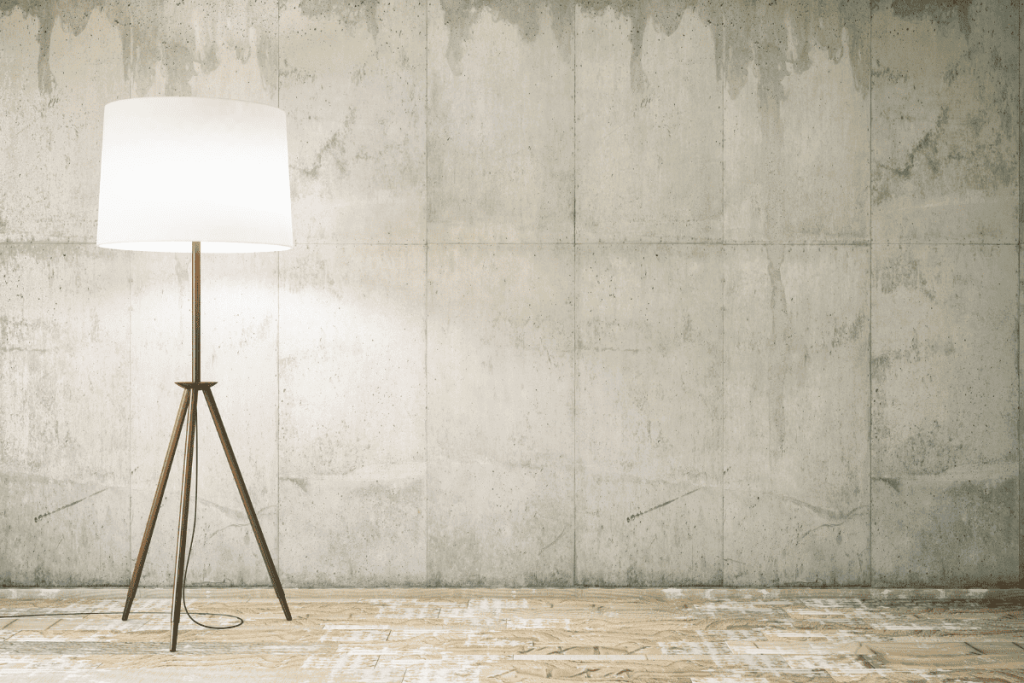 Now this list doesn't cover other types of lights that you could choose to put in a room that are not ceiling lights. I thought I would briefly touch on these because it can be good to layer together a couple of different light sources in a room for a more cozy look.
Wall Sconces: Wall sconces are light fixtures mounted on walls, providing both functional and decorative lighting. They add a touch of style and can make any space feel more inviting. Wall sconces come in a lot of different styles and can be used to highlight artwork, create an inviting ambiance, or illuminate hallways. They also are great for use on each side of your bed in your bedroom to clear up space on your bedside table.
Vanity Lights: Installed on the wall in the bathroom above the sink and mirror, vanity lights provide lighting to a bathroom space. Learn how to install a vanity light here!
Floor Lamps: Floor lamps are freestanding lamps that typically rest on the floor and can be moved around as needed. They are often used to provide ambient or accent lighting in living rooms, bedrooms, or office spaces. They look great used behind an accent chair in an office.
Table Lamps: These are small lamps you can put on tables or desks. They're perfect for when you need a little extra light in a specific spot, like the side table next to your couch in the living room. Adding in a few table lamps here and there is a great way to add more mood lighting to your room and bring in another source of light so you don't have to turn on the bright light on the ceiling.
Desk Lamps or Task Lamps: Desk lamps are small, handy lights for when you're working or studying. Usually sitting on the surface of a desk, they are definitely similar to table lamps. Specifically, task lamps are a type of desk lamp that can be adjusted to shine exactly where you need them for giving you focused light for stuff light reading, writing, or doing crafts.
Under Cabinet Lighting: These lights are installed beneath cabinets in kitchens or display cases to illuminate countertops or showcase objects.
Other Considerations for Choosing a New Light Fixture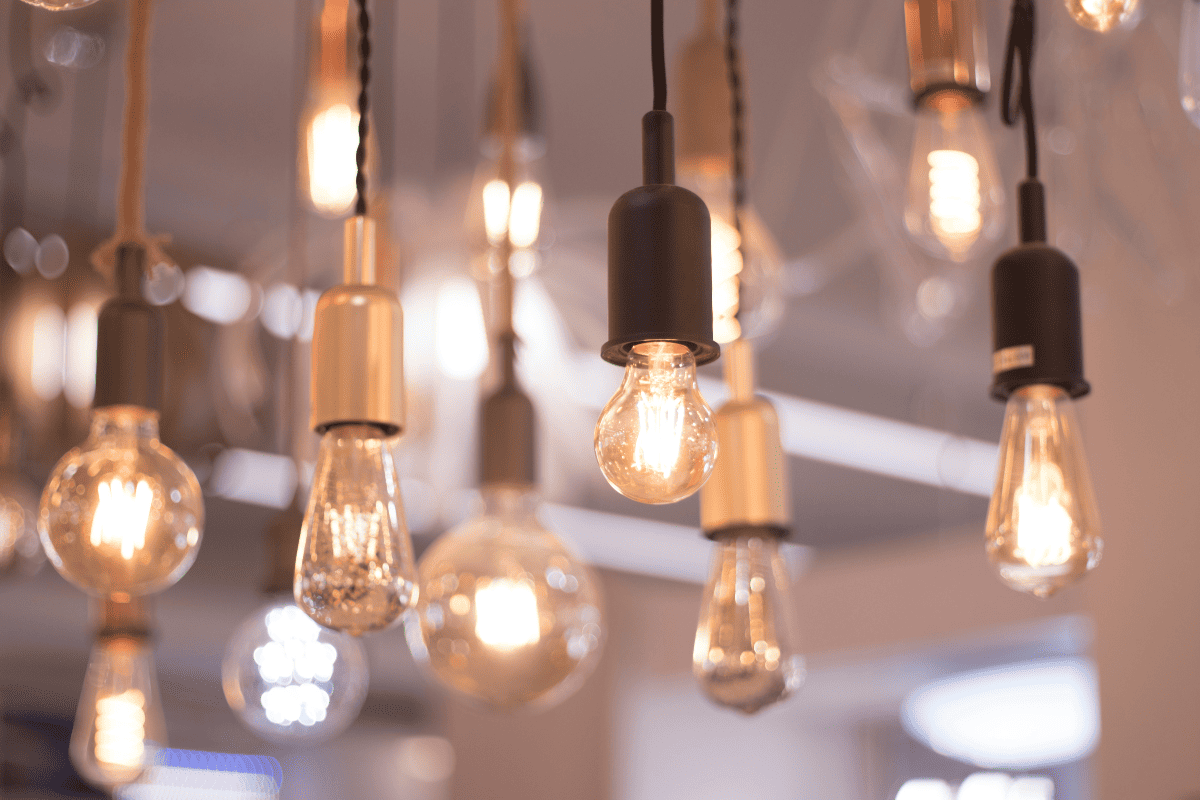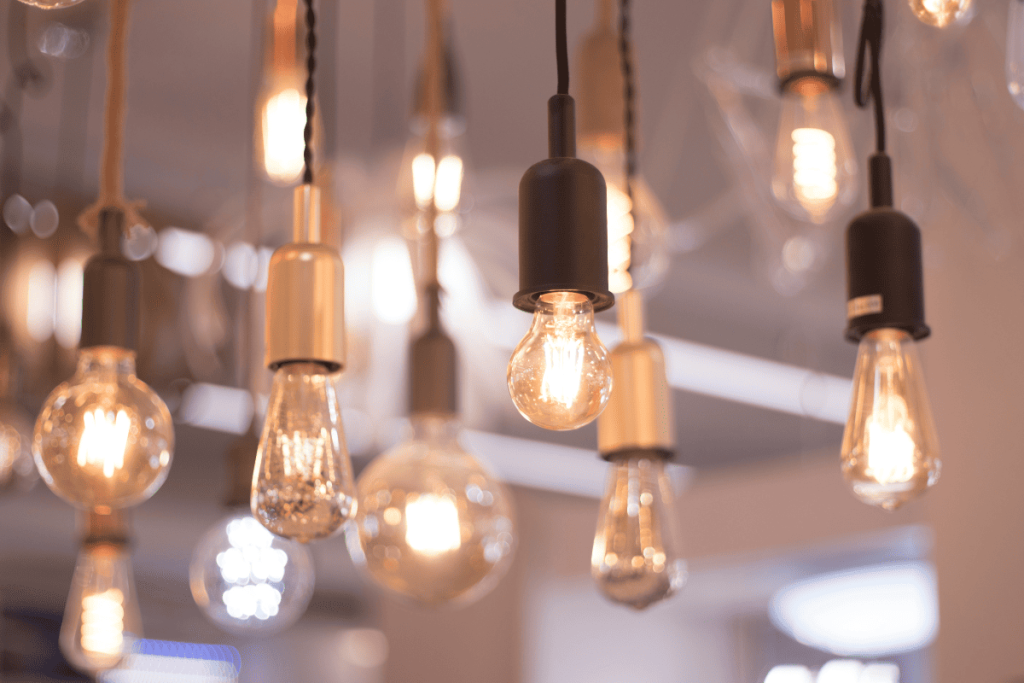 Now that you've learned all of the different options for types of light fixtures you could choose between (both types of ceiling lights and others), let's talk about some other things that you need to consider before you make your decision for a new light.
Here are a few more things to think about:
Room Size and Ceiling Height: Consider how big the room is and how high the ceiling sits. This makes a huge difference in your lighting design. If the ceiling is low, go for flush mount or semi-flush mount lights that won't stick out too much.
Natural Light: Take a look at how many windows your room has and which direction they are facing to determine how much natural light the space gets during the day. For example, north-facing rooms usually have little to no direct sunlight so you may have to add a couple of extra lighting sources to those rooms.
Lighting Needs: Figure out what kind of lighting you want. Do you need bright lights for tasks (like reading, cooking, and working) or a softer glow for a chill vibe? Typically a kitchen is one place where you'll want to go a bit brighter with your lighting than you would elsewhere in your house. A bathroom is another room where it helps to have a lot of good lighting. Different ceiling lights give off different kinds of light (and moods), so choose accordingly.
Style and Décor: Make sure the light fixture matches the room's style and looks good with the rest of your stuff, of course. You want it to fit in and not stick out like a sore thumb.
Energy Efficiency: Look for lights that are energy-efficient, like LED bulbs. LED lighting will give you more brightness in the bulb while using less wattage (energy). They'll save you money in the long run and last a lot longer than those old-fashioned bulbs. I love using new LED bulbs that look like old fashion Edison-style bulbs in our light fixtures where the light bulb is seen, like these LINK!
Maintenance and Cleaning: Think about how easy it is to keep the light clean. Some lights need regular dusting or bulb replacements, while others are pretty low-maintenance.
Installation: Consider if you can handle installing the ceiling light yourself or if you'll need to hire someone. Some lights are more complicated to install (like ceiling fans) and might need extra electrical work or a pro to help you out.
Dimmers: We love using dimmer light switches, which allow you to manually adjust the brightness of the light at the switch. We have our living room lights on dimmers and our kid's bedrooms. We turn down the lights in both spaces in the evenings to encourage rest/sleepiness at bedtime. Most light fixtures and light bulbs will work with a dimmer switch, which they will usually say on the packaging if they are compatible with dimmers – so keep that in mind when you're choosing a new light fixture.
Light Temperature: The light temperature doesn't have anything to do with your light fixture, but more so with the light bulb that you buy for your light fixture. The temperature of a light bulb is measured in Kelvins, ranging from Daylight (5000K) to Bright White (3100 to 4500K) to Warm White (2700 to 3000K). The lower the Kelvin value, the more orange and yellow you'll have in the light (warmer light). The higher the Kelvin value, the more blue you'll have in the light (cooler light). The temperature of the lightbulbs comes into play in a huge way with how a room looks and feels. This somewhat comes down to personal preference, but typically you'll find warmer light in bedrooms and living spaces and cooler lights in kitchens and bathrooms.
Wattage & lumens: Most light fixtures have a maximum light wattage rating for the bulbs that you put into the light. It is typically 60 watts for lamps, but keep in mind that for light fixtures with multiple bulbs, the wattage is everything added together. Exceeding the wattage limit on fixtures is likely to be a safety hazard and poses a risk to the bulb and the fixture itself, so keep this in mind!

Wattage vs lumens can be confusing, so here's a quick explanation. Wattage is the amount of energy that is used by the light bulb/fixture to produce light. Lumens, on the other hand, is the actual brightness output of the light bulb. In the past, wattage and lumens used to correlate together (higher wattage #, higher lumen #) but now that they are making more energy-efficient LED light bulbs, the numbers are not directly correlated. So you'll need to look at both the wattage and the lumen when buying your light bulbs for your new fixture.

Budget: Don't forget about the budget! Set a limit for how much you want to spend on the light and the installation.
Knowledge is power, right? Understanding the various types of ceiling lights, such as flush-mount, semi-flush, pendant, track lighting, recessed, ceiling fan, and chandeliers, will give you the freedom to choose the perfect fixture for your space.
Don't forget about other lighting options for ambient lighting, like table lamps and sconces, which can add a touch of character and coziness to your space. By keeping these things in mind, you'll be able to choose a ceiling light that fits your needs, matches your style, and doesn't break the bank.
What is your favorite type of ceiling light?