Get organized for back to school with these fun command center essentials from Etsy!
It's August…which means that Back to School is RIGHT around the corner. I know, I know…I wish we could savor in the last moments of Summer as well. But whether you like it or not, you need to start thinking about getting organized for back to school. Having your home organized with some systems in place will make a world of difference when it's time to start shuttling the kids to and from school, packing lunches and nagging them about homework assignments.
A command center is an excellent way to set up some home organization systems and stick with them. It must be something about the fact that you have to see the command center every day. Goals are much easier to accomplish if they are staring you in the face daily. If you're thinking about creating a command center in your home, you may be wondering what you need for a command center. Well, you're in luck today. These command center essentials will be your life saver!
This Command Center Essentials post contains affiliate links, but nothing that I wouldn't wholeheartedly recommend anyway! Read my full disclosure here.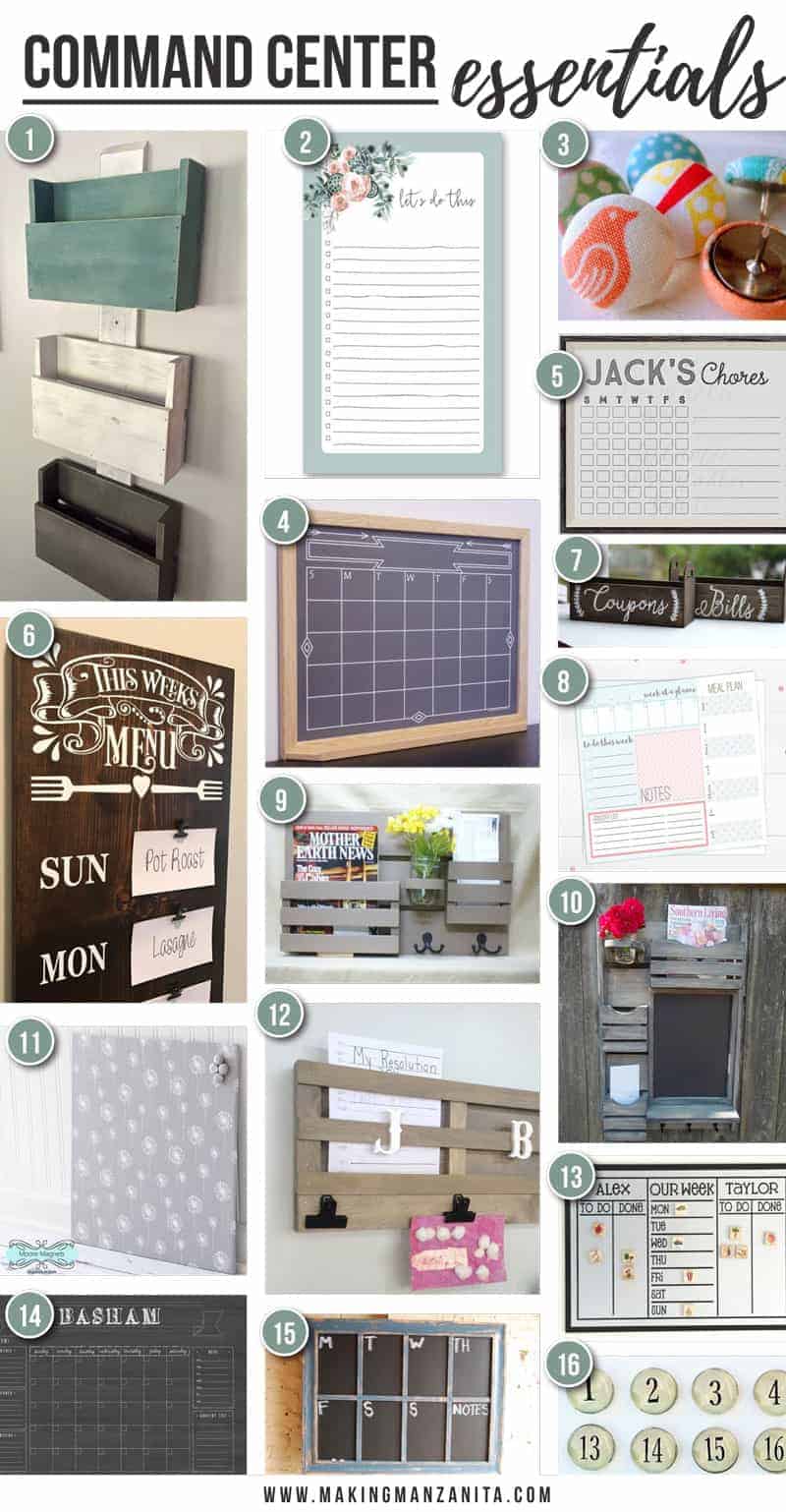 Get organized for back to school with these command center essentials from Etsy!
Organizing paper clutter is definitely one of the primary reasons to have a command center in your house. If you are planning your command center on a wall, these wall storage bins are the perfect solution to keep papers, homework and mail organized.
If you are planning on doing a command center on the fridge, like I am… (stay tuned for a reveal of our command center next week…woohoo!), you will most definitely need a magnetic notepad. This one is perfect for your grocery list or to-do's.
If your command center has a memo board, you definitely need some cute thumbtacks, right? I love these colorful push pins. She's got tons of other different designs in her shop as well!
Southwestern Chalkboard Calendar
I've been really digging the Southwestern and Boho style lately. This chalkboard calendar will help keep your family super organized while fitting right in with design trends. I love that you can see the whole month at a glance.
Display your kid's chores on you command center is a great way to keep the house running smoothly. This chore chart list printable is customized with your child's name and then you print it out at home! I love that the kids can check off the chores as they complete them. You can print this every week or put it in a frame and use a dry erase marker.
One of the most important thing that I wanted in our command center was a place to meal plan and display the meals for the week. This helps avoid getting asked "what's for dinner?" 20 million times a day. This farmhouse style menu board is too cute!
Not every command center is on the wall. Command centers can incorporate desks, tables tops and even shelves. These desktop organizers are good way to keep the paper clutter organized.
This home organization printable could be a command center all by itself. It really has it all: meal planning, notes, to do's, grocery list and weekly planner.
This mail organizer with hooks is a great command center for your entry way. You can use those cute little hooks for your keys and then drop your mail in right when you walk in the door. No more searching for the keys or piles of paper on the counter! Sounds like a win win to me.
This amazing message center is a command center all on it's own! If you're looking for a quick way to create a command center in your house, this could be a great option for you. There's a place to organize your mail, write messages, store your keys or coats and there's even a place to keep flowers, which gives this command center a ton of charm.
Have a place to put notes, memos, receipts and coupons is a great idea for your command center. This wall mounted magnet board creates a space just for that.
With the kiddos being back in school, there also comes an abundance of papers that need to be signed and homework that needs to be corralled. This homework organizer with clips allows you to display the homework for each kiddo and can even be personalized.
Large Magnetic Chore Chart With Weekly Planner
The large chore chart is a great way to get your kiddos a look at the week. Your little ones will probably have a blast being able to move the chores from To Do to Done. This one is great for even the young kids that can't read yet because of the pictures.
Large Dry Erase Family Calendar
This month at a glance system is great for families that have a lot going on. There is a separate place for different members of the family, grocery list and your weekly menu. Love it!
I love the vintage look of this framed chalkboard that resembles a vintage window. There's a spot for every day of the week, but an extra box for notes.
Speaking of chalkboard calendars, wouldn't these calendar number magnets come in handy!? She has tons of other designs of calendar number magnets in her shop, so you can choose what works best for your command center.
Back to school is right around the corner, so take this time to get your home systems in order and stay organized with a command center. They can be as simple as a place to keep your mail organized. Or command centers can literally organize every single area of your life.
These command center essentials should come in handy you as you create a command center that works for your family. Don't forget to tune back in later this week when we reveal our command center and show you how to make your own! (Update: you can check out our command center we made for our fridge here!)
Which of these command center essentials do you need?
Let me know in the comments ! 🙂