Decorating that big blank wall behind your bed can be a daunting task! If you're stuck looking for above bed decor, here's 19 designer worthy ideas for over the bed decor!
Decorating a bedroom is something I think gets frequently overlooked. I'm totally guilty of not giving our bedroom the time of day because I'd rather spend my time, energy, and money decorating the parts of our home that get seen more frequently by guests.
Since we moved into our new fixer upper, I've been thinking about how to decorate our master bedroom…even if we haven't really started much in terms of actually decorating!
I've definitely been thinking about potential options for above bed decor, how to decorate above our bed, and even how to make our bedroom storage more functional.
I promise, bedroom, I'll get to you someday soon (UPDATE: We're done with our master bedroom now, check out how it turned out here!). Until then, I'm always following my own advice of trying to stick to one room at a time!
When it comes to decorating a bedroom, something that I think a lot of people struggle with is how to decorate over their bed.
It's such a big blank wall that it can definitely be overwhelming! I decided to look to some of my favorite fellow bloggers for some inspiration and ideas. Here are 19 designer-worthy ideas for over the bed decor!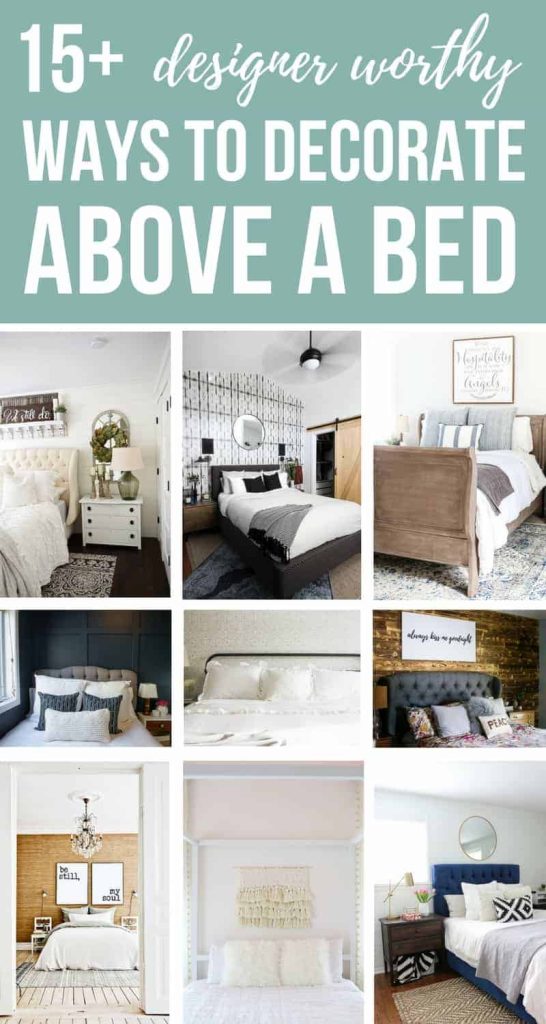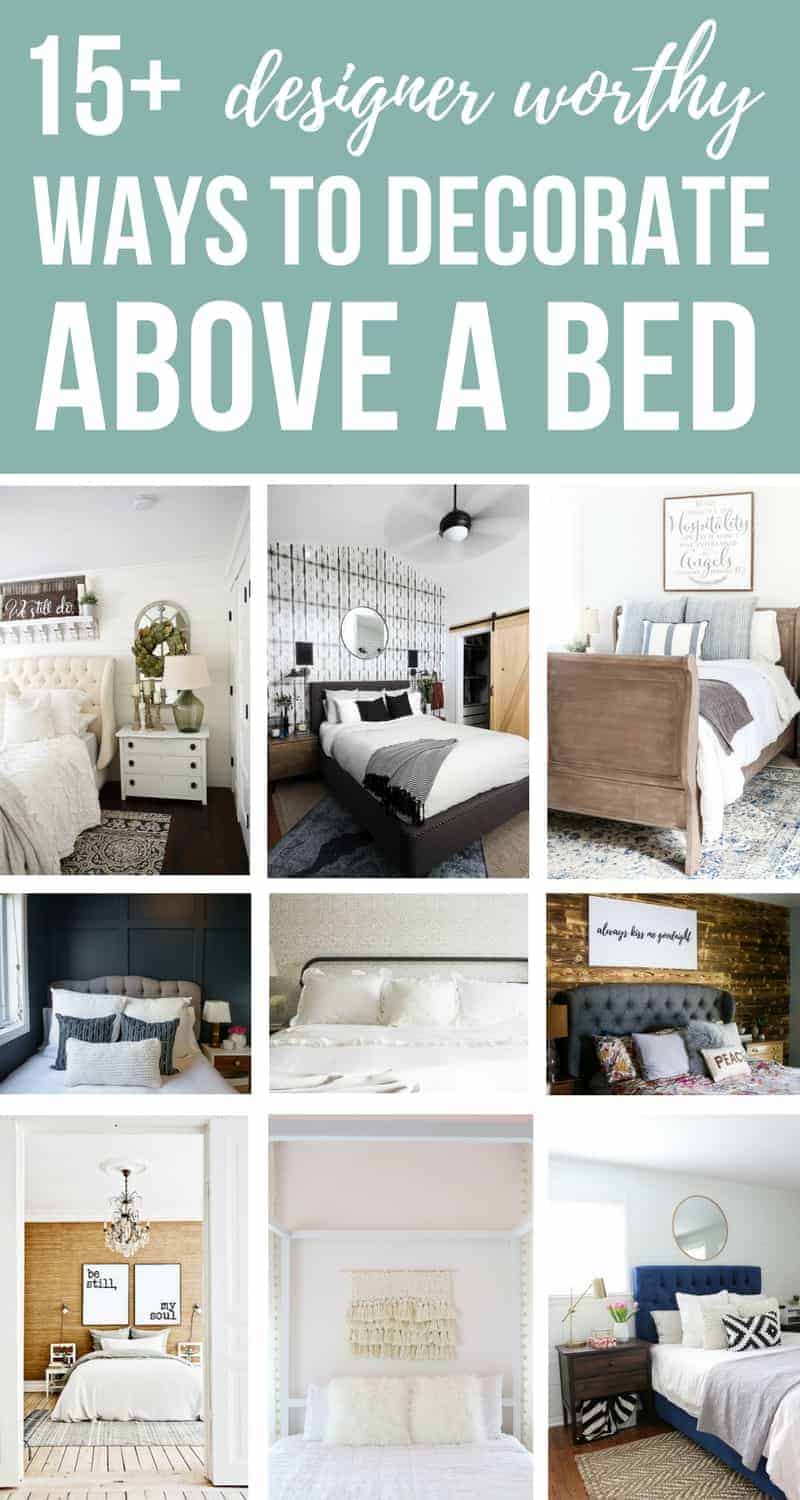 This round up of ideas for over the bed decor contains affiliate links, but nothing that I wouldn't wholeheartedly recommend anyway! Read my full disclosure here.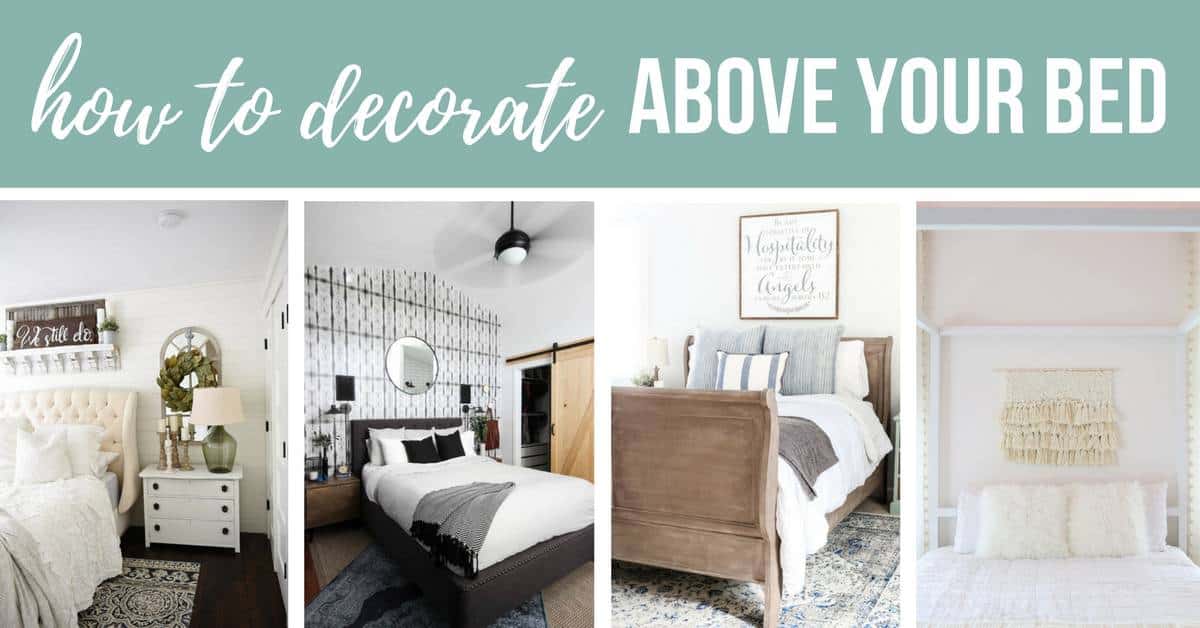 Are you ready to see these awesome ideas for over the bed decor??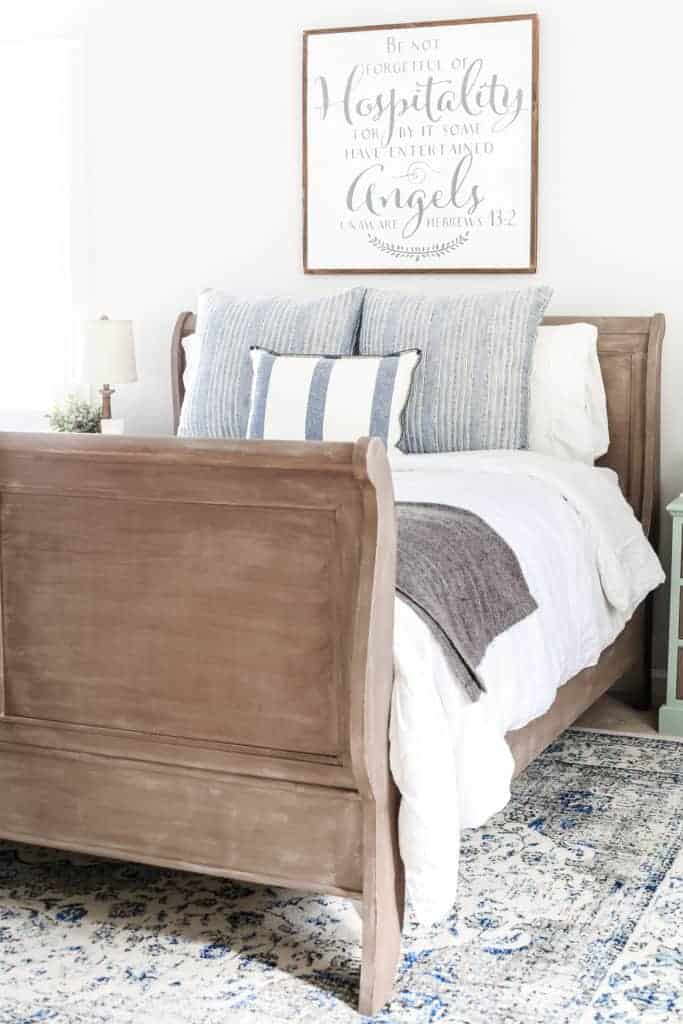 You guys know how much I love the farmhouse style, so of course, one of my favorite above bed decor ideas is to hang a farmhouse sign above the bed.
One of the easiest ways to decorate above your bed is to hang a large sign – front and center.
Lauren from Bless'er Home does a great job styling this gorgeous blue cottage-style guest bedroom.
This farmhouse sign really stands out and gives the room that farmhouse charm. You can purchase this exact farmhouse wood sign here! It's just perfect for a guest bedroom!
Here are some other farmhouse signs to put above your bed: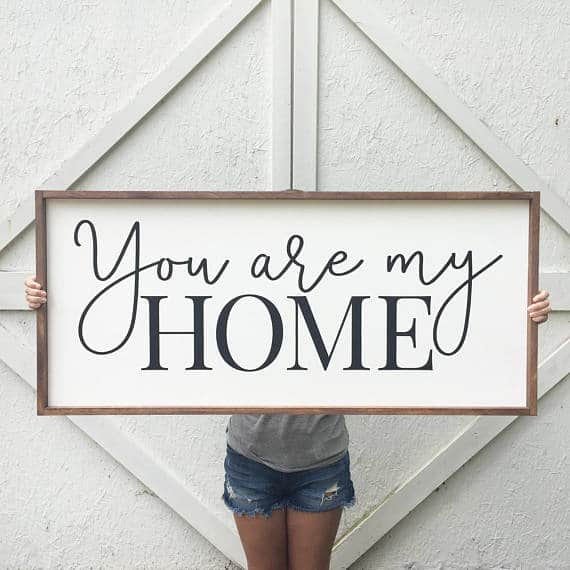 ---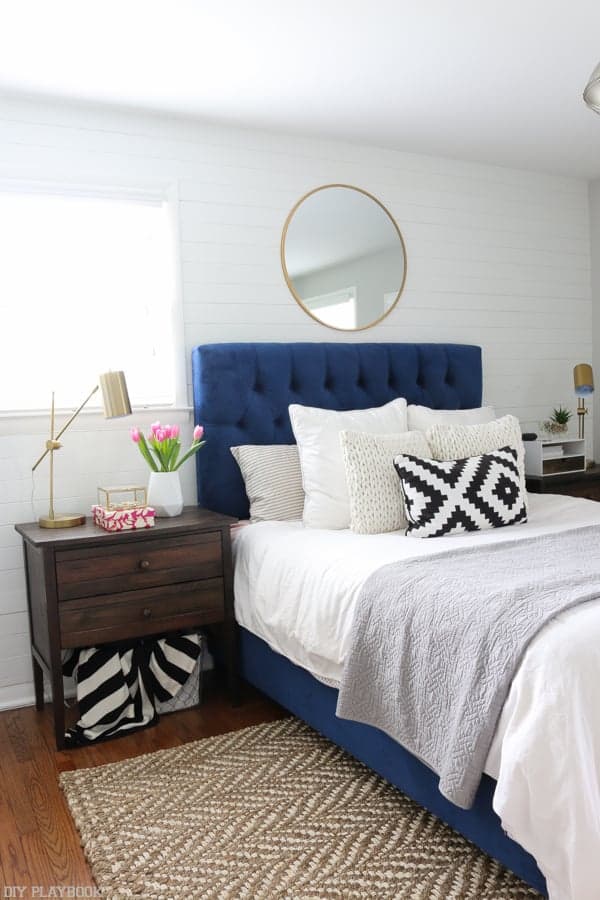 This inexpensive bedroom mirror that the DIY Playbook hangs above their bed adds so much to the big blank wall (which by the way, looks awesome covered in shiplap!).
Mirrors always make rooms look bigger and brighter…in fact, adding a mirror is one of the tips that I mentioned in this post about how to make a small room feel bigger.
There's just something about the reflection in the mirror and seeing "more" room that really makes an impact and makes a room feel larger.
You can purchase this round brass mirror above the bed here! If you're feeling like a DIY, you can even make your own DIY sunburst mirror to put over your headboard!
Looking for some other ideas for a mirror for above bed decor? Here are some cute options: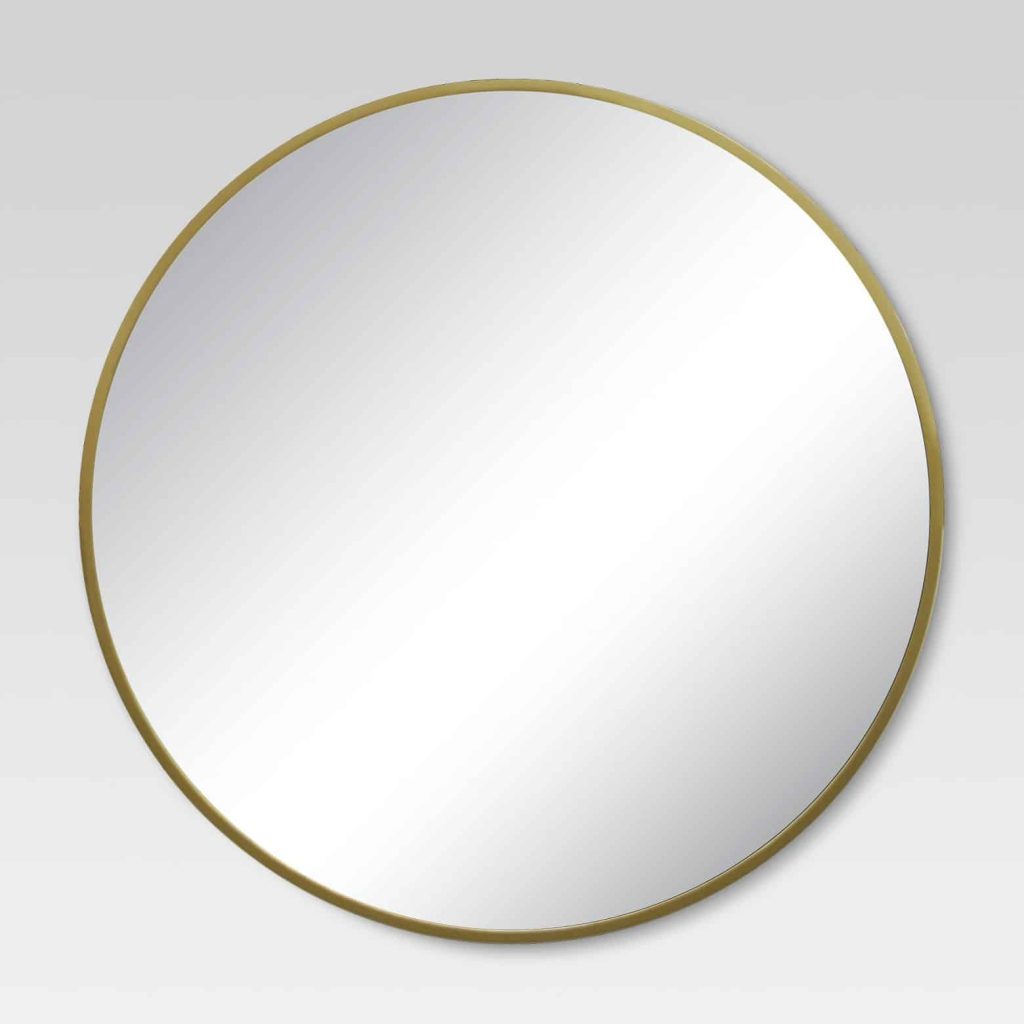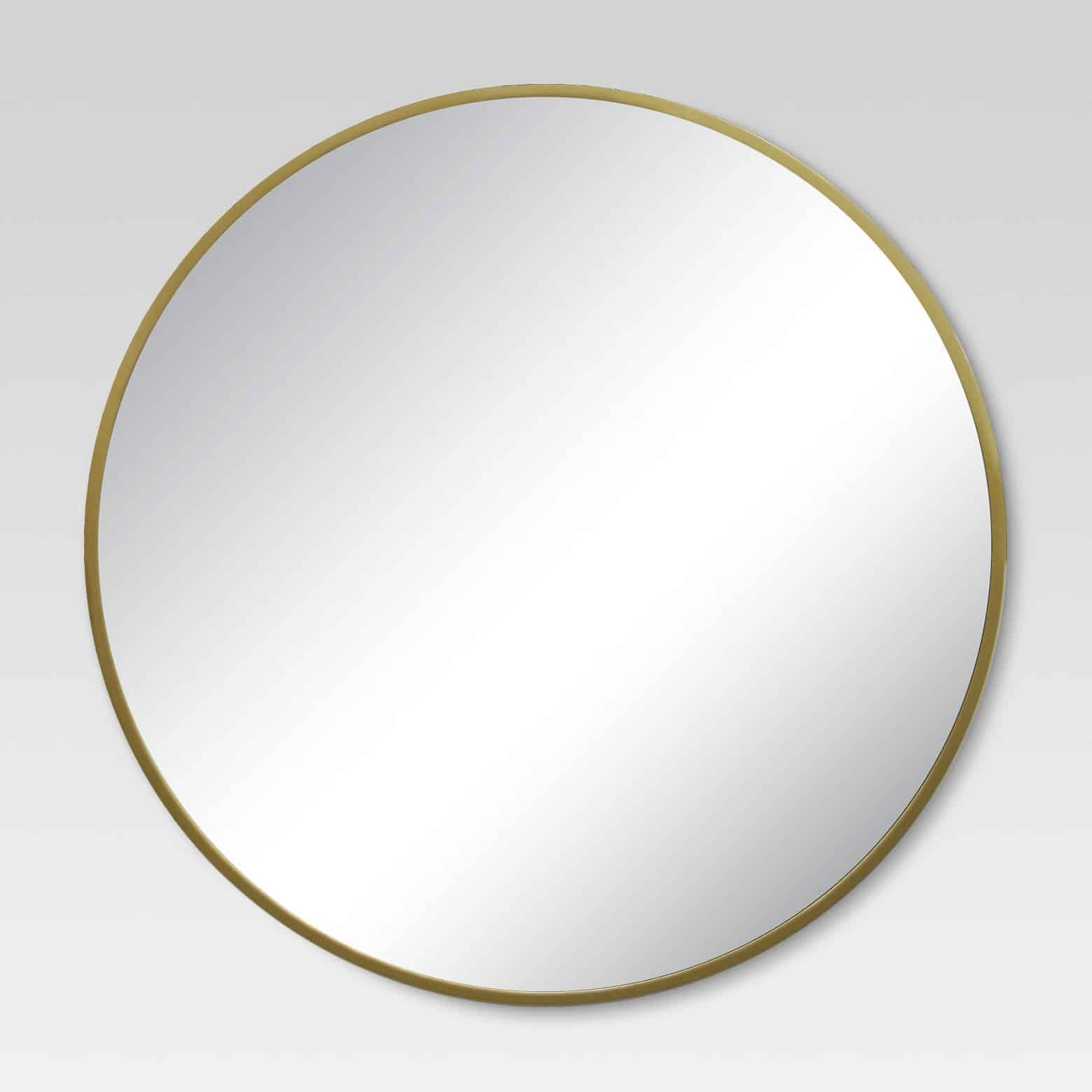 ---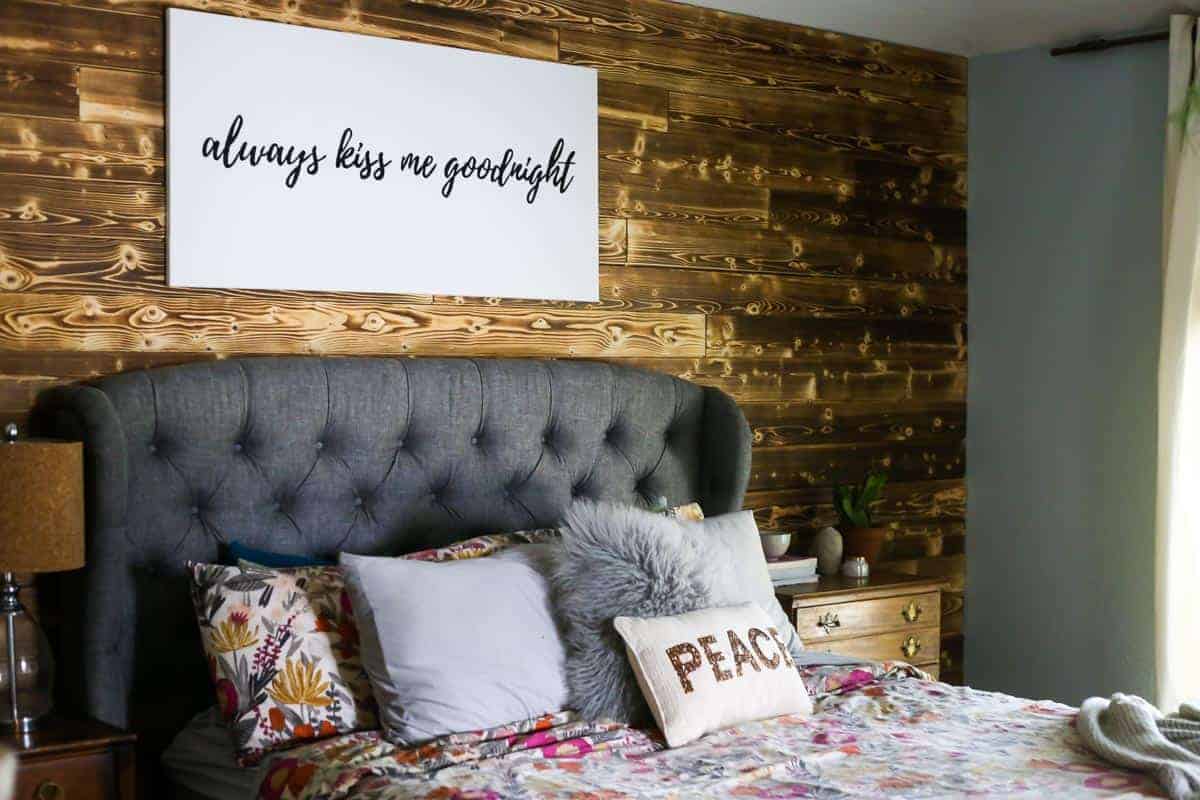 How cool is this DIY wood planked wall that my good friend Amanda at Love & Renovations came up with?!
I love the rustic and unique look of the charred wood planks she used on the wall behind her bed.
The tutorial is really easy to follow. This project was so simple that Amanda was able to do this by herself in just a few hours, which makes this definitely a good weekend DIY project!
Related – If you love this DIY wood planked wall, check out these other DIY wood accent wall ideas.
---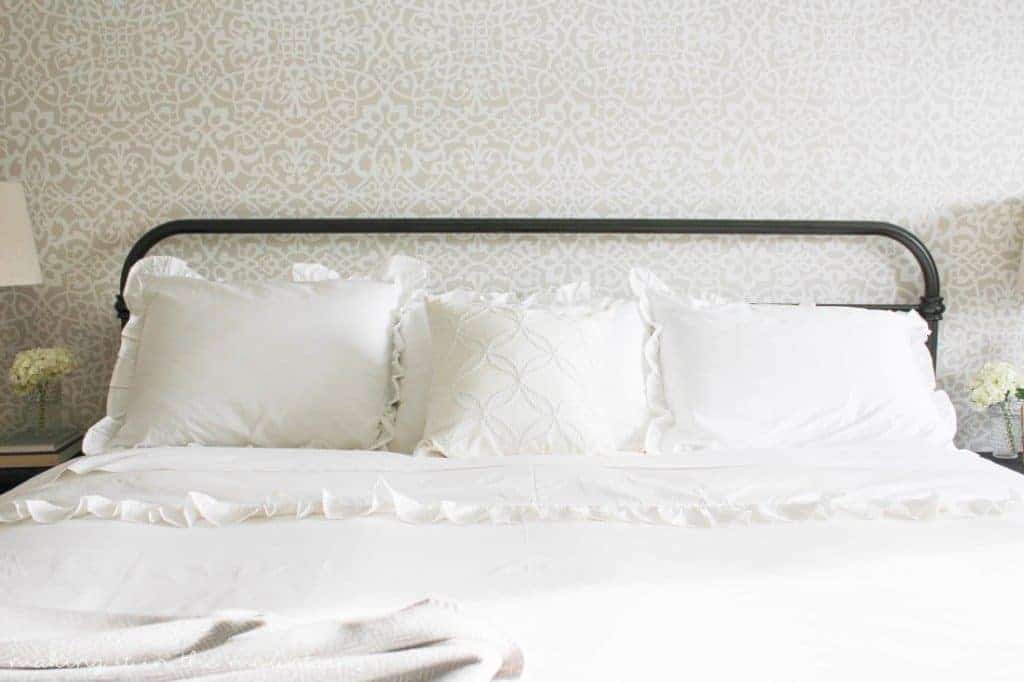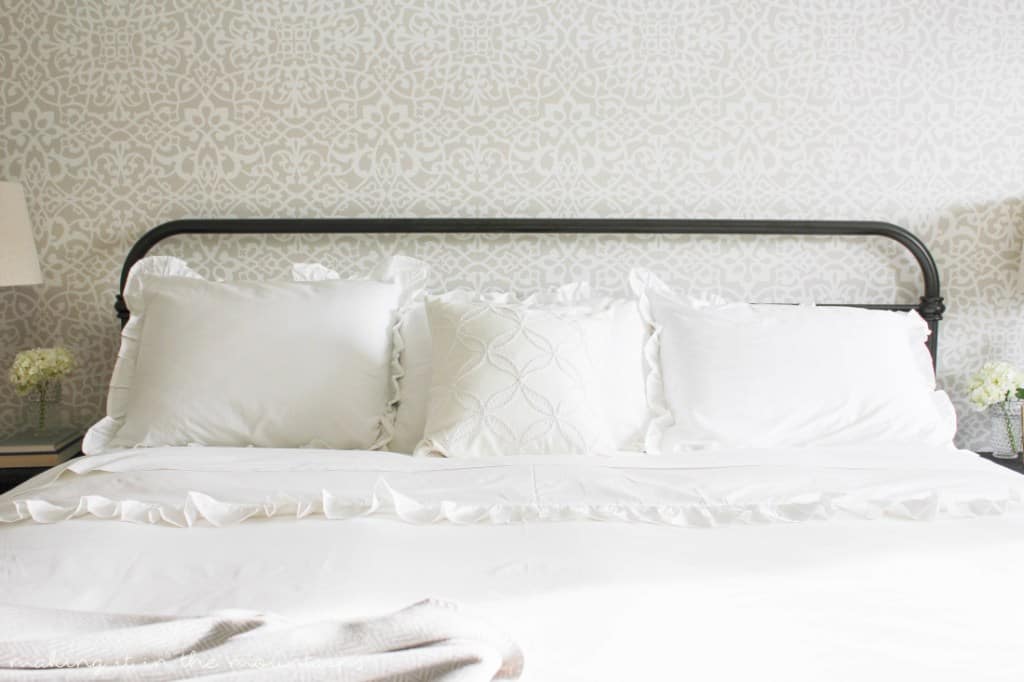 Wall stenciling is definitely becoming more popular. I love the look of this stenciled wall behind bed done by Kristi at Making it in the Mountains. It has such an awesome farmhouse style to it!
Kristi mentions that she, too, thought that wall stenciling was going to be hard and it seemed so daunting. But she discovered that it was actually a really simple DIY!
She shares some really awesome tips for wall stenciling in her post! You could also make your own wall stencils like this!
If you're interested in stenciling the wall for over the bed decor, here are some great stencil options: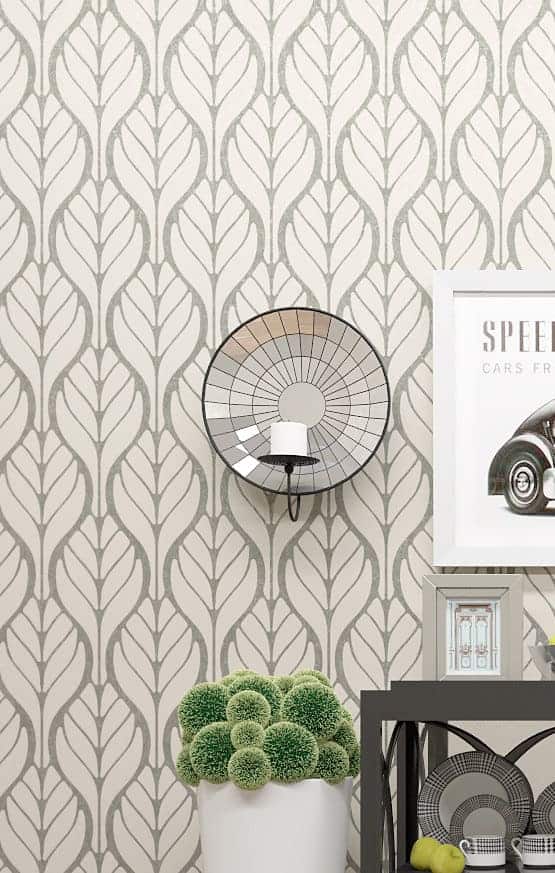 ---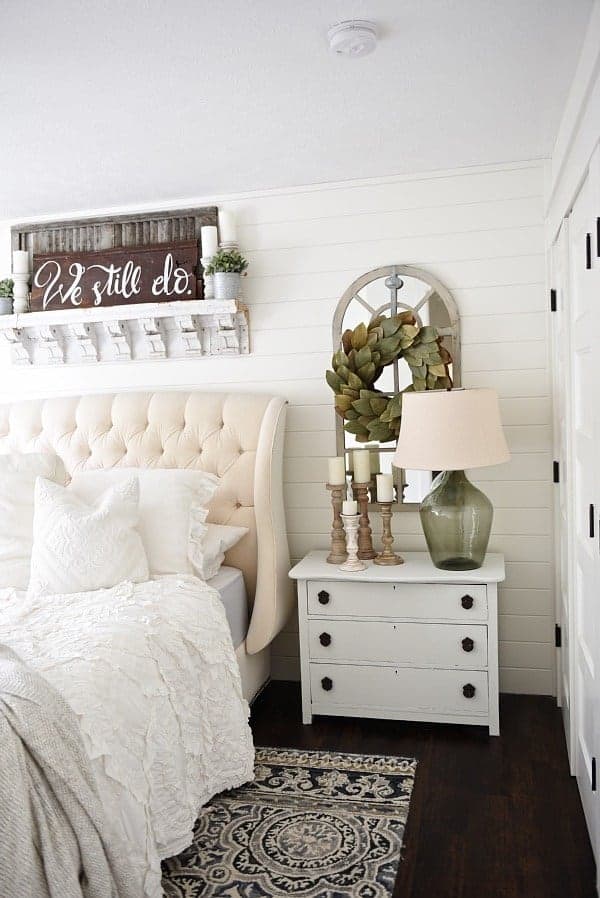 Liz Marie really hits it out of the park with this adorable farmhouse shelf above bed! I also love the shiplap accent wall of course (check out my faux shiplap tutorial & my shiplap accent wall tutorial in my living room)!
Her farmhouse shelf above bed makes a great place to add personality to your bedroom. You can easily swap out the decorations on the shelf when you get tired of it or if you want to switch it out for the seasons. Here's a similar style we still do farmhouse sign if you're looking for one!
Here's some great farmhouse shelf ideas: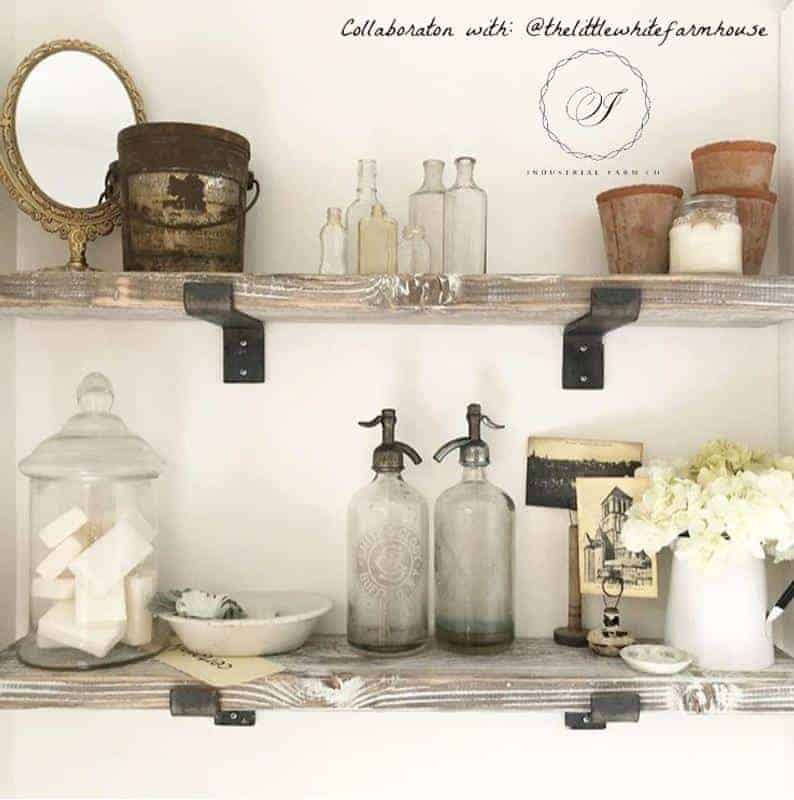 ---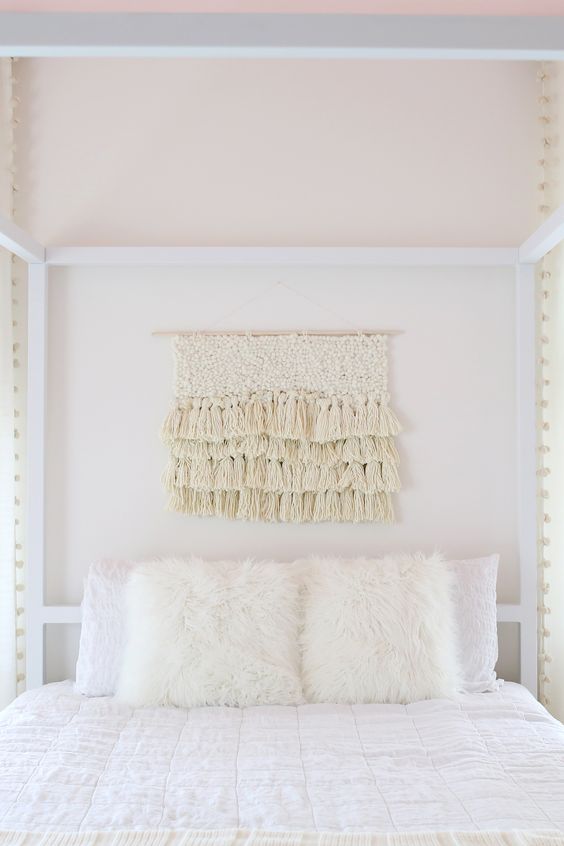 I'm really loving the boho look that is becoming pretty trendy. In fact, if I really had to "define" my own style it would be modern boho farmhouse…is that a thing?!? Well even if it's not, I'm going to make it one.
I'm really loving the idea of hanging a boho style wall hanging above your bed! A Beautiful Mess walks you through how to make this boho wall hanging. It looks like SUCH a fun DIY project to take on!
I even tried my hand at a yarn wall hanging above my little one's crib in her nursery and it was so fun and easy!
If you're more a "buy" than a "DIY" person, here are some similar boho style wall hangings for you to buy for over the bed decor: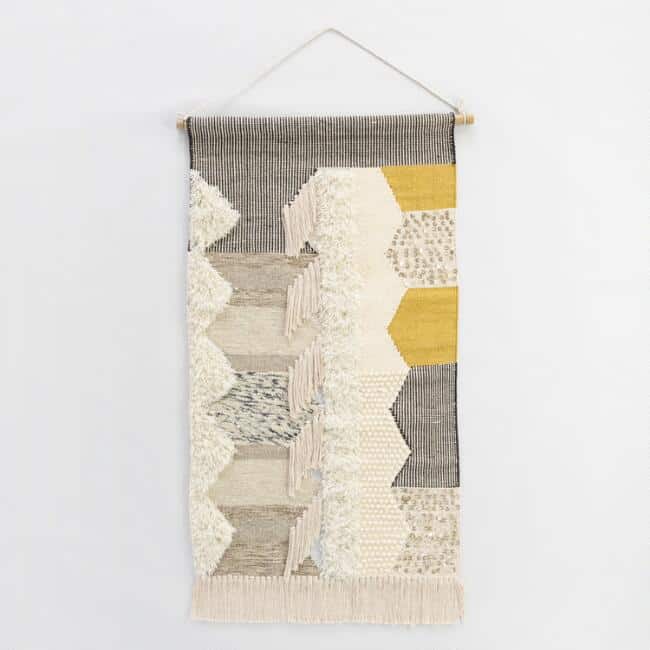 ---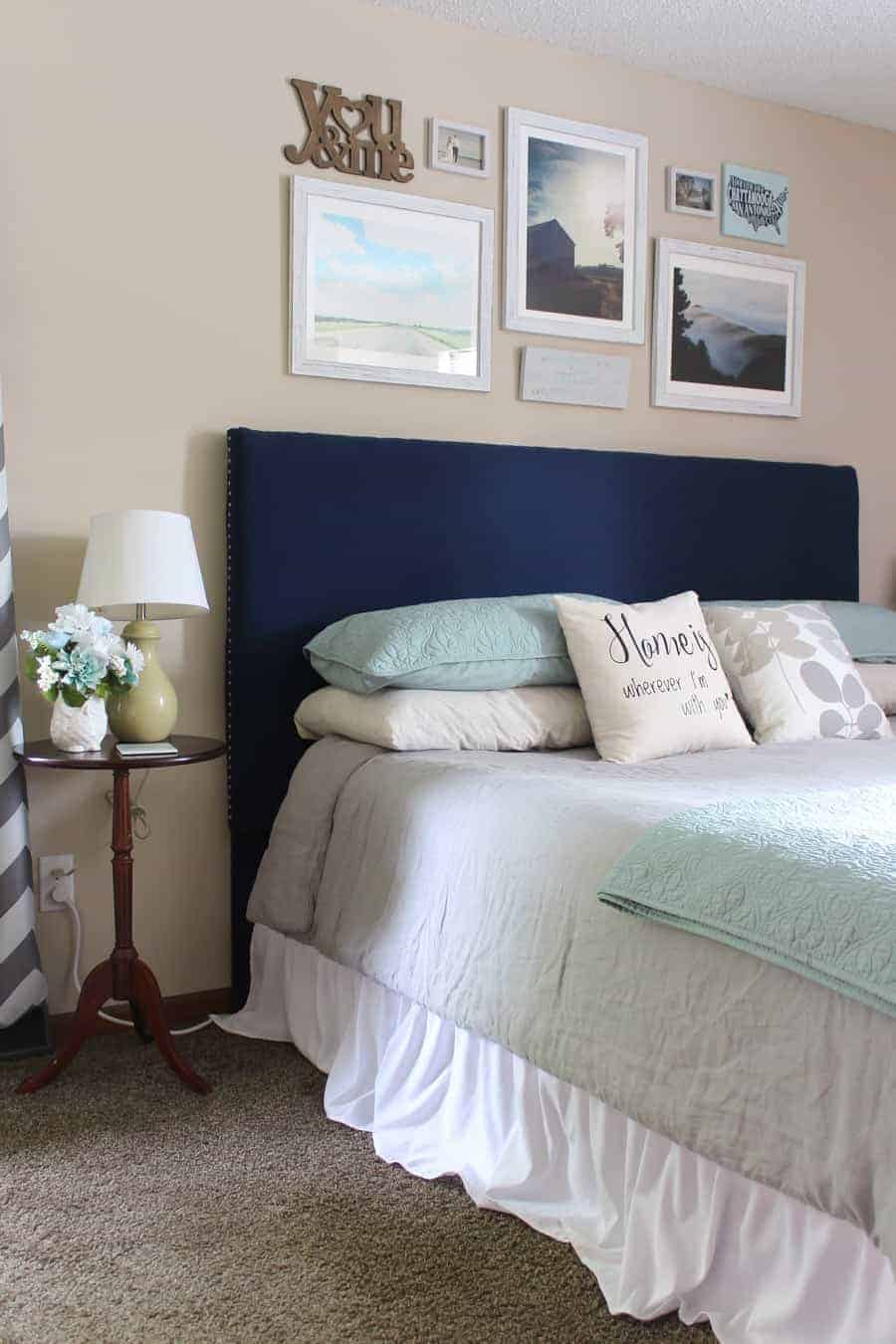 Gallery walls are great ways to display personal photos of your family or travels. It's important to be sure your home decor reflects your memories, so incorporating pictures is a great way to do this.
I love this gallery wall that Amanda from Domestically Creative added to wall above her bed.
If you're completely lost on how to get started designing a gallery wall for your above bed wall decor, you can check out my favorite gallery wall tips here, check out our modern grid gallery wall and this post on how to plan your gallery wall layout.
If you want to buy an easy kit for your gallery wall above your bed, check out these fun options: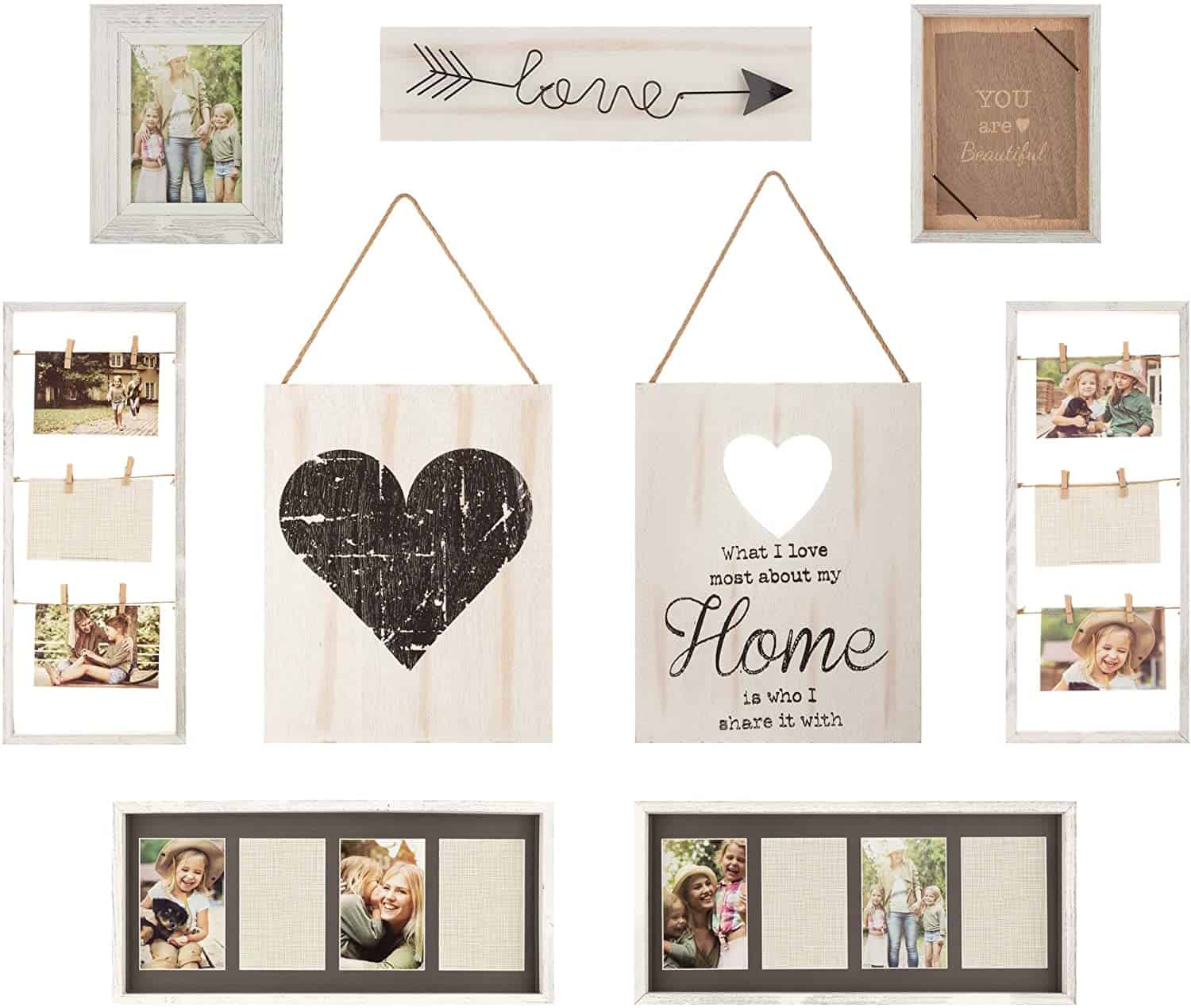 ---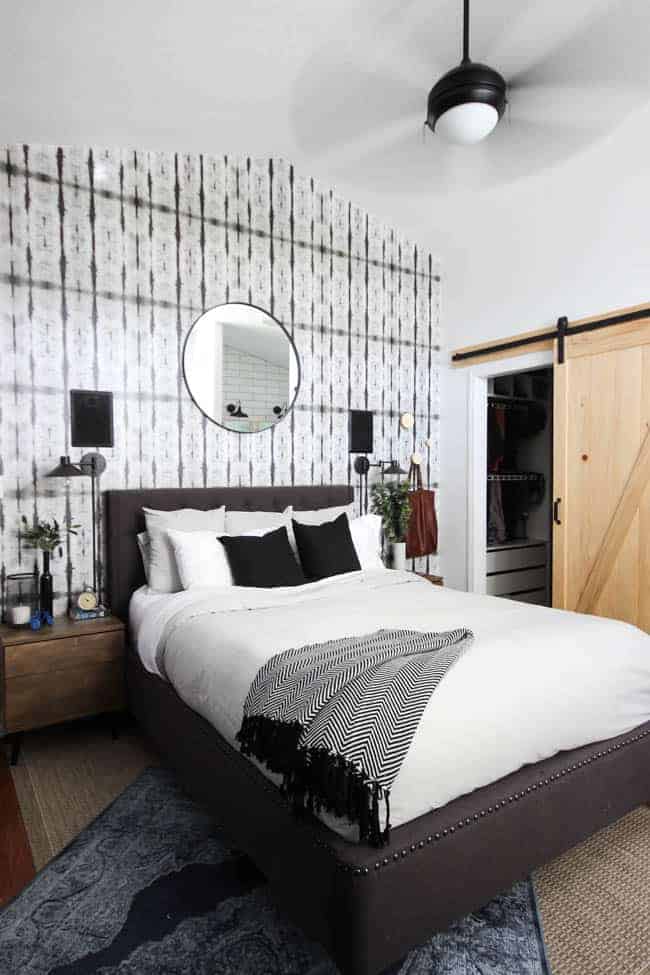 If you haven't heard, wallpaper is making a full-force comeback as a DIY wall treatment option! The dramatic wallpaper that Lindi added to her modern master bedroom is perfect, don't you think? She also added a mirror above her bed, which is one of my other tips for above bed decor.
A lot of the wallpaper that is gaining in popularity the peel and stick wallpaper that is completely removable. Yep, gone are the days when wallpaper was super hard to remove. This also makes it great option for how to decorate your bedroom if you're a renter.
Here are some other great options for wallpaper for the wall behind the bed: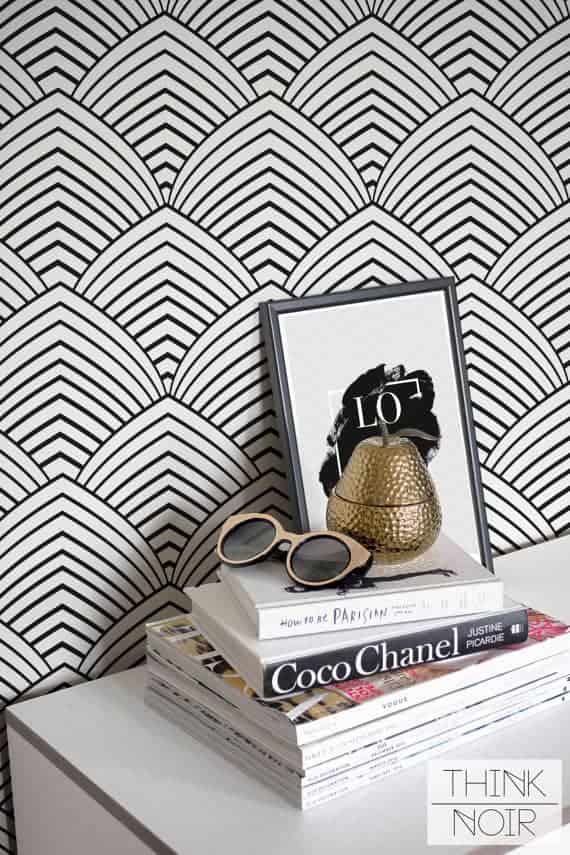 ---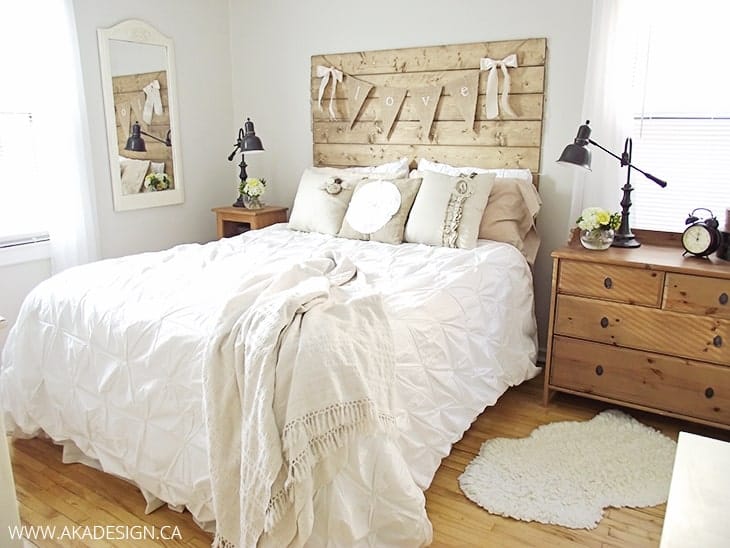 It's true…sometimes having an awesome headboard is decor enough for your bedroom. Shannon from Home Made Lovely make this easy wood plank headboard really adds a lot of character to the bedroom. I love how she has added the cute banner on the headboard too.
Since you're going to make the headboard yourself, you can decide how tall you want it. You could even take the wood planks all the way up the wall! That would a fun and dramatic idea for over the bed decor.
---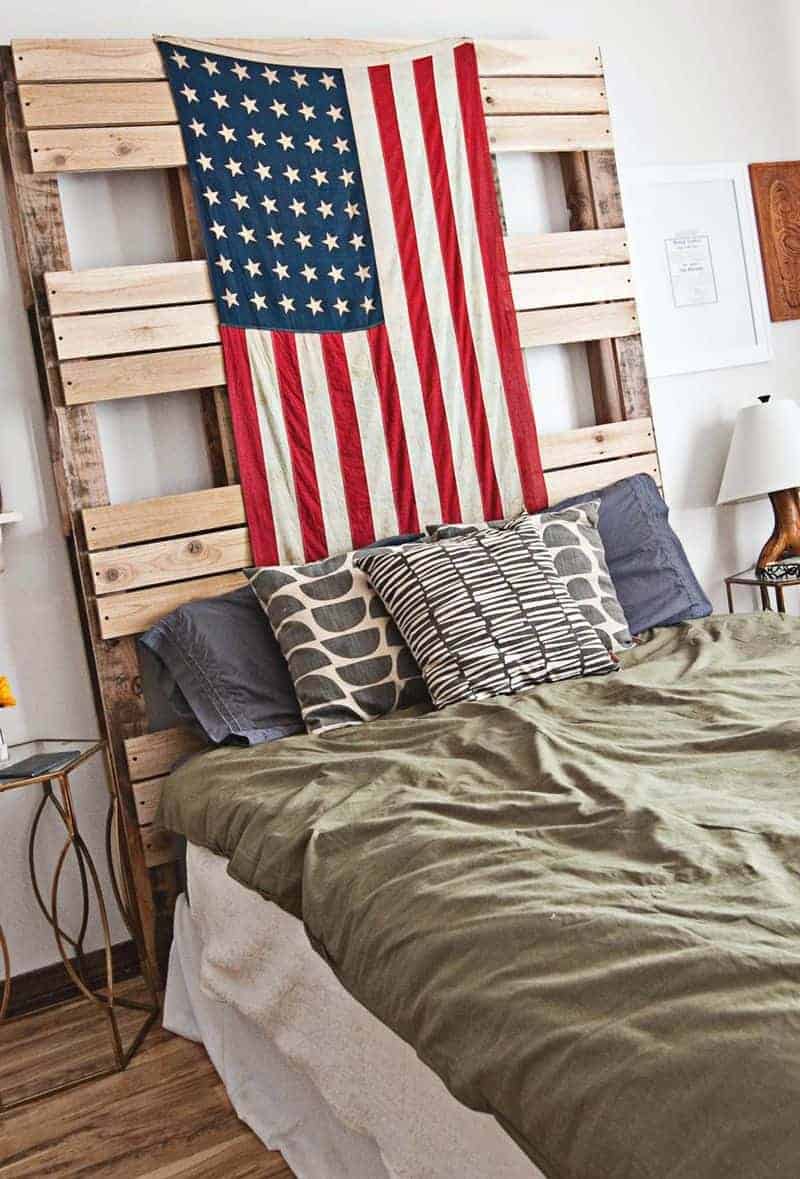 Speaking of wooden bed frames, this one looks awesome with a large vintage American flag hanging on it. You don't necessarily need the pallet wood frame here either.
You can hang the large flag right on the wall. This is a much more casual and laid back feel to the bedroom from A Beautiful Mess, but I love it.
---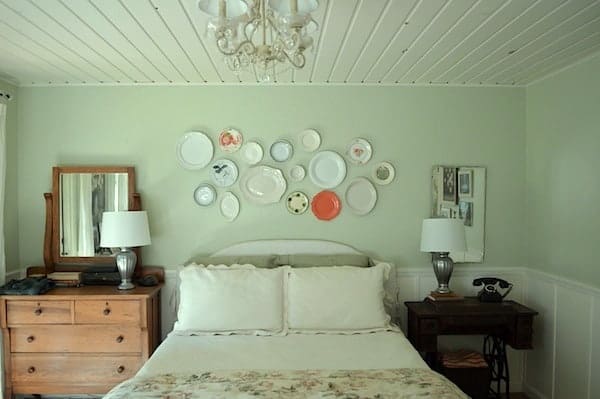 Collections are so fun to display in your home decor. I love the idea of hanging a collection above the bed, like Jami from An Oregon Cottage does here with her vintage plates.
It's not only super cute, but really unique! Her post walks you through all the steps for hanging a plate wall.
---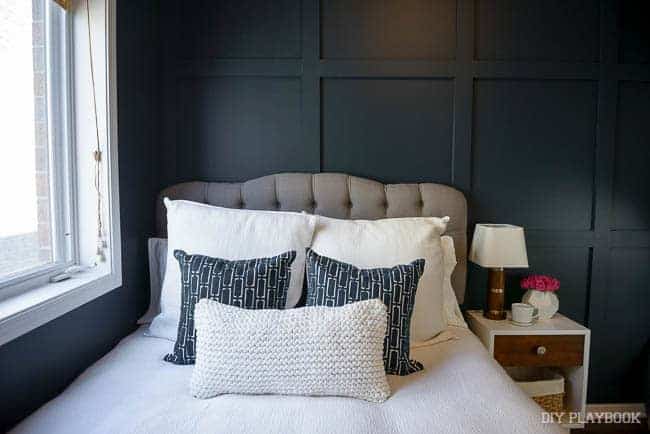 I LOVE the look of board and batten accent walls, especially when it comes to bedrooms! Adding a board and batten wall is such a fun and easy way to add a ton of character to a room.
We recently made one in our daughter's nursery, you can check it out here if you're looking for how to install board and batten wall.
I love that this one is painted dark too! You're totally going to be shocked with the before and after pictures of this DIY Playbook bedroom makeover.
---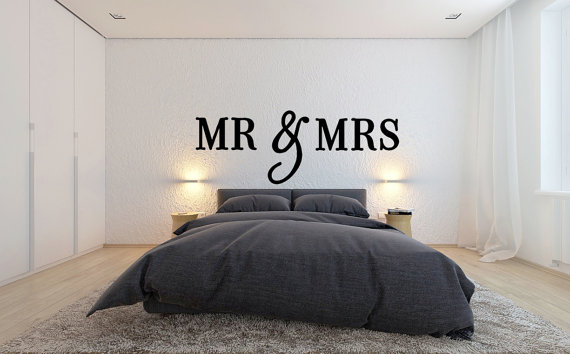 Hanging some large scale words on the wall above your bed is a great way to really make it yours! Just think of all the different words or letters that you could add.
The possibilities for word wall hangings for above bed decor are endless. I love this Mr & Mrs hanging from Crafty Monograms on Etsy, don't you?
Another option is a make your own wall stencils for the words, like I did here or make your own wooden letters with an X-Carve CNC machine, like we did here.
---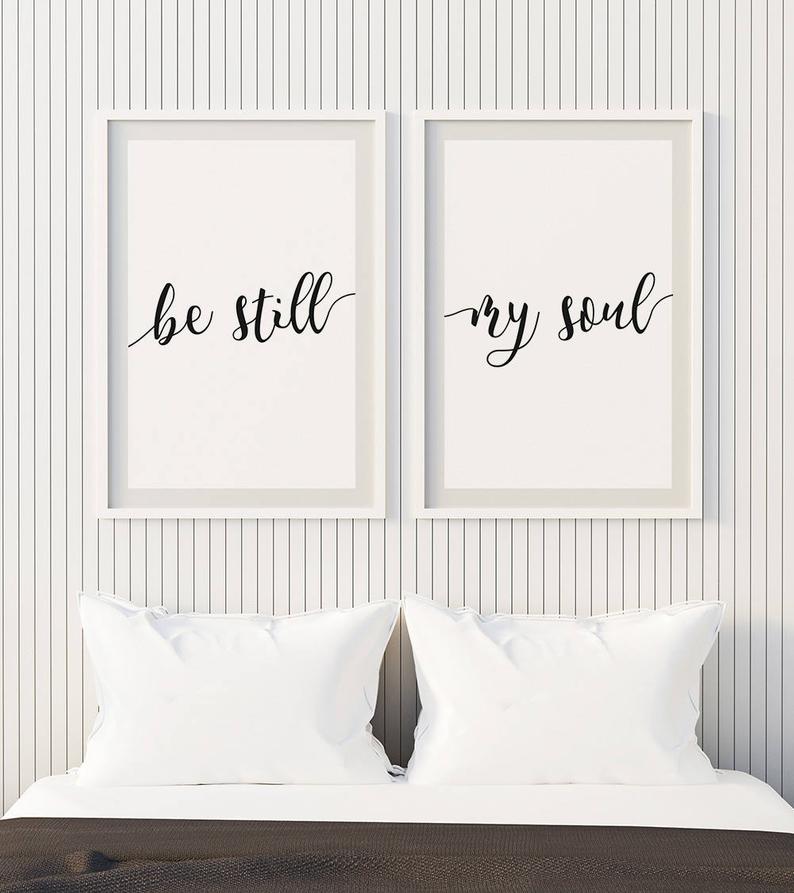 Much like the large words, hanging large typographical prints above your bed is a great idea for adding a focal point.
These "be still, my soul" prints are perfect for adding dramatic above bed decor. These script style prints can be purchased on Etsy here.
---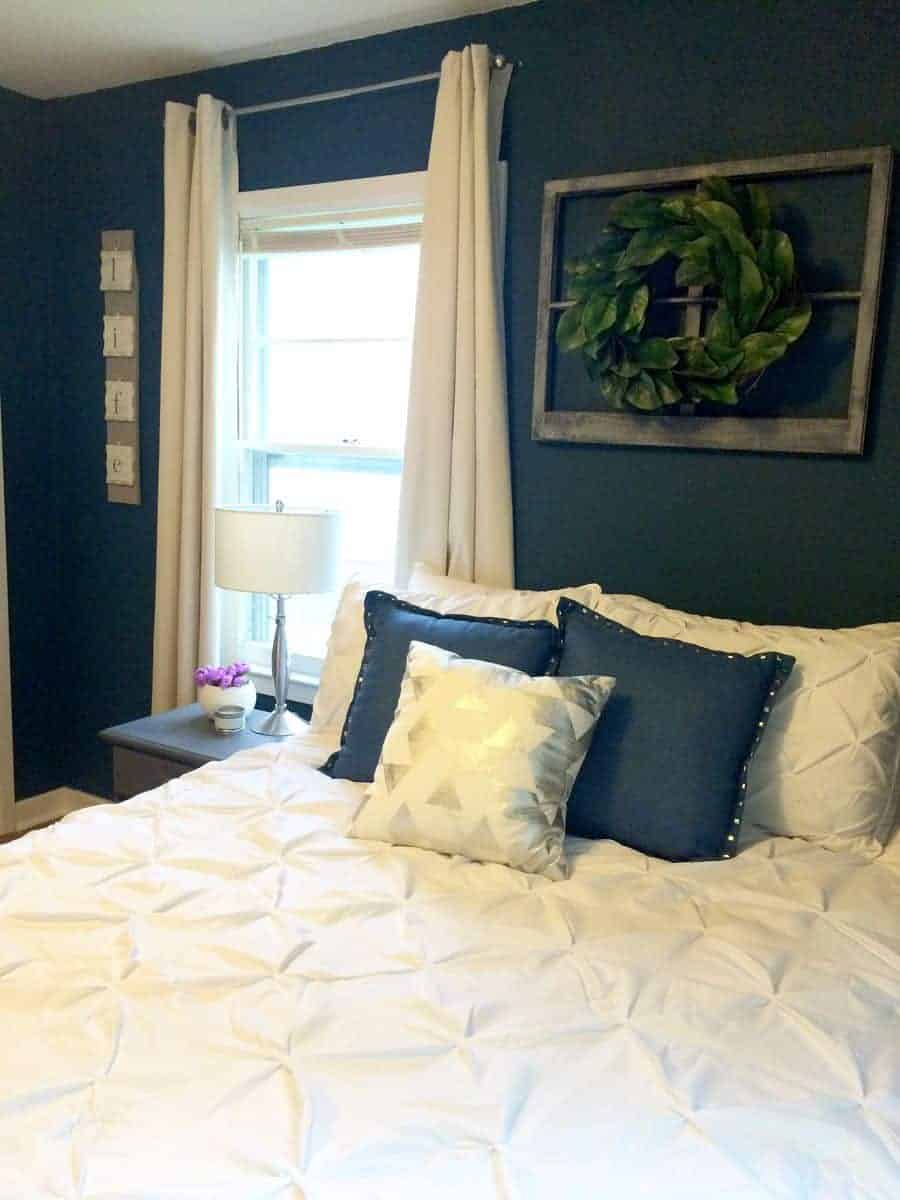 I love how Emily from Small Stuff Counts has decorated above her bed here with a vintage window and magnolia wreath.
In fact, I had a similar set up like this in our old living room hanging this DIY farmhouse style wreath over a vintage window on the wall above our TV.
I've been able to find good options for buying vintage windows at yard sales or even on local Craigslist or Facebook buy/sell groups. You can also buy vintage windows on Etsy, but it typically makes it hard to ship them so I'd recommend looking locally first!
If you need a good wreath to go above your bed, check out these options: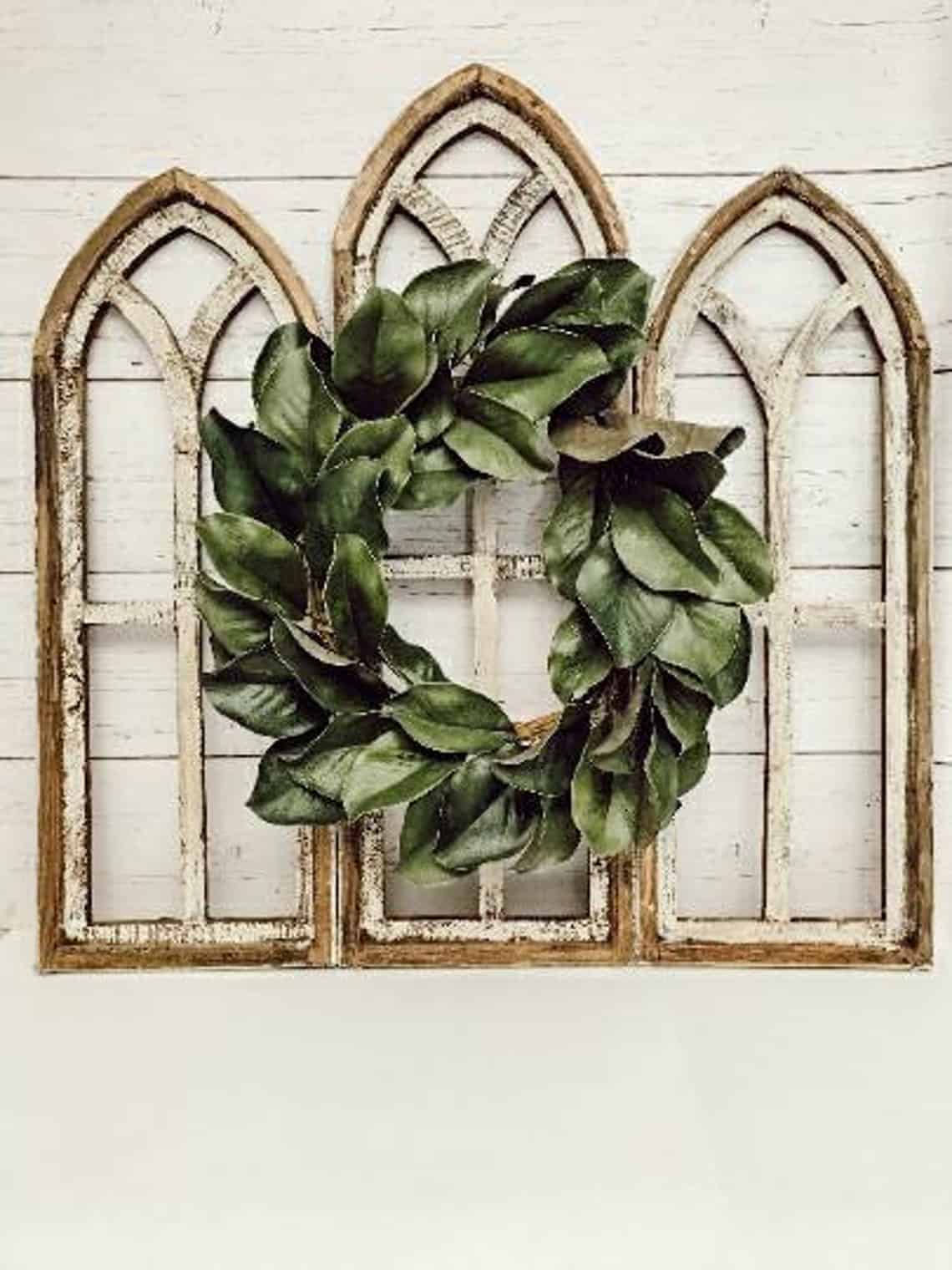 ---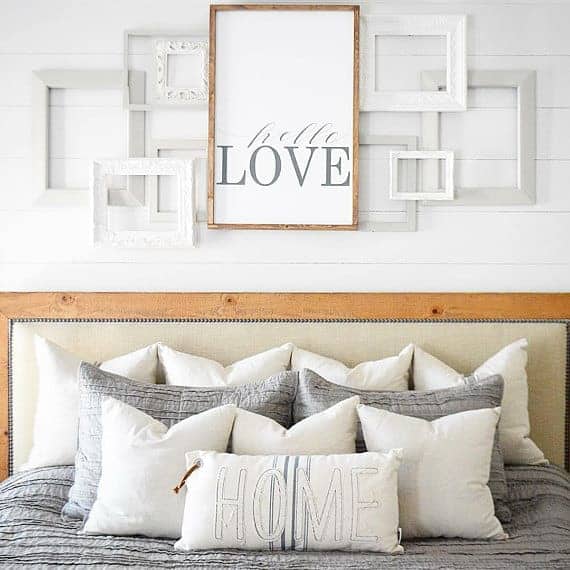 This Hello Love sign by CraftMeUpDecor on Etsy really makes a great focal point for above bed art. I LOVE how they have layered the white frames on the wall behind the sign.
It creates great depth and dimension. If you're trying to figure out how to make a layered frame wall like this, here's a good tutorial.
---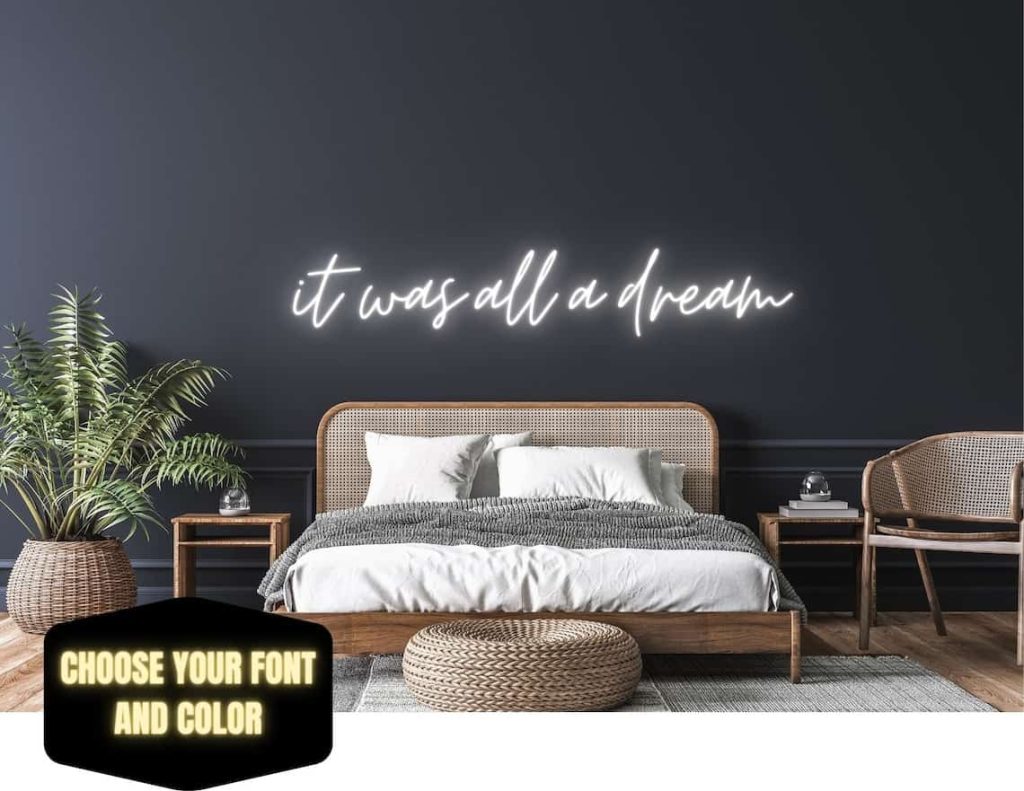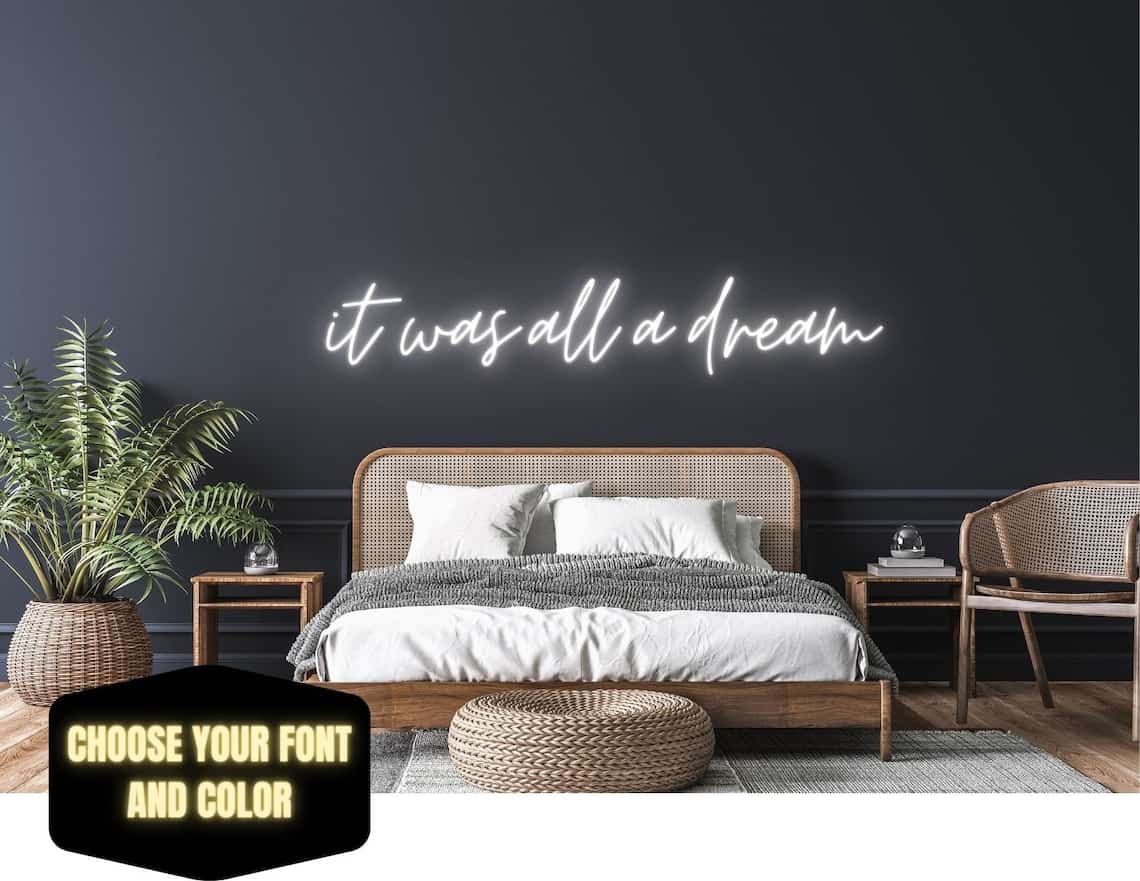 LED neon signs are all the rage, so why not add a trendy neon sign to your bedroom? Not only is it a great way to add a simple nightlight to your bedroom, but you can customize a neon sign to add your favorite quote!
If you want a neon sign for your bedroom, check out these fun options: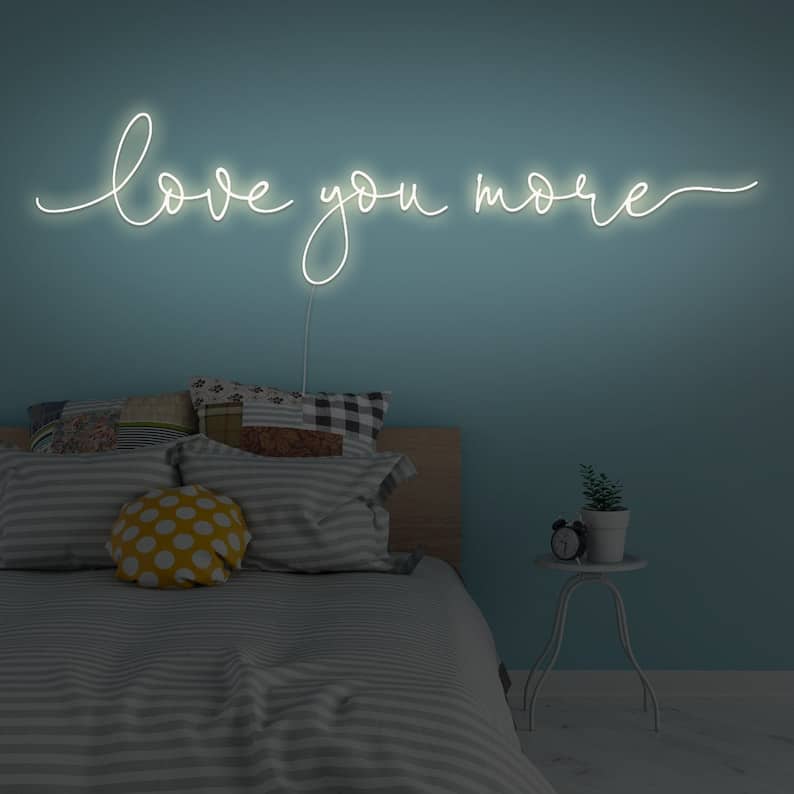 ---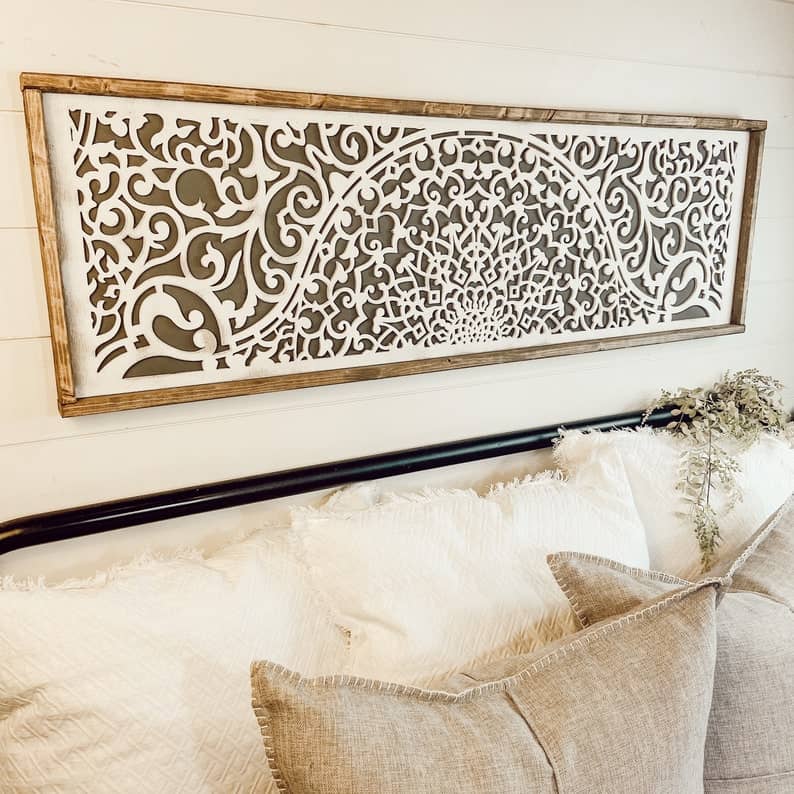 Bringing in natural wooden elements to your bedroom adds a sense of warmth that designers love. Why not add some wooden art above your bed?
Because there are endless options for wooden art, you can bring in whatever style you want in your bedroom. Whether you go with a geometric option to bring in the modern style or something ornate and carved for a more vintage or boho look, wooden art is always a good idea.
If you are looking for creative wooden art to hang over your bed, you'll love these ones: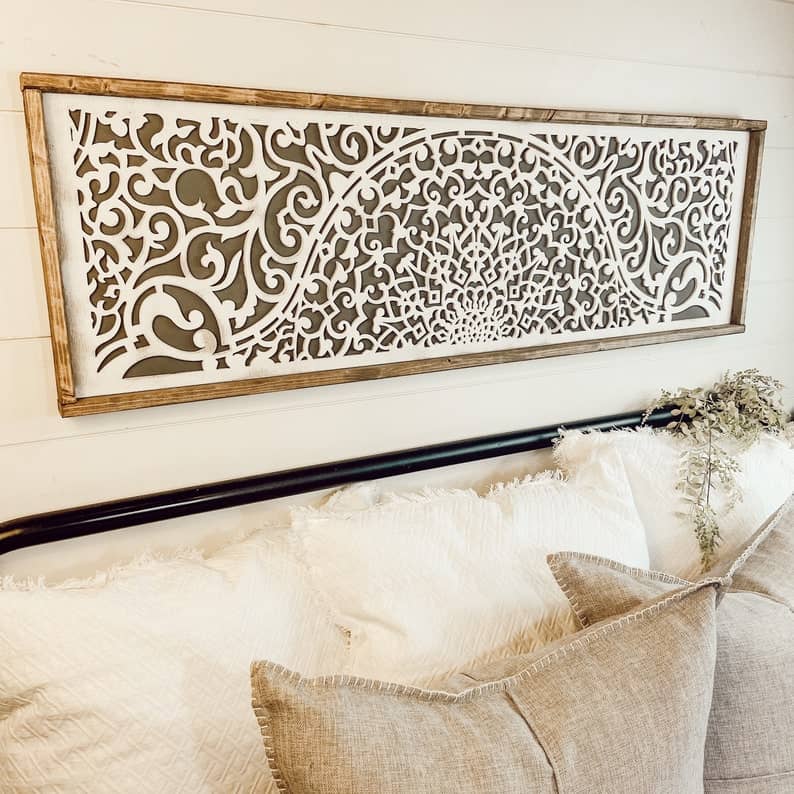 ---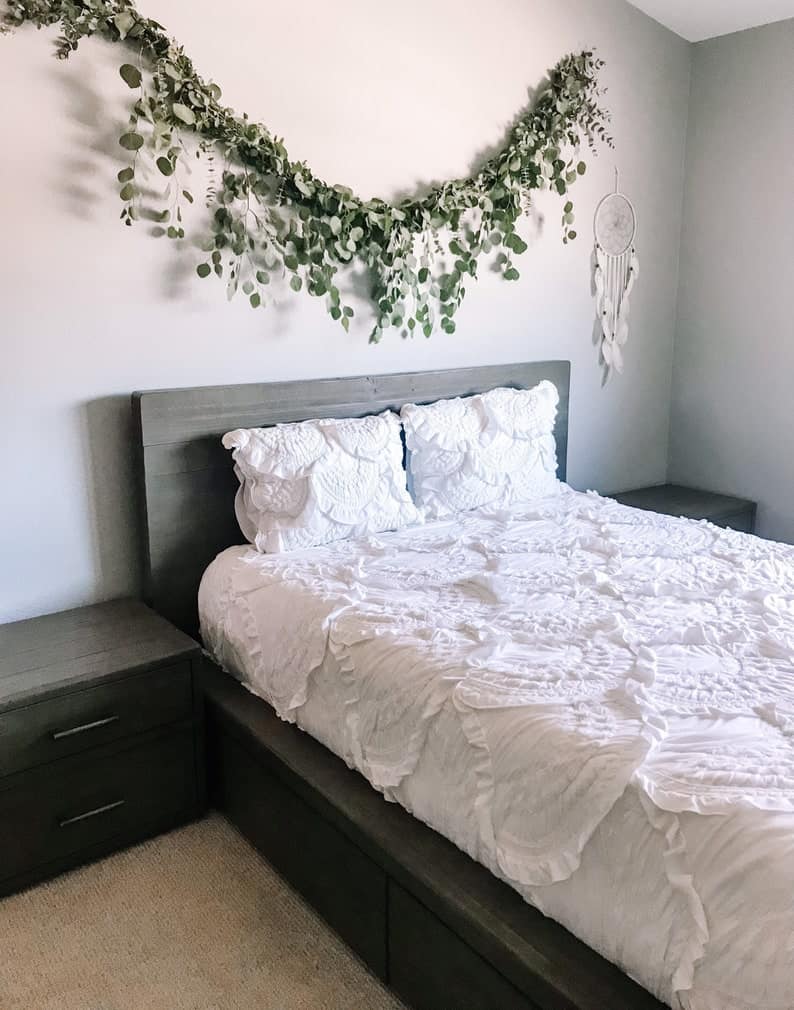 Not only is eucalyptus a beautiful greenery, but if you go with a real eucalyptus hanging, you'll benefit from the aromatic scent that can help promote a healthy immune system.
Eucalyptus leaves are high in antioxidants and the scent of eucalyptus can help promote relaxation and detoxify the air in your home. Yes, please!
If you're looking for real dried eucalyptus wall hangings for your bedroom, check these out: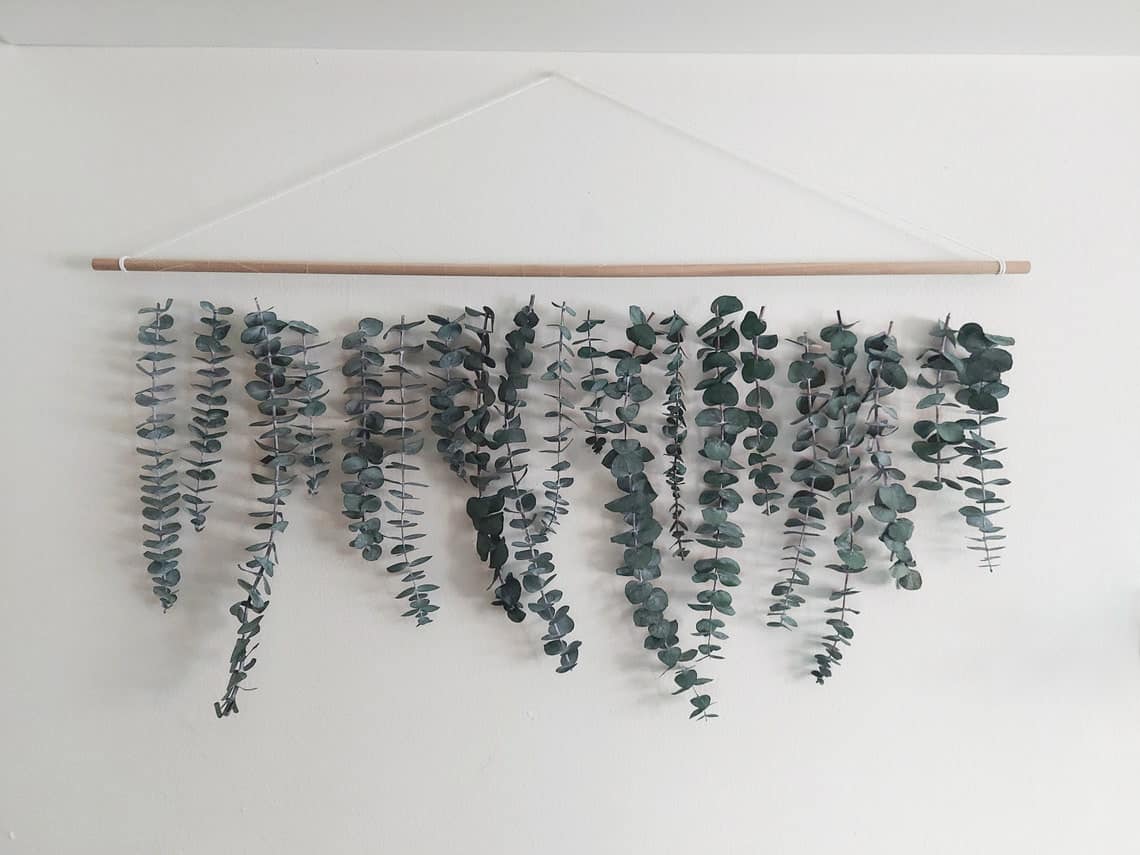 ---
Decorating that big (kind of scary) wall above your bed doesn't have to be so overwhelming! Every single one of these 16 designer worthy ideas for over the bed decor can be taken and implemented in your own bedroom. There were DIY projects and simple things you can just buy and hang for over the bed decor.
Instead of getting overwhelmed by how to decorate above your bed, give it some thought and think about how to infuse your home decor style and personality into the decorations you put up there.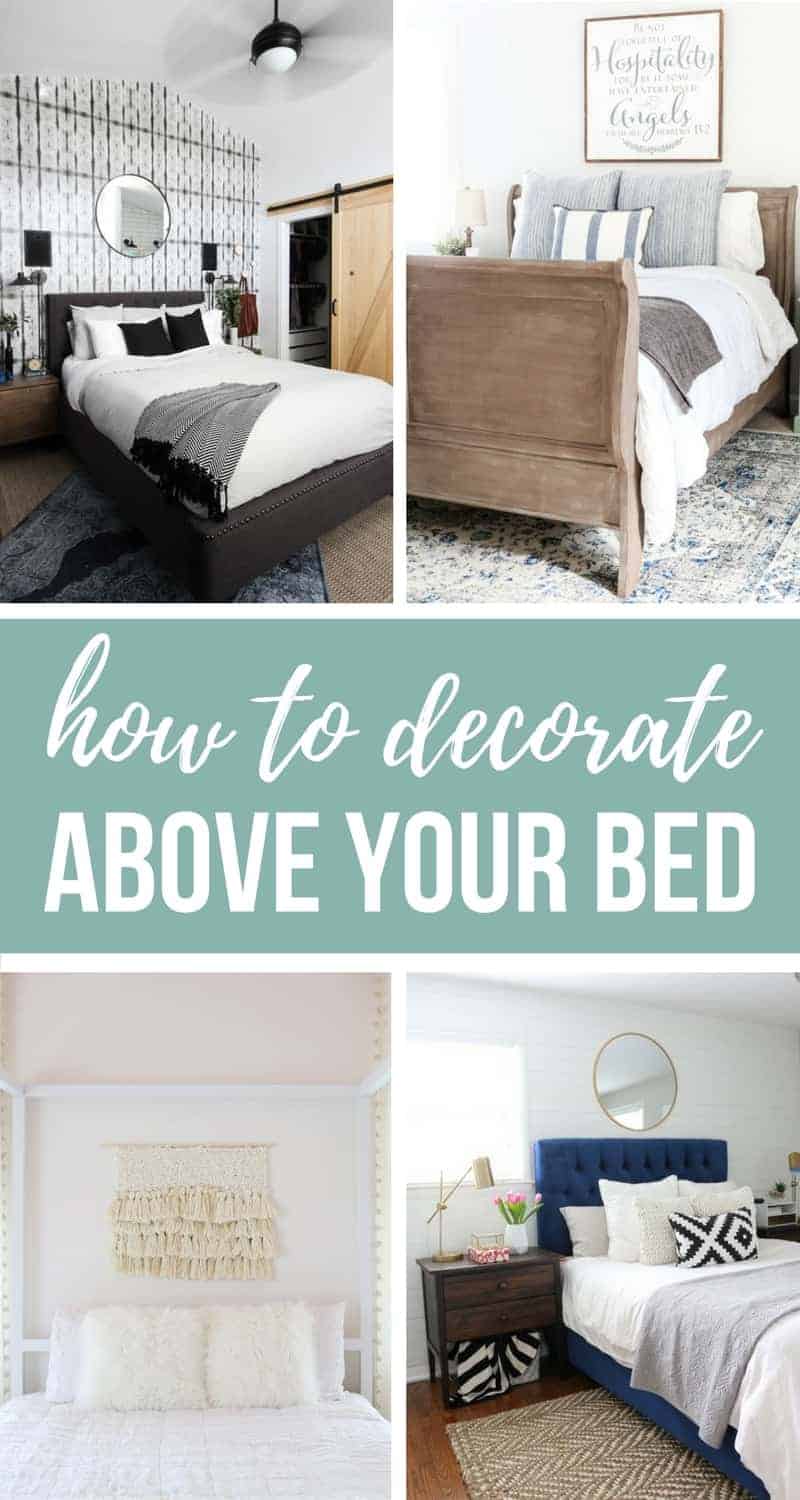 Which one of these ideas for over the bed decor was your favorite??
Let me know in the comments below!