Installing shower tile isn't for the faint of heart. This home improvement project will guide you through the three main steps of shower tile installation, including waterproofing a shower, installing tile, and grouting and caulking.
Thank you to DAP for sponsoring this shower tile installation post! All opinions are entirely my own. This post also contains affiliate links, but nothing that I wouldn't recommend wholeheartedly. Read my full disclosure here.
Last week we talked all about how to tile a bathroom floor and now we're back with more lessons from our bathroom renovation. We're still talking about tile today, but this time it's all about shower tile installation.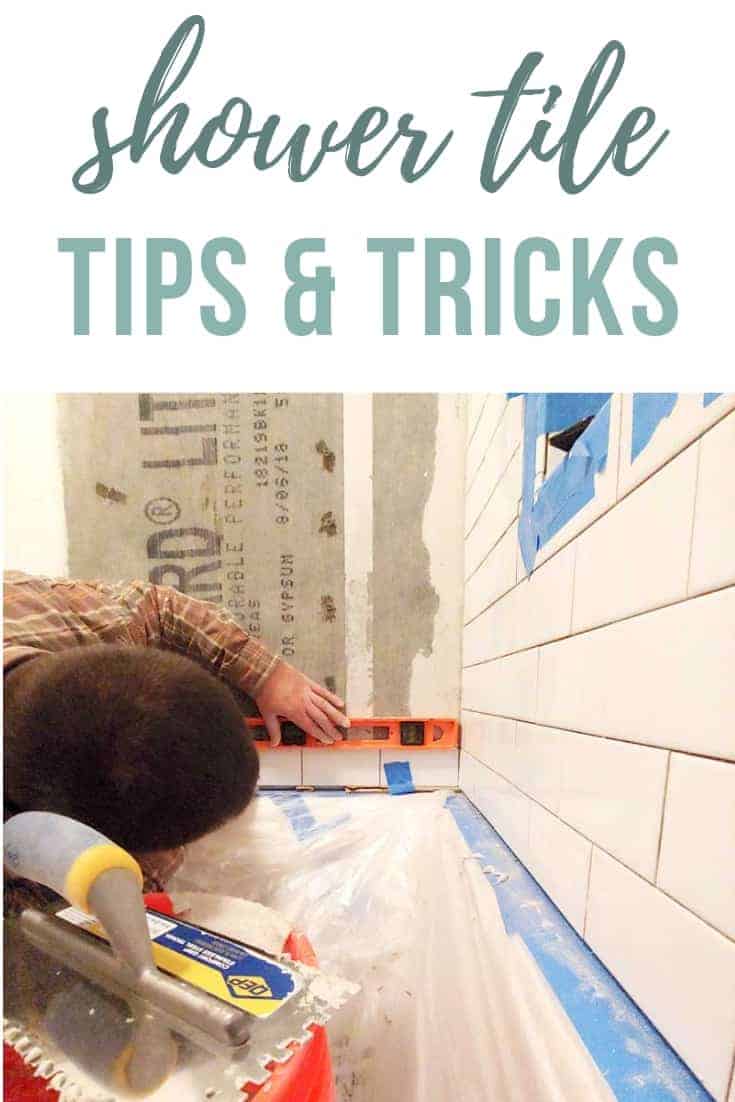 There are three main steps to shower tile installation:
Waterproofing the shower
Installing the tile
Grouting and caulking
Fair warning: This DIY project is not for the faint of heart!
Although shower tile installation is a rather labor-intensive project, you can definitely save a TON of money by doing this yourself. Do your research and make sure you understand the in's and out's of the entire process.
As with any project, count on several trips to a home improvement store throughout the process.
To get you started, here are the tools we used for this project:
Now that we have the tools, let's get started!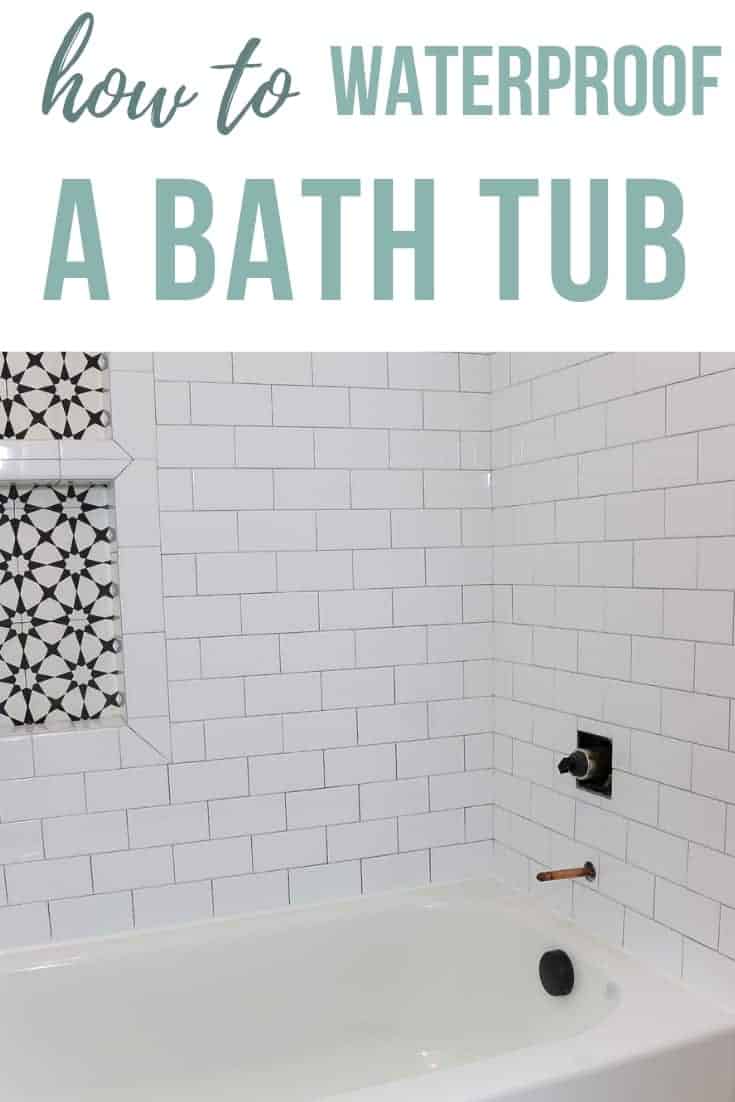 Part 1. Waterproofing the Shower
Before installing tile, you definitely want to be sure your shower is waterproofed.
Contrary to popular belief, grout and tile alone is not waterproof. In fact, they are extremely porous surfaces that will absorb moisture and water. If you do not waterproof your shower, you could end up with a dangerously moldy bathroom that needs another renovation!
To waterproof our shower, we stapled a visqueen barrier directly onto the studs underneath the cement backer board. This protects the interior wall if water were to somehow seep behind the tile, thin set mortar, and the backer board.
We stress here….somehow. Again, if your shower tile is installed correctly, it's very unlikely that water is going to get back there. However, it could cause a world of issues if it does, so you want to be sure you create a waterproof barrier…ya know, just in case.
As an additional safety net, you can also add DAP Silicone Max over the screws on the backer board. This helps waterproof where the cement board was compromised.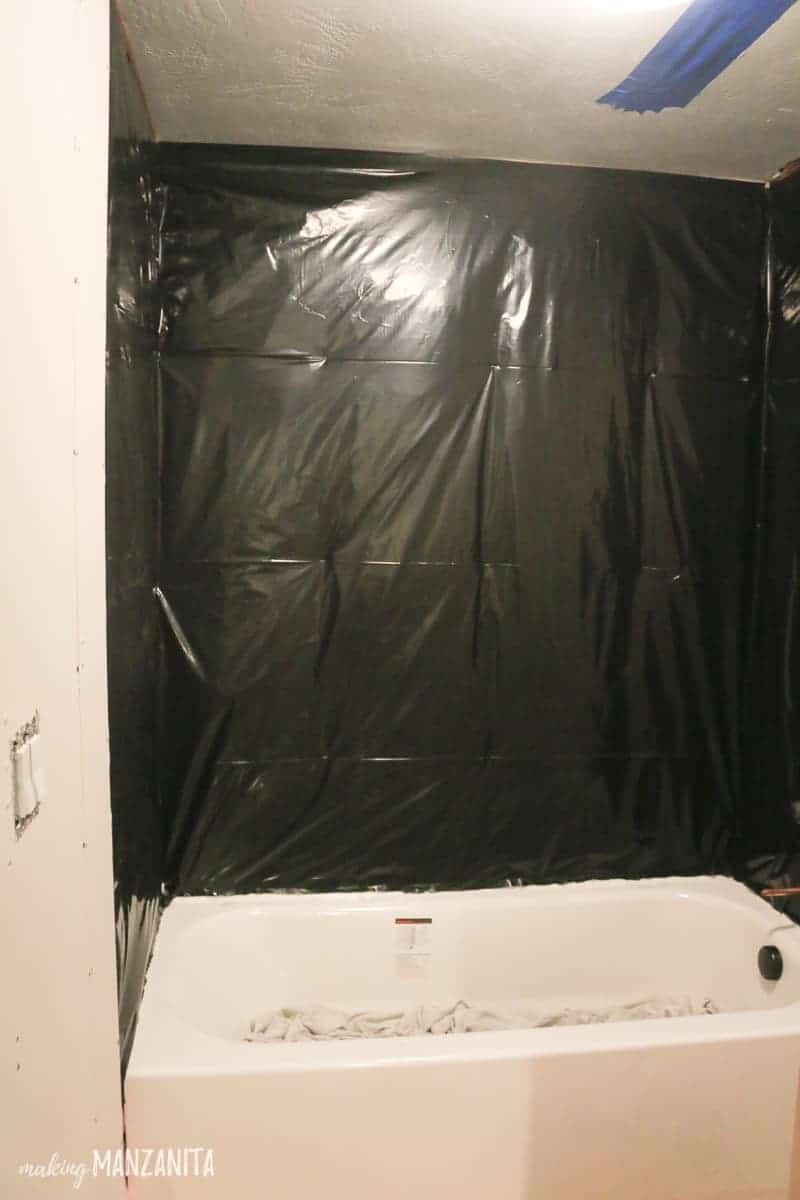 What do you put behind tile in a shower?
A cement backer board serves as a base layer to go behind the shower tile. It has no organic materials; therefore, it is not prone to mold, rot, shrinkage, or decomposition due to moisture. Tile can be directly applied to the backerboard for a durable and stable structure.
When installing tile, you need a backer that is going to accept the thinset mortar, which is how your tile will adhere to the wall.
This great article from Floor Elf mentions that although cement backer board is not "waterproof" per se, it is "dimensionally stable when wet" – aka it won't swell up. Cement backer board also provides a great surface for the thinset mortar to grab on to because it has a mesh mat.
You may be wondering if you can just use greenboard when doing shower tile installation. Spruce.com does an awesome job explaining just what "greenboard" is here. You'll find that, although greenboard is ok for damp areas, it's NOT a good idea to use it on shower walls that are subjected to a ton of water.
How do you attach the concrete backer board?
After you get your visqueen barrier stapled to the studs, you can attach the cement board using cement board screws where the studs are located and space them out every 6-8 inches. Start your first cement board screw within 1/2" – 2 1/2" from the edge of the backer board (per manufacturer instructions on the Wonderboard we used).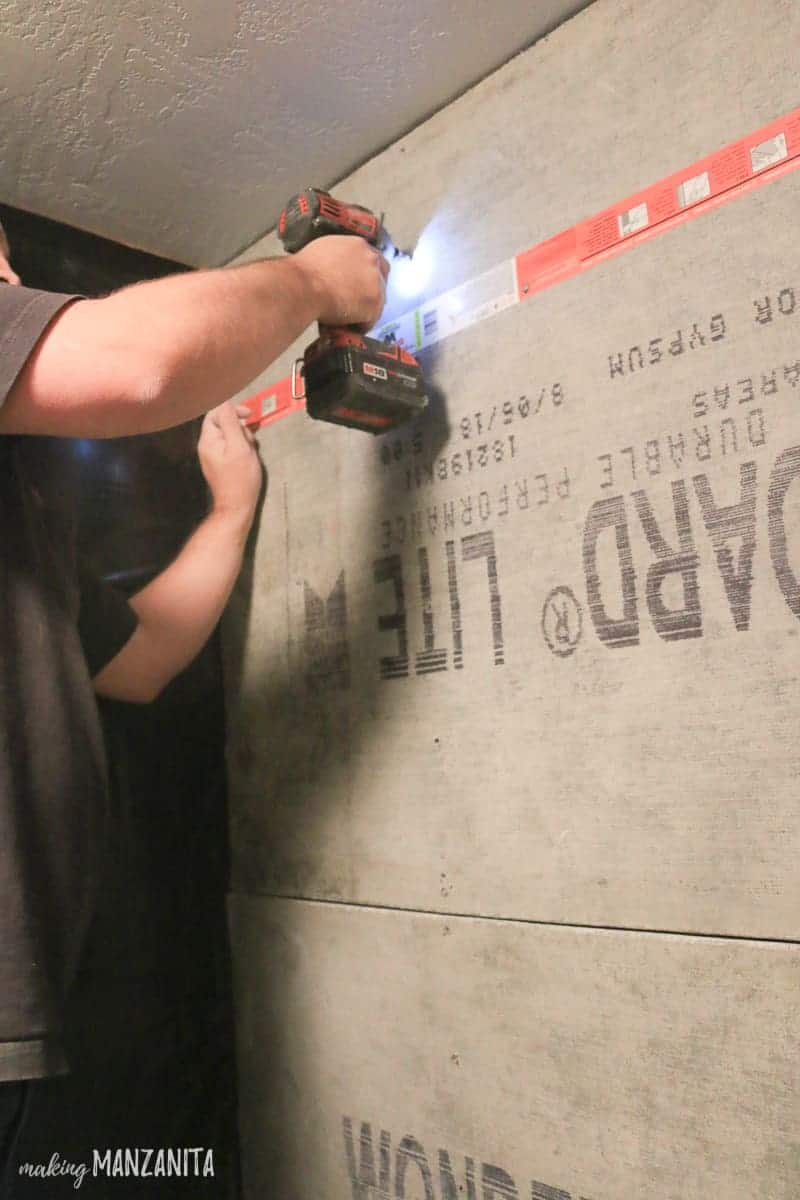 Like I mentioned earlier, if you want to waterproof a shower – you can then go over the areas that you added the cement board screws with a dab of DAP Silicone Max.
How do you waterproof cement board in a shower?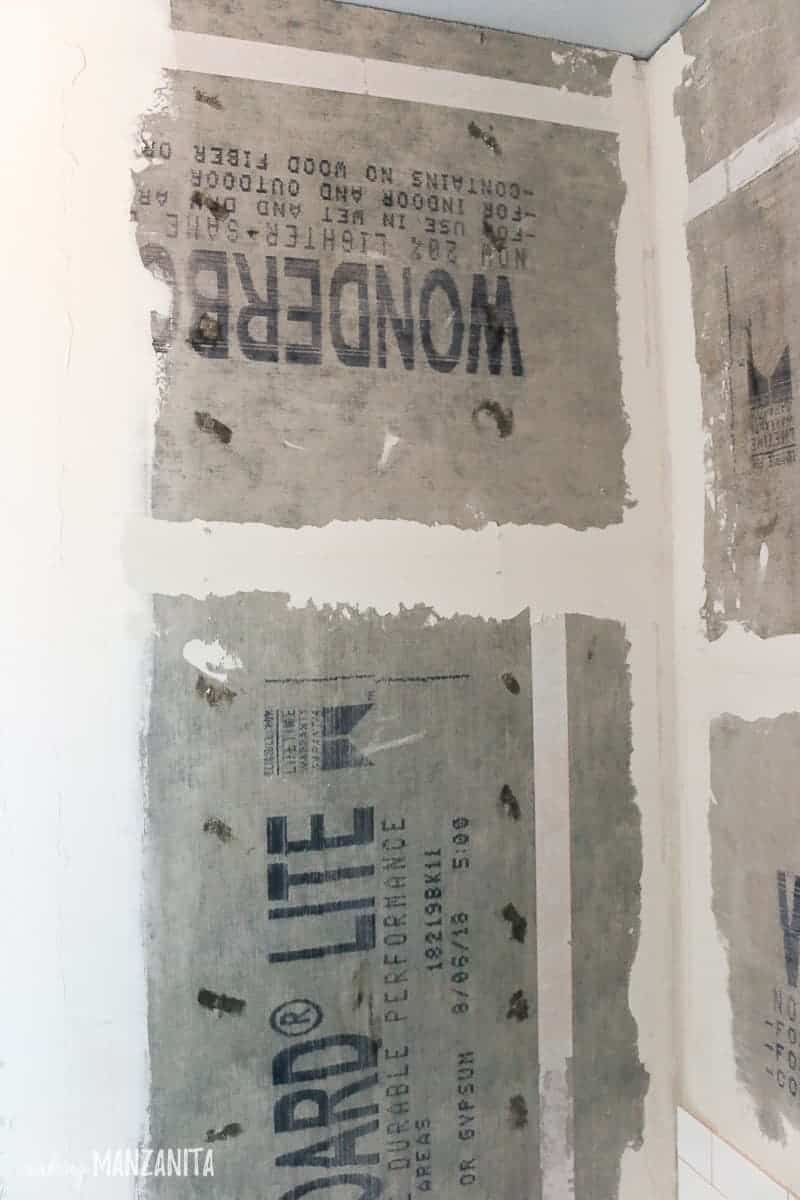 Make sure all of the corners and seams of the cement board in the shower are covered with cement board tape, then cover with thinset mortar using the flat side of your trowel.
This is a good way to bond the two boards together so there is a stable back behind the tile. You don't want those boards shifting at all once your tile is set, which could lead to cracking.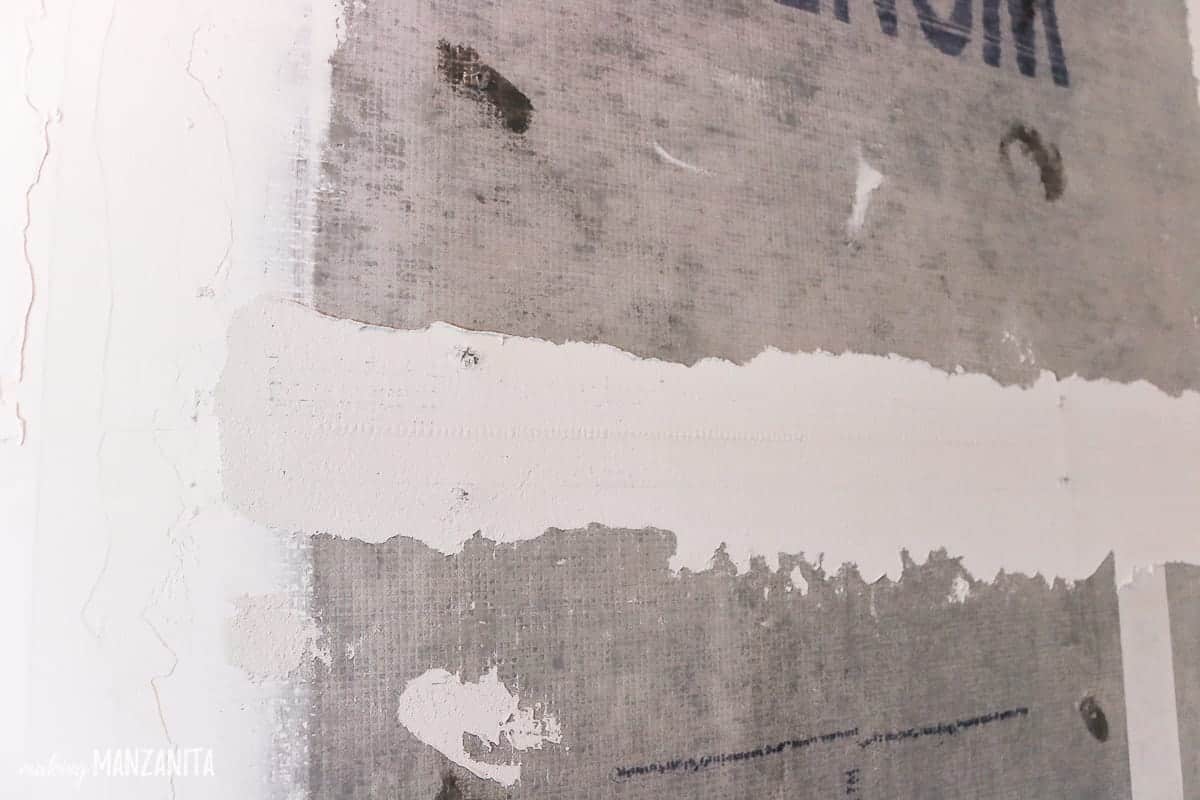 ---
Part 2. Installing the Shower Tile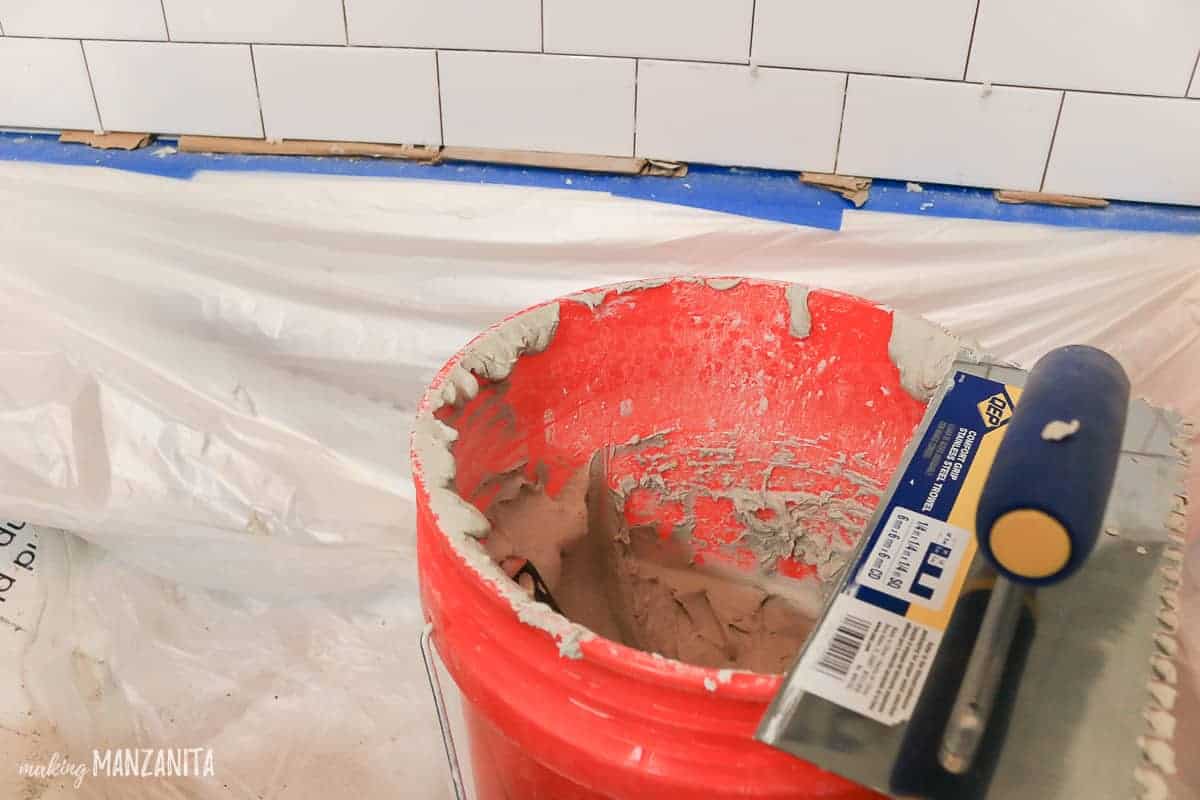 When selecting shower tiles (if you need some good modern farmhouse tile ideas, you'll love this post), keep in mind that the smaller the tile is — the more time consuming the job. The shower tile size correlates directly with how intense your installation process will be.
Much to Logan's dismay – I love the look of classic white 3×6 subway tile. So, we had a big job ahead of us.
If you have your heart set on a smaller sized tile look, consider purchasing the tile in mosaics – which means that they will be grouped together on a mat, which makes it a little faster to install.
You can see that our floor tile in this post was a mosaic.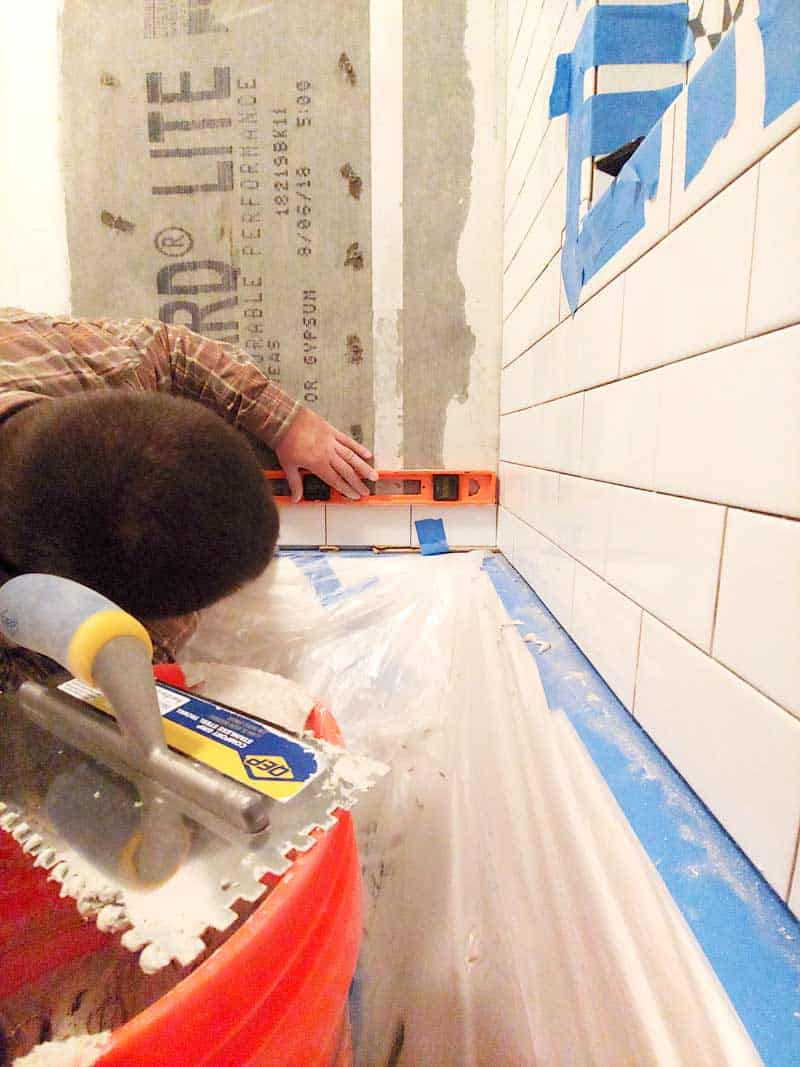 Tips for Tile Installation:
Possibly one of the most important parts of your shower tile installation is making sure things are nice and level.
If you're installing tile above a bathtub, like we were, you also need to make sure your bathtub is perfectly level. Lastly, be sure that the walls are square.
The bottom row of the tile needs to be perfectly level, take your time on this one.
Continue working way up the shower with the tile.
Cut any pieces as needed with a wet tile saw. You can learn how to use a wet tile saw in this article.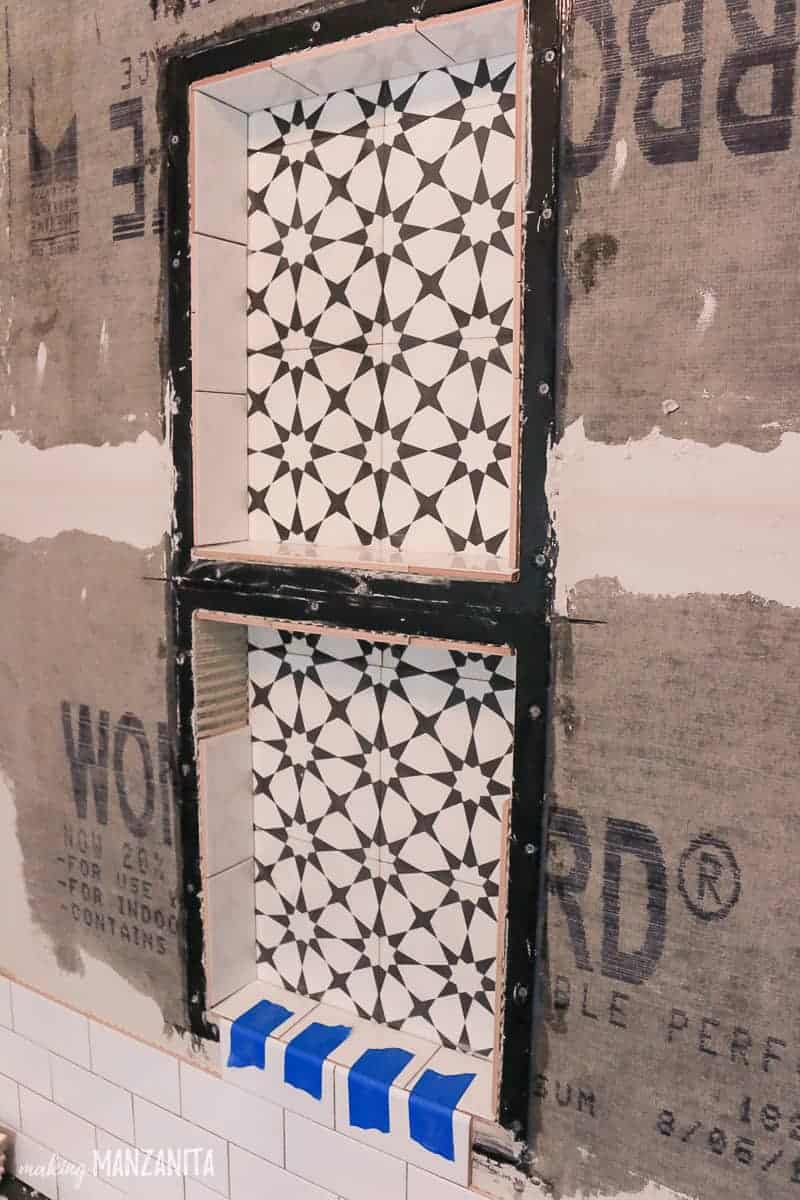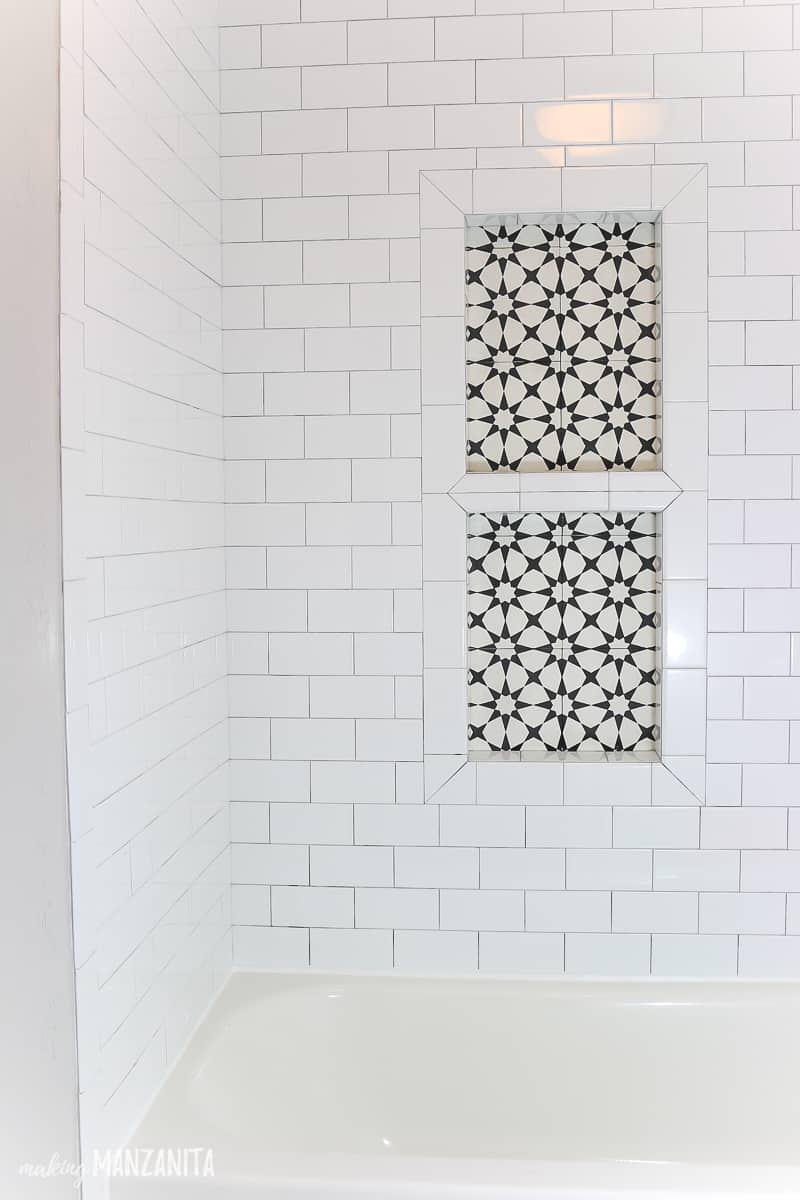 I think my favorite part of the entire bathroom so far is our cute little shower niche. The cement tile on the back of the shower niche adds so much character, don't you think!? Learn how to install a shower niche here (and learn about the ideal shower niche height here) and then see how we used the leftover tiles in this fun DIY project.
---
Part 3. Grouting and caulking
After your shower tile has been installed, wait 24 hours to be sure everything is perfectly dry, and then it's time to grout.
How to grout tile
Grouting tile is really pretty easy. Just spread it over the tile and push the grout down using a rubber float held at 45 degrees so it gets in all of the gaps in between the tiles. Then, wipe clean with a slightly damp sponge.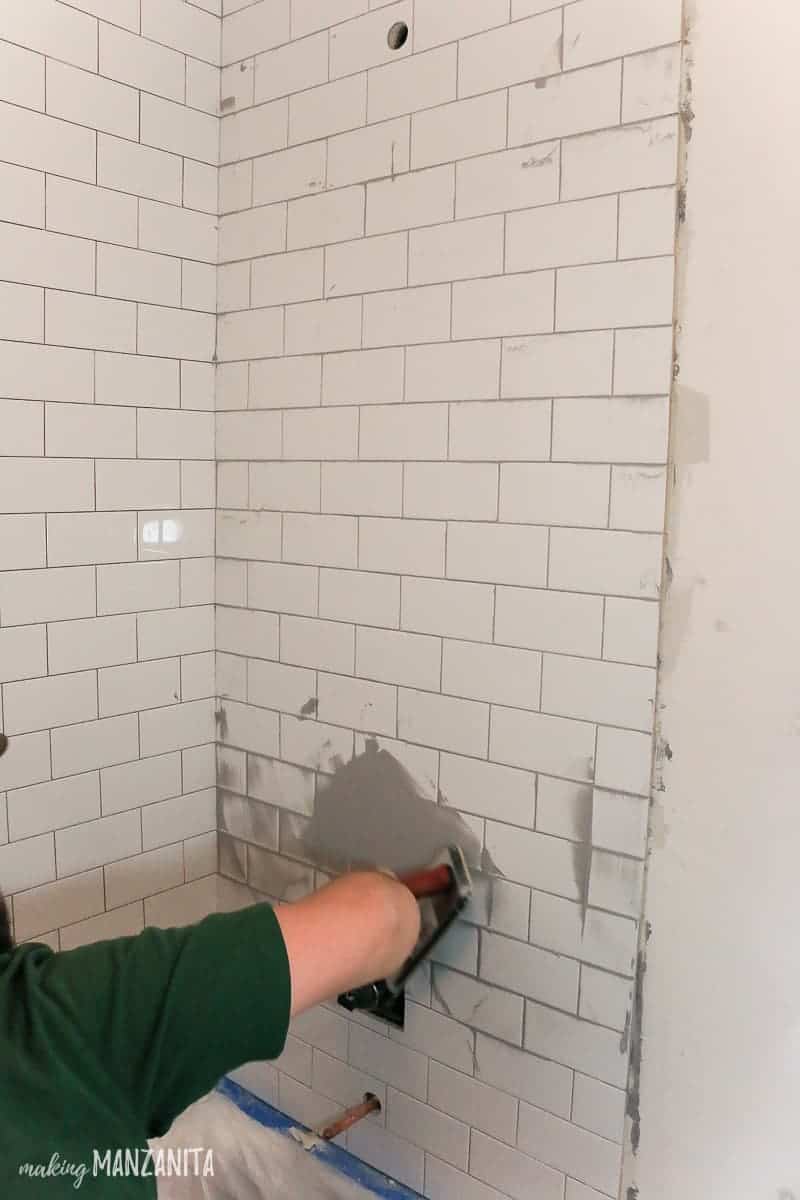 Pro Tip: Be sure you read the manufacturer's instructions for how long you should let the grout set before wiping with a wet sponge.
How long do you wait to wipe off grout?
We thought 10-20 minutes would be fine and we could come back and wipe it off (just like we had done on our tile floors last week), but NO CAN DO. This stuff had hardened by the time we got back to wiping it off.
We ended up having to come back and scrape the grout of the tiles later and it was a super tedious process (about 3.5 hours of both of us working on it), so be mindful of drying times.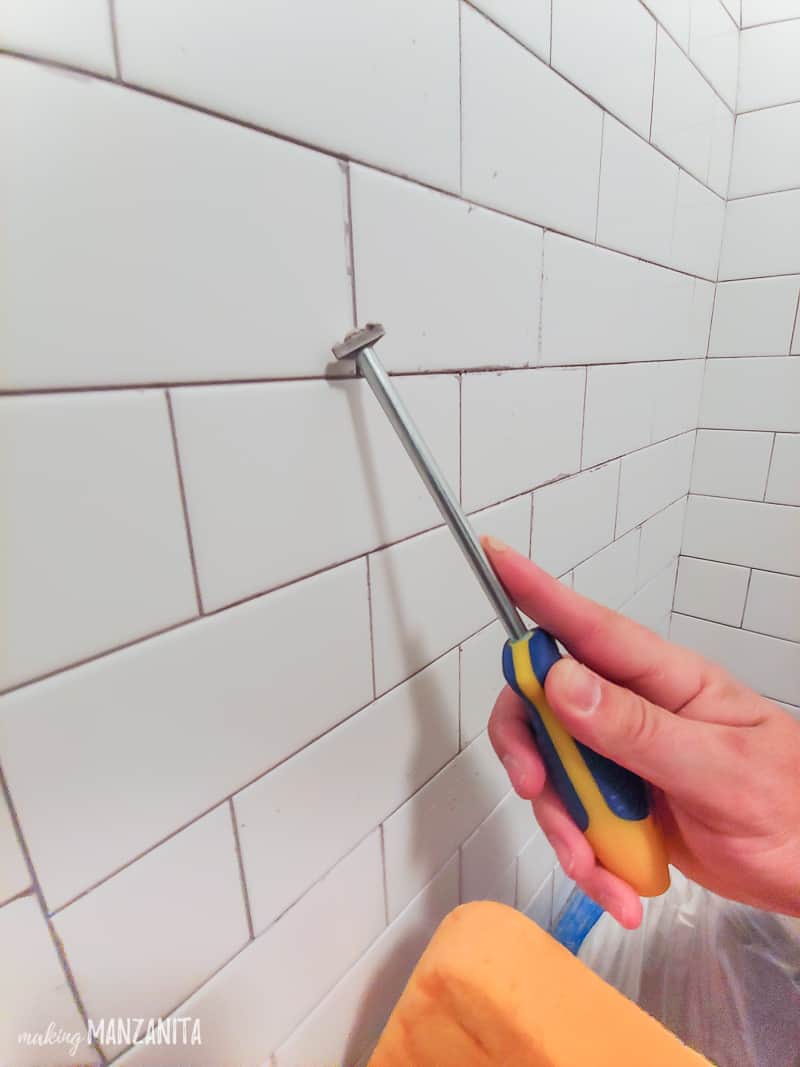 To get rid of the hardened grout, Logan used this handy grout removal tool to scrape the hardened grout off of the tile and clean up the grout lines, while I used a razor blade.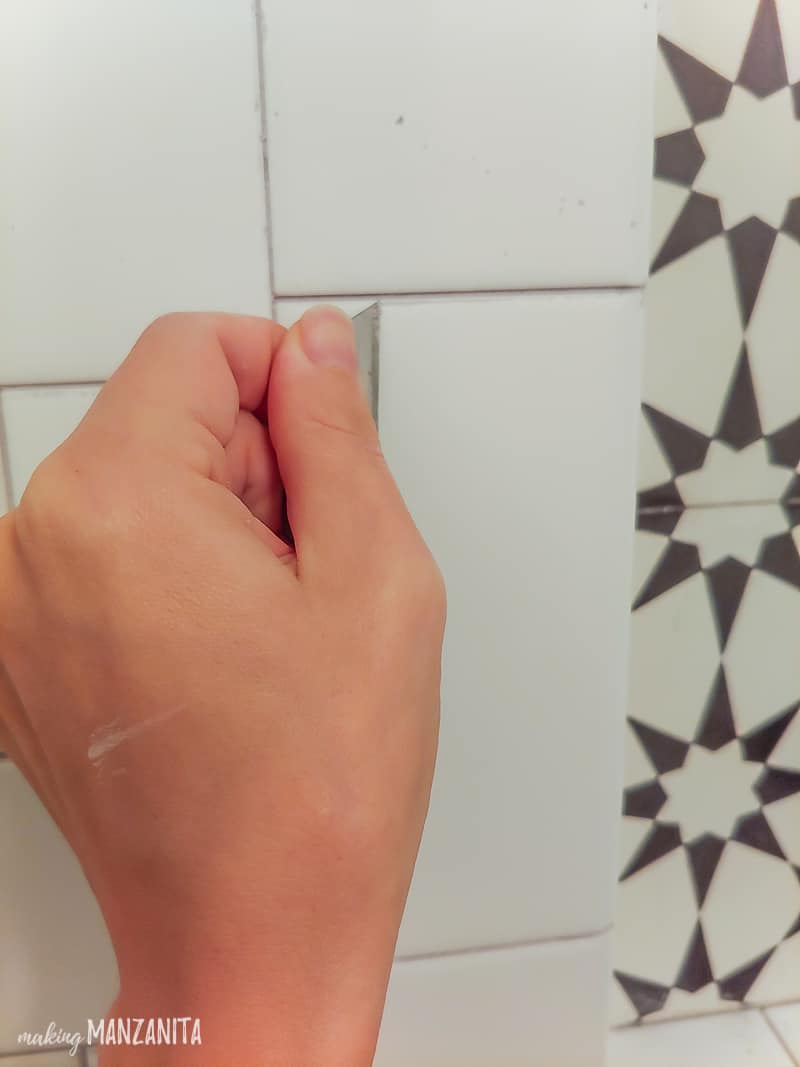 At this point, you want to take a look at your grout lines and make sure they are nice and clean.
Fix anything as necessary, then wait at least 2 hours to wash the grout haze off of the tile with a grout haze cleaner. Distilled white vinegar mixed with water works well, too. Roughly mix 3 parts water with 1 part vinegar.
After the grout is complete, it's time to move on to caulking – the final piece of the project.
How do you caulk around a shower?
If you're confused about what type of caulk to use and how to apply it – check out our full article of caulking tips and tricks!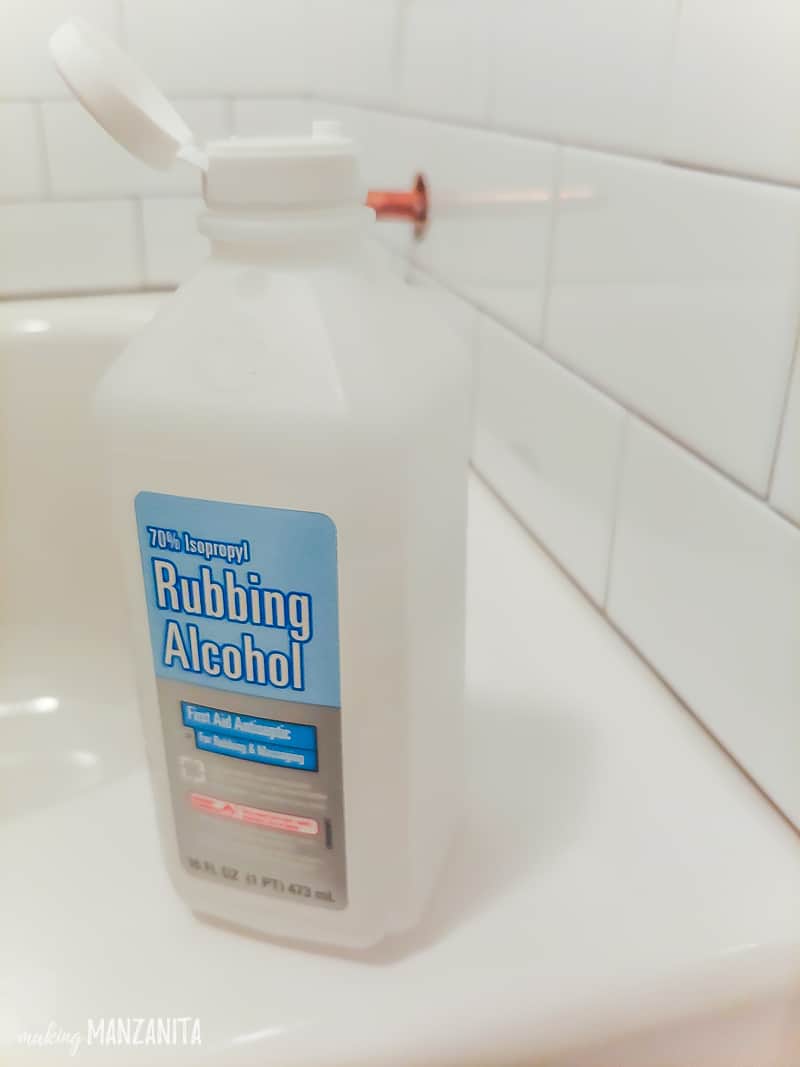 Make sure the area you're going to seal is clean and dry. We recommend applying rubbing alcohol to the seam to remove any residue.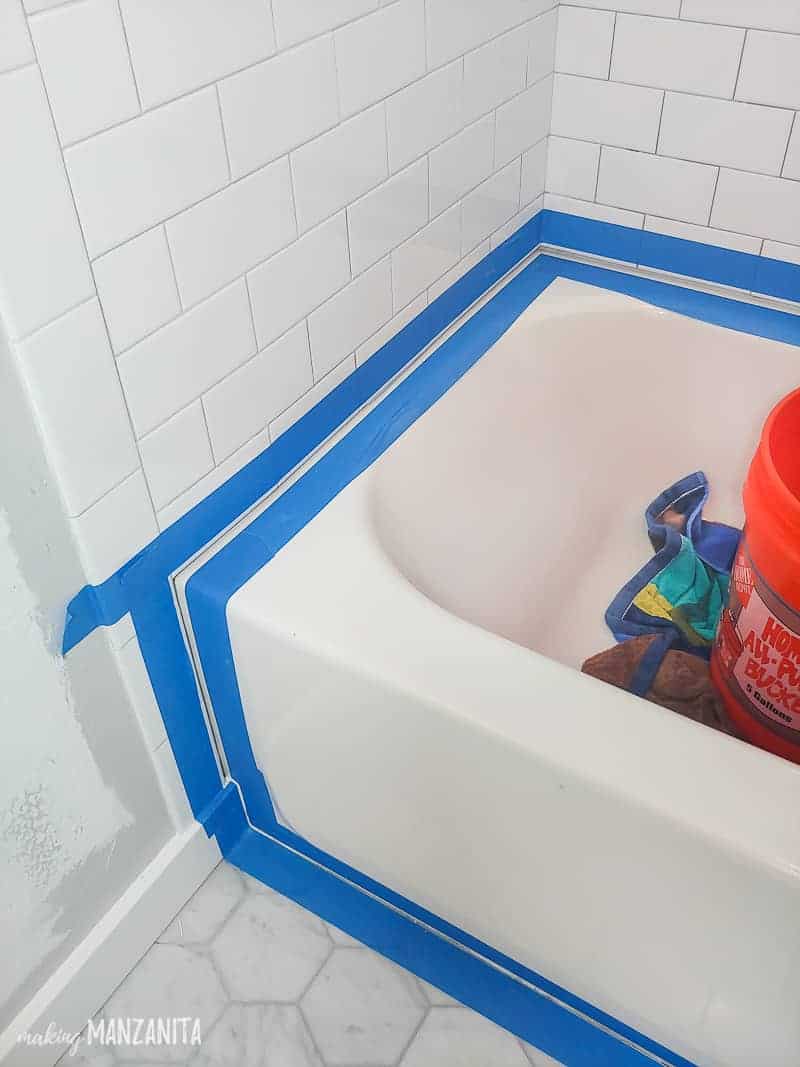 It's a good idea to add painter's tape to both sides of the seam before adding the shower caulk. This will give you nice crisp lines.
Cut the nozzle of the Kwik Seal Ultra caulk at a 45 degree angle and load into your caulk gun.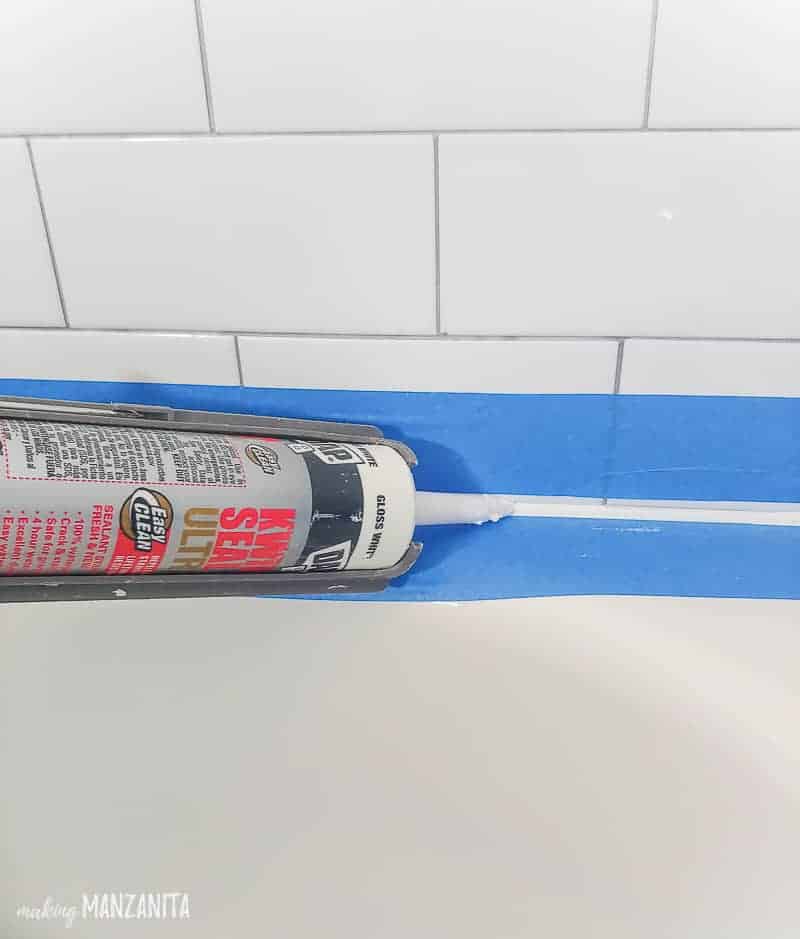 Hold the caulk gun at a 45-degree angle to the joint and gently squeeze the trigger with steady pressure to apply an even and consistent bead of sealant.
Move the caulk gun slowly and steadily, filling the joint with sealant.
Immediately after adding the caulk, smooth the bead of shower caulk with your finger slightly wet or you can grab a caulk finishing tool.
Be sure to remove the tape while the shower caulk is still wet.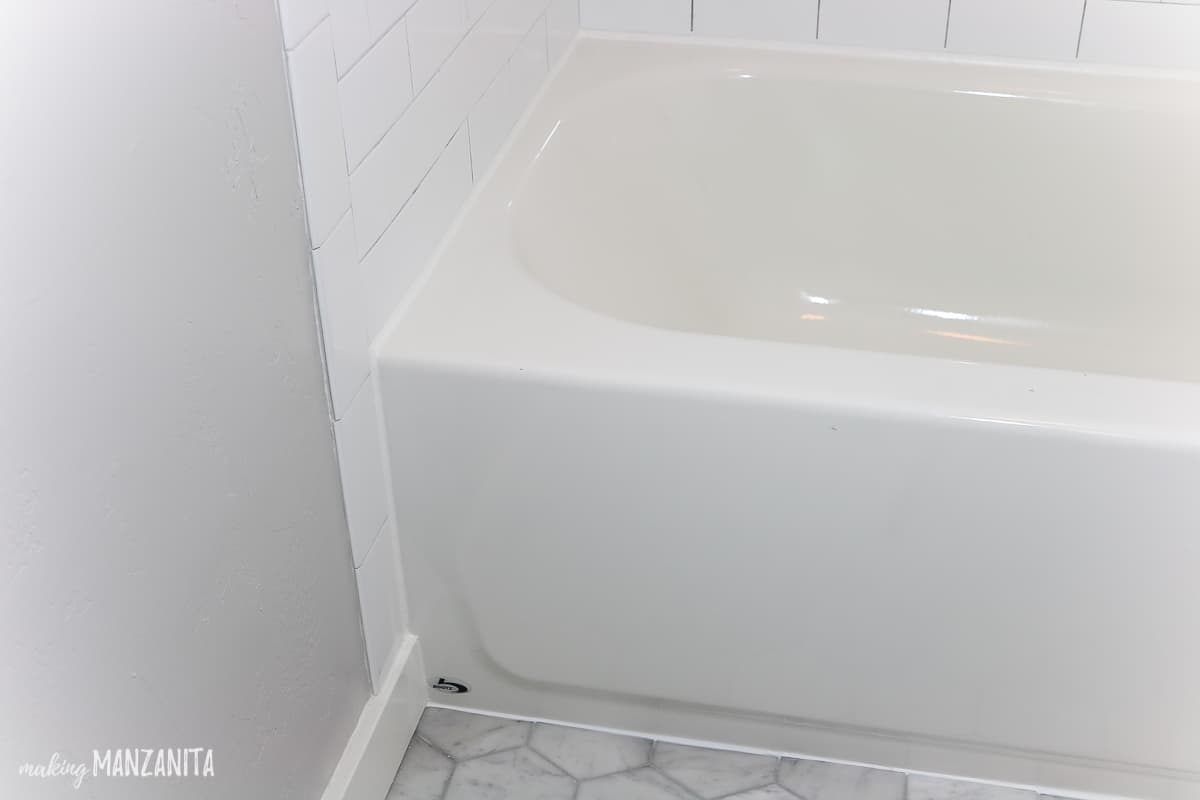 Where do you add shower caulk?
When adding shower caulk, be sure to get any joints or corners. Where the bathtub meets the tile wall, where the bathtub meets the tile flooring, all corners, ceiling and in all corners of a shower niche.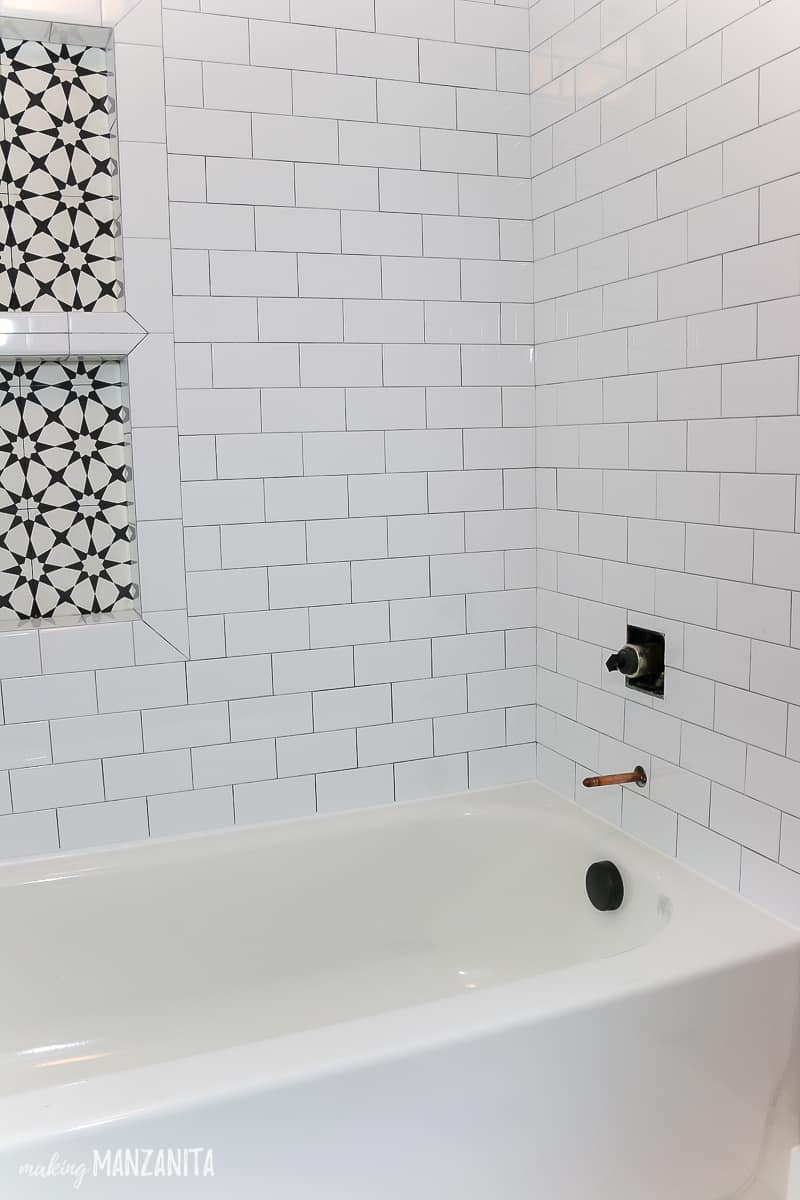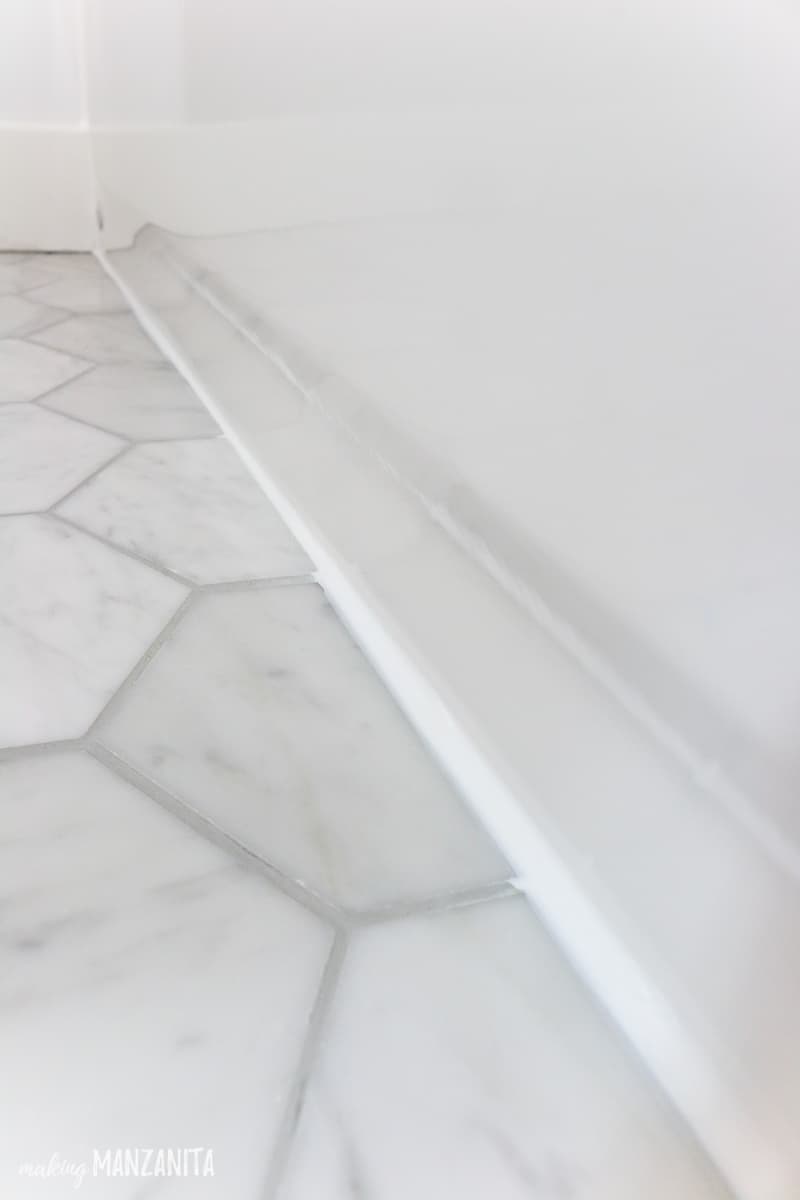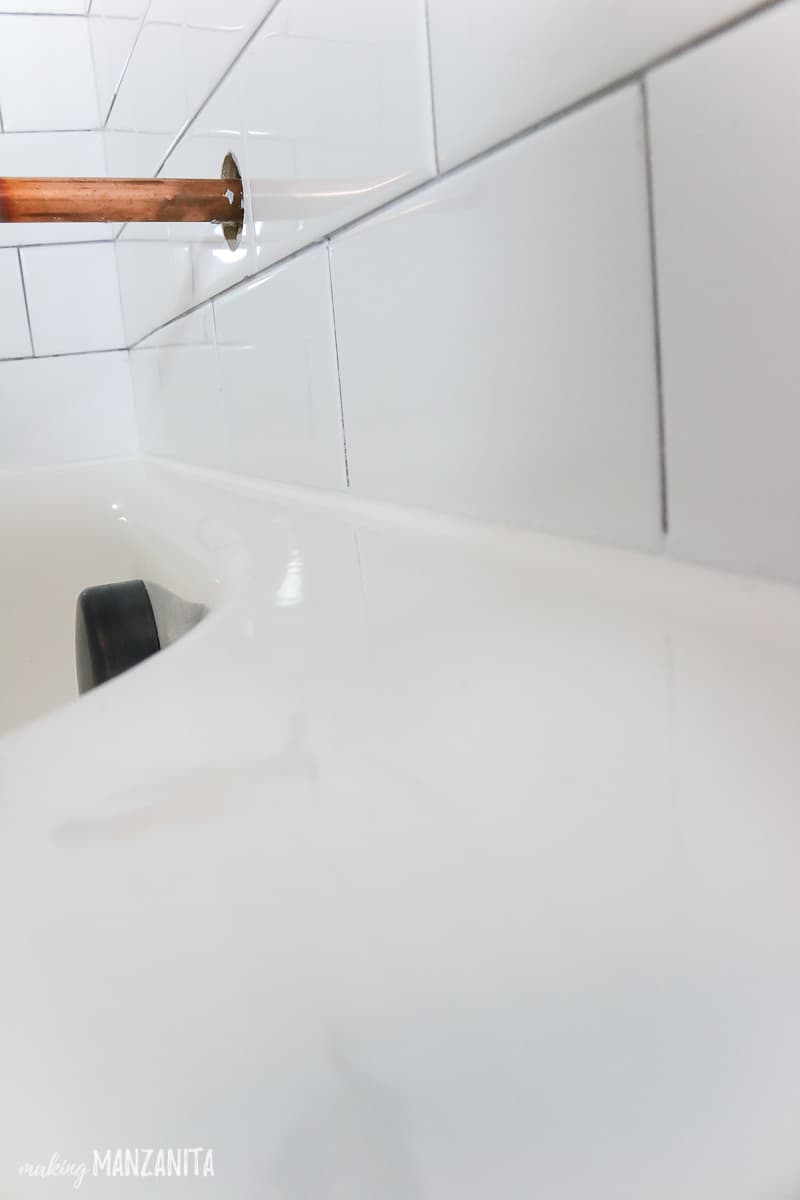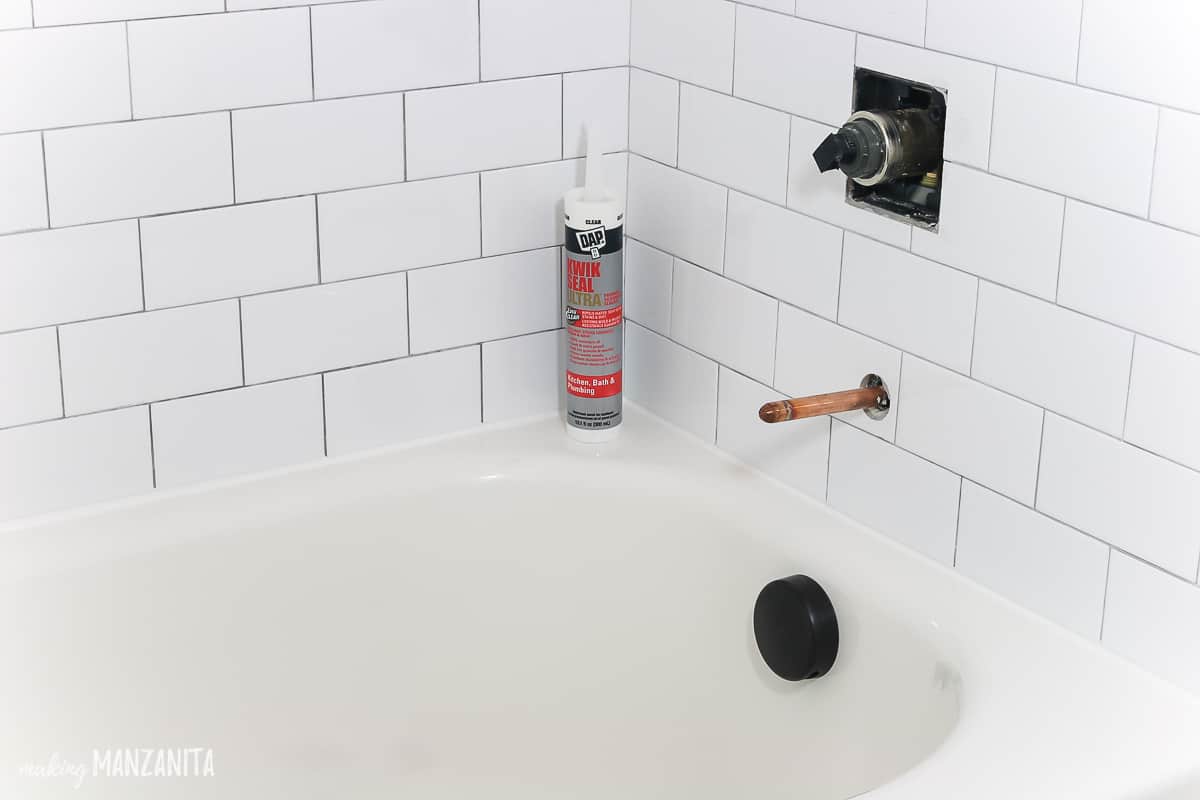 As you can see, shower tile installation is a pretty labor-intensive home improvement project. Understanding the whole process of shower tile installation will leave you with a beautiful bathroom to be proud of!
---
Ready for our modern farmhouse bathroom renovation update of the week??
First of all, let me remind you that we're sharing the renovation as part of the One Room Challenge, which is a bi-annual event where hundreds of bloggers join together to renovate one room in their home and share about it over 6 weeks. Be sure to check out all of the rooms getting renovated here.
If you're just joining us, be sure to go catch up on all of our One Room Challenge posts:
Well, we're at the finish line of One Room Challenge! I can't BELIEVE there is only one more week left. We are down to the wire and every day counts at this point. We have a clear plan on how to wrap everything up in time….now we just have to keep our fingers crossed that all goes as planned.
We've had a more than a few VERY late nights recently as we have been working on the tile wall above the vanity and the entire shower tile installation. As I mentioned above, the shower niche really slowed us down a bit. And then there was, of course, the great grout drama of 2018.
To do list for the rest of the week is pretty full with installation of the toilet, all accessories, lights, faucets, mirrors….and then he'll (ya know as Chip would say…) "pass the baton" to me to decorate.
I've got high hopes that I'm going to miraculously have time to create some DIY frames and wall art as well…I've got the plan in my noggin', now I just gotta get the supplies and find some time!
---
Here's the full to-do list for our modern farmhouse bathroom renovation:
Build walls Learn how to build a wall here!
Install electrical
Rough in plumbing
Install exhaust fan/light in water closet
Installed insulation
Build divider wall for water closet
Install pocket door on divider wall Learn how to frame a door in a wall here!
Install bathtub drain
Hang dry wall
Hang wonderboard on walls & lay on floors
Texture dry wall
Lay tile floors Learn how to tile a floor here!
Seal tile floors
Grout tile floors
Install vanity
Install toilet flange
Install countertop
Tile surround in shower
Tile wall behind vanity
Install trim & baseboards
Paint walls Learn our favorite interior painting tips here!
Install vanity faucets – Learn how to install a bathroom faucet here!
Install toilet
Add vanity lights
Install bathroom accessories
Make DIY wall art (….maybe? If I have time, ha) – See how the DIY poster frames turned out here!
Hang shelves above toilet
Decorate!
---
Huge thanks to our official sponsors of this renovation!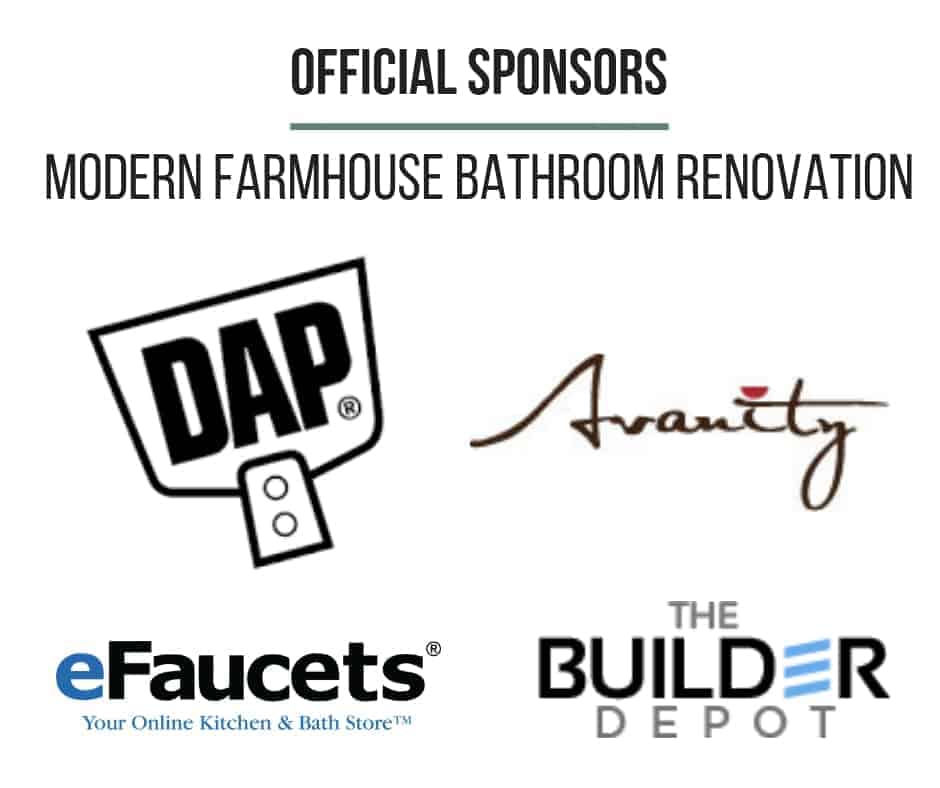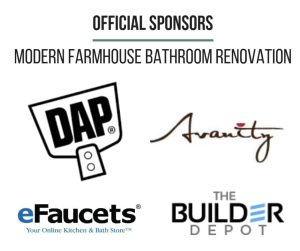 Dap | Avanity | The Builder Depot
Want more behind the scenes looks at our modern farmhouse renovation?
If you want tons of behind-the-scenes update on our modern farmhouse bathroom One Room Challenge renovation, the best place for you is our Instagram Stories!! If you want to catch up from the beginning, head over to our Instagram profile and watch here. Be sure to follow our account to see you can see the day to day updates and help us out with decisions like these below…Our IG followers helped us already by giving us feedback on dividing walls for water closets and the floor tile options!